Sneak Peek – Weather+ for Windows Phone 8, a new and powerful forecast app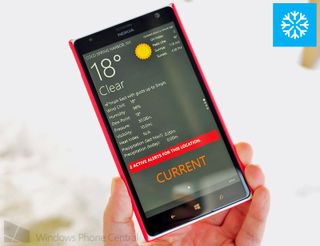 True fact, we were just hit with a blizzard here in the North East. It's routine for this part of the country, but that doesn't mean we don't need a good weather forecasting app. Step in Weather+, a forthcoming app form developer Bailey Stein. Due for release on January 10th, we got a sneak peek of it and want to give you a tour.
So what makes this app so special? Well, it does a few unique things that we haven't seen in weather apps, plus it has a very clean design. Head past the break to see our video tour, some screen grabs and what to expect!
Weather+ will come in two flavors: free and an optional $1.99 'pro' version achieved though an in-app upgrade. The free version is 100% with no ads either, but obviously the $1.99 one has a few more bells and whistles with unlocked features. Weather data is pulled from Weather Underground.
Grey theme with color icons, radar and weather advisory
The main design points of the app are panels and gestures. The weather is laid out in a clean, clear fashion and gestures are used to navigate between the current conditions, days, hours and radar screens. There is a brief tutorial explaining how it all works, which you can also access at any time. The gestures work pretty well, though they can be a little cumbersome at times. You'll either like 'em or not.
Other notable features include:
Google Now Style Voice Commands
Custom Weather Icons (Pro)
Live Tile (Pro)
Alert Toast Notifications (Pro)
The voice commands work very well by allowing you to ask things like "do I need an umbrella?" or "what is the forecast for Monday?". With the custom weather icons, you can pick from three schemes and even mix and match for different weather conditions. Heck, you can even add your own images/icons for that custom design.
Radar image on Live Tile (back)
The Live Tile is bright and bold with current conditions, temperature, location and it flips to reveal a radar image. Many of you have asked for that feature, so there you go. The Toast notifications also work brilliantly by alerting you to important weather changes. It utilizes a custom notification sound taken from the emergency broadcast system (you'll need Update 3 to use that). Trust us, you'll hear this when it goes off.
Alternate black theme with non-color icons
Overall, Weather+ is shaping up to be a very powerful and well-designed weather app for Windows Phone 8. The gestures may be off-putting for some, but all the rest results in an outstanding package.
What do you folks think? Let us know comments!
Weather+ is due on January 10th and we'll tell you when it goes live. For now, you can read more about it on Bailey's blog.
Windows Central Newsletter
Get the best of Windows Central in your inbox, every day!
Daniel Rubino is the Editor-in-chief of Windows Central, head reviewer, podcast co-host, and analyst. He has been covering Microsoft since 2007 when this site was called WMExperts (and later Windows Phone Central). His interests include Windows, laptops, next-gen computing, and for some reason, watches. Before all this tech stuff, he worked on a Ph.D. in linguistics, watched people sleep (for medical purposes!), and ran the projectors at movie theaters because it was fun.
Yet another weather app...

but means there is developer interest :D

quality interest* it's another weather app, ya...but look at it! gorgeous! but saying that, im sticking with Bing Weather since it's free with live tile support.

Nothing wrong with that. The more choices the better. I'm using Amazing Weather and find it to be the best for me at the moment, but there are a few things it could stand to improve upon. Maybe this new app will be a better option, maybe not, but the competition will motivate others to improve their own apps; hopefully!

+720. The more the merrier ! :D

Details devs, designers and dev/designers, DETAILS. The small things matter.

The new weatherbug update has everything I could ever want. I love it.

Meh, the old Windows Phone 7 app had more features.

Looks good...
It will show the autopsy...
Ha ha ha... :):):)

Although weather apps are getting pretty tiresome, this one caught my attention. Though I still love the simplicity of the Amazing Weather+ and Weather Flow.

The problem I have with Weather Flow is the lack of updates. I checked Google Play to make sure he didn't abandon WP and Flow's last update was in 2012. Too bad, stellar app!

Rightly...
These two programs are the first forecast.
It's BEST !!!

Does this app also has lock screen support and if so does it has customization?

Lockscreen support is being developed. The layout and design is finished, however these is an 11 MB memory limit during a background task. Rendering these images requires more memory, so it needs to be done on something like Azure, which I have added to a feature request list.

Will it just change your lock screen wallpaper or keep your current wallpaper with forecast overlaid on it? Biggest issue I've come across is not keeping the wallpaper I choose (usually pics of my kids) and still have forecast displayed. @baileystein

Although the feature is not currently implemented, the code I have enables you to select your own image, the Bing Image Of The Day, or the NASA Astronomy Picture of the Day. Again, the feature has been developed, but has not been implemented.

Will keep an eye out when its ready. :)

That sounds great. I might even switch to your app baileystein. Currently, all that keeps me from using other weather apps than Weather Flow is that all other apps lack propper lock screen customization or have a bad app design. But seem to fix that. ;) Keep up the good work!

@DVELOPinc, I use lockmix for my lock screen. I'm able to use my own images or options like Bing daily, I currently have 9 family pics that it shuffles through automatically. You can then add widgets on top of the images. I have owner info (shows my name and home number) in case the phone is lost, and the weather ( a number of sources to choose from like NOAA and MSN). You can resize the various widgets too, on my phone I just have the daily forecast while my wife has the five day on hers. Then I use whatever weather app I want without having to worry if it has lock screen support. The developer is constantly updating and adding widgets too. Some are free, while some are paid, but there is a special now that if you buy 5 widgets it unlocks all current and future widgets. Comes with a 2 week trial, try it out.

Is there an option to view radar images in motion?

I am working to add this feature in a future update.

This is really a key feature for me too. Currently I use My Radar as a separate app because no other weather app can do this right. I do like your radar on flip tile...that's good. Add live or very recent radar w/ motion and I will pay gladly.

The radar is updated every 30 minutes on the tile (along with timestamp). I cannot add an animated radar to the tile because the Windows Phone O.S. only accepts still images on the tiles. Nevertheless, I will work on this for both of you. ;)

Sorry I didn't mean live or motion radar on the tile, just in the app. The 30 min update on the tile is perfectly fine.

I haven't tried yet but it will be awfully hard for them to top AmazingWeather which also gets its dara from Weather Underground. PS the blizzard is ravaging the NE of the contient!

Daniel, what is the "K" app on your screen?

An app for Klout. Can't tell which one though.

Klout Board: http://www.windowsphone.com/s?appid=a26bc456-aef1-48ff-8efa-0748516a9624

Thanks. I thought it was Kirby (app.net client.)

I'm happy with my weather channel app :)

Looks cool! Will it do more than one location - so I can see how nice it is today for my friends in San Diego before they call and tease me about the weather in New England?

Beautiful in southern California today. A bit chilly at 70 degrees :)

Hi Durishin, To give you a more constructive answer (no offense Sam), Weather+ does not currently have multiple location support. However, I am constantly developing new features for Weather+ and will consider adding this in a future update.

I will give it a try - absolutely!

This is important to me. I have to sons who live in a different part of New Jersey from where I live. I like to keep in touch with their weather conditions as well as ours. Other weather apps, Bing, Weather Channel etc. all offer this feature.

Lets hope they have wind speed in m/s and Celsius. Then I might use it.

You can choose between metric units (which would be km/s for wind) and imperial units (mph) for distance. You can also choose between Fahrenheit and Celsius for temperatures. It's also notable that you do not have to use all metric or all imperial (i.e. you could do metric for distance and Fahrenheit for temperature).

In Norway wind is given in m/s...so any app that doesn't show that is not usable.

No offense, but why not just times the km/s by 1000 to get your m/s?

because no one measure wind as kilometers a second? Kilometers an hour maybe?

Ah, yes, it's km per hour. Not sure why I thought it was km/s. I can consider adding this in a future update, if you would like to see it that is.

Yes please, m/s is way better, or else we need to divide km/h all the time. :)

Strange, I can't add Data sense to a folder, it's not in the application or settings list.


Actually Weather Hound has Celsius and meters per second. I didn't know anyone used this format

WE NEED TO CONSOLIDATE!!!!! Someone create an endless runner that gives the weather and allows me to edit photos!. /s

Something like Weather rush :P

It will be interesting to see if I find radar or the next two day's forecast (as I have with Amazing) more useful.

I cetainly hope you give it a try. ;)

I like the look. Looking forward to trying it out and seeing how well it develops over time. I hope to see it develop more along the lines of AW and not WF. Weather Flow had so much potential, but no updates for going on a year has not exactly endeared me to it. Amazing Weather, while the best option in my opinion, still has some things that haven't been addressed yet.

I'd love to see what the different live tiles look like. I liked Weather View's small, metro-style live tile, but a recent series of updates killed the functionality of the live tile. This app looks like it has a desirable level of detail and an excellent design. I hope that design extends to the live tiles (at least give me the option to disable the city name!).

You can view all of the live tiles here: http://www.baileystein.com/2013/12/31/introducing-weather-2/ V1.1 will have more live tile styles/customization.

Thank you! All I'd want is a current conditions icon added to the small tile and I'd be happy as a clam. A mini-version of the medium tile without a notifications counter. I'll likely purchase the pro version when 1.1 is released.

Already finished with that style. ;)

Glad to hear it! Last question: is the colour theme-sensitive, or is it always red?

Sorry, I'm not sure if I understand what you're asking. The color icons are constant, they don't change based on your accent color.

Was just editing for clarification. It's a shame they don't change. A suggestion for future versions?

The icons aren't always red, do you mean the alert overlay (the box with the alert details)? That changes between yellow and red, based on the alert type (or green if no alert). The current licensing agreement I have for the color icons does not allow me to modify them.

Sorry if I'm not clear. I'm trying to type with an infant hanging off of my arm. I'm asking about the colour of the live tiles. The ones in the link have white icons and text on a red background. I'm wondering if the background colour of the live tiles will change to match the chosen accent colour of my start screen (in my case, cobalt).

Yes, the background of the live tile will match your phone's accent color. This can be seen in the video preview; Daniel's theme is orange, so his tile background is orange. So in your case the tile would be Cobalt (we have similar tastes). Sorry for the confusion, trying to ask questions, research, and program. ;)

Excellent. I hadn't the opportunity to see the video due to the aforementioned infant. Thank you for taking the time to address my question; you've earned a customer. :)

OMG, it has radar??? That seems to be what 99% of the weather apps on WP leave off or do poorly with just static images. Though I'm not sure I liked the half screen radar in the video. I purchase when it's out!

I've tried several weather apps and have yet to find one that works well. If it's more than a day out, the forcast is not even close when compared to NOAA. I use weather underground on my desktop and Andriod tablet and it works well. I spend a lot of time outdoors so I watch the weather pretty close. I'll give it a try when it comes out.

This looks like a nice app. I love weather apps. I will be getting the full version on launch day.

Weather apps seem to be the one type of app I am NEVER totally happy with Bing weather? Simple, but boring. Weather Bug? Okay for a while, but I didn't like it's layout. Accuweather? Okay, but maybe too cluutered, slow to load and update. Some didn't get a live tile right, some were woefully inaccurate in my area. Kinda like the looks of this one. Color me interested....

Who is the source of the weather?

Hi, In the screenshot that shows the radar feature on the back of the live tile, what is the app in the top right corner? It has a gradient background, and says "It's Friday Afternoon". Thanks!