Software Review (WP7): Oregon Trail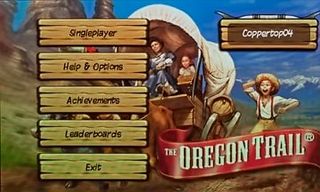 Gameloft has released Oregon Trail HD over at the Marketplace. The Windows Phone 7 application is an entertaining and addictive game with an educational twist to it.
The game is based in the mid-1800's as you travel west along the Oregon Trail with your family. As you travel west, you have the opportunity to test your skills in several mini-games to replenish your food supply or earn money as well as dodge the various dangers the trail presents (indian raids, bandits, foul weather, etc.).
It's one of the higher priced gaming titles and to see if we think it's worth the $4.99 price tag, ease on past the break.
Game Premise
Oregon Trail is a role playing game in which you are tasked with carrying your family down the trail to settle in the west. Along you journey you will have opportunities to earn money by completing tasks or quests such as providing passage for hitchhikers, delivering packages, etc. Some of these side missions and travel goals have time restraints.
The game has eight mini games where you can tackle skill based challenges to replinish food supplies, repair your wagon, and earn gold. The games center around frontier activities such as hunting and fishing. The further you progress in the game, the more challenging these games become.
You also face dangers such as disease (dysentary from drinking unsanitary water), bandits, indian raids, and weather events. Your wagon can break down which will send you to a side game to get your wagon road worthy again. There's even a pesky eagle that will swoop down occassionally and kidnap one of your children. When this happens, you spend time searching for the child and eventually find him.
All in all, with the mini-games you will face, decisions to make and deadlines to beat, Oregon Trail has plenty of game to it. As a bonus, one of the side games is available as a stand alone game that is accessible from the Single Player Menu.
Endless Telegraph is a simon sez type game where your character is surrounded by telegraph machines. You'll see a sequence of flashes appear on the four telegraphs and your job is to mimic the sequence. The further you progress with Endless Telegraph, the harder the sequences become. When all is said and done, depending on your progress, you'll be awarded gold for your efforts.
Playing the game
Game play isn't all that difficult. For most of the game, you're traveling right to left on the screen down the Oregon Trail. At times you'll need to step it up by increasing your travel speed or rest for the night to regain your energy.
Controls are laid out in a simple, straight forward manner. Travel speeds are controled at the bottom of the screen while a pull down menu is available at the top of the screen where you'll find:
Quest: This outlines your current games quests
Rest: Where you can rest your family up for the next days travels
Map: Your Oregon Trail map
Status: Here is where you'll find the game summary including your family's health.
Controls for the mini-games are done by tapping the screens and there are plenty of tutorials available to guide you through these challenges.
Oregon Trail ran smoothly and the cartoon graphics looked really nice. The game does have an addictive quality to it and the more you play, the stronger the addiction becomes. Gameloft placed just enough suprises along your journey down the Oregon Trail to keep you guessing and keep the game fresh.
Oregon Trail does add history blurbs on the transition screens which offers a nice history lesson to the game. You not only leave the game entertained but also with a little knowledge of the Trail's history.
One key feature we shouldn't ignore is the Xbox Live integration. As you progress through the game, Xbox Live achievements are unlocked and your scores posted on XBox Live to compare with friends.
Overall Impression
At $4.99, Oregon Trail HD is one of the more expensive games over at the Marketplace.
The game play is enjoyable, easy to follow, and not too complicated to be frustrating. The cartoon graphics looks really nice and I like adding the history blurbs in between scenes. Oregon Trail has enough mini-games, quests, challenges and player interactions to keep the game from becoming stale too quickly. Is it worth the $4.99 price tag? I think so.
If you like simple, straight forward, role playing games Oregon Trail HD is worth a look. We think Gameloft has a winner with this Windows Phone 7 game but should there be any doubt, there is a free trail available at the Marketplace.
Get the Windows Central Newsletter
All the latest news, reviews, and guides for Windows and Xbox diehards.
George is the Reviews Editor at Windows Central, concentrating on Windows 10 PC and Mobile apps. He's been a supporter of the platform since the days of Windows CE and uses his current Windows 10 Mobile phone daily to keep up with life and enjoy a game during down time.
this looks quite fun as does ilomilo, yet both are NOT available on the UK marketplace :(

I believe ilomilo is an AT&T exclusive which is why its not available in the UK marketplace.