Sonic Origins' preorder scheme is way past uncool
Once again, Sega hamstrings its golden goose — er, hedgehog — with unnecessary corporate shenanigans.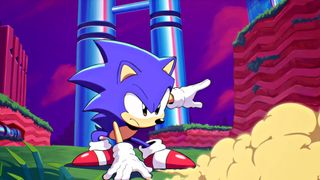 (Image credit: SEGA)
Sonic's riding high. He just had an awesome movie (go see Sonic the Hedgehog 2!) thanks to Paramount taking good care of the property, and at first blush, it seemed like Sega was set to do something respectable as well with Sonic Origins, a collection of the original mainline Sonic titles from the early '90s. But the same day Sega unveiled its snazzy Origins trailer, it also unveiled a distasteful preorder and DLC scheme.
For added background: Sega has released Sonic 1, 2, and CD on an insane amount of platforms over the years. The only one that's been omitted in recent memory is 3 & Knuckles (rumors abound as to whether that's because of Michael Jackson's involvement in the game's soundtrack and disputes with his estate, or whether the troubles run deeper). So, barring 3&K, Origins really isn't a big deal between the plethora of official re-releases as well as excellent fan-produced emulations and re-releases — check out Sonic 3 Complete for proof.
Still, for new fans, a single package containing the most historically significant classic games is a nice idea. What's not nice is that Sega is injecting modern gaming industry economic policy into classic titles from a simpler, arguably better time. Sonic Origins' sales structure features some of the absolute most penny-pinching DLC practices you can imagine.
Sega can't help itself
Remember when Sega attempted to charge money for Super Sonic in Sonic Forces, a bonus that'd been free in every other Sonic game? Or when it insulted PC players for preordering Sonic Mania by delaying that version to inject last-minute DRM, thereby punishing paying customers and indirectly spurring the production of a record-speed cracked copy by pirates? Well, the company's up to its usual tricks.
This time, the gimmick is tiered preorders and DLC. If you order the Standard Edition, you get "the main game." If you order the Digital Deluxe Edition, you'll get additional music (a staple of the franchise), hard missions, "character animations," and camera controls. Yes, you read that right. You need to buy a special edition of the game if you want barebones, bog-standard, basic features such as certain camera controls and character animations.
But wait, there's more. If you buy the ill-named "Premium Fun Pack," you will also get a letterbox background. You need to buy a separate pack just to get a background for Origins, on top of paying a deluxe tax to get certain animations and camera controls.
There are additional annoying preorder options available in Sega's announcement of Origins' June 2022 launch, but those are the most egregious ones.
Cut out the funny business
In and of itself, the preorder and DLC setup for Origins is gross. Full stop. Charging players for essential building blocks of the core experience (camera controls? Animations? Really?) is not acceptable. It's even worse than Deus Ex: Mankind Divided's infamous "augment your preorder" scheme, wherein Square Enix sought to turn preorders into Kickstarter-esque communal stretch goals. At least Square Enix didn't strip players of certain camera controls if they didn't cough up extra money.
But what's more disappointing about Origins' sales structure is that Sega is foisting it on certified classics, games that came out in a time before money-grubbing preorder and DLC tactics existed in a mainstream capacity. It's one thing to tarnish modern products with corporate villainy, but to retroactively defile Sonic's origins? That ain't right, and Sega should reassess how it treats fans — even though it probably won't.
Windows Central Newsletter
Get the best of Windows Central in your inbox, every day!
Robert Carnevale is the News Editor for Windows Central. He's a big fan of Kinect (it lives on in his heart), Sonic the Hedgehog, and the legendary intersection of those two titans, Sonic Free Riders. He is the author of Cold War 2395. Have a useful tip? Send it to robert.carnevale@futurenet.com.
Sega fails in Sonic 3D with companions as Knuckles and others.
We want speed, bosses, magics items, but also scenario.

Screw this crap, the games aren't that good to begin with. Whoever falls for this is a sucker and it's contributing to making the game industry worse.

I mean, looking at the list, it's odd, but it's not outrageous. The premium fun pack adds in animations and camera controls to the "main menu" it's cosmetic and not in any way affecting gameplay at all. The starter dash pack is a preorder bonus that again, looks to give the exact same kind of bonuses of literally every other game preorder these days. Some kind of currency and superfluous cosmetics. I'll give you the music pack though, that one is a **** move.

Superficial bonuses or otherwise, a Sonic game having a Ubisoft (insert gagging sounds) esque preorder chart is not good. Anything reminiscent of Ubisoft is bad news, imo