Advertisement Feature
Spectrm helps brands boost customer engagement with bots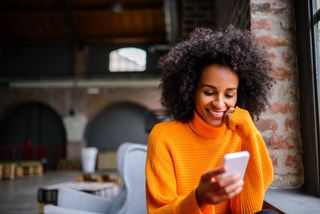 (Image credit: Stack Commerce)
We've all had experiences with bots that felt — well, too-obviously robotic. And while 80% of consumers are more likely to purchase a product when an experienced is personalized, messaging is still the preferred communication form. While we can all agree that the most successful marketing conversations for businesses feel human and authentic, it can be challenging for teams to find a way to do that at scale. That's where Spectrm (opens in new tab) comes in: this solution offers up a customer-focused approach to marketing automation through personalized, one-to-one conversations.
Spectrm uses the concept of conversational marketing — the magic that happens when humans connect through communication — to fast-track customer purchases. With Spectrm's bot marketing tools (opens in new tab), customers can communicate on their preferred channels (like the websites and apps they love the most) and their preferred time. The way you build your marketing and sales funnel gets simplified through Spectrm: you'll get to guide your customers through an interactive purchasing experience by asking questions. Relevant products are instantly recommended — meaning your customer journey is completely personalized in real time.
With Spectrm, you'll design chatbot experiences that customers truly connect to, and use the data that you gain from those interactions to optimize your conversations at scale. You can grow your audience (opens in new tab) by automating conversations on FB Messenger and in Google Conversational Display Ads, gaining deeper insights that help you make better business decisions. Customers today are impatient — in order to capture their attention, it's imperative to connect in a way that's effortless but completely personalized. The way to do that is through conversational marketing: engagement that mimics the casual way friends chat with each other.
You can also set goals during bot engagement to be sure you're hitting your targets, and get analytics on bot performance, as well as user data/engagement. Every datapoint with a Spectrm bot is actionable: you can use those analytics to further optimize your funnel and segment your customers. Spectrm bots also get better over time, thanks to analytics and complex conversational matching abilities. You can increase revenue (opens in new tab) by defining the entry points for the chatbot conversation flow to trigger specific discussions: for example, suggested products.
Best of all, you can do this without touching a single line of code. Spectrm is a growth solution that helps businesses automate a way of connecting to their customers at scale. There's no commitment to getting a demo — but you might want to check one out and see what all the hype is about (hint: it's real).
Learn more by visiting their website here (opens in new tab).
Windows Central Newsletter
Get the best of Windows Central in your inbox, every day!