Spice up your Nokia App Folders setup with some Windows Phone emoji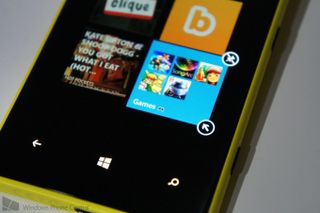 Here's a neat little trick to get your on your way to customising your Start screen with Nokia's App Folders solution. The app was recently published to the Windows Phone Store and just like you could with contacts, you're able to copy and paste emoticons from the SMS text box to App Folder titles to add some personality. Putting together a games folder, why not add a controller?
It's a super cool effect and only takes seconds to do. The only thing worth remembering is you're not required to be running the Lumia Black update to have App Folders installed from the store. Below shows a quick example of how it all works. On the left you have the insides of a folder with apps listed, while on the right you have the folder tile itself (notice the emoticon on both screens?).
If that weren't enough for you to be stoked for the app, check out our Sam giving a quick demo of the app itself:
You can grab App Folder from the Windows Phone Store. Also, be sure to let us know some of the icons you've used for folders on your Start screen in the comments below.
Thanks, Roy, for the heads up!
Rich Edmonds is Senior Editor of PC hardware at Windows Central, covering everything related to PC components and NAS. He's been involved in technology for more than a decade and knows a thing or two about the magic inside a PC chassis. You can follow him over on Twitter at @RichEdmonds.
Im not that big fan of the folder app...they should have made the tile live with some kind of animation which switches between apps you have in it.

It s only the first version, be patient :)

Just like the people's live tile... That would have looked much better.
The current version looks really dull IMO.

The folder tile needs to be live, then when I click in, all those need to be live.

agreed and it should lay out the apps better . the way ir looks very 1.0

Then make sure the feedback hits Nokia. As others have said, it's V1.0, Nokia will of course improve it with time. :)

Wait❕... Give some people a inch, and they'll take ten yards.. SMH..
For all we know WP 8.1 will have this native with folders inside folders, and we'll be able to add anything that's currently pinnable to the start screen... We complain when they don't give us new features, so why do we complain when they do❔

Im not complaining its called constructive feedback. I love WP but Nokia should have done more with it...why release a half ass app? It looks bad and gives them a bad rep.

You saying it looks bad is your opinion and I have yet to hear of this bad rep that App Folders has given Nokia.

The point is that it's not as bad as you're making out to be.. Sure the things that you mentioned are what we're all thinking of, and can't wait to see, but the basic, needed, function is there.. These folders have shortened my start screen scroll length, and cleaned it up a bit.. Consolidation, and organization are the important thing here, and the fun stuff will, hopefully, come later... Be positive.

This app hardly even needed. What it offers not bad at all, we should thank Nokia not give a bad rep. That's called constructive.

Exactly what im saying shit still good to have this option too with out live tiles etc the more the better but they complain hopefully we have less complaints when we get everything in 8.1 to be side by side with android and keep getting more feature updates from microsoft after 8.1!

Personally i would've like to see them have access to control the applist itself instead of doing what 3rd party devs & Samsung have already done

Yeah, I would like to be able to organize the app list some day, and the settings list as well.. Great idea.. Nevertheless, this option is welcome.

It's not only that, now those beautiful and drop-dead-gorgeous live tiles have become into static tiles! iOS 101 lol But in all seriousness, I hope Microsoft steps up and gives a better solution to "folders" in Windows Phone while sticking to the original Metro UI philosophy… glance and go

Love the SongArc tile in there :)

Games are already located in a folder. Why would anyone make a new one?

To collect your favorite ones ?

Maybe you have a ton of games installed but only a few favorites that you want faster access to.

Then fraking delete some, gods why are people so dumb? Don't have so much useless shit on your phone and you won't need folders.

Chill out, fast. Even I have and like to use Folders. Don't be condescending to others who have different preferences.

+1 Mr. Rat needs to stop having a cow and take a chill pill.

Just think of them as categories. So you can group puzzle games, casual games, card games, multiplayer games etc etc and even finished games (but don't want to delete to lose your progress). I have over 100 games and hate having to scroll through them all just to find a particular game to suit my mood. Assigning tags / categories would be ideal, but folders is a good solution too.

I thought the same thing and will continue to just go through Games. However, choice is always nice so bring it on.....as long as it doesn't dilute and slow down OS performance.

It's MY Windows Phone. I do what I want!!

Cool I just tried it, good finding, don't really like there concept of the app folder too much tapping just to get to the app like my settings better only have one folder with some productivity stuff I place beside office folder, they should make it some what more like games and office folder.

One tip: you can make a folder only for settings and organize them in the order you want. Is like a new settings page but in the way you'd like to be.

Thanks for the tip, also works on my Samsung app folder app.

Spice up your life, Spice up your life..

Okay so for anyone who doesn't like this app I don't understand you although I do stand by your right not to like it. In my own opinion this app should have been something built in to the WP OS to begin with and shame on Microsoft for not having made this an option. Once again, Nokia takes the cake on making WP an overall better experience. Keep em comin Nokia. You obviously have a lot more going for you than MS. Just sayin.

For the most part all it does is add more selections and screens between the user and the apps.

Oh cool. I didn't already have an app folder for games... called "Games" -_-

Me too :-)
I already have an app folder for the games I like the most, another one that my sister liked the most with the name ...? Wait I forgot :-/

Is it possible to put albums in a folder? I have about six favorites that I would love to put in there

Thnx, I made a folder, added "Folders" app, named "Warning, recursion" and added double arrow :)

Ok, I'm stupid. I don't get how I do this. Or is that it has to be a new folder, you can't add the emo to an existing folder?

Nevermind...i am stupid. Just renamed the existing HERE folder and added a car.
Head down and shaking...

If you have an existing folder. Just go into the folder, hit the 3 dots, and rename. Paste it in the name of the folder and save.

Ahh, beat you to it, pookie, but thanks. This app is great for cleaning up. Now only the apps I want having an active live tile dominate my screen.

I can do the same on Samsung ATIV S with Samsung's App Folder too :)

This app is very useful to those who want their start screen neat. Me included!

I wish it had the ability to drag and drop apps into the folder from the live tiles

Does anyone know why can't we add OneNote or Office?

Cool bit icons are so small it's hard to see.

Just to clear my doubts, whilst within the folder, will the app still have the tile count displayed?

Perfect for all my Nokia APPS..

The app folder looks like the windowsphone version of iPhone folders, if it has live tile option like the people hub or sonething like, it will be cool

My emoji button isn't showing up when I tried this...bug maybe?

Samsung's App Folder is better and loads faster, it is in Tile View. Nokia's app is only in List View. :P

This is great! A good way to free up real estate on the start screen. Less scrolling and more doing!

One thing i've noticed with this new app is that it didn't show the notifications that i have a message in viber. Did i miss out some settings? I loaded it with amber update. I'm not sure if it will be better under black update.

Looking for live tile update

the best thing with App folder is the storing by installed date.
wp should has this feature

It's should be like the People Hub.That way is perfect.

I don't get it. Why would you want a games folder when the games hub serves the same purpose and is more interactive? I can understand the need behind other folders, but games?

Can anyone explain how to get emoticon on that app folder screen?

The folders still have a long way to go but it's a good start. One thing that I really don't like is how it's an app and not a system based thing... The folder should open directly on your home screen instead of taking you to a whole new screen. Of course, that's Microsoft's fault and not Nokia's but hopefully folders are integrated in 8.1!

It sucks this app doesn't work for HTC phones. :(

... and the Windows Phone OS loses some of it's distinctiveness. Welcome to being a clone of iOS and Android.

haters gotta hate but I say cool very cool for version 1.0

Having a folder to group similar apps into is very helpful, rather than swiping to the left to then scroll through the app list. And its great to have a visual on the home screen of the apps in each group. What I would like to see from this app next is for it to open a new screen similar to the home screen when you open a folder rather than a listing... with active live tiles that update the notifications for each app in that folder.

My only criticism is when you open a folder is doesn't present another home screen-esque display

I use the app as a file manager. I created folder categories for all my apps and added my apps accordingly. Pinning the App Folder to the start screen itself i now have quick access to all my apps that are custom organized.

Props to Jaxbot, who created the WP7 version. LW8 is his as well.
Windows Central Newsletter
Get the best of Windows Central in in your inbox, every day!
Thank you for signing up to Windows Central. You will receive a verification email shortly.
There was a problem. Please refresh the page and try again.