Spider-Man: Ultimate Power review - A web slinging Windows Phone game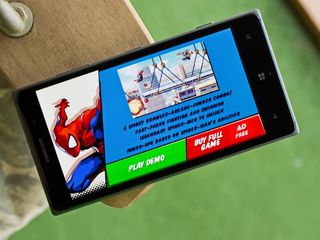 Spider-Man: Ultimate Power is Gameloft's latest offering featuring our friendly neighborhood Spiderman. The game already has a checkered past being pulled from the Windows Phone Store shortly after release (we still have no clue as to why), only to reappear a few weeks later.
The arcade style game has your guiding Spiderman across a series of platform levels, battling the likes of the Green Goblin, Sandman and Venom to save Spidey's girlfriend, Mary Jane. There are plenty of goons to bash, hurdles to jump and even a little web slinging. Graphics are decent, game play challenging and on the surface Spider-Man: Ultimate Power appears to be a worthy addition to the Spiderman gaming line-up. However, it is how the game is presented that will likely spell doom for this action/adventure game.
Spider-Man: Ultimate Power main menu was somewhat of a surprise. The game is listed in the Windows Phone Store as a "Free" game, but the opening screen offers options to play the Demo or buy the full game. This will likely turn out to be the downfall of this game and why Gameloft decided to present Spider-Man: Ultimate Power in this manner is a bit of a mystery.
The company would have been better off presenting Spider-Man: Ultimate Power as a paid game with a trial version. Consumers don't care for surprises and with this game being a demo and the full version costing $4.99, this Gameloft title will likely have gamers racing to uninstall it from the start. However, if you take a peek at the Demo, you will find a decent arcade game that features the Spiderman universe. I don't think Spider-Man: Ultimate Power is worth the five-buck price tag, but if Gameloft dropped the price to $1.99 (or lower), I could see it being worth the price of admission.
When you give things a try and tap the Demo option, the Windows Phone game transitions to a primary menu. Here you can choose one of two gaming modes, visit the game's store, check out your daily quests and choose your Spiderman rendition. There are also options present to access the game's settings and, of course, buy the full version of the game.
The game's store has purchase opportunities for power-ups and the game's settings cover the basics of sound and music levels. Daily quests are side missions you can pursue during game play that will net you extra gaming coins. These quests are performance based and include such tasks as running a set distance, collect a number of coins or complete a number of runs. The quests are an easy way to jump-start your coin account that is used in the store to purchase power-ups.
The two gaming modes include a Story and Survival mode. The Survival mode is an endless runner style game and becomes available once you complete five easy missions and play the sixth level in Chapter One of the Story mode. The Story mode is a multi-chapter, multi-level game where you are working towards saving Mary Jane, Spidey's girlfriend, who was kidnaped by the Green Goblin, Sandman and Venom.
Prior to the start of the game you will have a chance at buying power-ups that will help you defeat the evil henchman and eventually their bosses. Each level will also have an objective that has to be reached before you can move on to the next chapter. For example the first level you will have to defeat two of the Green Goblin's elite soldiers.
Gaming controls consist of a jump button in the lower right corner of the gaming screen and a punch button in the lower left corner. You will also have a progress meter running along the bottom of the screen and your gaming stats line the top of the screen. Game stats include your health meter, objective progress and coin count.
As you defeat the henchmen, they will generate coins that can be collected by Spiderman. You will also have crates that can be smashed that will reveal the coins. Game play is basically composed of you jumping across platform-based levels, fighting henchmen until you eventually reach one of the bosses.
Unless you fork over the five bucks, the Demo of Spider-Man: Ultimate Power will let you play the game for a few minutes then automatically transitions back to the opening screen. You then have the option to re-start the Demo or pay for the full version. Oh and it doesn't matter if you are in the middle of game play or sifting through the menu options, after a few minutes Spider-Man: Ultimate Power reverts to the opening screen.
Overall Impressions
In reviewing Spider-Man: Ultimate Power the game, it isn't too shabby of a time waster. In a way Spider-Man: Ultimate Power is a side-scrolling version of Spider-Man Unlimited. Graphics are more cartoonish and game play not as intense with Spider-Man: Ultimate Power, but the premise is similar. Controls aren't overly complicated and the pace of the game offers up a fair share of challenges.
While the game is decent and a nice addition to the Spiderman gaming library, it is how Gameloft presents the game that will hurt any hopes for success Spider-Man: Unlimited may have. It is just flat out wrong to present a demo of a game as a "free" game. Then you turn around and charge a premium price for a fairly basic arcade game? I think the game would have been better received if Gameloft presented it as a trial version that allowed you to play the first level of the first chapter. Then, if you liked the game fork over $1.99 for the full version of the game. As is, one has to wonder if Gameloft wants this Windows Phone title to fail right out of the gate.
The game has potential and I could see it being a successful free game or a paid game if the price point is reasonable. Gameloft has a history of screwing up quality games and Spider-Man: Ultimate Power is the latest example. You would think after all the problems they faced with Spider-Man Unlimited, they would have learned.
Overall, Spider-Man: Ultimate Power is a Windows Phone game you will need to try for yourself to see if it is worth the five bucks. I have a hard time justifying the cost but for the hardcore Spidey fan, it may be a drop in the bucket. At last check, Spider-Man: Ultimate Power is being rated at 2 Stars in the Windows Phone Store. The game itself is in the neighborhood of 4 Stars, but when you factor in the other issues, a 2 Star rating may be too generous.
Download Spider-Man: Ultimate Power for Windows Phone (Demo)
George is the Reviews Editor at Windows Central, concentrating on Windows 10 PC and Mobile apps. He's been a supporter of the platform since the days of Windows CE and uses his current Windows 10 Mobile phone daily to keep up with life and enjoy a game during down time.
I can download and install this app. But app crash everytime at loading screen. Can not play this game. (Lumia 520 + Wi-Fi Connection)

I had issues playing bluray with my vhs player. :( Even in Canada where everything is extremely expensive microsoft sells unlocked bluhd phone with 1 gig for 119$.

Spider-Man: Ultimate Crash

It ask me about "choose your ...." when i choose " windows 8 Store or any of them" it crashes.
Device : Lumia 630 DS

I really don't know why this game crash for other people, and not me. And I could purchase it by SMS without any problems

This game was obviously ported from a Java version. And there are not many free Java games, so that this game being made a pay to play one is not so surprising... I don't recommend this game as the Unlimited version is much more attractive. :D

So let me get this straight.... It's $5 and after you pay $5, you end up having to pay more to unlock other parts of the game? Nice way to suck the money out of my left butt cheek.... Where do I sign up?

I have a set of steak-knives you may also be interested in...

Why did gameloft add that 'choose carrier' thing when u open GL games?

Great game, see my review https://m.youtube.com/watch?v=_qUlP9-3D8w

Crash, crash and much crash. Isn't happy with this game. :/

It's an online game that's a s**t

He work good on L1520 no issue or crash, and i have paid $2,99 for the full game not $4,99, but i have bought it the same day he came back in the store !! Its a good old style arcade game like i have play awhile ago on my NES, he dont drain my battery or heat up my phone like some other gameloft game !!

You can't purchase the game, they won't just send the code

Maybe it will go on sale...
Windows Central Newsletter
Thank you for signing up to Windows Central. You will receive a verification email shortly.
There was a problem. Please refresh the page and try again.