Spider-Man Unlimited updated - just not the Windows Phone version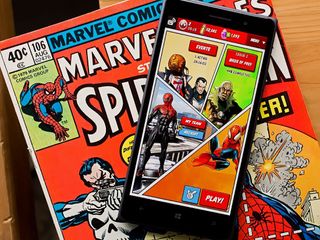 We have heard rumors over the weekend that Gameloft was dropping support for the Windows Phone game Spider-Man Unlimited. Updates have been pushed out for the iOS and Android versions but, to date, nothing has been seen for the Windows Phone version.
Searching the various Gameloft social networks did not help bring anything into focus and our first thought was the delay could simply be an issue with the Windows Phone Store certification. Instead of jumping the gun, we reached out to Gameloft to see if they could shed any light on things.
Gameloft's U.S. Public Relations Manager, Mandy Paez, confirmed the rumors. Citing resources being occupied to ensure that all of Gameloft's new games are available for Windows Phone and Windows 8 in a timely manner, the update is not currently planned to release on Windows Phone.
However, it is not all bad news from Gameloft regarding Spider-Man Unlimited. Events (weekly and daily challenges) will be returning to the game later this week and customer support will still be available for any known issues and troubleshooting.
Gameloft has been a strong supporter of the platform with a large collection of quality games in the Windows Phone Store. While it is a little surprising to see them hold off on updating Spider-Man Unlimited, it should open up the door to new releases and maybe, once the dust settles the update will move forward. You can always hope.
If we pick up on any more news on this, we will be sure to pass it on.
Thanks, everyone, for the tips on this over the weekend!
Update: We just received clarification about resuming the Events feature with the Windows Phone version of Spider-Man Unlimited. According to Gameloft, Windows Phone gamers will have the opportunity to re-visit old events and collect Spiders they may have previously missed. So if you missed out on earning Spider-Knight or the Ultimate Black Widow, you'll get another shot at these characters.
George is the Reviews Editor at Windows Central, concentrating on Windows 10 PC and Mobile apps. He's been a supporter of the platform since the days of Windows CE and uses his current Windows 10 Mobile phone daily to keep up with life and enjoy a game during down time.
Eh. They do good enough for us so far. Hopefully they do even better if our market share starts rising at some point (which I hope will happen some day).

Certainly soon with the release of Windows 10.

W10 won't do a damn thing if MS continues with horrible marketing, like they've done for the past 5 years...

I don't follow; how does Windows 10 on PCs effect phone marketshare? There's no obvious connection other than running similar apps.


Were you asleep during the MSFT event or are u simply ignorant and don't care?

Ecosystem of Windows 10 and Universal Apps across phones, tablets, Xbox and PC could entice people to choose WP over other os's.

Good enough shouldn't be the standard. That's just pathetic. This was my favorite game, but I'm done with Gameloft after this. Not like it matters to them or anyone else, but I'm done with them.

@Jonnie LasVegas I don't think your issue should be with Gameloft.....

Exactly❕❕❕ The blame needs to go to whoever holds the sole responsibility of making sure their platform is successful... He needs to be blaming MS.

When I said they do good enough, I mean compared to everyone else. Think about how many big games we've gotten from them.

I play World at Arms all the time. Great Gameloft game.

I hope Gameloft wont become Rovio

As long as people are willing to spend money on their games, they'll put their resources into them.

What do you mean by this? I don't understand. :S

buy the IAP. spend more and more.

Angry Birds game are on August 2014 Version they dont even have Rovio account support to transfer your progress in android or iOS

It sucks on l830... Great game...but lags like hell...

Daniel, why don't publish also the news about new banking apps in italy?
Only bad news on Wcentral?

Daniel didn't write this.

You serious? Most of Windows Central's articles are positive. You wanna see a negative site, check out WMpoweruser. I've read articles there that basically bashed Windows Phone and Microsoft. Their authors are sometimes as bad as the commenters here.

Freakin bull man, I love this app and I'm on it daily.....C'mon man!

Me too. I've gotten every legendary character but one, have 100% on all 4 levels, 200,000 vials and over 8,000 iso 8. Now they're just a waste.

I agree fully, but I wouldn't say it in those words. Gamelofts rep isn't that spectacular despite the games that are out. Why make WP games and leave them un updated and halfassed.

If I was a developer making games for WP, people like you would make me question what I am doing.

There's a thing called, reading peoples complaints by the developer. Thats pretty much Not happens on Wphone platform. Not every game is bad. Those that need updates or support just don't get it. See here, Spiderman.

Exactly if it was ms lining their pockets with money we'd never see these

well its the company that still makes games for us WP users.

The game is sucks anyways. Bad port and I uninstalled it months ago.

What is happing with the apps?

Quality is a bit to much to say.

Going the way of Waze eh? Won't update the app but updates content. At least Gameloft wasn't purchased by Google. Low maketshare = low allocated resources It's tough being a Windows Phone outlier.

Well, nertz. I've put a TON of time into this one and wondered why I hadn't gotten the update. Booooo.

Stop promoting Android here..

For every set back there is a comeback!

Does that mean for every comeback their is a setback? Just asking :)

Sort of. I'm waiting for apple's turn

RABBLE RABBLE RABBLE!! Burn them at the stake!

Stop developing games that you don't want to support leaving the consumer hanging high and dry!!

@Troy Jones5:
Sadly this seems to hold true for some of their other games as well.
MC5 always crashes on startup. And that is very frustrating after you paid for the game.

This game is doing good in WP store
Why stop?

Im sorry, but even though they do a good job of shoving Windows Phone games out the door, that's all they do...shove them out the door - half ass. Then let them sit and die different forms of crashing. Rival Knights has to be one of the worst running and worst support mobile games of all time. Complete joke. Even worse? They sell virtual money for games that eventually break, never fix them, or never refund the money they have essentially ripped you off with.

And that's why i don't play this game anymore

Can anyone recommend a game to replace Spiderman unlimited??

Sonic Dash, Subway Surfers, Minion Rush, Rail Rush, Temple Run 2

My guess is that all this bitching will totally encourage this and other developers to support this amazing community of grateful consumers...

People wouldn't have a reason to bitch if they actually did just that....SUPPORT their apps. *facepalm*

So I should just say, "well, I guess I should be grateful they took my money and never truly fixed the game". Brilliant.

if i spent ANY amount of cash on this, i'd be pissed. it sucks that even events in game mentioned what was going to happen. now the latest update changes an important mechanic to be easier (you no longer have to be a certain level to play stages in the main story, but have a combined multiplier) so you don't have to worry about earning a level 83 spiderman, for example. even worse, i've been playing the WP8 version primarily and since saves don't crossover with the android version, all my spidermen on my android tablet are less than level 10 versus the multiple level 70+ on my phone. Again, treated like a 2nd class customer :(

Yea marvel needs to get their act together with windows phone, waiting for a offical Marvel app and Marvel puzzle Quest for windows.

I just do get it. Why people don't like Windows? It's awesome, and modern...

Google and Android is just paying them to scrap Windows.

this is all chicken and egg tech ... in the end microsoft will need to do more developing for itself before others will hop on board

Spiderman Limited in that case, I suppose

I bet their devs are preparing for Win 10 and that's the reason they are busy. "resources being occupied to ensure that ... new games are available for Windows Phone and Windows 8 in a timely manner" - this means they are converting their apps to universal.

I alwasy loved this game :)

What you serious? thats not fair at all. i been waiting patiently for this new update and now reading that there will probably not be an update for WP user? no no no, please make something happen this is the only game i actually play and like on my phone.
Windows Central Newsletter
Get the best of Windows Central in in your inbox, every day!
Thank you for signing up to Windows Central. You will receive a verification email shortly.
There was a problem. Please refresh the page and try again.