Spotify ceases active development of its Windows Phone app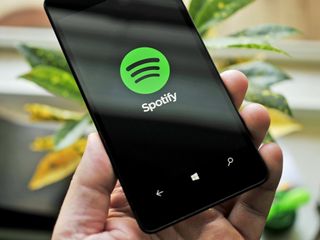 Another big name in the app game has announced it is ending active development for its Windows Phone app: Spotify. According to Spotify, it is shifting its Windows Phone app to "maintenance mode," meaning it will only receive critical security updates going forward.
As spotted by the folks at MSPU, Spotify made the low-key announcement on the feature request section of its Community site, stating:
The mobile portion of the Windows app ecosystem has seen an unfortunate number of departures recently, and Spotify is one of the bigger names to be added to that list. And while the app will still be available, the lack of consistent feature updates is sure to place it far behind its counterparts on other platforms in a hurry. The app's last big update was a design overhaul that took place in mid-2016.
Fortunately, Groove Music remains a solid alternative for Windows Phone users left in the lurch by this move. Third-party Spotify app, Spoticast (opens in new tab), remains a potential alternative as well.
Dan Thorp-Lancaster is the Editor in Chief for Windows Central. He began working with Windows Central as a news writer in 2014 and is obsessed with tech of all sorts. You can follow Dan on Twitter @DthorpL and Instagram @heyitsdtl. Got a hot tip? Send it to daniel.thorp-lancaster@futurenet.com.
Where is Elop to moan about his burning platform. Karma hurt, Microsoft!

Lol, I'm just sad to see things get worse but it's expected when your own company making the OS doesn't even show support for their own platform. It will just get worse till Microsoft says what's going to be happening in the future. Is there a future for mobile? Will it just be Enterprise focused? Are they going to restart again like with each mobile phone OS release? There are so many questions we need answers to.

Enterprises run by regular users like us. They also need apps, features, and support for their phones. With like these big apps missing everyday, Windows Mobile might not be usable very soon.

The only response Microsoft gives is that they still support Windows 10 Mobile and they wont support these devices! No other statement!

I don't really buy that enterprise focus explanation anymore, wouldn't one ummmm need some new phones every now and then to have focus on ANYTHING ? Game over for WM10. I'm ever so interested what MS is going to talk about all of this at Build. Especially how' they see UWP getting more traction going forward...now it's seemingly stuck. What could change that. Can't help thinking there's a bigger play here. Even on pc side the creator's update doesn't seem to evovle the OS anywhere. Mostly just small refinements here and there. Still waiting for W10 to make a meaningfull positive impact/change on how I use my pc. That's still not happened, most countries don't even have Cortana...most will bever have. Sorry for the off topic rant. I'll shut up now.

No I'm talking about the future not now as in, will their future just be focus on enterprise with their new devices. We know something coming, but what? As for that too they won't really need apps as most enterprise level phones tend to have their own in house created content for them. I just hope BUILD can at least answer these questions.

Enterprise biz only do not exist, just nadella lies We all know about os/2 and blackberry

Biz only do not exists, ms just lie
What we should do is a big class Action to ms
And prosecuting nadella by law for frauding consumers

At least he cared, last thing we heard from Microsoft was a powerpoint slide with a pic of Myerson on it. now thats committment!!! /s

exactly he surely cared for platform unlike Nadella

But this was alluded to in the last update.

Could've been worse... At least we get Maintenance Mode. Sounds like something Microsoft needs for Windows Mobile

The app isn't in maintenance mode. It crashes all the time and is slow. I've moved over to Spoticast

Windows phone isn't dead!!!!!

when are you going out on the comedy circuit B4RTW

Just trying to be ahead of certain ppl :)

you're right, it's not dead, it's already mummyfied.

Those 5 exclamation marks really convinced me.

Don't worry, I am on your side :)

WP is irrelevant, it's DEAD, put a fork in, Microsoft has, no app company worth it's salt develops for the WP platform, if it did it would be burning money, and no one will finance any software company knowing they are burning money.

Fire this Nutella already! Retrenchment.... Which idiot ever invented that? Nothing will be left by the time any surface device launches. Windows 10 for desktop and surfaces/tablets will suffer horrible too.

When Nadella became CEO, he decided to cancel all projects that weren't bringing in money, just to please the shareholders - which is why Microsoft is doing well financially after his arrival.

They were doing fine financially, before his arrival. Stock prices are not a barometer of fiscal health.

Nadella is using corporate raider techniques to make short term profits.

you wanna make jokes ,join the circus , msft always been doing well financially

You should retrench your comment. All you have is speculation and assumptions, our at worse your own opinion.

Nadella will be remembered as the ceo which destroyed windows platform

That´s true. Nadella will be remembered for that. Although it should be Ballmer. When Nadella came in, platform was already complete mess. No one remember that anymore and Nadella gets the blame.

The WP platform never went anywhere, billions spend "burned" trying to fight against Apple's iPhone and Android was like swimming in quick sand.

Windows 10 for dekstop will never suffer because all of the pc gaming community need DirectX

What WP surface device are you talking about, never heard anything from Microsoft about this. Microsoft and it's leadership knows what their bread and butter is, it's software, that's what Microsoft is, it's a software company, they burned enough money with the WP experiment, and with today's lousy economy, and slim profit margins, there is no time to be burning more money, their investors will have none of it, fighting to get market share against Apple and Android is fruitless, it's nothing but a losing proposition, they learned their lesson. They are even selling the Samsung S8 in Windows stores, this should be enough for any people in here living in lala land thinking there will be any more WP's in the future. WP is irrelevant, it's DEAD, put a fork in it, Microsoft has, reason is they know better.

Yep, the trench is 6ft long, 3ft wide and 6ft deep...with a pine box at the bottom. DEAD!!!!

Oops... That's a big one.

Looks strongly like android emulation is coming our way. So many apps are jumping ship.

MS already tried this and shelved the idea.

Yes they did...and it worked so well that they had to shelve it to appease the Windows devs to keep the easy ports from killing them happy. The didn't shelve it because it didn't work...it worked too well.

Actually it worked like crap, windows mobile was lagging and being inefficient just like android while the subsystem was integrated. Lol it was just the same experience though

Starting to wonder if Galaxy S8 Windows edition is precursor to this - scoping out the interest. Then get Alcatel to release an Idol Microsoft Edition running Android with Arrow Launcher.

Not even a mention of a UWP app. I'm normally quite positive, but this is a really bad sign for Windows on mobile devices

The install base for such an app is about to decrease starting April 25th, why would they be considering wasting resources on a UWP app now?

So you could put it on Xbox and make more money (assuming the PlayStation deal would allow them too).

Because of the millions of Win10 users on PC/tablet. If you do that then the Windows phone version comes 'for free'

It doesn't work that way!! It's ALL about mobile. Android and iOS will take over the desktop market through their mobile userbase. It doesn't work the other way around! Microsoft idiots don't understand this. Even the enterprise will drop windows sooner or later because they are all used to iphones and androids in their personal lives. Google and Apple will increasingly invest in enterprise in the next years to steal EVERYTHING from Microsoft. Mark my words. This is a chain effect. Mobile RULES the world and there is no next revolution coming for the next 10 years. Mixed reality, smart watches, or whatever won't replace phones. Phones in their current form factor are about to stay for at least the next 20 years. At most they will offer you to double screen size with foldable solutions but that's about the only evolution you can expect.

"Even the enterprise will drop Windows sooner or later". This is incredibly unlikely, but I give you a 2/10 troll rating anyway.

I'm not a troll but a big windows phone fan. Im just seeing reality. You are living in lalaland.

I don't live in lalaland for observing that windows dominates the enterprise space. So long as 50% of Fortune 500 companies use Azure, and big application and services developers make their product to be used on Windows Services and Azure (think SAP, Salesforce, J.D Edwards, Adobe, etc). Your bank? probably uses Windows Servers or services in some way. So does your electric company or water utility company. Businesses don't run on apps.

They use windows because the people running these organizations (30-60 year olds) all grew up using windows. The people who will start replacing them in 10 years time have grown up using Android and iOS, and the only thing they know about windows is that it can't do all the things Android and iOS can. I grew up with windows and know it's advantages over Android and iOS, my kids hardly know windows despite me supplying them with PC's and xbox (they prefer their phones). You think they and their friends will be wanting to use windows in the office in ten years time? I seriously doubt it!

iOS and Android are not enterprise platforms. I would believe that the enterprise space would be threatened by Linux based servers (which does offer stiff competition) but mobile platforms != server platforms. Your ignorance to enterprise systems is showing. Your single anecdotal evidence seems only to be supported by confirmation bias. I invite you to take a tour of any manufacturing facility, distribution center, or financial office. The vast majority use Windows Server, Windows desktop OS, and Windows services in some capacity. Case in point, Apple has had 20 years to come up with a competitor product to Active Directory. It still doesn't have one. It won't waste time developing one. It is not part of Apple's core competency or competitive space.

So...what OS will be used to develop, well, everything...if Windows is dropped?

You seriously think Android and iOS won't have that capability in 5-10 years time?

No. Again, enterprise platforms are completely different from mobile operating systems. It's far more difficult for a cell phone to do something like calculate the cost of conditionally crashing tasks on a project or run models of time series forecasting systems. But these are things businesses do daily.

If Microsoft ignores the Mobile platform they will find themselves lossing out in the desktop market as well. Android is already starting to surpass Windows users. I hate to see it. I don't think Apple is going to be the threat but Google and Android will take over the business word if Microsoft doesn't fix their Mobile platform. I stil love using my Windows 640 over my Samsung Galaxy S7. But I tend to also use my Chromebook at home more than my Windows 10 laptop. It starts up instantly and I can do most of my tasks on it. Sure I still need my Windows laptop for some applications. But I would not be surprised if some of the big players don't start using Android. Sales Force is web based and I bet you will see more applications doing the same.

It's not "unlikely." It's already happening.

... and your point is? UWP are 'universal' i.e. all platforms

Except the platforms where most users are: Android, iOS, Windows 7, ... So far only webapps are truely universal.

It's what is happening already, ms will sink in about 5 max 10 years Yes, azure and office too

Windows store is dying thanks to nadella politics :(

the millions of Win10 users can use Spotify from their browser or by installing the x86 app

That use iPhones and Android phones.

They wouldn't be the first to stop developing of a mobile only app, only to return with a UWP app later.

No windows is loosing interest in developers, don't you see the store?
Each day more empty...

Why would they do that when they have an x86 app? UWP would be pointless as it doesn't reach older versions of Windows and mobile is dead.

And on other devices too, since the entire platform is becoming irrilevant to developers thanks to nadella politics

I fear the next ones will be the ones I use more frequently....Twitter, Facebook, reddit etc. When that happens don't know what I'm gonna do. They are slowly kicking us out.

Twitter is fine, use Readit for Reddit (best client in the world), and the old MS Facebook app is also quite nice, works and looks well, and gets me the job done.

Who says the reddit developer will keep developing it? Maybe he will stop just like Rudy. He doesn't update his apps anymore.

He does. The app is almost perfect, that's why he doesn't spend that much of his time on it anymore. And even it left like this forever, it would still be one of the best apps.

No, websites/backend and things change so an app needs constant updating or it will start showing bugs or stop working.

They are kicking Microsoft out, not us
Is Microsoft that is a totally unaffordable company under nadella

I'm with ya, kenzibit. I've been able to handle the stream of "so-and-so have discontinued development for their Windows Mobile/Phone app" announcements I wake up to each morning, right up to now. Spotify is a massive loss. If one of the Holy Trinity (Facebook, Twitter, Instagram) pulls official support, I'm gonna seriously consider jumping ship. Even just saying that feels wrong :-(

Bah, no self-respecting Windows Mobile fan uses anything other than Groove anyway. :)

First let groove be available to all over the world! Then fans can use it.

I just started a paid subscription with them..smh

Please speak for yourself. I am a Spotify subscriber. Groove lacks a lot of what I listen to.

Guys we need a strong class action against Microsoft, now or it will be too late

So should we call Harvey Specter or Patty Hewes

Same here. I would love to stick with Groove but Spotify has more of what I want.

Maybe they didn't have any new phones to continue support since creators update wont be supported on older devices.

This literally changes nothing.

Groove Music is just as good or better, IMHO.

He said it and I concur. That's at least two more than "nobody"

Microsoft needs to speak out loudly and declare the death of Windows 10 mobile better than reading this bs and endure the poison everyday!

They already did. Remember when they took an almost eight billion dollar writedown and fired everyone? How much louder do you want them to be?

...but then they announced that they were still supporting the platform and began hiring people to work on it...

Does all software need constant development now days? I guess when it's originally issued incomplete, then it would need more work.
.
Microsoft Money software stopped development years and years ago and is still available and works. We just installed it on Windows 10 computers.

Another one bites the dust

Persuading developers to convert apps to run on W10M has largely failed, Xamarin conversion tools have failed to garner significant interest for app re-building, MSFT bridges have failed to interest and/or deliver and MSFT has hugely failed in the last few years to market, develop, encourage or acquire developers for the Windows Mobile environment. Unless MSFT have something spectacular up their sleeve the end of Windows Mobile/Phone environment is drawing closer by the day. As someone who has been invested with MSFT mobile since the first SPV was introduced in the UK I am hugely disappointed in the way this has happened. The lack of a clear, concise strategy with dates, products and partners is seriously lacking. Obviously, this creates FUD and disillusion among the many users, developers, partners and potential markets. I don't particuarly want to move away but seeing that iOS and Android apps produced by MSFT typcially have more and better functionality than those on W10M, plus the assurance that new phones are being produced and with a range of versions to suit everyone it may be the only way forwards .... .... Unless, of course, MSFT does the decent things and gives us the carrot (not a mirage of words, hopes and pure baloney) that there will be a mobile/pocket/something device with a tiled software interface delivering the apps we want and sporting the functionality expected. Obviously, a timescale and feature, functionality alongside partners and time scales is necessary.Becuase if not, then people will start moving in their droves and it's awfully difficult to reclaim users once you've lost them. MSFT may be playing a long game here but us consumers cannt wait for ever and need reasons to stay. Surely the might of MSFT must see this?

I wish they would make the app run smoothly. It has always randomly crashed, stopped playing music on its own, and will take me back to the playlist or main menu screen anytime I unlock my phone. It's barely usable. Spotify never cared about this platform.

MS needs to come out with a statement SOON regarding the current state of mobile, plans for the future of the platform, and what the path forward is if they want to stop the hemorrhaging. If they don't, even the possibility of an enterprise centric platform will be impossible. No app developer, even ones that are specifically enterprise and not consumer focused, will want to touch the platform. No one other than MS anyway. The dream will die on the vine. Their own apathy towards the platform will be the platforms undoing.

So, when are these Bots Microsoft talks about going to overtake apps? What good will Bots be if not offered for Windows devices? Nadella, you are the worst ever.

Do you really believe that crap? Bots are a hype, just like AI as Cortana. They are limited useless toys. Yes you can order a pizza with a bot but can you do Snapchat with a bot? No you can't. A bot is for textual interfaces. Games/apps like snapchat/photo editing all can't be done with bots. Besides, Microsoft is just one of the many companies developing bots and their bots will fail because they have no userbase to give them to. Everyone will use facebook/google/apple bots.

It's quite clear I don't believe that.

Tell us when you decide to come back to Earth from whatever fanatsy realm your are on now.

There is always still Spoticast, or if you have no ties to Spotify check out Groove. It is available on all platforms so if you are from a multi-OS family it would still work.

It would be nice if they would actually make the app work well. The mid-2016 update was just a new UI with all the same issues.

Someone will reply that they never heard of it.

This is just plain bad. I wish Microsoft would announce their plans with WM already.

At least they could have added the new lossless audio feature :/

Keep it coming, Nutella! You cant get hit by a bus soon enough.

Nadella didn't create the failed Windows Phone platform and strategy. That is all on Balmer. Nadella is just taking out the trash. Something Balmer should have done years ago. Now it is likely too late for Microsoft. Balmer​ needed a new strategy as soon as Windows Phone 7 flopped. It would have still been​ tough, but not as tough as it will be today. When Nadella's strategy is ready and starts being implemented, then you can blame it on him. Hopefully it doesn't look anything like Balmer's mess.

The platform was at least a factor. It took hard work to gain the market-share they did, and Nutella pissed out all away to spend effort on this cloud crap.

All that hard work to gain 3% market​ share selling $30 phones. Sounds sustainable.

Was higher than 3. Nice try.

When? What quarter did it break 3% worldwide?

Noooooo! I'm not using WP right now, but I chose Spotify because I wanted to be able to switch back anytime without losing my music. I hope they don't completely drop support.

I'd cease development too if I saw the company I was developing for release a "Microsoft Edition" of a phone running their competitors operating system while their own OS falls below a measly 1%.

Today on the 5th of April 2017, i retired my Lumia 1020 - a trusted tool that served me well. Switched to Android and aside from the OS im immediately more productive sue to the number of apps available I need to make my life easier. Im going to be back when the Surface Phone drops, probably version 2 of it. HSBC APP! man ive missed this thing!

It will be hard to come back once you've tasted all the app goodness

Do as you will, but know, that is part of the problem. If you want something to survive, you have to support it.
Best Wishes

If you're really missing WP I recommend downloading a launcher. There's a W10M​ launcher but I personally prefer the Windows Phone 8 launcher. It's nowhere near the same same it beats the stock Android garbage.

Come on boys and girls. Time for the usual comments: - Never heard of it so don't care
- Cool, i never use apps anyway
- They are losers!
- No problem , there are so many other unknows 3rd party streaming services. I'll show them!!!!
- Surface Phone will come out and save the day. They will be begging to come back I go for one not in the list: hahahaha :)

Heres another one to add to your list. - Groove is better

NOW THE SITUATION IS CRITICALLY DIED, THANK You
WINDOW COMMUNITY.

Here's how im seeing it. Devs that drop support or remove their app from the store, ok so... What if in unexpected way Microsoft drops a bomb of a phone and it does extremely well, world loves it etc.. I don't see those unsupported and removed apps come back at all. 😅

Hey Jason, is that you? ;)

Jason? Like Jason Bourne? Sorry no..

I meant Jason Ward from this site. You know, the eternal optimist :)

Haha no, sorry i am not Jason Ward. But I am an eternal optimist to a point of just having dreams of stuff happening.

No matter how great this mystery phone might be, if there are no apps no one will care.

That's exactly my point. People want specific apps that are popular, sure a new phone would be cool but without those apps it just raises more questions.

Nadella messed up tremendously when he caused the collapse of Windows Phone / Mobiles in Europe and its other markets that had a fair hold on its marketshare. He first tarnished the Nokia name by removing all customer service and has done the same with Microsoft by making them irrelevant in the mobile markets where they once had a following. They need first party flagship hardware, not vaporware in the firm of rebadged no-name devices.

indeed, it's so baffling that you'd drop out of markets where windows phone share was doing well, so well in some markets that it's beating iOS, you believe that!?!?!?! that's ludacris, the guy shows no effort where mobile is concerned.i understand you want to be on the top where next cutting edge technology is but mobile definitely has part to play in everyone's lives and it won't be while under whatever new cutting edge technology comes to beat mobile to meet masses at good price point also

How many phones is 15% market share in Italy? Does that number even hit 6 digits? It certainly is not enough to keep a giant company like Microsoft or Nokia happy, especially when it is only the cheapest phone that sells well. It wasn't worth the effort or else they wouldn't have left.

Groove is much better anyway but otherwise the Spoticast apps works great on all Windows 10 devices including phone, Xbox, tablets and PC. Plus you don't need a premium account 😉

That's a bummer. Never going to have Discover Weekly, or the option to continue playing on another device :(

They said old devices... So hopefully this means that a UWP is on the way.

With all these articles saying "_____ Stops windows phone app support" does that include the windows for windows laptops?

Nope, they are never going to do that, at least for Spotify. Too much of their base is on PC.

Windows laptop can run x86 app and spotify not only have but they also have access to it by your browser so you dont have to care for anything remove from windows store

They say it will be on store and get security updates. It's a good app and works well, so no need new updates.

Thank goodness I switched back to Groove a couple of months ago. I don't regret it one bit.

Guess the CEO misjudged MS/Windows influance in the smartphone era big time. No body care about w10 app store because no one care/know about w10m. He don't understand the important of media consumption devices, 99% of people don't want/need full windows after work and mobile O/S is all they need. Combine the stability of W8.1, functions of w10m, design of nokia, commitment of Ballmer, camera of 1020, UWP and a working "open on other devices" functions on all app. Maybe they can get back in game.

Ouch, not good. My Spotify app on my 950XL is clunky and every so often won't open without a reboot of the phone, looks like that won't be fixed any time soon.

The snowball just gained more momentum.

It's more like an avalanche now :-(

We'll I was going to sign up this week. Here I come Groove!

The Spotify app hasn't let me log in for months, anyway. I'm fine with Groove. (eta: I prefer Groove anyway.)

LEAVE THE WINDOW'S phone OR LEAVE YOUR WINDOW.S TO THROW phone.

Considering their app barely worked for ages already, I am not suprised. They essentially abandoned it a long while back.

I think WindowsCentral will have big troubles coming up with app comparisons such as "The 10 best this_and_that apps for Windows 10 Mobile" simply because they cannot find even 10 in any category to select.

Age's passed blaming OS and crying for improvements,but in vain.

This app hardly worked for me. It was always "Loading....". Took forever to get to an actual song. Didn't have all the features of the Android app (for example playing audio on other devices)

Interesting. It has always worked for me. Not perfectly no, but it works.

TIME HAS COME,WINDOWS CENTRAL WILL LEAVE 😀

Was not being updated anyway.... Using Deezer and Groove and pretty happy :)

So no change basically. If they did drop the app, I'd quit Spotify. I do wish they'd fix the error where it doesn't address the audio system properly. Why they couldn't just make a UWP app I've no idea.

What really would UWP bring them? Access to the few W10M users left?

400 millions of windows 10 devices users...

They already run the x86 version. No need for the UWP.

Bleached, you are beating a dead horse with some of these people. They think that 400 million w10 desktop users are going to download mobile apps on their desktops. NOT happening. Why do that when you can just use edge? Having mobile apps on a desktop computer is silly....and pointless. You don't need mobile app features on a desktop...just as you dont WANT desktop programming on your phone....it's counter productive.

Well one reason is al those people who use 2-in-1 tablets for which appa are really are much nicer.

Why do you think its Microsoft? Spotify doesnt even support Xbox One because it made a deal with Sony. I think this lies on Spotify not Microsoft.

Whoa, u expect them to spend their resources on the last 100users. even as MS is burying W10M.

One account, listen everywhere... My a... Spotify doesnt even support xbox one because of a deal with Sony. Screw Spotify. No UWP for desktop/mobile/xbox one. They arent everywhere. So I am going to support them.

Did you guys noted that it's related to old devices probably 8.1 or older? This means that they have a UWP on the way... "Thus, we will only be making critical security updates to the current Spotify app and not releasing any new features nor improving support for old devices going forward."

Don't worry, Surface phone, Windows on ARM, Daniel Rubino, etc, etc.... and everything will be magically fixed ! :)

Wait for Jason Ward to tell u how apps are dead already, bots will sing sings for u

So in short: Microsoft ****** up.it would be really nice if they would make a statement on their plans and visions.since i dont see any...and they had such an amazing mobile OS 😒 I can understand bad decisions,bad investments,but lack of information is just plain crap...lumia 520 920 930 950....nokia 6 here i come 😐

Magic! Haha,i love the pr trying to save what is left 😍

I love my music ON my phone, or hard disk drive, removable storages, etc. Physical media. I don't like nor rely on someone else's servers...

Never liked it! I don't care.

Big deal. I left Spotify over a year ago because it looks nice but Groove is just better. Groove is the best music app on the market.

Well, that is THE last nail in the coffin for me. MS does not care, why should I. I know Spotify leaving (they eventually will) is not Microsoft's decision but considering Microsoft's total lack of interest in it's own platform. Does Spotify (or any other developer for that matter) really have a choice? I know I don't. I come back to Windows the moment they have *something* to be enthusiastic about. But that is IT for me. Sad ending to a sad story.

Bye bye Spotify... I have Groove and Radio...

I wish Spotify would release a UWP app so I can get it on the phone, W10 and Xbox.

UWP is pointless without a mobile share.

nonsense, tablet, xbox, laptop and desktop users use them. mobile is completely insignificant by comparison

Aaaand they just lost a paying customer. That was just the last helping thought push to abandon this awful App anyway and move on to a better, more up to date service.

I use Groove anyway. I'll be ok. Just use Spoticast.

90% or more Windows phones are not updatable, what do you expect... Everyone is following suit. Even as a "service" Nadella's strategy is failing big time...

Remember to use Pandora before it is eliminated from the store any day...

Groove? You mean the Groove that is only available in a limited number of countries?

This is why I jumped ship and went to Android. It's all about APPS, APPS and APPS.

Oh well. Continuum is still cool.

I guess it's time to give my HTC 8X a Viking Burial then...

As long as I have Tune In, iHeart Radio, Pandora and my Groove Music app I am fine. I never liked Spotify anyway!

is this not what fanboys said about spotify and shazam when shazam ended their windows app misery? As long as I have spotify I am fine....

I would love to see a UWP app so I can listen to music while my tablet is in InstantGo.

A befriended company were going to replace all their phones with windows phones (550). I have strongly advised them against it, with MS support for mobile as it stands I have begun advising against anyone getting into windows mobile. No matter how much I love the OS, with no clear communication or plan from MS I cannot recommend windows mobile any longer.

No support no users, no users no support. Either way its f......d.

MS vision of mobile is now a ultramobile PC which will only replace tablets or laptops, it will still not compete with mobiles and in fact it may be MS vision that it will not compete with mobiles but coexist with Android and Iphone. so basically it will be sitting duck until Apple/Google comes up with an enterprise solution.

At least they are not pulling it, it's on the store. I really don't understand the pull off logic like some firms do. Give it some security patches and don't pull it down.

Let the comments beggin where fans start to say that Spotify is crap and groove is better.

I'm glad this is happening because if it didn't then MS wouldn't have any reason to take notice. Unfortunately this has been happening for a long time and MS hasn't done anything to slow or fix this situation as apps are leaving on a day to day basis. Can't wait to see MS's explanation when all that's left are the apps made by MS.

Active development stopped, living a dormant life, and soon there will be latent failure. Pathetic state of Windows Mobile.

When is the Surface Phone released? I would then play Spotify via the WIN32 program.

Soon we'll hear Microsoft announces: Windows abandon or leaving Windows Phone !!!!!

WP is irrelevant, it's DEAD, put a fork in it, Microsoft has, Microsoft is a software company, that is what's their money is.

Do people who have Surface tablets use the same app? Is that app still being supported?

Spotify is a big deal. I'm not a paying member, but I do use it very often on my Windows phone. It's wildly popular, and this will undoubtedly upset people who pay $10/month for its service.

No surprise there, as long as it works I really don´t give a ****. And if it stops working than we always have Groove music but I think Spotify will outlive windows phones :(

So. Used it, went back to using Groove. Groove is an excellent app and a good music service, and getting better.

What a same. I've Spotify Premium in my contract with my ISP on pc and mobile , both Windows 10.

ah well the web app is fine.

Perhaps you could write more about the apps coming into the platform. And more about what MS is doing right. Some depression fogged doomsdaying in these articles and the forum
Windows Central Newsletter
Get the best of Windows Central in in your inbox, every day!
Thank you for signing up to Windows Central. You will receive a verification email shortly.
There was a problem. Please refresh the page and try again.