Sprint to once again support Microsoft and Windows Phone with the Lumia 635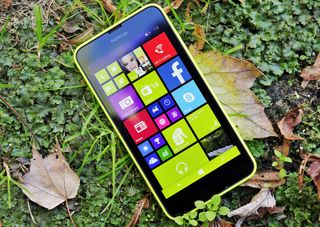 Sprint has today announced the US carrier has rekindled its partnership with Microsoft and Windows Phone. The company will be offering the Lumia 635 across multiple brands, including Boost Mobile and Virgin Mobile. The device, running Windows Phone 8.1, will be available through those two brands from December 23, with Sprint postpaid customers having to wait until January 16.
According to Sprint's announcement published today, the company will offer the Lumia 635 in cyan at Boost Mobile (opens in new tab) and white on Virgin Mobile, both for $99.99. Sprint hasn't yet shared what the pricing will be for its own subscribers for the January launch.
Check the official announcement (main snippet published below) for more details on available plans and comparisons.
IRVINE, Calif.--(BUSINESS WIRE)--Sprint and Microsoft will proudly showcase a renewed partnership with the announcement of Lumia 635 arriving across multiple Sprint brands beginning with Boost Mobile and Virgin Mobile on Dec. 23. It will be available on Jan. 16 to Sprint postpaid customers. This is the first Windows Phone 8.1 smartphone to launch on Sprint's network and the first Lumia Windows Phone available to Sprint's prepaid customers.
Both Boost Mobile and Virgin Mobile USA offer budget-conscious, no-contract wireless plans, including unlimited talk, text and data options. Lumia 635 will be available in cyan at www.boostmobile.com/lumia635 and in white at www.virginmobileusa.com for $99.99 (excludes taxes). Starting Jan. 9, Lumia 635 will also be available at Boost Mobile's exclusive retail stores, select independent wireless dealers nationwide and later in the month at select national retail locations. Sprint pricing will be shared at a later date.
Lumia 635 is a powerful device for the smart shopper looking for something new. Cortana, your personal digital assistant, helps manage daily tasks and can set reminders based on time, location and people – so you know if traffic is backed up before your appointment across town. The nimble Windows Phone 8.1 operating system combined with a Qualcomm® Snapdragon™ 1.2GHz quad-core processor and enhanced LTE access (where available) make for fast browsing and multitasking capabilities on the Sprint 4G LTE network, currently serving 540 cities.
The Windows Phone home screen provides a smooth overview of your life, keeping all emails, upcoming appointments, websites and contacts front and center. Windows Phone 8.1 offers a revamped notification system, people can set up custom shortcuts within the Action Center for everything from Bluetooth to music to the camera, and certain alerts can easily be previewed without opening the app in question. Familiar Microsoft services are also available, including Office, Skype and OneDrive.
"We are excited to welcome Lumia 635 as our first Windows Phone on our two no-contract brands – Boost Mobile and Virgin Mobile USA – providing customers the ultimate in financial flexibility and choice," said David Owens, senior vice president, Product Development. "This device is the showpiece for our reinvigorated relationship with Microsoft, and we know our customers will appreciate all they can do with the powerful Windows Phone 8.1 operating system. Our Sprint postpaid customers will experience this device right after the new year."
"We are pleased to partner with Sprint and offer even more U.S. customers the opportunity to choose Lumia smartphones," said Matt Rothschild, head of North America sales for Microsoft Mobile Devices. "The Sprint, Boost and Virgin brands have great synergy with the value represented by the Lumia 635 – a great, affordable smartphone that delivers uncompromised experiences to help people do more."
Rich Edmonds is Senior Editor of PC hardware at Windows Central, covering everything related to PC components and NAS. He's been involved in technology for more than a decade and knows a thing or two about the magic inside a PC chassis. You can follow him over on Twitter at @RichEdmonds.
Glad to see this. :) Seems like a lot of the things going on with mid-range phones are taking off with carriers.

Hey lumia 635 is low end lumia 735 is mid range I suppose Posted via the Windows Central App

I guess I should reiterate the comment to say "low- to mid-range phones"...;)

The 635 has the best carrier support in North America of any Lumia yet. Even better than the Lumia 520/521. In Canada alone it's available on Telus, Koodo, Rogers, Fido, and Chatr, as well as regional carrier TBayTel, and finally a raft of smaller Canadian MVNOs (Cityfone, BMO Talk & Earn, RBC Talk & Save, Sears Connect, and Primus Wireless). In the U.S. it's available on AT&T, T-Mobile, and now Sprint, plus Cricket (and possibly other MVNOs?). That's got to be a record for North American distribution of any single model of Windows Phone. In context, the Lumia 520/521 was on a couple of major carriers each in Canada and the U.S., and a couple of MVNOs each. Nothing close to the list above. I think the Lumia 635 got traction with carriers as one of the least-expensive LTE handsets they could offer their customers. Smart timing for Microsoft.

I'm getting tired with these budget smartphones. They should have use the same camera module as on the L1020 and put a snapdragon 801 chipset and 3GB RAM into L930 body. That's good enough for me.

That's not how it works...

I mean, they don't have to wait until Windows 10 to introduce a new Flagship, they can use the same camera module like they did with L1520/930 with newer chipset into 5inch smartphone..

Still no sales. So why waste more money? Unless they fix the app gap, and new win 10. Releasing new flagships now is too risky

They probably will release a new flagship before 10, but why do you want 3GB of RAM? That will make it more expensive without a direct benefit for 99.99% of users. Now and into the future. Not that I wouldn't buy that phone, I probably would, but I'd be happy with 2GB. 2GB is 4x what the entry-level phones have, but more like dozens of times the usable RAM of the entry level phones after the OS is loaded. :-) 3GB is creeping feature-itis, though, IMO.

Ram is super cheap these days.

That's not how it works, that's not how any of this works...

Just look at Potter -.- Posted via the Windows Central App for Android

You really should take Business 101 when you get a chance no matter what your major is.

Sprint is supposed to get a HTC One soon after that 635.

A 6 f'n 35? I think my 8XT is still a better phone than this...I suppose the bright side view is to say that Lumia's are on Sprint...but my gawd...a 635. To quote the presser: "This device is the showpiece for our reinvigorated relationship with Microsoft, " How on earth is the 635 a 'Showpiece'?

WP's charm has come from low- to mid-range phones overseas...and usually prepaid services (which are what Virgin and Boost Mobile are) use budget-conscious phones. Most of us here in the states like higher-end phones at cheap rates (which is an oxymoron, if you think about it), so I can understand your reasoning.

Makes 100% sense on Boost/Virgin and even Sprint as a low cost entry level device. Calling it a 'Showpiece for out reinvigorated relationship" is a joke. Bring the Icon/930 as a 'Showpiece' or the HTC One for Windows and then we're talking. I've got 2 lines I can upgrade but it won't be for a 635...we'll just wait this out a while longer...hopefully there is more to come.

I was about to say, just forget about getting your phones from your carrier, buy what you want unlocked. Then I remembered that Sprint is not only a CDMA2000 carrier, but they've even implemented different LTE bands than the rest of the world. :-( We're spoiled in Canada. We used to have the same problem, with a tonne of CDMA2000 carriers, but they all (yes, every one of them) rolled out HSPA networks several years ago. There's no carrier in Canada that can't use an unlocked HSPA handset or an unlocked LTE handset with even semi-normal frequency support. But Sprint? Ugh. What are they smoking? Especially when they rolled out 2600MHz in a unique band rather than the global standard of Band 7. That's the *only* global LTE band, the only one available on every continent, and Sprint rejected it! Morons.

2600 is the world band for TDD-LTE, which is a lot faster than what most carriers have now with FDD-LTE, another name for it is LTEAdvanced which is where carrier aggregation, not just Sprint is on 2600 in the world of things, but in the U.S. Sprint has the spectrum from 2500-2600 and can do 20x20 MHz channels.

We are all waiting from a new flagship, a beast, that for sure. But we have to understand that flagships are not going to give Windows any market share, and without market share we are going to keep fighting with AT&T employees hiding the WP devices, or Verizon not giving updates to the WP users, and a long long list here. I want my flagship, and I think we are now about time to have one, but I do support the push on low-mid range devices.

This is what MS can 'afford' to make available right now. It is a convenient way to say that WP10 is going to be huge and there will be refreshed 2015 hardware "required" for a best possible experience. My L920 works fine so far albeit some issues (performance). Over the past few months, I have resisted an urge to get a new (latest) phone (Android?). The only reason why I havent made that move is because Google seems to have its own way of making Android smell bad, like MS has with WP. But Xiaomi Mi3 and Mi4 are really tempting. I just might end up getting one after we see what MS has been upto on Jan 21st.

Good job Sprint. Good job. Letting your presence be known that you're committed.

Yeah, they're committed. Committed to shooting themselves in the foot. They'll never release a flagship device - just low-to-mid-tier devices.

Then name another way the Lumia line (and Windows Phone as a whole) was going to enter the prepaid CDMA market, as well as the second largest CDMA network. You seem to forget the highest sellers for Windows Phone have been low to mid end devices. Having a Windows Phone device on the two largest Prepaid CDMA networks opens a lot of possibilities to see Windows Phone grow in share (because the GSM oriented strategy Microsoft has been using for 3+ years has miserably failed). This also opens the doors to having regional CDMA networks smaller than US Cellular be attracted to add Windows Phone devices again.

My understanding is that this isn't only coming to the pre-paid market, but also normal Sprint contracted customers as well. While yes, low-end phones are the higher sellers, it's also why Windows Phone gets a lot of crap from others. It could be that the low end phones have been their highest sellers because that's mostly what they've been releasing. If you release more of phone type A than phone type B, you're obviously going to naturally sell more of phone type A. There is a demand for high-end, "flagship" devices. Consumers generally won't take WP seriously or even consider switching from their iPhones or higher end Android devices until we as WP owners can prop up a device that can compete not just with software and features, but with hardware specs as well. Honestly, I don't expect Sprint to market these at all. They'll claim 6 months later that the phone was a failure, because, as they usually do, they won't display it in stores prominently, they won't advertise it, and they won't even train their sales staff on it. In fact, if Sprint's release of the ATIV S Neo or HTC 8XT were any indicator, they might even be shoved down at the very bottom of the online phone shop listing. And honestly, I don't blame them on this one, because while the 635 is a great phone for the price, it cannot compete with the latest iPhone or Samsung Galaxy devices. What Windows needs to do is start knocking down Android and steal some customers - releasing a low-end device is not a way to go about doing that. We need converts, not just a small fraction of prepaid users. Name another way, you say? Sprint should get the HTC One M8 with Windows. Sprint should get their own version of the 900 series devices. Customers look at specs a lot more than people give them credit for, partially because that's all the freakin' sales reps in stores push. Specs and apps. Specs and apps.

The average consumer does not care about specs, unlike some of us. If specs was an issue, then explain why the bashing against the Ativ S Neo which has similar specs to the Nokia Lumia 92X series (except for the Icon/929). Also, what makes you think Sprint will not carry a flagship in the future? There has been very strong discussion about the M8 for Windows (but not for the regular version). Maybe the words "Harmann-Karmon" may ring a bell.

A few years ago,a small cute baby is exactly lying like this on grass.
Love my 620 all the way.

I agree. The cutest Lumia is the L620. If Nokia had included LTE support, I would have gotten one.

While it is a budget phone, at least they are finally announcing something new. Now, the true test is to see if they will support and advertise the Lumia phone which is something they didn't do with the Ativ S Neo and 8XT.

Microsoft dedicated all their advertising efforts in 2013 exclusively to the Lumia line, and still refused to provide the same ad support provided to AT&T and Verizon.

I'm waiting on a hardcore flagship too. Have multiple 8XT and Ativ S Neo. But for my mom? Lumia 635!!

Honestly, my Mom would do well with a 635 also.

Is this phone any better than Sprints HTC 8XT? Its been slim pickings on Sprint, I went from the HTC arrive, to the HTC 8xt, been waiting for the next windows phone.

No, its specs are lower than the 8XT's. Half the RAM, no Front Facing Camera, just read the WC review linked in this article. It isn't an upgrade.

I haven't seen if the 635 is a "Spark" device (e.g. using Sprint's wideband LTE). The 8XT and ATIV S Neo were not wideband, so if the 635 is, it would deliver much faster data performance in Spark markets. But otherwise, yeah, it's a downgrade from an 8XT or Ativ S Neo.

I can confirm that the Lumia 635 on Sprint/Boost/Virgin will indeed be a Spark-enabled device. All of Sprint's new smartphone releases are all Spark-enabled out of the box. On Boost/Virgin they don't call it Spark, they call it 'enhanced LTE'. You'll see the references to it in the press release above.

Nice, that's good to see WP can support that service. Now...can you get Sprint/HTC to realize their 8.1 update isn't pushing to DP 8.1 8XT's? :D (I had to ask!)

It's still a lumia so it better then a HTC right. Even if it has no ffc and only half the memory. Not really but this is the problem you say that this ain't better then the htc8x but then you go we have no flagship for windows phone. Then someone says yes we do the HTC one m8 windows edition that not a Lumia it don't count its not as good as a Lumia lumias supports better but it beats almost if not all the lumias in specs. But its not a flagship then you say oh the HTC 8x is better then the Nokia Lumia 635 when the difference between the two are less then what is the HTC one that you clam ain't a flagship and ain't a good as a Lumia the all the other lumias so yes WP gots a flagship HTC one m8 you admitted yourself cuz if the 8xt is better then the 635 and its only missing a ffc and 512 Mb of ram surely HTC one the beats almost every Lumia spec wise is better the all lumias.

Um...on SPRINT. Please do you research on the phones on the network we're talking about...the rest of your response is unintelligible jibberish. Sprint...you know the Subject of this news story has 1, 1 Windows Phone...the 635. So no, we have no Flagship...and have you not seen all the software releases that don't support 512MB RAM? No, the 635 is not better than the 18 mos. old 8XT...no FFC, no Ambient light sensor, no proximity sensor...and I'm sorry but the 512MB RAM vs 1GB RAM is huge. So no, there is no Flagship WP on Sprint, and the Ativ S Neo & 8XT are better phones than the 635.

First off my statement was a general statement not about sprint pacifically. I got att so it really don't matter to me what Sprint offers but its good for Microsoft and WP that sprint added the 635. My statement was that lumias according to most people are better no matter what the technical limitations are over every other WP device. I dont believe that my self but most do. You lucky that sprint got a Lumia device at all cuz when Nokia controlled it there was no way on h3ll cuz sprint and Nokia were apparently mad at each other that sprint would of released a Lumia. As far as apps go yes alot of apps need 1 gb ram to work but then again alot don't it all depends on what you need in a phone and how much you can afford just because the Nokia 635 isn't for you don't mean other people wont find it more then satisfactory. Not everyone uses there phone for games or as a pocket PC. And not everyone want to take pic of themselves like vein little brats. So for them the Nokia 635 is cheaper and a better option that all I'm saying

It already has the Wi Di miracast support for wireless projection, but if it has Spark it might actually be a decent contender.

A few years ago,a small cute baby is exactly lying like this on grass. Love my 620 all the way.

And this needed to be posted twice because?

don't worry about it, it just happens sometimes

Hmmm... I can get a low-resolution display, chunky Lumia lacking a front-facing camera (so no video conferencing) and a 5 MP rear camera for $100... or I can pick up the super-awesome Sharp Aquos Crystal with a front-facing camera, 8 MP rear shooter and HD display (as well as the massive Google Play app store) for just $50 more. Gee, I wonder which people will buy, and which they'll leave on the shelf?

Some people have kids make minimum wage and can't afford the extra 50 extra for a device mainly used to make phone calls. Sorry kds you can't eat cuz I want this phone. If you feel that way go buy it or if you can afford it go buy it but some people really can't justify that extra 50 dollars. So or for people like me that would rather slit my own throat the buy a android. It's a decent phone for people that can't afford more or wont follow the crowd.

Point taken...that said, an Ativ S Neo or 8XT is a better buy for the same money.

Fu*k UC's speed mode.I apologize as I don't know how to delete a comment once it is posted.It's just showing re edit option there.

I guess #FDR Day has been set by Sprint, as well as finally Microsoft getting in the prepaid CDMA market. Getting a Windows Phone device on Boost and Virgin Mobile opens a lot of possibilities to increase total market share.

Why no 73x in us, it would be the key off contract phones

Baby steps in getting a Lumia device on a second national CDMA network, but a giant step in FINALLY getting presence on the two largest prepaid CDMA carriers in the US market. That alone can help getting Windows Phone to double their market share.

In the very least, the US will finally have a Lumia available on all four national carriers.

Not thanks to Nokia nor Stepehen EFLOP who couldn't see the idea of getting the Lumia line sold on Sprint, Virgin Mobile, and Boost, while also opening the doors to having several CCA's Network America partners of Sprint inquiring about Lumia (and more specifically Windows Phone) devices. Microsoft was aware of the situation, and had to meet Sprint's demands on this one (as it was either Sprint only carrying devices from HTC and Samsung, and no chance to have any offerings on prepaid, and hurting their chances of getting devices on any regional CDMA Network, or finally meeting Sprint's conditions in Sprint's world). Microsoft always knew they needed to enter the prepaid market on the CDMA side in order to have a standing chance to reach their 10% goal for market share in the US. What makes me wonder is why they took four years to get out of the "let's push devices on prepaid GSM carriers, and let's ignore every preaid CDMA company as we do not need them for the 10% share" attitude. In my honest opinion both as a consumer and as someone with a degree in Accounting with a strong background in Marketing and business management, Microsoft hurt themselves more than benefited from the GSM Focus in a CDMA market.

Well, I will say this, at least Microsoft wouldn't pass over those running the DP for updates like HTC has on the 8XT... (ie...those of us running the Dev Preview aren't receiving the offical update to 8.1 from HTC...so our WiFi is permanently broken.) I had hoped WC would have helped us by reaching out to HTC to help make them aware of the issue, but nothing...

The update is rolling out in waves for our 8XT already, starting a few days ago through the end of this month.

That said, to my knowledge, not 1 8XT running the DP has gotten the upgrade. My other 8XT that was stocked, picked it up immediately upon checking...no, there's something else going on...

The same with the Ativ S Neos. I'm on DP and still haven't received the update. Pretty much have to flash back to stock and then you can grab the update.

Yeah, unfortunately, we (8XT) owners don't have the ability to do that...

I got the update the week it was announced for the Ativ S Neo on Sprint, I rolled my phone back to 8.0, now running 8.1 from the Sprint OTA, stop gripping, get off your lazy butt and do something.

Show me a way to rollback an 8XT...I dare you. Go on, find the imaginary HTC rollback tool...com'on...I'm the lazy one, you know it all...go find it, post a link. lazy butt... you don't even know enough to know that we don't have any options to do that...

If you are talking to me, then how about you STFU. Most people don't know how to flash back to stock, so how about Sprint/Samsung get off of their lazy butts and do things right. For what it's worth, I've already rolled back and reupdated, but we shouldn't have to do that. If you are talking to dorelse, he already said that they don't have an option to flash back to stock on the 8XT. How about you get off of your lazy butt and go back to elementary school so you can learn to read. Either way, if you are just going to be a jackass, then GTFO.

You may need to go back to the previous update you had prior to DP. Many having the DP on the Ativ S Neo were experiencing the same issue.

Try unchecking the check mark in do and you just might be able to get the ota

At least it's something new! Might still keep my awesome 8XT tho..

I agree with you there, there is zero incentive to move...and that's ok with me! (I just want my Wi-Fi to work again...)

Wow, I'm shocked. Sprint is finally getting a Nokia Lumia?!

That happens when you do not have a clueless person as Elop and the anti-Qualcomm CDMA crew at Nokia's mobile device division were. They could have done this almost three years ago, but everytime they sat down with Sprint, US Cellular, and the remaining 51 CDMA networks in the US market, once the term "Current Qualcomm CDMA functionality requirement for Nokia's homemade radios" was mentioned as a mandatory requirement, Nokia walked away every time.

So what was different with verizon?

Verizon uses a much older CDMA network compared to Sprint's Network Vision interfaces, and perhaps every regional CDMA network which uses Qualcomm CDMA code 3.x (in Sprint's case 4.x). Verizon is still using a 2.x version.

Hoping some US carrier picks up the 535. Way better than 635 and not much expensive

No info on whether it supports all 3 LTE bands. That is a must with Sprint nowadays....

1.2 GHz quad core cpu, 1 gb ram, not bad at all, I'm still using my nokia lumia 360 http://amzn.to/1swZeXm but I'm looking forward to upgrade, thanks for the info!

Cyan and white? why not complete the bad choices with puke green, and crap brown?