Sprint said to be halting talks of T-Mobile merger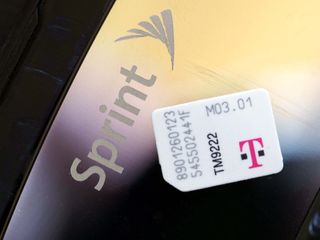 According to sources at the Wall Street Journal, Sprint is said to be abandoning any plans for a proposed T-Mobile merger or buyout. According to these sources at Sprint, the regulatory challenges are too steep to further the idea, as there were serious doubts within the company about reaching any deal between the two companies that would be approved by regulators.
This makes the talk of Iliad's $15 billion bid for control of T-Mobile much more interesting, though reports today have said that T-Mobile has rejected Iliad's initial $33 per share offer. It's worth noting that Iliad isn't trying to buy T-Mobile outright, but just purchase a controlling interest in the company.
Supposedly, Sprint will give an official announcement on the matter early Wednesday. We're waiting for the official story on this one, but it certainly sounds like dreams of a Sprint and T-Mobile combined force to take on AT&T and Verizon are dead.
Source: WSJ (paid content)
Windows Central Newsletter
Get the best of Windows Central in your inbox, every day!
I'm an RHCE and Electrical Engineer who loves gadgets of all kinds. You'll find my writings across Mobile Nations and you can hit me on Twitter if you want to say hey.
Nice. Sprint can go to hell

Good. Two carriers that hardly support WP, or at least in comparison to AT&T and Verizon... I was not looking forward to this merge.

In comparison... I have never even heard a rumor that verizon or att promoted a windows phone.. Posted via Windows Phone Central App

They may not promote them as much as we all would like to see, but there's no denying they're the carries who always pick up the latest and greatest WP handsets.

That'll end soon. I hope. Posted via Windows Phone Central App

I'm patiently waiting for a 1525 or better.

It will be in my prayers Posted via Windows Phone Central App

I want a sapphire screen on my next 15xx...

They lock them with exclusivities.... Fixed for you.

They definitely have the best phones but they killing W8Phone in the U.S. by locking up exclusives and not really promoting them. In contrast T-Mobile has the most W8Phone customers yet they lack any sort of high end phone. Posted via Windows Phone Central App

Att promoted the 1020 pretty hard

Did they really? Always felt that was MSFT's doing. er, nokia?
Posted via Windows Phone Central App

It was. Posted via Windows Phone Central App

I've seen the 1520 on advertising boards near the att store. They do push them a bit.

Yeah u are right about that T a certain degree. I'm out; I'm moving to AT&T.

See ya...more Bandwidth for me! Posted via Windows Phone Central App

I am happy about this. I was never a supporter of the merger. I like T-Mobile the way it is, they just need better coverage and more premium Windows Phones.

Agreed, with Sprint's support for Windows phone even worse, this merger worried me as a T-Mobile customer. I'm glad it's being called off.

Yes I agree. I would have left T-Mobile if this merger came to fruition.

My only "dreams" of a "Sprint and T-Mobile combined force" are nightmares, so I'm thrilled about this news. T-Mobile is doing great as it is, so there's no need to throw a wrench into their plans with a merger.

TMo is only doing good by its own standards, it's found a niche following like it did a couple years ago, and before that when it was VS, but it can't compete long term with the big boys. At least not without DT's full commitment.

What a remarkably ignorant comment. Tmo just had one of its best quarters ever while Sprint lost over a million customers in the same period.
#getAClue

...Sprint isn't a "big boy," so I'm going to assume you were labeling your own comment as ignorant.

I assume you don't like T-Mobile for some reason, but they are actually doing good. Posted via Windows Phone Central App

I don't dislike TMo at all, I just needed more reliable service after I started utilizing my phone for more than just games and media. Too often, calls related to work would go missed, calls would drop, and data would throttle. AT&T serves my needs much better. And in three years with the "evil" AT&T, I have yet to have a single dropped call. This is not to say TMo isn't great for others, or that it isn't great in other areas. But to compare it in sheer size and ability to the big two is delusional, which is what others here are doing. TMo does this, thru spike through promotions for about two years, then die. They did it with the sidekicks, did it a couple years ago, and they're doing it again.

T-Mobile added more customers than Verizon or AT&T last year. So I would say they are doing great even by "big boy" standards.

Wasn't that "gross" and not "net"?

Well count me a part of their "niche following" of people that hate to get screwed in the ass by expensive contracts. 5 lines for $110 ($22 each) gets me unlimited everything. Yes data is throttled after 1GB but now that Pandora and other music services stream for free, I never even get close to that. I probably sound like I work for them, but really I'm just grateful that some one has finally reversed the decades long trend of carriers charging more money for crappier terms.

Listen some Yelawolf. "candy and dreams" or "all aboard".

Isn't it more harmful for the economy to have a company struggling, failing to merge with TWO companies now, and abandoning any interest in continuing to improve? The FCC is insane.

Explain how TMO is struggling

Are you saying Sprint's struggling or T-Mobile? Posted via Windows Phone Central App

What the heck are you talking about? I can't say this about Sprint, but T-Mobile has been doing great things for awhile now. Look at how quickly they built out their LTE network. Next up, they're going to convert 2G to 4G, and considering how they were true to their word about LTE, I would put my money on them doing this by the deadline they gave (can't recall exactly when they said it would be complete, but that's beside the point). As for it being "harmful for the economy," no. It benefits consumers more to have MORE choices, especially when this one doesn't tie you down to contracts and offers great prices for their great plans.

Not if one of those choices isn't a) being backed by its parent company, and b) has its parent company doing everything possible to jump ship. They need DT to sell already so they can have legitimate backing. They remind me of a small market baseball team.

Sprint is better off without TMo. The Customer "friendly" TMo would've just affected up the Sprint system too much.

Thank the fates. Now, we don't have to worry about T-Mobile being sullied by Sprint. Okay, Tmo, get more than two Windows Phones at a time on your network. That is all.

Good two terrible companies just don't become one big great company. They become one big terrible company leaving less choice for consumers to decide the lesser of the evils.

T-Mobile is far from being "terrible."

"Results May Very" depending on location. Here, they are terrible.

Well, some places AT&T is terrible and some places Verizon is terrible (despite what they say), so what's your point?

T-Mobile is terrible is many more places.

Good. This deal made no sense considering both companies operated on different mobile technology.

Way back when sprint had a gsm network in Washington then sold it to T-Mobile to focus on cdma. To think they almost acquired tmobile.

Exactly, they're incompatible.

And yet, you cared enough to make that pointless comment...

And don't go looking for T-Mobile to get a 2 billion dollar boost because the deal wasn't official yet so there is no break up fee.

AT&T and Verizon should merge together and offer 512mb a month data plans for 99.99 a line. A deal like that would be hard to beat...

The sad part is that it actually WOULD be hard to beat, since they both would completely monopolize alot of markets that t mobile can't match them in.

Um...More Everything is 500MB for $70 a month with Verizon with a smartphone ;) I'm pretty sure AT&T is pretty close to that.

How about $0.05 per character texting? Maybe some $5 per month visual voicemail. Ooo, and some $1/mb overages would really hit the spot.

Good. Hate sprints service.

T mobile as it is is probably the best carrier in terms of pricing, customer service, and services offered for free, like unlimited international talk text and data, and tethering included free.

Oh happy days, oh happy days....I'm not a praying man but if you're up there.....Thank You Superman.

Good. That's all I will say. Thank heavens.

I never thought I'd see a webOS device on the front page of Windows Phone Central. I'll never forget that back.

I totally was working for Nextel when it was bought out by Sprint. Does Sprint still have Direct Connect?

Love my T-Mobile, glad the Sprint merger is off! T-Mobile it's better off without Sprint! With T-Mobile I get excellent customer service, high speeds, unlimited full speed data with 5 GB tethering, premium rhapsody, and the coverage around here has gone from none to wow in a few months!

I am waiting for Google, Apple or Microsoft to make an investment in a cell company. Give the middle finger to the carriers. I am not sure if Google/MS could pull it off, but Apple probably could if they pulled their phones from all other carriers. Their devoted followers would switch. Would have been more successful a couple of years ago before android gained so much market share.

I don't think that would be a good strategic move. I know a lot of people wouldn't switch carriers just for the iPhone. Their market share would be significantly reduced.

This is good news. I had left Sprint and to join T-Mobile about a month before the talks started and wasn't looking forward to the merger.

Yaaaaay, Sprint is GARBAGE leave good ol T Mobile alone

Incompatible networks and conflicting business models - now there is a recípe for a successful merger. I seriously doubt this was because of concerns regarding regulator approval. It is more likely that it had no chance of stockholder approval.