Sprint's HTC 8XT first impressions: there's something very familiar about this Windows Phone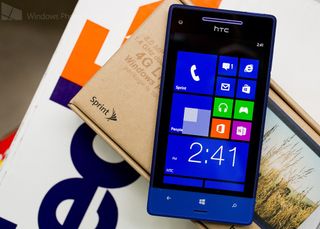 There's something very familiar about Sprint's new HTC 8XT Windows Phone. And that's not necessarily a bad thing.
The 8XT has the fit and feel of the HTC 8X and an appearance influenced by the HTC 8S. The colored front panel gives the Windows Phone a little pop to it's appearance and If you liked the HTC 8X, you'll like the 8XT just fine.
Sprint's re-entry into the Windows Phone market measures 5.2 x 2.6 x .39 inches and weighs in at 4.9 ounces. It shares the curved backing and soft, rubbery finish the 8X has and feels rather comfortable in the hand.
Under the hood the 8XT has a Snapdragon 1.4GHz dual core processor, 8GB of storage, 1GB of ram, a micro-SD card slot and a 1800mAh battery. You also have Beats Audio and HTC BoomSound to give the audio playback a little giddy-up. As far as software is concerned, you have the Sprint Music and Television apps, Data Sense, the HTC suite of apps along with your typical Windows Phone apps (Office, Wallet, etc.). Out of the box you have just over 7GB free in storage.
The 4.3" WVGA screen has a little pop to it with deep contrast. It did appear dark a little dark at times but nothing to run screaming from the room about.
The 8XT is fitted with a 8MP rear camera that has a backside illuminated sensor (BSI) and f2.0 lens. We've seen the BSI sensor in other Windows Phones and when combined with the f2.0 lens, the 8XT should perform rather nicely in low light situations. The front facing camera is a 1.6MP shooter.
On top of the 8MP camera, the 8XT is loaded with the HTC Camera app that gives you an alternative to the native Windows Phone camera app. Along with a handful of creative filters that can be applied as you take pictures, the HTC Camera app has a respectable amount of settings that can be tweaked to improve the quality of your photos. The Camera app isn't as beefy as Nokia's Pro Cam but it's a nice start.
We'll put the 8XT through the ringer and get a full review up shortly but for now the HTC 8XT makes a nice first impression. Sprint users eager to make the move to Windows Phone 8 will be pleased.
The Sprint HTC 8XT is currently running $99.99 after contractual discounts. You can find more information on Sprint's rates/plans as well as how to get your hands on the 8XT here at Sprint.com (opens in new tab).
George is the Reviews Editor at Windows Central, concentrating on Windows 10 PC and Mobile apps. He's been a supporter of the platform since the days of Windows CE and uses his current Windows 10 Mobile phone daily to keep up with life and enjoy a game during down time.
Love the design. Very Elegant!


I agree! I think there are two companies that manufacture phones really understand design, HTC and Nokia. Everyone else's designs are... ... Eh

Sony very well understands. Pretty much everyone except Samsung understands design!

Yes, Sony is Awesome❕ I really hope they make a WP device.. Have you seen what they are doing lately with Android devices❔

Never. Sony owns something called playstation and Microsoft owns something called Xbox

Rivals do occasionally work together. Heck it's not even as if they are huge rivals in the same field. Just look at Office on mac. Not to mention Sony PCs which run windows.

As far as mobile devices go, back in the day, Sony made the Sony Experia which ran Windows Mobile.

Could you imagine a Sony Windows Phone? It would be elegant, and pack both Xbox integration and probably a PSN integration app! Gamer heaven. That could be a difference maker.

Again, Sony already make Windows 8 PCs...so I dunno where this impossible leap/link idea is coming from.
I'm not saying its going to happen. Not even saying it's likely. Just saying its not impossible. I've learned to never say never with such things.

Hit up Sony's Facebook, and twitter, and express demand for a Sony WP❕

Yes, like Nokia focuses on camera quality, Sony could focus on gaming.. Great idea❕❕

Hit up Sony's Facebook, and twitter, and express demand for a Sony WP❕

Yet they make Sony Vaios with windows 8, Xbox music and games.

Hit up Sony's Facebook, and twitter, and express demand for a Sony WP❕

They make laptops that run windows 8. I think it will be cool if they made a wp8 device.

Hit up Sony's Facebook, and twitter, and express demand for a Sony WP❕

I don't know why people keep talking only about these two. Sony has made maybe hundreds of products with Microsoft software over the years. They are still making products with Microsoft software. If market and rules of business dictate, there is no reason not to make a Windows Phone with extreme ease.

Hit up Sony's Facebook, and twitter, and express demand for a Sony WP❕

Okay HTC, the "old" 8x get this original HTC camera app too. OKAY!? WTF?

Haha they gave up on the 8X within the first 6 months, they will on this one too. Such a shame as I love my 8X

Maybe it will be available soon for HTC phones as an app after GDR2 is distributed.

That's like telling nokia to release the camera pro app on all Nokia devices. Software helps sell phones.

Except, they *will* release it to the 900-series phones. Nokia isn't just selling phones, they're selling an ecosystem.

Looks like a great device, (not for the power user) for the average consumer. I like it, but I'm on AT&T, so no go.

I'm an IT manager who uses an 8X for productivity rdp sessions, etc. I'm a power user who hasno problem with it!

Its awesome to hear the positive side of the 8GB debate :D

Can't wait for the review, Sprint customers deserve a good WP8 device.

Ounces? Inches? Me no speak uninternational language!

+1. I was wondering the same myself.

+1 to that! even though it's US based portal, can you also please use metric system?

+920 international version

Apparently you don't speak web converters either. Not only is it a phone for Sprint, a US based carrier, but this is a US based site.

But since we use both in America, and since other reviews use metric, why not give us the more universal one. Let one person convert the numbers instead of making the rest of us.

thats understandable but in the time it took them to type of those comments, they could have just simply searched bing or use the converter app on your phone (presuming you have it) lol. Link: https://www.windowscentral.com/e?link=https2F2Fcli... for you lazy people lol (site also lists size in inches hence why article listed size in inches and weighs 140 grams which roughly 4.93 ounces to 2.d.p)

Yes, it is always nice to stop reading and go on the web, typing obscure numbers so you could compare the size of a phone to others. Instead, the guy who is actually writing the article and has already gone through the trouble of creating an essay can spend that time so the website users can read the article with ease.
The article is WPCentral's product. If they agree that this decision can make their product better, they should be reminded the same way we'd like to remind Microsoft what needs to be done.
We are asking for, say, multiple attachments to emails in WP because that would make things easier for the users, and I was doing the same thing with WPCentral. Of course we can send multiple emails. But we'd prefer if we didn't have to.
Same thing here.

Fair enough, I agree you currently can send several pictures but not documents, pdfs or videos if you open a new email.. that is a pain how ever (which you probably know already) you can share the video via email from pictures / videos hub or share documents from the office hub. For people like myself who use their phones predominately for work the sky drive app can bug out sometimes as the user name used is not the same as the MS account tied to the phone.

The audience is important, not where the site or product is from. Even if a product is available in a specific market doesn't mean others don't want to know about it. There is an accepted method of including international equivalents in parentheses.

Kinda true. According to Alexa, majority of WPcentral traffic is coming from India.

http://www.windowsphone.com/s?appid=0f69cc30-1bd8-df11-a844-00237de2db9e

Better late than never for a preview/unboxing! Looking forward to the review! Thanks for the early look, George! Those of us on Sprint appreciate this greatly!

Blame Sprint/HTC PR as they just started sending out review units yesterday :/

I know your comment wasn't meant to be sarcastic, but it's funny if perceived that way... Lol❕

Lol! I didn't think of that...

Shows how interested they are in selling this device.

I like the 925 more than this....but still look nice

8 GB just pisses me off. Even with music and everything else that WP allows on a storage card, the internal memory will be full in a month.
Why do they have to ruin an otherwise great phone just to save a few cents?

Depends on how you use it. For me that works fine, I am not a heavy app user. On my Focus Flash I really only use 3 additional apps. :D

I made the mistake of recommending AT&T's 8x to my mom. She loves yellow so she got the 8 GB yellow one. She has no music, very few apps, had to delete all her downloaded maps, and all her pictures (at least there's SkyDrive) and still averages only 80 to 100 MB free space, depending on the day.
WP8 is a storage HOG.

I am using 7.8 and I use Bing Maps, I am sure that makes a big difference. I still understand your point, 16GB would be a better for a baseline on all devices.

16 should be bare min. Before you purchased it, didn't you know your mom wouldn't downloading maps? Sound like she travels a lot something you knew yet bought a device with inadequate storage.....you own fault, should have purchase 16gb

She DOESN'T have downloaded maps, I said. And she STILL has no room. Also, back then nobody knew about the Other bug.

I could be wrong but I thought all 8X models came with 16GB??

No, the yellow only came in 8 gigs, which sucks cause I wanted the yellow...but the blue works fine, I guess the extra storage is worth it.

Why does the screen look so poorly? You said dark but I wasn't expecting it to be so bad. I'm wondering if George had already changed the screen brightness. I hope we'll see a screen comparison in the full review.

SD slot would of been nice on the original 8X

The 8GB isn't really that bad. I'm a power user and have installed all 60+ of my apps and games and still have 1.5GB left over. Would I like to have more? Sure. Will I kick and scream? No. The phone is amazing, especially coming from the Arrive, and my friend who has an 8X really liked it. Callin' it: Best Purchase 2013

Have you had it long enough to have other storage fill up on you? If you're talking about the 8XT, probably not.
In other words: Lucky you downloaded your apps now before the Other-monster could come and get you.

I have bought my 16GB HTC 8X on January 4th, had "Other" problém only once, i rebooted my phone and it is okay again.

Looks like I am the only one who does not have this problem :)

The 8XT is also available on Ting. https://www.windowscentral.com/e?link=https2F2Fc%2F...

I hate my 8x. HTC has 0 support, and the soft shell material they use if fragile and picks up tons of dirt. Looking into getting a 925 on Tmo.

You must have dirty hands, because my phones soft shell is fine and I don't constantly clean it. The only thing I wipe frequently is the screen for smudges.

Gets dirty? What are you doing with it? I had mine since it first came out and it never gets dirty.

lol. I wonder how poorly you treat your phones because mine never gets dirty. RIP gibbage. #hateithadtobehim

Yep. No dirt for me. If you work in an industrial environment then you should've got a Nokia...otherwise, how are you getting it dirty? Do you drop it in your couch? How?

I just got my HTC 8XT and I am meticulous with my devices. Despite that the soft-shell back has, in the matter of a few hours, picked up nasty streaks of black from the leather case I bought for it. It also took black out of the microfiber cloth I tried wiping it with... Now trying desperately to get it clean :(

I love the high res screen, elegant design and soft, matte shell on my 8X. But if my next phone is a WP then it's prolly a Nokia.

Because its a 8XT. Duh...

I think SD card slot is on the bottom where the home, back, and search button is.
Same as the 8S.

I'm interested in this HTC camera app there, watched a video about it . Wonder if this app is coming to my 8x or not, I'd love to see some support from HTC to their phone.

IT looks as the camera app on the HTC One. The buttons for photo and video are identical, as are the button for filters and the gallery, which is awkward because in WP you just slide to the left to see your previous pictures while in the camera.

I still have the 8X and would like to see if the camera app is good.

+1 , I'm interested in it as well

8 GB is a mistake, just like the black 8X was a mistake on Rogers and how the 8S' 4GB was a mistake everywhere in the world.
SD cards aren't going to replace internal storage and that goes for pretty much any OS. HTC needs to start adding more storage and it is high time now because they've been screwing people over by not doing this for 5 years now. Seriously, the HTC Desire came with 500 MB of storage (when iPhones had 16 GB) and the SD card thing on Android doesn't work very well either. You pretty much have to hope that the dev has added the option to move your app to the SD card or you'll fill it up in no time. OEMs need to learn their lessons. 16 GB should be the minimum.

Really hoping MS makes the move to SD option available. My 521 has 2.3gb free with 1.6-1.7 in other. My apps only total 1.8 and any maps are moved to the SD card. It wouldn't be so bad if a 2mb app didn't show up as a 15-20+ Mb file after installing. Has it always been like that? I've had a wp7 since 2010 and just got a wp8 a month or so ago.

Too bad they put a WVGA screen in there. If it has a 720p screen like the 8X it would have been a much nicer phone. How much more can that screen seriously cost?

A bit more, then a bigger battery, would be about the same price as the Neo.

George, can you talk about the HTC camera app in the review ? Thanks

So disappointed in Sprint. I'm on the site using my phone and the 8XT is the last phone on page 5. Even refurbished phones come up before the WP. Sprint is a joke. So happy I jumped ship after 12 year.

I can see that the HTC app is different and therefore an other version as on the 8X right now. I hope all HTC apps will be updated soon!

If I was on Sprint I would give this phone a look, especially if I was still rocking my HTC Arrive all this time. Unlimited data with all the streaming music choices we have right now, oh yeah, this IS the move for our platform.

NOKIA NOKIA NOKIA NOKIA PERIOD
NOKIA NOKIA NOKIA NOKIA PERIOD
NOKIA NOKIA NOKIA NOKIA PERIOD
NOKIA NOKIA NOKIA NOKIA PERIOD
NOKIA NOKIA NOKIA NOKIA PERIOD

Three words:
delivery tracking number

Just switched to HTC 8X from a Lumia 620 (previously had an 820 and a 710). Loved the 620, but it had an annoying issue where the screen would stop responding... a lot!
Just picked up an 8X on eBay for very little, and I have to say that it's definitely the best Windows phone I've had so far. The Nokia exclusive apps were nice, but the only one that I absolutely had to have is now available on all Windows phones anyway, that was Nokia/Here Drive. I also can't get the Nokia exclusive of Bejewelled Blitz, but I can live without that.
The higher screen resolution of the 8X makes for a very nice phone indeed.
Don't be so eager to knock HTC, I realise Nokia have the resources to add some nice extras that HTC can't, but the 8X specifically is still a very nice phone. I much prefer this over the Lumia 820 I had, the 820 seemed really heavy and was a bit of a brick, whereas the 8X is nice and slim (or at least they have made it seem that way with the tapered edges).

Members of the press who REGISTERED for the launch event were given their own HTC 8XT AT THE EVENT. Since you says yours was shipped to you the day before this article, and I can't find the name of anyone representing WPCentral on the Press Registration list, then you had to ORDER your phone YOURSELF! Please don't lie any further about this being Sprint's fault.

Oh snap... this just got real.
Windows Central Newsletter
Thank you for signing up to Windows Central. You will receive a verification email shortly.
There was a problem. Please refresh the page and try again.