StaffPad music notation app updated with full Windows 10 support and more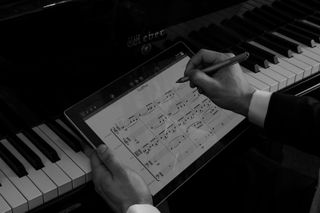 The popular music notation app StaffPad has been updated with its previously announced full support for Windows 10. The update comes with a revamp of its user interface, along with a new voice activated Composer Assistant.
Here's the breakdown of the major StaffPad update:
Full redesign for Windows 10
New voice activated Composer Assistant - edit your score with your voice.
Partial bar selection
Swing playback support
New musical symbols; Scoop, doit, plop, fall.
Per-page scrolling on playback
Search capabilities on the home screen
Copyright information now included in Score Details
Quickly share the StaffPad file from the home screen
Quicker loader times for large scores
Octave clefs
Multiple bug fixes, and overall improvements
StaffPad will still run on Windows 8 and 8.1, but its features are now frozen, with development to move forward only on the Windows 10 version.
Buy StaffPad from the Windows Store ($69.99) (opens in new tab)
Source: StaffPad
Windows Central Newsletter
Get the best of Windows Central in in your inbox, every day!
The fact that developers are freezing features for older OS versions will aid in the adoption of W10.....

I am so impressed by this app. It deserves showcasing in a national Surface ad.

As someone who plays music it's a shame this app is if no use to me.. Completely my fault because I never was taught or took the time or initiative to learn sheet music... Just play by ear

It's never too late mate :-) Give it a try, get used to some simple concepts and I bet you'll be able to work it out in a few hours.

If you want to learn the concepts of music at an accelerated rate, get some piano theory books. It covers a lot of ground, and as long as your committed to studying and learning, you could learn to read music in a matter of months. Posted with the Nexus 6, Nexus 5, or Surface Pro 3

Playing with my ear too... I think huge numbers of rockers don't use complex notes.. Just ear and brain..

Thx for the support guys... I'm sure if I dedicated myself, I definitely could. But there aren't many hours in a day and I'm rapidly approaching 40 lol... It would have served me better in my youth, as I don't really write or play much anymore... Getting old blows

Excited to experience the updates.

As an original adopter who sells what I produce with this life-changing app, finally! Thank you staffpad!

Has anyone used this on a non-touch device (e.g. desktop or laptop)? If yes, is it still good?
Windows Central Newsletter
Thank you for signing up to Windows Central. You will receive a verification email shortly.
There was a problem. Please refresh the page and try again.