Start Design, add a little color to your Windows Phone Start Screen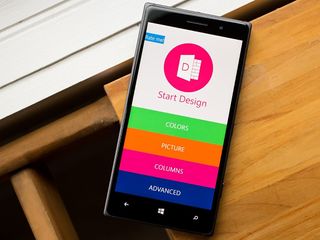 There are plenty of Windows Phone apps available to create custom wallpapers for your Start Screen or Lockscreen. Start Design is a relatively new offering in this genre of apps and hopes to catch everyone's creative eye.
Start Design not only allows you to create colorful background wallpapers but also has tools to create multi-column background images, blur photos for use and the ability to create advanced wallpapers to match custom backgrounds to specific transparent tiles. As our tipster notes, this app opens up a lot of possibilities for your Windows Phone wallpapers.
Start Design's main menu greets you with a listing of each of the four customization tools and an option to rate the app in the Windows Phone Store. Each of the tools have a mock Start Screen that will preview your wallpaper.
The four tools include:
Colors: This is a simple tool to create solid or two-color backgrounds. Your two color choices are displayed on the left side of the screen and in tapping one of the colored dots, you can pull up a color palette to choose the color of your liking. If you'd rather roll the dice and let the app choose your colors there is a Random button at the bottom of the screen.
Picture: Again, a simple tool to pull up a photo from your Pictures Hub to use as a wallpaper. Unfortunately, you cannot reposition the image once chosen but you do have three buttons to the left of the screen that will apply a blur filter to the image. This is a nice tool that will take a little emphasis off the image so your Live Tiles will stand out just a bit more.
Columns: While the Colors tool will let you blend two colors for your background, the Columns tool will let you create four or six multi-colored columns for your background wallpaper.
Advanced: This tool allows you to use multiple images, shapes and colors for your background wallpaper. Just take a screenshot of your existing Start Screen (remove any background images first) and, in a roundabout manner, you can create custom Live Tile backgrounds. This tool has options to add eclipses, rectangles, images and fourteen more shapes to your background wallpaper. Shapes can be resized by touch and moved around to fill transparent Live Tiles.
Regardless of your customization method, once you've got your background wallpaper just right you will need to use the Save Button to send it to the Saved Images folder of your Pictures Hub. Once saved, you can put the wallpaper in place as your Start Screen background or possibly as your Lockscreen wallpaper.
Overall Impression
Start Design has a lot of potential to create custom background for your Windows Phone Start Screen or Lockscreen. While the customization tools are nice, they could use a little fine-tuning.
For example, when you use an image it would be nice to have the ability to reposition the image. Also while the Column tool does bring a good bit of color to things, it would be nice to have the ability to blend these columns as is done with the Colors tool.
There are plenty of quality Start Screen and Lockscreen apps available in the Windows Phone Store. We think you can add Start Design to the growing list of these notable apps.
Thanks, Kenneth, for the tip!
Windows Central Newsletter
Get the best of Windows Central in your inbox, every day!
George is the Reviews Editor at Windows Central, concentrating on Windows 10 PC and Mobile apps. He's been a supporter of the platform since the days of Windows CE and uses his current Windows 10 Mobile phone daily to keep up with life and enjoy a game during down time.
Nice was looking for something like this

To pimp my start screen, I use Tile Editor 8.1 and OneStart, and I can do all that I want :)

OneStart is pretty much same. App design looks almost same in both !!

That would be because this one ripped off Onestart's design...

This app crashes a lot in my mobile.

Start design or One start better?

Start design is just a poor copy of One start. It stole design of the app and the purpose. As far as I'm consirned, developers like that, who steal from others, shoul be banned.

I'm completely confused... is this app not OneStart? I assumed it was a rename, but the article doesn't even mention OneStart. Is this just a crappy ripoff?

No it's not. One start developer had to change app design after this came out. One start looked better and worked better then and now it's light years ahead! One start is original, this is copy.
And no, I am not developer of One start. I just can't stand app copiers.

Ask Cortana: Which is better, Start Design or OneStart? :P

Oh, come on chief. OneStart! Posted via the Windows Central App for Android

Which phone do you have?????

The cover photo is of a Lumia 925.

Since there is no metal rim, it must be the 925.

Go Bing both phones and let me know after.

I've done that already. The metal rim on the 830/930 is highly visible. This one doesn't seem to have that distinguishing metal rim. So, this must be the 925.

I'm pretty sure it is 830.

The 3 giveaways are antenna bars 925 are on the side not top. Mic on 925 is a cut out on the bottom offset and the audio jack.

The Lumia 830 has round corners, this has white pointed corners. Sorry, but I'd lean more towards the 925.

Downloaded this app the other day, definitely my favourite Start Screen customisation app. Highly recommended for you creative people.

Is this not a complete clone of OneStart?! All looks ever so familiar. (OneStart is a great app, btw). On a side note, I sort of wish that setting an image as your start background automatically applied a "frosted" glass effect. A crisp image behind crisp icons often looks a bit harsh on the eye.

Yup. I like blurred backgrounds for Start so I can read my tiles properly.

I'm the opposite. I like seeing my image clearly so using an app to achieve the frosted look versus doing it automatically seems like a happy medium. Perhaps MS will give us a toggle in the future to do an auto frost effect.

Read the dev's description.

i want more transparent tiles then for my apps then

Microsoft should start selling gift cards in third world, I have to ask my sister in Sweden to buy me everytime, I hate depency!

So many new apps today...

WP8 doesn't have custom backgrounds, so no, this would only work with WP8.1.

Price is there, who said free...

Why MS doesn't bake in more color options themselves is beyond me. Or at least let these type apps access and change the theme color.

That looks like the complete design from OneStart

Blatant and lame rip-off from One Start...

This looks suspiciously similar to OneStart... Oh, wait.

Nice but the app is not free. ​

It is free. Read the description.

Wouldn't recommend this app, the gradient start screen it creates comes out VERY LOW RES...you can see the lines

Well, somebody in comment and review of this app, from indian region has commented like this "Good days have come for windows phone, cause developers are showering apps to the store." Lol

Pls search for me this first wallpaper (cats). I don't know how make or search it.

http://download.silencesys.com/Connects_Trial_Cats_StartScreen_1.png

yeah me too... if I could get that cat wallpaper or something similar to that, I would be sooo Happy.

never mind got it... here... http://download.silencesys.com/Connects_Trial_Cats_StartScreen_1.png ... enjoy

Congrats on being late to this app :pb already knew about it.

The app is designed very well. Another app I and many other Windows Phone users use to pimp their start or lock screen (get pics & ideas) is this shared picture album, https://picturex.ch/go/YRwl29 - shared with Picturex. By the way, Picturex can be used on any mobile platform to collect pictures of an event with all guests in private. Try it out! Www.picturexapp.com

I have been using OneStart for a while now and I really like it. Didn't realize that there was a copy out there.

Ok so I decided to try it because I do like changing my background but this one does not work as nicely as the original. Not only is it slow to respond, it continually crashes and then my phone is sluggish for a bit afterwards.

I can't even download this