Stephen Elop explains how recent job cuts will affect Microsoft's handset division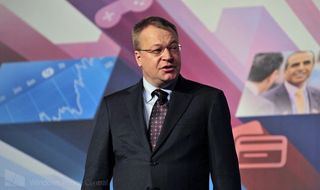 Microsoft Device Group leader Stephen Elop wrote his own email about how the company's announced plan to cut 18,000 workers will affect his division, stating that it will be "particularly focused on making the market for Windows Phone" by targeting the budget priced market..
In his email, Elop explained how the role of phones at Microsoft will be different than how it was handled at Nokia, which he led as its CEO before returning to Microsoft:
Elop confirmed that Microsoft plans to target the lower end of the smartphone market for future products in the near term, stating:
Microsoft won't ignore the higher end smartphone market, with Elop stating that the company will release "great breakthrough products in alignment with major milestones ahead from both the Windows team and the Applications and Services Group."
Elop stated that the Smart Devices and Mobile Phones business units at Microsoft will be merged into one unit, adding, "This team will be responsible for the success of our Lumia products, the transition of select future Nokia X products to Lumia and for the ongoing operation of the first phone business."
In terms of Microsoft's phone engineering efforts, Elop indicated that future high end Lumia devices will continue to be developed in Salo, Finland, while the budget priced phones will be developed in Tampere, Finland. Elop confined that the company will "ramp down engineering work in Oulu", which helped to develop software for Nokia's Asha feature phone line.
Elop added:
In terms of Microsoft's other hardware device teams that are developing the Surface tablets, the Xbox consoles, and the Perceptive Pixel large touchscreen devices, Elop stated there will only be a "limited change" for those groups due to changes that have already been made earlier in the year.
What do you think of Elop's announced plans to make the division a smaller team?
Source: Microsoft (opens in new tab)
I'm sure that was Nadella's call, not Elop's. RiP Nokia.

Nokia is alive and well. This isn't Nokia. This is all Microsoft.

But Microsoft bought Nokia.

No. They bought PART of Nokia.

Just messing with DJ, you ruined it. :P

He would have said the same thing too :p

Sure I meant their hardware division. Chill out.

Say what you mean, mean what you say. ;)

i have supported this idea since 2010... when he came over to Nokia.. but no one cares :( . Also why would people in contracts (in the US) buy a budget phone ? wouldn't they rather switch to new Iphone or Galaxy instead. I don't get this guy. He always thinks he turning the company around (for good) but the company has always lost .. Based on his track record i hope MS doesn't have a acquisition in next 2-3 years, that would be a achievement. http://en.wikipedia.org/wiki/Stephen_Elop#Before_Nokia 1. Elop was a director of consulting for Lotus Development Corporation before becoming CIO for Boston Chicken in 1992,[8][9] which filed for Chapter 11 bankruptcy in 1998.[10] 2. In the same year, he joined Macromedia's Web/IT department[9] and worked at the company for seven years,[11] where he held several senior positions, including CEO from January 2005[12] for three months before their acquisition by Adobe Systems was announced in April 2005.[5][13] 3. Experiment with Nokia. During Elop's tenure, Nokia annual revenues fell 40% from 41.7 Billion Euros per year to 25.3 Billion Euros per year. Nokia profits fell 92% from 2.4 Billion Euros per year to 188 Million Euros per year. Nokia handset sales fell 40% from 456 million units per year to 274 million units per year. Nokia share price which was at 7.12 Euros on the day Elop was hired, had fallen to 81% to a bottom level of 1.44 Euros two years later, after which it began trading at 4.14 Euros, up 36% on the day. Elop's success in negotiating the sale of Nokia's struggling mobile device business to Microsoft has been described by many securities analysts as a significant victory for NOK shareholders, particularly when viewed in context of failed efforts by Blackberry or HP to secure value for handset business owned by those companies.

These budget phones are probably not going to be aimed at markets like the u.s. They will be marketed towards areas such as Asia and Africa where the demand for such budget phones is really high

But they are targetting the Budget phones as per the article . so do they have diff strategy for US and non US markets now ..

The Lumia 520/521 outsold the Lumia 1020 and 1520 combined in North America, so there's a market for it here. In any case, he was clear that there was also to be a dedicated design team for high-end phones still.

There are plenty of folks in the U.S. that can't afford a phone on contract (probably not you and me). They have to buy a phone and pay as you go, which makes a cheap phone attractive.

Or like me who dropped my 920 and cracked it. It became unusable as my daily phone and I went and picked up a 520 and use it in the short term until later this year when the new feature phones come out.

Are you trying to say Elop is a total jinx???:-o.
No offense intended

"Ignorant opportunist" He rides coattails well.

I have a 920 and am thinking of getting a 635 in a few weeks. I don't need an expensive phone, like the discounts with not having a contract, but still like the idea of switching phones regularly. Its easier for me to justify spending $100 on a phone every year (or quicker) than $650 every 3 or 4 years. The US market is changing quickly. I also think its a bit unfair to talk about Nokia's sales, as they were already falling apart before he came on board. Its not like he took over Samsung and then turned it into Blackberry in his short tenure.

920>>>>>>>>>>>>>>>>>>>>>>>>>>>>>>>>>>>>>>>>>>>>>>>>>>>>>>>>>>>>>>>>>>>>>>>>>>>>>>>>>>>>>>>>>>>>>>>>>>>>>>>>>>>>>>>>>>>>>>>>>>>>>>>>>>>>>>>>>>>>>>>>>>>>>>>>>>>>>>>>>>>>>635

LOL... True... I don't get this guy either... Why would he do it? (except if his is broken/ stolen of course)

My 920 is working great and wouldn't change it for a lower class phone. I would really only change it for a high-end Lumia with dual SIM capability in order to ditch my work provided iPhone 4S. Regrettably the only high-end option with dual SIM at the moment is the HTC One :(

Their is alot of younger people who don't do the contract thing who can't afford anything so the buy a go phone I can see this being a successful move .

Right. Lower end alternatives allowed Android to grow. Sure more people who are on contracts are now able to get high end phones for $99 or free upfront now.. But when you can get a good phone off contract for below or not much above that price,it becomes very compelling. Besides "Budget" Lumias are budget only in price. They run better than some mid range models and are as smooth if not smoother than some companies high end phones.

That is the beauty of Wp, you hardly sacrifice much in terms of performance when yoi go to a budget device like the 635. However you will have to live with the hardware limitations like no flash, no ffc, no ois etc. Along side not running some high end games which are not 512 mb optimised.

Agree. High end windows phones have high end hardware accessories, like a better camera. So called budget phones run the core of Windows Phone exceptionally well. Heck, I just got my kids L520 and put WP 8.1 on them. They work great. I'm not waiting for the next greatest phone anymore. Our needs are met today.

So, they're basically giving up the high end flagship route? That's one way to go, I guess..... Won't do much for those just getting out of contract now with Lumia 920s and 820s. Unless something is out soon, many of those folks will jump to Cupertino's offering in September.

No, that's is what Nadella say: "To win in the higher price tiers, we will focus on breakthrough innovation that expresses and enlivens Microsoft's digital work and digital life experiences"

I'm not sure where anyone said they were giving up on the high end.

Reading is hard for people

Since Microsoft now officially own Nokias mobile division they should partner with HTC bringing their best qualities and designs and boomsound etc...imagine pureview on the m8 design and boomsound with cortana with both nokias and htc's software in one phone

Honestly, I think this is misinterpreted in the article. All Elop says is that they're giving up Nokia X (which is a good thing) and shift those products to low cost Lumia devices with WP. With no word, even not between the lines, Elop said that they won't continue to offer also premium devices. Key sentence: "In addition to the portfolio already planned, we plan to deliver additional lower-cost Lumia devices [...]" - so new low cost devices will be an ADDITION to the portfolio already planned, not a replacement.

Yes, they will put more focus on that and that makes sense, given that the most successful Lumia devices where low cost devices like the 520. They want to drive WP market share with that move, but this is also for giving more market chances for higher end Lumias. That does not mean they won't offer premium products, too:

Our phone engineering efforts are expected to be concentrated in Salo, Finland (for future, high-end Lumia products) and Tampere, Finland (for more affordable devices).

With their own engineering team for premium phones, we won't have to fear we won't get enough premium devices going forward.

No, they're not. From Satya's letter "To win in the higher price tiers, we will focus on breakthrough innovation that expresses and enlivens Microsoft's digital work and digital life experiences. ". They are focusing on low end RIGHT NOW because that is where the momentum is, but they recognize the problem. Thing is, they need something to better differentiate low end and high end.

Uh no. Satya said to focus on breakthrough innovation. Exact words as you quoted. How did you manage to misinterprete that to mean focus on low end?

High end devices won't go away, they are just adding more support to low end devices with WP. In other words they are cleaning Nokia's mess about Nokia X..

very glad, hope this will be the end of micro$oft after what they did for nokia

I hope (and know) it isn't the end of Microsoft asI like their software... But I wouldn't mind seeing Microsoft Mobile close doors for that same reason you gave...:P

Well... I hope too... Though don't know... Will this route be an even better route?

You mean the Nokia that drove itself into the ground then had to throw a hail mary pass to MS which still failed anyway? I do not lay Nokia's fall and failure in the marketplace at either Elop's or Microsoft's feet....

"...did for nokia..." Nokia played their hand with Microsoft, and took on their Nokia X (Android) project. It was never to be anthing more than a test program to replace their non-Windows low end handsets. This POed Microsoft as they were already in the talks to buy Nokia's mobile division. As the sale of Nokia to Microsoft became real, a group of anti-Microsoft employees pushed the Nokia X forward. (There was no reason as WP8 was running on the same low end hardware, and running faster than Android.) The Nokia X was rushed out the door as a big FU to Microsoft, as it gave them an Android shipping AOSP product. Elop and others that could have stopped the Nokia X did nothing when Microsoft tried to get the product stopped. So Nokia did this to themselves and sadly they painted a red X on the team members at Nokia that were anti-Microsoft, making it easier for Microsoft to get rid of anti-Windows people

Can't wait for all the angry engineers dreaming of making a comeback with their own phone ideas.

Windows Phone will not run on the Nokia X hardware. The MSM8225 is not supported. The Snapdragon 200 in the X2 would work with Windows Phone.

At least they are considering WPs that's great.....

A lot of thought, time and effort went into this article. Maybe you should consider consolodating the this one with the next one that is on the same subject.

I'm not sure where anyone said they were giving up on the high end. Edit - was meant to be placed under Johnny Tremaine's comment.

The more phones they sell the more marketshare they will have and the result will be more and better apps. The growth area for mobile phones is the low end - and Windows Phone performs really well on lower spec hardware. Much better than Android. They could be on to a winner.

Exactly, finally someone read the article correctly. Adding support to low end devices means one thing: More official apps, more updates, due to more market share.

Nokia X android phones will get the malware removed and go Windows Phone. Smartest decision ever. Atleast they're focussing on Windows Phone now and not that bad joke of an OS

Not a maleware, its a rootkit.

Elop would know with Nadella which which employees he has to keep deo his company and which one should get voluntary retirement. May all 18,000 employees get all their jobs

So does that mean they are dropping the high end stuff like McLaren? If they are then I guess I will be jumping ship to lagdroid soon.

Nope, they never said that so stick around bro :) good things are coming! This is a refocus back on WP, not a drop of quality :)

No, this means that instead of investing effort into Nokia X they will concentrate on driving WP to lower price points using the hardware designed for Nokia X. There is no mention of dropping higher end devices.

You should just jump off a building, they never said the high end was done. The only thing going is the Android stuff... -_____-

I want high end not low end!

"This team will be responsible for the success of our Lumia products, the transition of select future Nokia X products to Lumia and for the ongoing operation of the first phone business." He basically just spelled it out for you: Android apps on Lumia. and, "Our device strategy must reflect Microsoft's strategy and must be accomplished within an appropriate financial envelope." Translation----they're cutting our division to the bone. Instead of five year round interns working on WP OS, we'll just have the Summer interns work on it.

Don't ever try and get a job as a translator. You're terrible at it.

Lol!!! I can't stop laughing at this one!

"Go ahead, ahhhsk the internet"

He said shifting select nokia x design to wp....tht would look ugly!!

I think some Nokia X design is good enough... Small and stylish... I like it... And hoped it'll success I'd they can push the price even further...

I am not sure what to say other than...."where will we turn for future high end Windows Phones?" I'm sorry but if they will only be making budget phones soon then I'm not sure what my future with WP looks like.
After all, I have a Lumia 1020, in black, because it is unique, powerful, and sexy. I even had my girlfriend trade in her old iPhone 5 for a Lumia 1020 in black. I also own the Xbox One and a Windows 8 PC. I am a power user in every sense of the word across the Microsoft ecosystem. It bothers me to read about MSFT looking to go the budget route.
Moving handsets is important, sure. For example the Xbox One: lowering the price point helped move units, but at the cost of a more immersive and fluid navigation experience sans Kinect-selling the console short of itself in an effort to drive sales.
While I understand the logic behind introducing new customers to your ecosystem through a lower price gate, if there is no high end platform for your OS available, it will sour on those who want the full potential of the OS at their disposal. Software should always stay scalable, especially when you want to be in everyone's pocket.
This is more of a cautionary tale than fact, because of course I am speculating. The line between high and low end is blurred when it comes to Lumia handsets, and at the very least, that needs to be fixed.

Explain where in Elop's statement it says anything about abandoning the high end and only making budget phones? You won't find it because he didn't say it...

As I stated, It's just speculation on my part. I'm mostly worried about them shifting their attention to budget handsets. Ergo lack of attention to high end.

Stop speculating, it is not your strong suit... Unless you're purposely playing devil's advocate, in which case you're doing it wrong. =D

I hope that you're right on that one.

he is cutting 16000 jobs and focusing more on lower end devices...either he has hired superhumans who can work for both lower and higher end devices or the obvious thing that u are not getting....

Where does it say that high end Lumia's are going away are you sure your reading the same article LOL

One word: McLaren. Or is that two? :P

Either way, Apple will release the iMacLaren, which will feature 2D touch technology, because "why would you ever need a screen with an extra D?" (Of course, the sad joke will be that you'll need to operate iMacLaren with two hands for anything but the most basic operations.)

:D What is for sure is that the iPhone 6 (or whatever the larger one is called) will sell like hotcakes with tons of current iPhone users finally being able to upgrade to a larger screen, and a ton of new customers jumping on board too. EVEN if they do nothing to the OS/UI to take advantage of the extra space.

Also with the Quantum dot display and sapphire glass, class-leading 20nm A8 chip and already stellar camera with OIS, the lines of people waiting for the iPhone6 will never end.

Wasnt this part of the plan, throw nokia x as a bait to android users then replace it with lumias afterwards.

Huzzah, an intelligent being who understands! =D

We all knew Microsoft couldn't absorb tens of thousands of employees without some being shed. Quit the hand wringing and wait for the dust to settle before writing the eulogies, folks.

Sounds like they arent getting rid of the high end but just kinda slowing down. so high end phones will only come out with major OS upgrades.

18000 people are being fired and this fat disgusting Eflop worm isn't among them. If you needed further proof that the world isn't fair, here you have it...

Why fire Elop? My Nokia Stock tripled in value the last year he was running Nokia... I'm happy :-)

And it lost more than twice that during his reign along the constant devaluation of the company... Or weren't you a shareholder before him?

Nope. I bought my stock after they announced that they were going to make Windows Phones! Tripled my stock! Thanks Elop! Best move ever :-)

Hopefully they concentrate on the high end soon. While the 520 and I pressume the 630/635 will be great sellers, they haven't had a true, high end, non-niche phone since the 920 came out 18 months ago. The 1020 and 1520 are great devices, but the 1020 was launched on top of the 920 platform (which already had somewhat aging hardware) and the 1520 is such a huge device many won't want it based simply on the size. I'm considering going to a 635 from my 920...but with no 930 coming to the US in the forseeable future, they don't have any high end phone here for current people who don't want Verizon.

You act like the US has always had a good choice of flagship phones. The truth is that it the flagship phone seems to jump around between carriers. First, it was AT&T, until T-Mob got the 925. Now it is Verizon's turn. They have never had a flagship other than the HTC 8X. And also, you can't just discount the 1520 just because you don't like the size. It has top of the line specs and it's size is in a very popular range right now.

Uh, the Icon is 930 with a few differences.

Its no surprise.. We all knew it was coming.. All the best to those whom going be jobless..... U have done well.

Sounds like a reasonably well thought out and sensible plan. As it should and one would expect, obviously.

I keep hearing "budget devices, budget devices, budget devices". While I realize that's a huge portion of the market, there are a lot of us that love top end latest technology devices. Hope they don't turn that into a side science project that takes a back seat to budget devices.

While doing low end budget phones, why don't they upgrade the 7.8 phones to 8.1 or so ? That way they would make a nice transition and make happy users ! That would be great for the Microsoft image !!!

Sorry but thats impossible: they need to adapt the new kernel (used from WP8.0) to old hardware, make all the needed test, fix it and release it.. for a very little portion of the market that will NOT produce any money for this update. Don't hope for an OS update, its a waste of efforts!

Btw, no hint of Andoid apps coming to Lumias - if anything, he reaffirmed the universal apps strategy: "We plan to take advantage of innovation from the Windows team, like Universal Windows Apps, to continue to enrich the Windows application ecosystem." Of course, this does not exclude the possibility of some form of support for Android apps as well.

He who refers to the axe as "right-size" is not to be trusted.

"accomplished within an appropriate financial envelope." In other words, low end for all.

With probably one or two high end devices. Just hope they don't take half a year to be released... Lol.

Stephen , it will never affect your job one , because you did a really good job in Nokia , Microsoft will never lay you off one , so don't worry .

This will be the end of high end smart phones, MS will likely focus mainly on mid range and low end devices.

Looks like most of engineering will remain in Finland, that is good news. However not so good news for those in Hungary and the other places being downsized.

If WP fail, I'll switch to the amazon fire phone or a nexus phone

Ms wont let Wp fail, they will pump money into it until it is successful. The future is in mobility, like it or not.

They moved up 1% in 4 years

And then lost that 1% this year. Products like the 630 and 530 are going to have a tough time competing with Moto G and E, let alone Android One. They currently have nothing to combat Android, even on the low end.

Now, for sure, next year (or late this year) we are gonna see the TRUE new phone from MS, indeed. Excited.

It better be ground breaking, include a dedicated camera button and a mSD slot. We so badly need that "Hero" device that sets the bench mark. Not the so called Hero devices like the 8X and 8S, don't get me wrong they are amazing devices just support has not been upto par with the title bestowed upon them by Ballmer. Hence why the L920 was the people's choice at the time.

I'm not worried that they are abandoning the high-end...but I am a bit concerned that they may wind up putting less resources into one of their high-end strengths: photography. We all know that Nokia has been one of the industry leaders, if not THE leader, with regard to mobile photography innovation. While optical image stablization and 41-megapixel sensors may not be innovations that have mass appeal they did keep Nokia in the headlines and that is what a flagship is supposed to do. By definition, the flagship is the ship bearing the flag, the ship that draws attention to the rest of the fleet (including mid-range and low-end divices). As long as photography is part of MS's "digital work / digital life" productivity strategy, and it ought to be, than I think nothing should dramatically change. The Surface 3 did focus on Photoshop so that could be a good sign. But until MS comes out and specifically says they will remain industry leaders in photography technology (and they haven't yet), I will remain concerned. Not doubtful, but concerned.

Nokia is Nokia and Microsoft is Microsoft.
Please do whatever you want to do but, bring this smart phone a,d tablet business to expand and enlarge nationwide which assist to increase the market share and become strong and dominent in future again.

That's what their aiming for they aren't on a vacation.

All I want is the rumored 1525 on T-mobile, otherwise I'm switching to Verizon to get the Icon.

How many times are we to hear about the same information from this website.

They have a deal with Canon, no worries on Photography.

Nokia Mobile phones are dead. But Nokia NSN and Nokia Here services are still alive...

This is what i thought, every time a company sold part to an a American company they ruin everything, they drop the quality for the money, the next MS mobile handset will be cheap as hell.... Nokia phone are indestructible but now Microsoft own Nokia.... Think about GMC and all part they bought to Suzuki and other constructors, they ruin the name of Suzuki now nobody want to buy a Suzuki here in Canada even if now they are better and GMC do not have part anymore, so Suzuki stop selling their car in Canada, we have no more concession's.... Ford ruins the name Mazda....etc

"Whereas the hardware business of phones within Nokia was an end unto itself, within Microsoft all our devices are intended to embody the finest of Microsoft's digital work and digital life experiences, while accruing value to Microsoft's overall strategy." This reminds that Microsoft has always been a software company. We don't interact with hardware, we interact with software and it's the software layer that interacts with software on other devices. So it seems that going forward, they are all-in on building Windows phones that will mesh with the Universal OS, cloudobile computing vision that Nadella and others spoke of at //build. At the end of the day, if they can produce devices that we enjoy using, that can do whatever we want it to do, and give it to us at a lower price? I'll be the last to say, "Awww, but I wanna pay more."

It is not the hardware anymore that is the problem. It is the OS. Need to make some visual changes and eliminate the clutter.

Why focus on lower end phones when most good apps still require 1gb ram, I don't understand anything

I hope that means flood the market with budget phones throughout the year with at least two or three major devices throughout the year being released. Because that's how android makers do it

As long as this Congress mostly our of Asha's hide it seems ok.

"We plan to shift other Microsoft manufacturing and repair operations to Manaus and Reynosa respectively..." Good for Brazil.

#1! Wait besides that. I imagine streamlining your business is pretty important especially after big changes like division purchases as the old strategy wont completely match the new one.

Ugh. More low-end? Like they haven't stacked that enough. The mid-range has been totally neglected, and the high end stuff is kinda niche.

Typo: Komaron is "Komarom". https://www.google.hu/maps/@47.741784,18.076074,3a,75y,301.13h,74.73t/data=!3m4!1e1!3m2!1sTcfeHa86j5x_HAkuIc0rxA!2e0!6m1!1e1
I love these changes, except the 1600+ new unemployed mates in my country, Hungary.

Please, for god sake, don't shut down Nokia S40 line! They're really popular. In this way feature phone market will be totally in hands of samsung. No smartphone can be as cheap as S40 phones.
Windows Central Newsletter