Sunty shows off LTE tablets with Windows 10 Mobile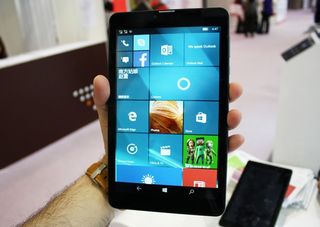 Chinese manufacturer Sunty has shown off a number of new devices for Windows 10 Mobile. The OEM has shown off not only a new phone running Microsoft's latest mobile operating system, but also LTE-equipped tablets.
These devices were first spotted by Notebook Italia, who also took some photos. First up is the Sunty G500, which will be sold by Japanese OEM Diginnos as the DG-W10M. It features a 5-inch, 720p display, along with a Snapdragon 210 processor, 1GB of RAM, and 16GB of storage, with a micrSD slot for more. It also has a 2300mAh battery.
As for tablets, there's the Sunty Q72 7. A 7-inch device, the Q72 7 also runs Windows 10 Mobile, and like the G500, it's powered by a Snapdragon 210 processor. Depending on the OEM's requirements, it can have 1 or 2GB of RAM, and features a 2MP rear camera, with a VGA front-facing camera. LTE is included, and the tablet has a 2700mAh battery. The 8-inch Q82 features similar specs, but with a 5MP rear camera, and a 4000mAh battery. Both devices feature 1280 x 800 resolution displays.
Thanks to Marco for the tip!
Source: Notebook Italia (Italian)
these can be slick Tablets only if landscape startscreen is supported and better specs are used.

Yeah, and also Snap Multi-tasking too! The current form of W10M making it as a tablet is like running Android Gingerbread on a tablet or like iOS before iOS9. W10M for tablets is not really optimized for tablet use yet.

Agreed. I am using a Windows Tablet by Acer believing that such tabs need not require excellent specs. I was proven wrong. Manufacturers should stop producing crappy products and come out with good specs tablets

They are coming out with tablets with good specs: Surface and too many others to list. If you want them to stop making inexpensive tablets as well, then people will have to stop buying them first.

Really? Tablets of 8 inch of size and right running windows 10 mobile?

The 8 inch one also runs Windows 10 mobile?

Wuuuu tablet with W10M... So big.. xD call people with tablet

Where is the video, I don't want one pic?!

So they have all the phone hardware? Or do you need a headset?

I wish the push this to my surface RT

Do these tablets work with continuum? As that would really help tell microsoft story.

Obviously it cant with that low end cpu. Even SD810 struggle to run Continuum

The USB-C is also of importance there... I have absolutely no problem using Continuum, running the 810 on my Lumia 950 though.

Not really. I run it wirelessly.

Hmm interesting, I guess this is where universal apps strategy pays off big time! Developers don't need to worry too much about the form factor, W10 or W10M will run any universal app just fine!

Yea, but we need developers to support, and Port

Ah... a missing link maybe? Kinda wish the Surface mini would show up though.

Me as well want a good spec 8 in tablet when is someone going to offer it?

that glossy back looks bad

Yeah , mat finish would look much nicer . Chinese have funny tastes .

The body quality is awful

7" only one with hardware bottoms

All these tablets with only 16GB storage and 1 GB ram please stop it. All I want is an 8 inch 1080p windows 10 table with 4 GB ram 64 or 128 Gb storage and my money will be on the table. Been waiting since the launch windows 10. : /

Large storage increases the price significantly so out , and not needed , since with LTE you can save your days work on One Drive hehe .

So the LTE data is free? ;) Posted via the Note 4/Nexus 7 (2013)/Lumia 1020/Lumia 2520

It's only W10M so its not such a space hog like W10

These devices are meant to be dirt cheap, so people will buy them without much thought. Posted via the Note 4/Nexus 7 (2013)/Lumia 1020/Lumia 2520

W10M because it comes bundled with MS Office. Excellent for people on the move , all kind of salesmen/women , real estate agents , property developers and so on . Big market and rich idea . And it has LTE . Screw the Ipad . Will those beauties be exported ? , I want one .

Hardware buttons on the 5.0 in phone look like Android. I'm not so sure about the battery life of these. Even at 720p, 2800mah seems miniscule.

Seriously, 2800mah seems weak for 730p nowadays? It was only ~2 years ago we regularly had 2000-2400mah batteries on our flagship devices using 720p and 1080p displays. Posted via the Note 4/Nexus 7 (2013)/Lumia 1020/Lumia 2520

Any pricing information ?

Only a snapdragon 210 for tablet! Meh.... -.-

Runs Win10m. So, no need to "meh..!!!" 210 can easily handle your mobile apps.

That a joke? W10M is nowhere near as efficient as WP8.1 and SD210 was weak back then, on WP8.1 devices. Posted via the Note 4/Nexus 7 (2013)/Lumia 1020/Lumia 2520

Wow! Its like saying an engine like v4 can handle a car which must be having a v8... Just because a v4 can barely handle a car size which needs a v8

Win10M will only make sense on tablet screens if it displays like continuum landscape. Would really make it look similar to full Win10
Windows Central Newsletter
Thank you for signing up to Windows Central. You will receive a verification email shortly.
There was a problem. Please refresh the page and try again.