Surface 3, Surface Pro 3, and Surface Pro 2 get new firmware, and here are the changes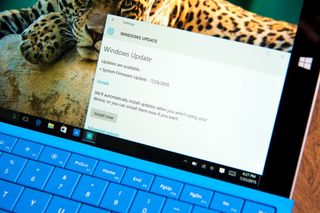 Microsoft has released an updated firmware release for the Surface 3, Surface Pro 3, and Surface Pro 2, as some users experienced some problems installing the previous release. After the initial issues, Microsoft updated the releases, and included information about what is new. Here are the changes, broken down by model.
Surface 3 All Surface 3 models will receive System Firmware Update – 7/23/2015, which makes the following changes in Windows 10 only:

Surface UEFI update (v1.50410.78.0) adds features to display and add a system asset tag and support for the Surface Cover during PXE boot.
HD Graphics Family driver update (v10.18.15.4248) improves graphics performance and stability on Windows 10.

Surface 3 (4G LTE) In addition, Surface 3 (4G LTE) models will receive System Firmware Update – 7/24/2015, which adds the following changes to Windows 8.1 only:

Surface UEFI update (v1.50410.218.0) improves mobile broadband network connectivity.
USB 3.0 Host Controller Adaptation driver update (v603.9600.2588.2097) improves mobile broadband network connectivity.
USB Composite Device driver update (v2.0.268.0) improves mobile broadband network connectivity.
Surface_IA7260.inf update driver for delivering future updates and refreshing production software signing.
Surface CoSAR driver update (v2.0.270.0) improves mobile broadband network connectivity.

Surface Pro 2 Surface Pro 2 receives System Hardware Update – 7/23/2015, which adds the following for Windows 10 only:

HD Graphics Family driver update (v10.18.15.4248) improves graphics performance and stability on Windows 10.
Surface Integration Driver update (v2.0.304.0) resolves issue where Surface would wake from sleep by itself.

Surface Pro 3 Surface Pro 3 receives System Hardware Update – 7/23/2015, which adds the following to Windows 10 only:

HD Graphics Family driver update (v10.18.15.4248) improves graphics performance and stability on Windows 10.
Audio driver update (v6.0.1.7543) improves the Cortana experience on Windows 10.
USB driver update (v10.0.10125.31214) improves system power usage.
If you own any of these computers, you will want to check for the firmware updates. If you have already updated, be sure to let us know what changes you are noticing.
Source: Thurrott
Jared started off writing about mobile phones back when BlackBerry ruled the market, and Windows Mobile was kinda cool. Now, with a family, mortgage and other responsibilities he has no choice but to look for the best deals, and he's here to share them with you.
Surface 3 on Windows 8 abandoned already, awesome!

Firmware updates based on OS is ludicrous and confusing. Second one that doesn't show up on my SP3 or S3...

Not really we should be all moving to 10 now :)

I would give it 3-4 months before I upgrade my surface

Next week many will - in the interim some of us have businesses to run. The timing of this is bizarre.

Moving to 10? I most likely will NEVER put 10 on my SP3. I LOVE THE START SCREEN!!!! And what I've seen of W10 it surely isn't a real upgrade. It's a downgrade for "ME". But for those who are enjoying WP10 just keep on loving it. I'll pass.

You can set the start screen to be full screen and then it's the same, only it wastes less space and has more useful shortcuts. OneDrive is the only thing that got much worse.

IMHO there are other things that are downgrade too: -don't sync start screen layout and installed apps -if 200% scaling is set to make Surface 3 desktop usable for touch, everything (including start screen) is too big, snap is disabled and some apps unusable (e.g. mail) -no full screen web browser, its replacement (edge) still lacks bookmark sync and some kind of adblock.

Its not the same at all. Its missing the background, it has clutter on the left side. All apps have gone worse, because of their settings which are now hidden in different places.

I agree. The charm should have atleast stayed in the tablet mode.

McKaber, I'm not sure what you mean. The stuff on the left side is all hidden and you have to hit a button to make it appear. And I do have a background. The apps are redesigned to have visible options and menus, which is different but mostly okay. And most of the first party apps are dramatically better than their 8.1 counterparts.

I also love the startscreen, its parallax scrolling background. Its sheer beauty. Everything Windows 10 did with it is meh. They should have just added the bloody starmenu for people who still need to "order" everything and never heard of the "type to search" feature. Windows 10 also fucked up the settings, share and playto, namely the Charms concept. Now settings are different in each app again, sharing ability has to be searched in the app for, and play to.. i have no clue if its even still supported. A real mess UX wise.

Well.. I have it on my non touch pc and for that the win 10 layout is definitely better. For the surface, I feel win 8 is better. Since win 10 is supposed to continuously evolve, I hope the tablet mode gets better and the charm bar comes back at some point. Otherwise while I will upgrade my pc and laptop, my surface would be on 8.1 for the foreseeable future.

Charms bar is a piece of shit on desktop (nice on tablet). I'm happy to see it go.

We are talking about table mode here. It could just be disabled in desktop mode for guys like you.

Man, I hate the start screen, the only Burton I generally use on it is the desktop once, but to each their own.

You know that you boot into Desktop since 8.1?

Switch to tablet mode. You'll have your beloved start screen back.

No, we have not. Its missing the parallax scrolling background and the charms bar.

Dude, other than a couple of missing gestures in tablet mode, W10 exceeds W8.1 in almost every way imaginable. I D hope that Tablet mode gets some love from MS in the next few months though. It's silky smooth on my Dell Venue 8 Pro, and I cant wait to install on my SP3!

Ah yes? Having the settings, print and share contracts hidden in different places in each app now is better than having those options always available the the same location like in the charms bar? Once you understood the swipe from right gesture you could share, print, search and change settings in and from each app. Now you have to learn all over again. In a timeframe of 3 years MS abbandonded the one truly unique and improved UX it had. Well done. And as a developer I also say "thank you MS", that I now have to create my settings frames all by myself again instead of the OS providing the framework.

I like that. People are used to each app having it's own options... I often spend time screwing around in menu after menu, only to realise they've hidden the options inside the bloody charms bar. Why are my in-app options only accessible in a crap OS feature? Put the options in the app I'm looking at, not in some hidden place that nobody knows is there. I'll take a button over a the charms bar mess any day. Charms bar was just a shitty idea, it's fine on tablet but woeful on desktop. Hidden options and hot-corners are bollocks and it's great that MS have moved on from their mistake.

Not sure how this qualifies as "abandoned," but ok. You do you.

Why so desperate for a firmware update when your system isn't having any issues? The Windows 10-only firmware update is clearly for stability improvements with Windows 10 drivers. Is your Surface in need of stability improvements on Windows 8.

Firmware updates are for hardware compatibility with the OS. Surface already works fine with windows 8 no need for firmware updates at this point. Windows 10 on the other hand was barely usable with the surface 3. It needed this badly.

That would mean that windows 8 is absolutely perfect, so why would anyone upgrade to an OS with flaws. Windows 8 could still use firmware updates, and most likely will still get them. They are simply getting everything ready for the launch in a few days.

I wonder what happens when you upgrade to this firmware and then revert back to windows 8.1?

How are you even running Windows 8 on a Surface 3? Those things shipped with Windows 8.1, didn't they? Even if they did, why haven't you upgraded to Windows 8.1?

Yep, and after they trashed all the useful tablet features 8 had. I have no desire to update to Win10. Don't even get me started on how they trashed OneDrive in Win 10. Bleh.

Why are firmwares tied to the os :S

Because they probably do nothing else other than prepare the hardware for windows 10

If they are compatible with 8.1 then why not roll them out wide ? If the are not this will be a mess if people have to go back to 8.1 for any reason.

No it won't, just like when my Surface Pro 2 was switching between a dual boot of Windows 8.1.1 Pro and Windows 10 Tech Preview, during start-up (if it's not the same OS you're booting into the second time), you notice a "Getting Devices Ready" message. That is it preparing the appropriate drivers for the appropriate OS, if you switch back to Windows 8.1.1, it'll do the same thing to mitigate driver problems.

Oh so you can fully re-load from a backup and W8.1 will be just fine with this firmware? Interesting. Still doesn't explain why it's let loose early. If it's for insiders only, it should be reported that way to remove confusion.

Because Microsoft, in their infinate wisdom, has classified software drivers as "firmware".

So should I just consider my SP3 abandoned by Microsoft at this point? I'm not going to upgrade it to Win 10 unless Microsoft makes signficant improvements to how Windows 10 handles hybrid devices (you know, the devices they have been pushing since the release of Windows 8), so it will be nice to know if I am only getting a little more than a year of support out of the device I bought.

As a SP3 insider tester I'm utterly confused by your comment/rant. Hybrid Support is now better than ever and it is now much easier to either force a specific mode or set your default preference (e.g. Desktop, but full screen start)?! The only step backwards (in this regard) is the loss of metro/modern IE11 mode, which was a delight in 8.1 tablet mode. For me, my complaint is the loss of the only decent, reliable and nice to use, pvr media center (I.e. Windows Media Center)!

Do you have problem with battery drying out without no reason. Airplane mode, TypeCover closed. 40-60% battery after 4-6 hours in backpack

Do you have problems with the graphics driver on your SP3 on Windows 8.1 that require a new Firmware update? Microsoft is pushing out some updates for their new OS to make it a better experience for those who do choose to upgrade on day one (or have already upgraded through the Insider program). Considering they only just the other day pushed out updates for Windows VISTA, I think it's save to assume you're not getting abandoned. Every single update doesn't have to serve you explicitly as a user, occasionally these updates only serve some of the 1.5 billion+ customers they have around the world. You say you want Microsoft to improve the experience of how Windows 10 handles devices like Surface (I do too, and won't be updating on day one either) yet that is exactly what these updates are doing and you're complaining about them.

What better support can MS give you?! You're getting a whole new OS and firmware updates for your specific device. You are choosing not to receive the abundant support Microsoft is offering.

For crying out loud people. This is firmware for PCs running Windows 10. Knock off with the abandoned business. If there is need for updates to Sp3, they will still come. After all, there are still firmware updates for RT even though it is a dead end device.

I've been using W10TP on SP3 for several builds and am wondering what in hell you're babbling about. Frankly, I am loving even 10240 on the SP3 the experience is as smooth as running on my Alienware 18 and that's for something not officially announced as RTM. Publishing firmware to better support W10 use is the opposite of what you indicate.

What are you going on about? Some oems NEVER, EVER, release ANY updates for their machines. All I'm reading is "Whaaa me, me and me!"

My Surface pro 1 feels left out :'(

Indeed if Microsoft does not step up driver support for Surface Pro 1 they are dead to me, just like idiotic OEM's like HP who refuse to release driver updates for their hardware. Not interested in paying $1K+ and in a couple of years it will be a paper weight because of no driver updates.

Isn't the sp1 at least three years old now?

Even 8-10 years old PCs' will get upgraded to Windows 10. I don't think three years is any match to that.

But will they get driver updates from the manufacurer?

Depends whether you bought it on launch in US or when in launched in EU and other countries. But that is irrelevant, its a Microsoft Hardware product, they need to support it untill the new OS can't run on it due to hardware limitations, which isn't any time soon, because if Microsoft can't be bothered to support their own products with driver updates there is no hope for other OEMs, especially ones like HP who flat out refuse to release any driver updates at all.

Something is broken or you simply need update (even without change log)?

Finally, someone bitching in this thread that actually has a valid reason.

These are the same Firmware updates from a couple days ago that were failing. After yesterdays patches to the OS, the firmware failed to install on my SP3 but in update history it shows it did. The OS is lying because I watched my boot screen and have seen firmware updates before. Mine totally skipped the process. Is there a way to 100% verify what firmware an SP3 is running?

Is brightness control working or not on Surface 3?

after installing these updates, the battery drain and overheating on my sp3 have been fixed. Performance similar to that when it was windows 8.1. hopefully it stays this way

Can't update on my sp3. Under settings the update part just completely disappeared from update and recovery. Under control panel it I can't check for updates as it says it is controlled by system administrator even though I am the administrator and only one who uses this device. It also says that most recent check for updates and previously installed updates was never even though Ive had updates before this issue came up about 2-3 weeks ago

Will the surface pro 2 be able to upgrade to Windows 10?

Surface Pro 2 (Windows 10) sleep issue is not resolved. I put it to sleep and it wakes automatically after a while.

I am still seeing this with my Pro3 as well.

It actually seems to have gotten dramatically worse. lost almost 40% in 3 hours with the lid closed. it got quite warm as well. Not hot, but...

SP2 sleep issue still not fixed on mine either

Games no longer crashing. tiles loading immediately on startup instead of hanging until screen is touched. update: I retract this comment bc hexic is still crashing.

Will this hardware update override the 5/14/15 hardware update? My SP3 keeps installing that haha

I hope my SP2 will stop waking up and spending the battery to heat my bag now.

Yours still does that? I haven't experienced that in a long time.. (oh sorry, I missed that it was W10 only)

Hmmm, I have an SP2... Not seeing the new firmware and its not in the history. Restarted, and kept checking. Nothing to show!!

Are you sure you're using Windows 10 TP?

Reading is fundamental... I was thinking it was a firmware release for windows 8.1 users to prep for win10... My bad! Thank you for the clarification though. I am messing with 10 using vitualbox... Pretty nice, but my vm is acting weird when accessing the host USB ports occasionally. It is a Surface after all -- not meant to run VMs I guess. Cant wait until Wednesday!!!

Hopefully this fixes the battery issue with my SP2. Must have been that turn on issue.

Why no update for surface pro one? I think the surface pro one could use a Wi-Fi driver update. Still having driver issues with work to date. Also missing a Bluetooth driver update to allow the pairing of two bluetooth speakers without one canceling out the other. ​

"Also missing a Bluetooth driver update to allow the pairing of two bluetooth speakers without one canceling out the other." That's possible?!? I thought that was a limitation with Bluetooth.

On a full charge, my SP3 says it has 4 hrs battery life whereby previous it was 9hrs. Baffled and not great...

Video driver for SP2!! I wonder if I can finally view textured/shaded models in Houdini, rather than wireframe only......

Can someone please tell me, where can I find that leopard wallpaper as given in the above sceenshot.

I didnt see an update, SP3 user.

Running latest Windows 10 on my Surface Pro 2. After the firmware update all video playback is slow motion! Anyone else have playback trouble?

Well I think the latest firmware bricked my Surface Pro 2. It says: Recovery Your PC needs to be repaired The boot configuration Data file is missing some required information File:\BCD Error code: 0xc0000034 Nice job Microsoft!

Well I fixed it. I had to download the recovery image online and make a boot disc. Its a good thing I'm a genius. :)
Windows Central Newsletter
Thank you for signing up to Windows Central. You will receive a verification email shortly.
There was a problem. Please refresh the page and try again.