Surfy browser for Windows Phone is now completely free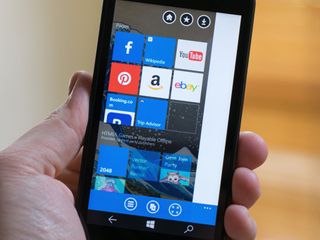 Surfy, the Windows Phone web browser that recently got a major design overall, has been updated once again. The biggest change is that the app is now completely free to use; it previously cost $1.99 to unlock all of its features and get rid of its ads.
Here's the long list of Surfy's major features, just in case you need a refresher. Today's update to version 5.19 also includes better compatibility with Windows 10 Mobile.
Desktop like tabs
Mobile optimization, which can reduce data usage down to as little as 20%
Passcode protection
Shake to refresh
Voice Search (WP 8.1)
Voice commands launch favorites and well known pages
Save and Share downloaded files (WP 8.1)
Export downloaded files to SD Card
Export any file to Media Library
Download YouTube videos
Private browsing
Themable Panoramic hub with customizable background image
Share links via NFC
Save Passwords and Logins
Desktop mode
Download manager with foreground and background downloads
Multiple search providers: Google Bing DuckDuckGo Yahoo! Baidu
Searchable history
Clear cookies and cache with history
Private browsing at start-up
Set desktop or reading mode for individual tabs
Share pages via Email SMS, Facebook, Twitter, LinkedIn, & NFC
Night dimmer
Listen to pages with Surfy's amazing multilingual text to speech engine
Save images & open links via context menu
Find on Page
Customize tabs and application bar colors
Pin pages to the Launch Pad
Download Surfy from the Windows Phone Store (Free)
Nice to see another browser. I preferred to be free.

Well it is now free... Or did you mean, you prefered it when it was a paid app? :P.

Everyone do. Just development costs and costs have to be covered, or developer might give up. Unfortunately, free might be just the sign that developer gave up of developing the app unless it has some other business model and this app doesn't seem to have... EDIT: actually it has, there are in-app purchases even of 99$, so at least one can hope that the app will be developed :)

Nope, the developer is not giving up on the browser cuz there is a W10 (probably universal app) version already cooking in his kitchen :)

I wish it was universal though. My phone still has IE atm but this will be handy when it replaced by that Edge thing. My PCs really could do with a decent metro browser though. Does this one do proper immersive full screen browsing and allow swipes forward and back for example? PLEASE MAKE IT UNIVERSAL! I WOULD PAY!

Good news...Thanks! Is there any difference now b/w paid & unpaid version?

Now, there is not. Now all premium features are given for free. You can open up to 6 tabs at once. I have been tester for this browser for some time and i love the app a lot. I have both versions, the now free (ex paid) version and the BETA version of Surfy. On (closed) BETA version we and the developer are testing and suggesting new features for the browser and we also report about new founded bugs and what is need to be fixed or change it. When that works, the official version is released with those changes too. In the BETA version we the testers can open as much tabs as we want. The reason i become tester for Surfy is that I saw the big potential this app have and i was not wrong. Surfy become one of the best (if not THE best) WP browser atm. Since I start using it and become tester later, I rarely, almost never, use IE11 on my phone. Surfy is my "default" browser. Disclaimer: No disrespects to other browsers like UC Browser. UC is a fantastic browser (i do have it on my phone), but Surfy have more "character" and is more feature packed than UC. :)

What if u just paid for it?

You're up the proverbial creek...

For a rather small amount of money you enabled a developer to spend hundreds of hours developing an incredibly useful app.

I m unable to download truecaller.
Why it is so ???

If your on Windows 10 Mobile, that's the reason why. It might work after a hard reset but I'm not sure.

No m on windows phone 8.1

I was having the same problem. Just soft reset your joke by holding the power button and lock button for a few seconds. Hope it will be fine

This is cool but I like to use UC Browser instead.

I did not know it wasn't completely free already.

Can we set our default browser in Windows 10 mobile?

Ứng dụng chưa được tối ưu cho điện thoại Lumia 640 ?

Mr Callaham, it is their free version application. They have a paid version of surfy browser.

This browser is so amazing, I came a little.

I still use Surfy on a daily basis, but the recent update kinda fudged shit up a little on my Icon. It might just be because I have an Icon though lol

Pretty nice if I don't say so myself, some great features too.

Now Microsoft need to enable changing default browser on WP 10.
The only thing left.

You are laying. It's still cost 24.500 Rupiah.

*) Lying, IDR 24,500. Indonesians. -_-

Is this one better than uc?

Yes, it is. Not significantly, cuz UC is a damn good browser too, but yes, in terms of speed and feature packed it is better.

Still in windows 10 mobile we can't change the default browser :(

So do we uninstall our paid version and download the free Surfy?

Is anyone else having problems with the Store on PC? Since Windows 10 - when I click on the link(s) provided, it takes me to the Store and the "Get The App" button is there - but it doesn't do anything. I thought it might be an issue with Edge, so I tried in IE also - same thing. I also made sure I was signed into the store - but it still nothing?! Before, I would get the "Contacting your phone..." and it would download to my phone no problem. Anyone else??

Are you trying to install this app from your computer to your phone or did i understand you wrong? Have you tried to install it from your phone?

It has been in my phone long since I bought my phone. Works nicely. They care WP and love that attitude! :)

You dumptruck ! .... every (most of the) devices you own/use has either been assembled/made in china !! #RESPECT mothertrucker !

Been using this for awhile now.

There's even one more great feature that I don't think is listed here. You can pin pages to start and they actually use the image of the page, like IE11. Even Edge can't manage that at the moment (which is so dumb!).

But... But... You included a FORWARD function. You actually did it. And the BACK button actually refreshes pages correctly. And the tab system is better than UCB. This is the greatest day.

Desktop mode doesn't work

works on mine perfectly. On one of my friends it didn't worked too, but then he uninstall the app, restart the phone and install the app again and it worked. Don't know if it work on yours, but it is worth to try.

how to enable pop ups in this browser???

Nice and good futured. Sadly is not smooth enough for me... IE is still ahead of them all.

love some of the slightly fake looking 5* reviews, such as: Luke · 25/06/2015 Fantastic. Struggled with IE for ages on my windows phone with Firefox and Chrome no better. Surfy us uncomplicated and a delight to use. Firefox & Chrome are no better on his Windows Phone?????

Had to try it just for the forward button! Seems quite good, I've always been happy with IE, but just lately it has been buggy, so it's good to have other options.

All seems good but.. does this render webpages in a way that they can be visualised properly? And does this play all videos? Because the only problem of IE is that it just sucks compared to iPhone and Android browsers in terms of compatibility with several websites :(

Yes it does play all videos. Try it, it's free now, if you don't like it, just uninstall it, simple as that, right? :)

How if I purchased already? Money back? Damnnnn

Why I couldn't download the app. Shows error code.
Windows Central Newsletter
Thank you for signing up to Windows Central. You will receive a verification email shortly.
There was a problem. Please refresh the page and try again.