Surfy re-released, delivers a feature rich web browser for Windows Phone 8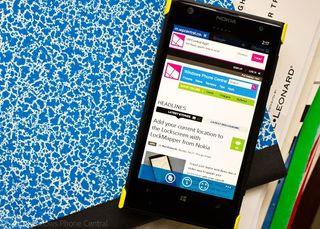 Surfy is a tabbed web browser for our Windows Phones. It was initially released for Windows Phone 7 and was overhauled earlier this year for Windows Phone 8. However due to a few stability issues publicizing the app was held off until those bugs could be addressed.
The updated version went live over the weekend and delivers a rather peachy tabbed web browser with voice command support. Version 2.1 of Surfy also adds a text to speech feature that adds an audio reading of web pages.
In the short time we've tinkered with Surfy this afternoon, it makes a nice impression. It might just be that Windows Phone web browser you've been looking for.
Surfy comes in two versions. A free version that supports up to three tabs and a paid version that extends that support to six tabs. There are a few feature limitations on the free version as well.
Key features includes:
Voice commands that will let you launch web pages by pressing/holding the Windows button and say "Surfy, open WPCentral.com" (or another of your favorite web sites)
Mobile optimization that reduces data usage to save you money and time
Ability to disable images
Private browsing prevents your history from being saved
Full-screen support
Save images via a context menu
Open links in a new or background tab via a context menu
Set website viewing preference to mobile or desktop
Night dimmer, which decreases screen brightness when viewing pages in the dark
Pin pages to the phone's start screen
Autocomplete – Surfy suggests links by searching the web as you type in the URL box
Share pages via email, SMS, Facebook, Twitter or LinkedIn
Surfy supports landscape and portrait views with the ability to lock orientation via an onscreen lock that becomes visible when the orientation changes.
The Listen to Pages feature is an interesting touch but needs a little fine tuning. Up under the three-dot menu you'll find this feature and when selected, an audio reading will start for whatever web page you are on. And it reads everything from headers, sharing options, photo credits, captions, and anything that is displayed on the page. It would be nice if it could filter out a lot of the clutter and only concentrate on the body of the page. But it is a very nice start.
Again, there are two versions of Surfy available. You have the free version that is limited to three tabs and lacks the ability to pause the text to speech feature (you can stop it, just can't pause) and lacks the mobile optimizer feature.
The paid version adds three more tabs and opens up all the Surfy features. It is currently on sale for $1.49 (reduced from $3.00). Both versions are available for Windows Phone 8 devices and can be downloaded from the Windows Phone Store through the following links.
George is the Reviews Editor at Windows Central, concentrating on Windows 10 PC and Mobile apps. He's been a supporter of the platform since the days of Windows CE and uses his current Windows 10 Mobile phone daily to keep up with life and enjoy a game during down time.
That's what she never wanted to hear.

I vote for an immediate 7day ban for these clowns. Pretty sure that'll take care of most..

Does saying "first" hurt your feelings or what?

It adds absolutely nothing to the discussion and is borderline spam.

I remember days when people was saying "oh lucky you :)" "damn you are fast!" in the replies.
So many things has changed

That's my point.
WPC is full of grumpy people now :/

Well.. "arrow to the knee" and "did he/she/it die" is practically dead, so there is a small hope for "first" to.

is there any browser that allows flash video to work from WP8...or an alternative?

There is a flash video player that scans a webpage and retrieves videos from it.

Do you know the name of the app?

http://www.windowsphoneapplist.com/en/FlashVideoTubeMusic-a31665/reviews...

No thanks if I can't use Bing services.

Hi Jazmac, I'm the developer behind Surfy.
Previously Surfy's homepage was Bing.com by default. Unfortunately in WP8, attempting to load Bing.com in any third party browser causes the Windows Phone operating system to launch the built-in IE app. Cheers,
Daniel

This is a very nice web browser! Like it better then UC browser so far. Really digging the tabs up top.

The voice command doesn't open Surfy instead it searches for Sexy in bing search. lol

Hi Salman,
I'm the developer behind Surfy. At the moment, Voice Commands are only supported when the phone's speech language is set to English. If you're keen to use Voice Commands for your language, drop me an email at danielvaughan@outcoder.com.
Cheers,
Daniel

My phone is set to English and country to US.
I don't think the problem is with your app. Its the OS's voice command which doesn't recognise my voice command properly. I can assure you that my English accent is of American.

What is the make and model of your phone, Salman?

Nokia Lumia 920 I tried it again today by saying "Open Surfy" and then it worked!
Thanks you very much.

I don't seem to find the address bar. And it does nothing when I click on new tab.

Tapping the active tab at the top of the screen opens the address bar.
Is the 'new tab' application bar button greyed out? If so it means you've reached the maximum number of tabs.
There's a video of Surfy in action here:
http://www.youtube.com/watch?v=r9s8xVR8dew
It shows voice commands and demonstrates opening the address bar.
Cheers,
Daniel

So how do you clear your history, cache, cookies, etc.?

Nice web browser! Better than UC I think it's faster, tab's on top is nice, used it for a newspaper I read everyday with the UC browser and it performed much better. One problem I had was reading the newspaper zooming in and out I got it lock up so large I was not able to close the app or anything on the phone, everything was supper sized including the start screen, had to turn off phone and back on all ok now?

Is this another IE with a skin? Sure appears to be from benchmark/compatibility tests.

Damn I'm sad now... this browser has the same flaw (for me) as UC browser.
If the website has a password requiring htaccess on it, neither of these browsers are able to show the http verification box... IE has no problem with that... Is it that hard?

Until alternate browsers can be set as default, and until the SDK allows for actual browsers that aren't just skins of IE... IE is the best solution.
Windows Central Newsletter
Thank you for signing up to Windows Central. You will receive a verification email shortly.
There was a problem. Please refresh the page and try again.