T-Mobile HTC Radar 4G Review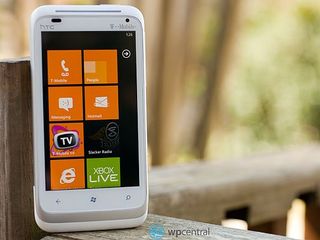 While the curtain has been lifted for some time on the HTC Radar, it is still a fresh face on the Windows Phone market. The white/silver color scheme and unibody design makes the phone stand out amongst other Windows Phones. The lighter color pattern may extend the Windows Phone appeal to new users but how does the Radar hold up to other Windows Phones?
The Radar isn't just another pretty face amongst smartphones. With respect to design and feel, the HTC Radar can easily hold its own against other Windows Phones on available today. The aluminum unibody is curved to fit your hand comfortably while giving the Radar a quality build. The screen is vibrant, responsive and has a bit of a pop to it. While the color choice for the Radar may not appeal to everyone, there's no denying this is a well built Windows Phone.
We've put the Radar to use over the past few days and to see how this second generation Windows Phone has held up, bounce on past the break.
Swipe to scroll horizontally
Design:The unibody design of the HTC Radar feels good and is a big plus in favor of this Windows Phone
Feel: The Radar feels solid and comfortable in the hand. The curved edges of the unibody design fits snugly in your hand.

9

out of 10

Performance: Powered by Windows Phone Mango, a 1Ghz processor and a lasting 1520mAh battery, the Radar is a solid performer and will keep you going throughout the day.
Quality: There's little doubt that the HTC Radar is a quality Windows Phone. From design to feel to performance, the Radar will hold its own against other Windows Phone.
Swipe to scroll horizontally
The HTC Radar feels solidly built and fits comfortably in the hand thanks to a curved unibody. The Windows Phone is a solid performer that is powered by a 1ghz processor. One of the ore noticeably improvements is the 5mp f2.2 rear facing camera.
While the Radar has plenty of strengths it's three main weaknesses is that the color takes a little getting used to, it lacks a compass or gyro sensor and the 8gb storage may not meet everyone's needs. You either love or hate the white/silver color scheme and may have to be more selective on what you load/store to the phone.
The HTC Radar may not appeal to everyone based on appearance but there's little doubt that it's a well built, solid performer. The second generation Windows Phone builds upon its predecessors by offering a more vibrant screen, better camera and all the goodness Windows Phone Mango has to offer. T-Mobile customers will be pleased with the Radar even though some may have to take longer to get used to the white color.
Design
Our first impressions of the T-Mobile HTC Radar 4G (we'll just call it the Radar from here on out) was good. The first thing that jumped out at me was the color. Personally, I don't like the white color pattern but that's just me. I don't like white phones, white cars or white pants. They get dirty too quick and the first smudge that gets on them stands out like a sore thumb. But that's just me and other opinions will vary.
While I don't particularly care for the white color pattern, others will seek it out. It's something different and I believe it's something that our female audience members will find appealing (my wife described the Radar as cute and would like to own one).
Enough about the color. Fan of the white/silver or not, the HTC Radar is a very good Windows Phone. Measuring 4.7 x 2.4 x .43 inches and weighing only 4.83 ounces, the Radar comes across as a well constructed, comfortable Windows Phone. The curved sides of the Radar's unibody allows the phone to fit snugly in your hand, giving the phone a compact feel to it.
Overall, the fit and feel of the Radar is very comparable to the Samsung Focus but better. Call it a slightly narrower, slightly smaller (3.8" compared to 4") screen when compared to the Focus. The Radar is comparable to the new Samsung Focus Flash but not as compact.
The layout of the Radar has the volume rocker and camera button on the right side, the micro-USB port to the left and your power button and 3.5mm headphone jack up top.
A 5mp camera is on the rear and up front is a .3mp VGA camera.
The aluminum unibody design is nice but something to get used to. The design gives the Radar curved edges that mask the size and gives the phone a really comfortable feel. When I first saw videos and photos of the Radar it looked as if the phone had a chin at the bottom. This is where the SIM Card cover meets the unibody shell and the contrast between the white plastic and silver aluminum gives the appearance of a chin or protrusion. It's actually a continuous angle that doesn't feel like a protrusion at all.
One quick note about the SIM Card cover is that you do not have access to the Radar's 1520mah battery. Many will ask, "What if I need to do a battery pull?". The answer is simple, just remove the SIM Card cover. The cover has two metal contacts that when removed, disconnects the battery. Replace the cover, the contacts complete the circuit and you have essentially performed a battery pull.
All in all, color preferences asides, the Radar is a well designed, well constructed, comfortable Windows Phone. I think HTC could have gone with a 4" screen and had the same overall feel but the 3.8" does rather nicely in its own right.
Screen
While we're on the subject of screens, the Radar is fitted with a 3.8" WVGA 800x480 screen. I've been spoiled with the AMOLED screens from Samsung and Dell but the Radar's screen ain't shabby. Out of the box the Windows Phone theme is set to a white background (ugh) and the HTC Green tiles. The colors do have a good bit of pop (more so with the black background) when looking at the screen straight on. The screen has nice saturation and contrast but when you angle your view the contrast and saturation fades a little more than other phones.
Compared to the HTC HD7S, the HD7S has just a smiden more contrast with the colors. Outdoors, the Radar performed well. The screen faded slightly but was still very useable.
Video playback came across really good on the Radar and touch respnsiveness was exceptionally good as well.
All in all, the HTC Radar has a very good screen that any device would be pleased to have. User's will not be disappointed with it.
Under the hood
Under the hood of the Radar you will find a 1ghz processor, 512mb of RAM and 8gb of storage. With all the preloaded software and such, out of the box you have just over 6gb of storage.
Preloaded you have a handful of T-Mobile apps (your account, T-Mobile TV), HTC apps (the Hub, HTC Watch) and a few other odds and ends (TeleNav, Netflix). All of which can be uninstalled to free up storage space. There isn't an expansion slot available so some will see the 8gb as a restriction. In a way, I can agree with that feeling. As memory storage goes these days whey 16gb isn't the minimum standard is a bit of a mystery. Or if you're going with 8gb give us the expansion slot option.
There are a few odd omissions under the hood with the Radar. The Radar lacks a digital compass and the gyro sensors. You do have a-gps and while the gyro may not be missed, why not have a digital compass?
Everything on the Radar is powered by a 1520mah battery that, combined with the power management features of Windows Phone, does a very nice job of it. Under moderate use (internet activity, streaming videos, email, voice calls, etc.) the Radar easily lasts a full day without charging.
The non-removable (at least by the user) battery could create some issue down the line. What if you have a bad battery? What if the battery no longer holds a full charge? In the past you would simply go the the WPCentral Accessory Store (nice plug, right?), buy a new battery and slap that puppy in the phone. The best we can tell is that if you have an issue with the battery on the Radar, it'll have to go to HTC for service. Yes, that sucks but honestly, I can't remember the first battery problem with a Windows Phone. Sure, we've had software issues that prematurely drain batteries but a bad battery itself? I may be wrong but this may be a non-issue.
One last thought on what's under the hood with the Radar is that the Windows Phone is fitted with 4G capabilities. I'm a little hesitant to comment on download speeds and data performance because reception and service varies so much from one spot to the other. However when the stars are aligned and reception is good, 4G on the HTC Radar is nice and vastly improves the phones data performance. The change from 3G to 4G speeds is almost as impressive as going from a dial up modem to DSL line on your computer. Well... maybe not that impressive but it's nice.
Camera
One of HTC's weaker points with regards to smartphones is the camera quality. Some will say it simply sucks, but I'll go with a more gentler version by saying there has always been plenty of room for improvement. Improvement that is very noticeable with the HTC Radar and I think you'll be happy with the Radar's camera.
The software running the camera is your typical Windows Phone camera software with settings that include flash on/off/auto, scenes, effects, etc.). The physical button is one of the nicer camera buttons I've used. You don't have to contort your finger to press it nor does a gentle breeze cause the camera to take pictures. It's firm enough to avoid accidentally pressing it but relaxed enough to be easy to manipulate.
The camera does have a flash/LED light that works great as a focusing light but performs par for the course as a light trying to imitate a camera flash. Picture quality was good as was video quality indoors and out. To help with things, the Radar is fitted with a fast, low aperture, f2.2 lens. Basically, the f2.2 lens opens itself up more to let in more light. Where you would have to turn on an extra lamp or two for indoor shots, the f2.2 lens might let you get away with only having that one lamp on.
I have to tip my hat to the camera's macro mode. I was able to focus the camera about five inches away from my subject, filling the screen nicely with macro subjects such as flowers, coins and what not.
The Radar does have a front facing camera for self portraits, video calls and, not to sound too repetitive, what not. It is a .3mp VGA camera and I would compare it to the little cameras that are now standard on most laptops. Decent video capture and surprisingly nice still captures. Here's a short sample from the rear camera, shooting 720p.
All in all, the Radar has a good, much improved camera. Outdoors and at close distances it's one of the nicest I've seen.
Phone Quality
With all the capabilities a Windows Phone has, you often forget it's also a phone. In that regards, the Radar is a solid performer. Call volume, microphone volume and speaker performance was on par (if not slightly better) than other Windows Phones.
If you've read any of my Windows Phone reviews, I take notice of the vibrate alerts on these phones. Older Windows Mobile phones would rattle the fillings in your mouth when set to vibrate but it seems as if with the Windows Phone phones, the vibration weakened. I find myself in meetings and other situations I don't need my "RING, RING" tone going off. For me the vibration feature is up there.
The HTC's Radar vibration alert is getting there. It's not up there with the HTC Tilt but it's noticeably better than the first generation Windows Phones.
As far as a phone goes, the Radar does just fine.
Summing it all up
HTC has produced a quality, well built, attractive phone with the Radar 4G. I see only two main weaknesses and one is more of a subjective measure.
The color will not appeal to everyone. Personally, while I think the Radar is an outstanding Windows Phone, I can't see myself owning a white phone. Months down the line I fear that the Radar will start to look dingy with dirt, scratches, and other stains. Black hides wear a little better. Admittedly though, the white color pattern did begin to grow on me after a few days.
The other weakness is the 8GB of storage. This will force many to pick and choose what is installed on their phone more carefully. Why manufacturers (or is it MSFT) hasn't embrace expansion slots is bit of a mystery.
You also have the issue of the Radar lacking the gyro and compass (okay so it's three weaknesses). I might could understand why the gyros were left off the design table but the compass these days is almost standard. Some may never miss these two features but it will limit what (or how) some applications run on the Radar.
Weaknesses asides, the Radar is still a very good Windows Phone. The 3.8" screen is really nice with decent outdoor performance. The 1ghz processor moves things along nicely and the Radar feels really good in the hand. Add the 4G performance and you have a solid Windows Phone.
The Radar 4G is a good choice for those waiting to upgrade to a second generation Windows Phone or those looking to make the move to Windows Phones. Who knows, performance and feel may be just enough to get you past the white color scheme.
Windows Central Newsletter
Get the best of Windows Central in in your inbox, every day!
George is the Reviews Editor at Windows Central, concentrating on Windows 10 PC and Mobile apps. He's been a supporter of the platform since the days of Windows CE and uses his current Windows 10 Mobile phone daily to keep up with life and enjoy a game during down time.
Great review - thanks, George. Can you confirm that this phone does indeed offer internet sharing.

It does have Internet Sharing and affords you up to five guests.

Good review overall. However, I don't think the color should count as a weakness, let alone one of the three 'main weakness' listed in the The Bad summary. A weakness should not be subjective. Many people will find a white phone to be a positive, as seen by how many people waited and waited for a white iPhone. I know you pointed this out in the article, but you mentioned 3 times that you didn't like the color. I think that's going a bit overboard.

You sir, are a genius....
I also agree. As much as I enjoy wpcentral and their ablilty to be updated so quickly is just amazing, but the reviews should still be professional and unbais as possible. K thx.


Good review. I think it's safe to say, given the abundance of mentions by George, is that George does NOT like the color of the shell of this phone :) Frankly, I think that the white/silver scheme is a plus given the plethora of boring and drab, black phones on the market today. For those not concerned with storage, and who want a different 'look' to their device, this is a decent offering.

Nice, thorough review. Maybe this will be the generation that defines Windows Phone as a solid competitor (though we all know it already is)

Sorry, dont see this phone being a 9/10, not with just 6GB of usable storage.

It's relative. I'm a pretty big users of Windows Phones and I bought this with a contract from T-Mobile I liked it so much. A ton of storage is not necessarily a priority for many out there, despite WPCentral comments ;-)

Ok, how about the lack of a compass, 1Ghz processor? I handled my colleague's Focus S today and if this is a 9 I wonder what that will score since it has more storage, a compass, 8MP camera, faster processor and bigger screen. If the Flash has a compass then I would score it higher than the Radar as well. This phone is no higher than an 8 IMO.

Perhaps the 9 is upside down?

The Focus S is a much more expensive phone and would need to be rated against other comparable $200 phones. I think maybe this is a 9/10 for phones in the $50 range?

Lacking a gyro is unexcusable. The memory gives you nothing to work with. The only way this phone gets a 9/10... the same as the Lumia 800 is if WpCentral is fudging the review score to push more WP devices. I know thats not the case and its likely that your review scores are just how you felt about the device on a 1 or 2 day usage, but I just can't take your reviews seriously.

What apps do you use that need a gyro? Outside of star maps, there haven't been many.On Wirefly this is a $49 phone. It's not high end. It's not meant to be hi end. It's clearly marketed and sold as an entry level Windows Phone.For what it is, it deserves 9/10. You disagree because it doesn't match what *you* want in a phone. But that's not how reviews work--we rate it based on what it is suppose to be, not what KeyboardG wants.

As Dan mentioned it's relative. If storage is an issue or you just have to have a gyroscope, I can see where you would rate the Radar lower. But what about those who don't need the storage space, won't need a gyroscope and really like the white color? Are they wrong for rating the Radar a 10?I try to pick a score that reflects the overall performance of an application or Windows Phone as billed. Does it do what it is supposed to do well? And in my opinion, which is what a review is, the Radar shook out at a 9. We try to point out areas of reservation but how the lack of memory, gyros and colors, etc. are issues that you take into consideration when deciding whether or not this is something for you. If you disagree, that's fine and what our comment section is for. Comments allow readers to see varying opinions on a review to better base their purchasing decisions on.But fudging the score to push more WP devices? come on.

I also have to agree that 9 out of 10 is a bit generous. The lack of a gyro and compass, sealed battery, only 8 GB memory are all things that should work against this phone. Not to mention the lower clock speed of the processor in comparison to the other 2nd generation WP handsets. I realize that these are cost-cutting measures on the part of HTC, but you have to consider these things when making a buying decision.As far as the color goes, I've seen a bunch of Radars sporting a pewter/silver color scheme with a black bezel. I wonder if that color is an option with T-Mobile. I think it looks better than white (I'm with George here)...so if it's the color that's putting you off, check if the silver is available. It's a looker, for sure.

Once again, it's an entry level, low-cost Windows Phone. That means it will have less memory, lower camera, slower CPU, etc.That's only a negative if you want more and we clearly highlight defecencies that high-end users would find with this hpone.But as an entry level phone? It's awesome. I used mine all day in NYC yesterday, sans some brief usage with the Focus S (I prefer the Radar to the Focus S, btw).

I think the alignment of the phone, entry level vs top teir should be upfront in the review.. especially as the WP7 hardware market diverges.

As good as the Lumia 800 then ;)I kid, I kid...

What app do I use for Video calling? Tango is not yet in the marketplace. So far the FFC is a vestigial piece of hardware. George, is it possible for yu get on the hirn with Tango or Brandon Watson and trying to figure out whats going on?

I can easily see this as a 9/10. In the scheme of low cost entry phone it certainly is. I would score it similarly. Just should have two categories, high end and low end.

Thanks George for the video review. One thing you mentioned that caught my attention was your comment about having only 1 bar in the part of the house you filmed this video. But I noticed the video played flawlessly anyway. My hat is off to the design team on this OS. W00t. Windows Phone baby!

Great review! Very comprehensive. I think the 9/10 is pretty optimistic, especially with the similarly positioned Flash having just been released (and looking good enough for me to almost buy instead of my Focus S). I would have loved to have seen a side by side entry-level smack down =P

Well... I still have the Radar for a few more days. Let me get through the Samsung reviews and I'll see what I can cook up.

I think I might be interested in this phone. And a s/n, but some of you know it all's really don't know it all. I'm just saying....

I've been using this phone for 4 days. In my book it's a 9. Regarding gyroscope - what's it for? The radar does gaming just fine as well as navigation.

I've been using the Radar for a week now and I think the review is fairly spot on. I was puzzled about the lack of a compass but it doesn't effect me honestly.One problem I have noticed is that the step tracking doesn't work well in Livescape as it seems to have an issue with the hardware (accelerometer?). I used the HD7 before with Livescape and didn't have this problem. Anyone else notice step tracking not working for them in Livescape or other apps?Also, I don't think I'll ever hit the storage limit (only 6GB and change available out of the box) as I mainly use Spotify for my music now that it's out. It was nice not to have to wait long for that!

I just bought the radar. The call quality is bad. To be more specific the earpiece speaker sounds just horrible, so much so that i returned it. The hd7's earpiece speaker is much better.Also before i walked out they tested 3 other phones just to make sure it wasn't a defect and all 3 radars sounded identical. It sounded like the speaker was blown. Just horrible.

Everybody commenting here are forgetting that the 1ghz compared to the Samsung Flash 1,4ghz is not really a 40% difference in performance. The Radar has a much faster 1ghz cpu compared to the first generation phones, and is only approximatley 10% slower than the Samsung Flash. It might be that the Radar has better batterylife for the heavy user than the Flash due to the maximum of the CPU beeing "no more than needed" by the OS and the current applications. The Samsung Flash might be 1,4ghz but drain the battery much faster while gaming. I for one consider batteryconsumption under use much more important than framerates in games, which essentially is all you get extra with the Samsung Flash. 1ghz as opposed to 1,4ghz CPU might actually count as a big plus!

What kind of witchcraft you guys are talking about ? This phone costs 50 dolars ? Realy ? Oh man..., shit's expensive here. There's no Smartphone here for less than 80 - 90 Euro, and that's a realy shitty Android.

A lot of people here seem to think that when they buy a phone on contract they only really pay what they pay upfront and not what they have to pay extra every month...

There are a number of problems are present while driving in roads. Of those the main thing is the safety because due to the crowded roads accidents may occur easily so that with the use of intelligent OEM Speed Radar such things are prevented by means of sensing the flow of the vehicles.

I bought the hype about this phone but didn't get what I'm paying for!
Although supposedly compatibile with my car bluetooth complete with published test results, phone software updates have eliminated that if it was ever true. Every other phone I have tested has worked with the car. Microsoft support has responded that the Bluetooth standard for such interfaces is not really a standard and they don't have to adhere to it when its cheaper not to.
Not being able to set up a ring tone without going though a tedious PC application is simply agrivating. Why not? HTC support says Microsoft didn't want to support user ring tones at all and only compromised with this mess under pressure.
The lack of response to keypresses have cause me to miss phone calls. Since the key background changes when the key is pressed, this is likely a problem with the OS. There are other situations with the same issues while in some modes the keypad works fine. I have to be careful hanging up as it misses this keypress as well.
The edict that one cannot change the original email associated with the phone simply does not make sense. I originally bought the phone for my son but when he got to school, we discovered the coverage map was extremely optimistic. He now a phone that is not windows, not HTC, not T-mobile and has no problems while I am stuck with this piece of junk but had to loose all aps etc. to reset the phone to get set a different email account.
The TOTAL lack of useful support from Microsoft, HTC, and T-mobile to fix even one of these issues make this one of the worst purchasing decisions I have ever made. Every month for the remainder of the contract, I will be reminded of these three corporate stooges taking my money and not delivering. I think I will compile a list of overly optimistic reviewers while I'm at it. How this thing got good reviews is beyond comprehension.


Can we change the battery in this phone ? I used the phone for its last percentage and then suddenly it began to give less battery hour. Even in full charge it gives only 20 hours with battery saver. Please reply.
Windows Central Newsletter
Thank you for signing up to Windows Central. You will receive a verification email shortly.
There was a problem. Please refresh the page and try again.