T-Mobile Nokia Lumia 810 unboxing and video tour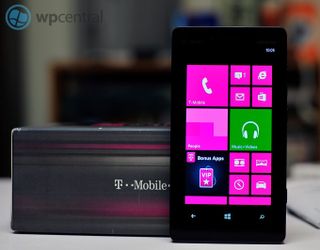 Hey, look at that! The Nokia Lumia 810 exclusively for T-Mobile showed up on our doorstep and we decided to film us opening her up.
Now although Mobile Nations guru Phil Nickinson played with a dummy Lumia 810, yours truly has not had a chance to even touch one—so this will be my first "hands on" with T-Mobile's new device. Off the cuff? The screen, even at 4.3" and 800x480 is really bold, bright and eye popping, due in part to some ClearBlack and an OLED display. It also blends seamlessly with that soft-touch black body, which feels quite nice to hold...
The device feels quite light compared to its heavier brother, the Lumia 920 and is in many ways similar in size. If you're wondering about quality, it still has Nokia's signature level of craftsmanship but it is certainly a step below the 920's curved polycarbonate shell, make no mistake. Oh and that camera? Surprisingly it does have an auto-focus assist lamp, which is a nice touch but the lack of PureView for low-light shots is quite obvious.
The device does hum along nicely with a 1.5GHz dual-core CPU and although it took about 5 minutes to install all the software, you do get Nokia's full stable of apps (City Lens, Maps, Music, Transit and Drive) all installed in one shot. In addition, T-Mobile has their exclusive apps including 411 & More, Bonus Apps catalog, CallerTunes (music while people wait for you to answer), Slacker Radio and Zynga Games. That later one brings you to the Windows Phone where you get the ad-free versions of Draw Something and Words with Friends for $0 (savings of $6), which is a great sell actually for you young folks.
Look, we're not going to beat around the bush: this is no Lumia 920, so don't get your hopes up. But this is a Nokia Windows Phone and for what it is, it's kind of nifty. If we had to call one feature out on the phone it'd be the display: it's super intense and will keep your eyeballs happy. Just look at those photos...it's really that powerful!
We'll have more on this phone in the coming days. For now, you can sound off in comments. The T-Mobile Lumia 810 from Nokia is expected to go on sale this Wednesday, November 14th for $99.99 on a Value Plan and $149.99 on a Classic Plan.
Windows Central Newsletter
Get the best of Windows Central in in your inbox, every day!
Daniel Rubino is the Editor-in-chief of Windows Central, head reviewer, podcast co-host, and analyst. He has been covering Microsoft since 2007 when this site was called WMExperts (and later Windows Phone Central). His interests include Windows, laptops, next-gen computing, and for some reason, watches. Before all this tech stuff, he worked on a Ph.D. in linguistics, watched people sleep (for medical purposes!), and ran the projectors at movie theaters because it was fun.
Hey Daniel, How does the screen compare to the 920? I know the 920 has a better resolution but that doesn't always mean it looks better. thanks for your time!

Watch the video as I totally compare the two briefly and give my thoughts on that ;)

yes yes I did see that thank you!

I was looking for u to show the user available memory in the settings tab how much is there.

Looks like a handsome little device. Can you imagine if they used the OLED screen with a higer resolution? Drool.

When I go to T-Mobile (that's 99% sure), I'm torn between the Nokia Lumia 810 and the HTC 8X. I know the 8X is superior hardware-wise but Nokia has all those great exclusive apps and they're really trying to support the platform. My last WinPhone was an HTC and I haven't seen squat out of them since the phone launched.

+1 I'm having the same problem. However, I always see someone complain about HTC in the past, so I don't know if I'm willing to take the risk.
I might have to go with Nokia for their support on WP, and the exclusive apps! And this phone doesn't look bad either.

Also, remember that you can expand the storage up to 64GB (if its a concert for you) whereas on the 8X you will only have 16GB...

And remember that that memory expansion is for media only. You cannot use it for apps. So, if you love apps, 8 GB could feel pretty small.

Saw the blue 8x today today at at&t store. It looks more purple than blue.

+1 ive been trying to decide between the two!! :( super torn

I've been pretty torn, too. I've had the HTC HD7 for 2 years and it's been the best phone I've ever owned, hands down. My wife has the Radar and it's been fantastic. Ultimately, though I think the super-sensitive touch screen is going to end up being the deal breaker for me. We've got some great options on TMo this time around!

Same here. It's a rock solid durable phone.

I have a similar problem... I'm on AT&T right now with the 200 MB plan for $15/month with no texting. I've been with them for over a decade. Never had a problem with their service. But now, I'm trying to decide between staying with them and get the 920... or move to T-Mobile to go on their unlimited talk, text and data plan... and then choose between the 8X and 810. I'd prefer a Nokia, but wish the 810 were higher resolution. I like the 8X, but the 16GB is limiting, except with unlimited data and my 25GB skydrive, this shouldn't be an issue. The 920 is sweet for a great price, but I lose out on the unlimited stuff that T-Mobile has. I don't like keeping track of data usage and I hate it that they charge me 20 cents when someone texts me "Hey"... but I don't want to pay $20/month for texting since I rarely use it . Uf... I wish all phones would be on all carriers. At least, we have a choice.

call them up and block your text. problem solved.

Not that simple... I still want texts for emergencies and for business reasons, but for the amount of texting I do (under 30 per month), it is not worth the $20/month for unlimited. As long as I'm under 100 texts a month, it's still cheaper without that plan. I still don't like that it costs 20 cents per text especially since it costs AT&T almost nothing to send. I probably should have gone with the $5/month for 200 texts option when that was still available. Of course, AT&T ended it... just like they ended the $15/month data plan because they know the future is WiFi everywhere.

I carry the HTC Trophy and the only support i've seen out of them was the single mango update. As for your statement about costs, on Verizon, I have talk/text, but if someone sends me a picture wheather it is opened or not, they charge 25 cents per each. This is a corporate account and we've reached out and asked them to block images, but they said they couldn't. So be cautious when switching, they all seem to have little quirks that will cost you money in the end.

If you have a data plan, just get a free texting app and block the phone texting!

I just received my NL920 today. And it was worth me leaving T-Mobile to get a supported device.

Yeah, I'll probably stay with AT&T for now to get the 920. We'll see what happens in two years if T-Mobile and Sprint join forces.

Same here, I left tmo on Friday the day of the launch and I'm not looking back, love my 920 (except battery life) and I'm paying about $10 less a month with att because of 20% GM employee monthly discount

Which AT&T plan are you on? Even with my company's 24% discount for AT&T, I'd end up paying about $50/mo more than T-Mobile.

Keep in mind that the screen on 820 doesn't look low-res at all, and ClearBlack OLED gives you awesome blacks and colors, probably better than the 8X.

I'm torn, too. I actually think the 810 is the better phone, but I know the 8X will be a lot more popular because it's not an "exclusive". I figure the selection of 3rd party accessories for the 8X will be much better.

I'm in the same boat as you, except on the Verizon side. I can't wait for Sprint; my HTC Arrive is starting to look SO 1st generation. Verizon's 822 doesn't have the resolution that the 8X has (nor the looks), but is better software wise, has expandable storage, and a removable battery.

What is superior about the 8X apart from the FFC?

also the built in amp for louder speaker.

I don't think the 8X has a gyroscope and I also read that it doesn't have an accelerometer although I could be wrong on that one. Also the 8X does not have all of the exclusive Nokia apps that the Lumia 810 has. Lumia 810 also has removable battery and expandable storage. Lumia 810 for me.

Now you're just talking nonsense

Well, he was right about the fact that 8X doesn't have a gyroscope, but 8X does have accelerometer. Ativ S and Lumias have both gyro and accelerometer. So the gaming experience in HTC phones will differ. There are some things that are impossible to do with accelerometer only. Not sure why HTC opted out on the gyroscope. On Nokia apps(drive,maps), we'll just have to wait and see. As far as I understood all oems are free to licence Nokia Maps and Drive, but is up to the oems to decide when and where they do it.

16GB of storage. But then it can't use SD cards.

I'm getting this phone, Wednesday with a wireless charging.

Looks like a nice phone, one which I would've gotten had I not switched to Att on Friday to snag my white NL920...

For some reason I'm craving watermelon.

What is the off contract price??

That's a damn nice phone choice for you T Mo folks!

Looks light-years better than the Verizon version

I wonder what the price will be for the wireless charging backs. Does anyone know if they will be available on launch day?

The backs will be $39.99, the charging plates will be $59.99 and no, neither will be available for launch. They should be in stores within a few weeks!

How about the regular colored shells? For example, just the cyan with no wireless charging.

I could by wrong but the way I understand it is that the phone will only come with black non-wireless shell with optional wireless shells available in both black and cyan. In other words, no cyan non-wireless shell. I hope I'm wrong and I hope Nokia releases other colors in the very near future.

it looks goo but do we get color choices?

This is my next. How hard is it to remove the back cover? Are the speakers loud?

Can someone PLEASE demo the Windows Phone 8 screenshot feature? Out of all the reviews I've seen, this feature has yet to be demoed.

Not much to demo. Just press the windows key and the power button at the same time!

I really want this to be my next phone. I'm going in the T-Mobile store on Wednesday and this and the HTC 8X better be there.lol

I saw them both yesterday in T-Mobile... Nice phones!

I like this better than the HTC windows 8 device, I got the chance to use this at my local store a couple of weeks back and I was impressed.

As quiet as its kept, this phone is simply sexy. You might argue that the 920 is in a league of its own and def the better device. However, this phone is calling out to me. I currently own the 900 on At&t but I might just proudly downgrade and head over to T-Mobile.

I also have the 900 and have already ordered the 920 but I had the chance to compare the 810 and 900 side by side last week and trust me the 810 looks great. It's never a downgrade from the 900 at all.

how many Gigs are in the 810?

It has 8G with up to 32 GB SD card.

Saw this phone alongside HTC 8X at T-Mobile store this past weekend. First impression - 8X wins outright. It felt very sleek, and not to mention way lighter than Nokia handset. I did try the exclusive Nokia apps, and think they tilt it way back in nokia's favor. Decisions decisions....

I visited my local TMobile store today and played with both the L810 and 8x. For the looks and feel the 8x is a clear winner in my book. But for the extra apps nokia drive, city lens, nokia music, removable memory the decision is easy. Its the L810 for me. But i have to admit i personally cannot stand light dainty feeling phones. Both of these phones are devoid of weight unlike my HD2 that feels like it means business. I like a phone with some heft even my Htc radar is heavier than these phones and it is significantly smaller. I was prepared to get the L810 on Wednesday but I'll give it a couple of extra weeks in hopes to get it at a lesser price point.

I want this phone but I don't want the T-Mobile apps. Does it come that way off contract?
Can I get it at a place like Best Buy without the T-Mobile apps?

Feel free to uninstall them if you wish. Microsoft allows you to uninstall ALL carrier loaded apps if you'd like.

Ah, nice. I'm currently using a loaned Android phone and I can't uninstall anything. Drives me crazy.

Seems to be a slight exception with the 920 on AT&T. My brother says he cannot uninstall the Helps and Tips app. I hope Tmo doesn't hard code something in there.

Helps and Tips app is not an Att app its Nokia

This is way better than the Verizon version..the all black is really nice...
Damn

It definitely looks more sleek.

I think this is a great device I get that tmobile users wanted the 920 but im no sure tmobile would sell enough of them. This phone is a good alternative im thinking of telling At&t i rather pay to leave then to give them $350 to upgrade to the 920 im not hard to please so id be happy with this or the 8x but im not willing to give up Nokia apps

Nokia knows that it won't develop if they stick only to Symbian so they're trying really hard on WP! Im gonna go for Nokia! They'll keep giving you surprises! :P

For some reason, the bottom part of the phone looks so much like the bottom part of the iPhone 5. Anyway, I'm glad Nokia is not using an AMOLED screen in the 920. The burn ins are annoying. Though, if they're able to eliminate that, I'd take AMOLED over LCD any day of the week and twice on Sunday.

Yeah for you T-Mo WP buyers, you can't go wrong with either devices, I have an 8X on AT&T and have been using it for three weeks and I absolutely love the device, it screams quality, it feels just right in the hand, the camera is solid not the 920 but just below it in terms of quality. The beats audio is really nice, the FF camera is the best on any phone for skype. The screen is super sharp, text looks amazing although the hue is bit off sometimes no big deal. Overall it is a amazing device, I plan on using it everyday and have a 920 for traveling or weekends. I got the chance to play with the 810, 820, 822, 8X, 8S, 920, and Ativ S and they are all worthy WP8 devices. The 810 is nice and looks great with the Cyan back cover, the Nokia apps are quality and I'm going to miss out on those with daily use on the 8X. For you T-mo shoppers you have great options with the 8X and 810, you really have to just hold both devices and play with them. The 8X is made to impress I will tell you that. :)

Thanks for the video tour, nice stuff :)

Am I the only one who thinks it looks nicer than the 920?

Nope.. I am also eyeing this. From what i have seen Nokia phones look bulky in video but much better when it is live. So i think this is going to look good..

I love your voice, Daniel.

Nice looking phone but overpriced on T-Mobile. I'll take a pass and wait for contract to expire and make the move to AT&T.

And pay 2x more per month with data caps? You are such a bright individual.

I've already done the math and I will end up paying about the same as I pay now and have better phones as well. Just for reference. If I stayed at T-Mobile and switched to the Value Plan I would pay $450 out of pocket for 3 L810s and then $199 per month for 3 lines with unlimited everything. If I switch to AT&T I would pay $300 out of pocket for 3 L920s and then $210 per month for 3 lines with unlimited talk/text and 10GB shared data. Plus I'd get better coverage including subways and LTE speeds. You might scoff at the 10GB vs unlimited but my current lines have 2, 2, and 5 and none have ever gone over limit so 10GB shared works for me. The choice is clear for me. Your mileage may vary.

And your right. I am a bright individual.

+1.

At the end of the day, it's YOUR money, and you can spend how ever you like. I see nothing wrong with paying a tad more for the device you desire - saving a few bucks for a device that you would be 'ho hum' is akin to wasting money, in my opinion.

I think you will enjoy your Lumia 920's. Hope all works out well for you :)

2, 2 and 5 GB plans are actually more expensive than the new nationwide unlimited 4G plan. You need to check your math.

I hate the green color of the Music-Tile. :(

It changes like the zune tile did

Only when music is playing, then goes back to green

So why would anyone want this over the 8X besides the fact that this is a Nokia device?

Im sure there are plenty of reasons, most if not all of matter of personal opinnion/preference. 1) I assume price 99$ vs 8X 199$. 2) It has a both Gyroscope and acceloremeter(8X only accmtr), for gamers. 3) SD-card slot. 4) Removable battery. 5) removable back cover. 6) Nokia's Clearblack tech brilliant in direct sunlight. 7) Nokia drive and other Nokia apps. + other exclusive apps 8) Super sensitive touch(to those living in -30 degrees). 9) dual-led flash. 10) Wireless charging. 11) Design + feel(yes, personal opinion). 12) And yes, some people will buy it just because its Nokia and they trust in it.
Sure HTC 8X has lots of features over Lumia 810(camera probably, screen, ffc, weight) too, and 8X will probably sell very well at T-mob. But Lumia 810 also has some very nice features, which will make difference to many people.


To bad they are both overpriced.

Overpriced? Compared to what? Lumia 822 is 99$ at Verizon, HTC 8X is 199$. Lumia 920's price at AT&T is ridiculous. Lumia 920 for 99$ with wireless charger in AT&T is heavily subsidised, and I really don't expect AT&T to have that price indefinetily. I would guess unsubsidised price for Lumia 920 would be somewhere around 299$-349$ at AT&T.


The Lumia 810 on T-Mobile is $99 AFTER $50 MIR plus $20 per month for 24 months if you pick or are on the vaule plan. OR, it's $149 AFTER $50 MIR if you pick or are on the classic plan. So yeah, the L810 is overpriced compared to the AT&T L820($49) and the Verizon L822($99).

The Windows Phone 8X on T-Mobile is $199 AFTER $50 MIR plus $20 per month on value plan and $249 after $50 MIR for classic plan. So yeah, once again it's overpriced compared to AT&T and Verizon.

You're getting annoying.
Not sure why you're so pissed but relax.

I'm relaxed. He asked a question and I answered it. Sorry if you don't like the answer. But then sometimes the truth hurts.

Too bad I wasn't just talking about this comment.
It's like you're throwing a tantrum. Sorry you can't see how your percieved.
Tough way to go through life.

Like I care how some random twit on the internet percieves me. But frak you very much for your concern dainia.

lol

You are wrong the 8X on Tmo is $149 on value plan and the 810 is $99. Please don't tell me you cant afford that ,quit being a brat.

I just switched from mobile to get the 920 the 810 just the the 710 just wasn't going to do it.

Lol that pink tile color looks realy gay xD even if I were a girl I wouldnt use it bc of the bad taste xD they should call it gay-mobile :D

Does anyone older than twelve talk like that?

I just ignore childish people like this. Let him defend his manly self. He might even have 1 or 2 hairs on his chest lol!

Did anyone see if the 810 has NFC as well?

Yes, it does have NFC. You can check from here http://www.nokia.com/us-en/products/phone/lumia810/specifications/


Hey Daniel, do you have an off contract pricing for the device?

Come tomorrow, this phone is so mine. Planning on using the lime as my first tile theme color, too! Of course, I would prefer the 920 and I'm still drooling after getting to play with one at an AT&T store yesterday, but I know I'm going to love the 810. Still might get a 920 a few months from now because it made THAT much of an impression on me.

I think the 810 will make the same impression on you.

Daniel,
Thanks for the unboxing. I am undecided on which gen 1 wp8 device to get on TMO. I'm sure you will get to this when you do the full review, but...
Which phone do you prefer (8X or 810)? I really want the Nokia Apps and support, but I'm not sure about the screen and camera. I wish they could just make my decision easier and give me a 910:)


Regular SIM or Micro SIM?

Here's hoping Wind in Canada picks this up like they have the 710...I could really use upgrading my wifes dumbphone...if not, I'll have to make a trip down to buffalo at some point.

Camera is a big factor for me. How does the 810 camera compare to the 8x? If they are on par, that might tip me to the 810.

I'm in the same boat... If the 810 takes great pictures with zero shutter lag, then I'll likely end up with an 810. The 820 reviews are fairly complimentary of the camera, but don't mention if there is any shutter lag. I'm sure the 8X is like the One series and has almost no shutter lag, which is awesome.

I just came from a T-Mobile store and they pulled the 810 and the 8x out of the back for me to try out. For this price point, the 810 in my opinion trumps the 8x. Yes the 8x had a better screen resolution, but the 810 felt really nice in my hand. Not to mention, the screen (even though lower resolution than 8x) was very crisp and had great view angles. Camera, even though not as good as the 920 is way better than my lumia 900 and comparable to my coworkers IPhone 4s. I am definitely going to get the 810 with my upgrade and then buy the 920 unlocked from Rogers. If you have any question, please ask...

i just got the lumia 810. i have to admit, it's pretty awesome. i am digging the form factor, feels nice in the hands, I wish it was the 920, but this is a nice add to the T-Mobile lineup. Battery life seems decent. Compared to the 8x by HTC, the camera wont win but still solid, a huge improvment.

How well does that external memory work wiht Windows Phone 8? Can it be set as the default location for media (from the camera, video, xbox music, etc?).


Have you any chance to try out the microsd card? How's the integration of external storage in wp8, and is it speedy with a class 6 or 10 card? I'm thinking of keeping musics and video on them.

by speedy you mean what? When i had my 810 and transferred videos and music to and from....it was as fast as anything else.

I just got the HTC 8x today, looks like black and other colors are exclusive to other phone companies. Did they remove the lock screen zune player support?

I had the same dilemma as most of you between the 810 and the 8x. However ay the end of the day, I had to go with the superior hardware build on the 8x over Nokia exclusive apps. I held both in my hands and there was just something about the 810, it felt almost too light. Another issue was the capacitive buttons, they didn't provide enough feedback when pressed, not sure if the demo phone was defective but I want to know when I press the darn buttons. That said, the screen on the 810 is impressive in its own right, the rest of the phone's design is not quite there. I wish T-Mobile would have stuck with the same design as the 820 with its rounded edges for more visual appeal. I highly recommend everyone go try the phones out at your local store before making a final decision. With that said I am pretty satisfied with the 8x, I need to get used to the slimness of the phone compared to my old Lumia 900. My only concern with this phone is the blue casing, HTC phones have a habit of peeling over time. I hope this isn't the case with the 8x.

I returned my 810 back to Tmobile and got 8x....the 810 was not good at all. The camera was descent in light, but when the slightest amount of slight subsides, horrible noise was brought in. The vibration from calls sounds like the tiny motor is loose or is hitting something inside of it.
All together i found the front camera needs to be updated, the vibration motor definitely needs to be fixed, but it wont, they need to set the haptic feedback somewhat higher (i didn't know it had haptic feedback because it was so light) There is no way to control resolution settings on the camera. I could have dealt with all of that, but in my area (northwest indiana) at our regional Westfield mall, there was a Nokia and a Windows Phone representative that gave out small gifts for buying one or the other. The Nokia rep basically said all of that was suppose to be like that. I call bull on that one.

Got the 8x feels more premium however if I had att and not T-Mobile would of got the Lumia 920
Windows Central Newsletter
Thank you for signing up to Windows Central. You will receive a verification email shortly.
There was a problem. Please refresh the page and try again.