T-Mobile reports largest quarterly growth in company history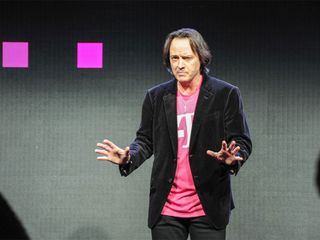 T-Mobile has just announced its third quarter 2014 financial report, showing strong growth in several areas. The carrier reported its biggest growth quarter in company history with adding 2.3 million customers in the third quarter alone. In addition the company is reporting that it has already reached its year-end goal for LTE coverage, already having covered 250 million Americans, and it is targeting 300 million by the end of 2015. The company also said service revenues grew 10.6 percent year-over-year to $5.7 billion.
In terms of specific growth makeup, T-Mobile is reporting that it has had 1.4 million branded postpaid net adds, as well as 411,000 branded prepaid net adds.
T-Mobile has been quite aggressive with its 'un-carrier' initiative lately, and that vigor seems to be paying off for the company as it continues to add record numbers of customers.
Speaking on the company's rapid growth in LTE coverage, Neville Ray, Chief Technology Officer of T-Mobile, had this to say:
As for the rest of 2014, the carrier says it expects to finish the year strong, and it's hard to argue against those expectations.
The full press release can be found below.
Source: T-Mobile (opens in new tab), T-Mobile (opens in new tab)
T-Mobile US Reports Third Quarter 2014 Results Best Quarter Ever of Branded Postpaid Net Adds and Double-Digit Percentage Service Revenue Growth
Third Quarter 2014 Highlights:
Biggest growth quarter in T-Mobile's history:
Best quarter ever of branded postpaid net adds – 1.4 million
Branded postpaid phone net adds more than doubled quarter-over-quarter to 1.2 million
Branded prepaid net adds up more than four times quarter-over-quarter to 411,000
10 million total customers added over the last 6 quarters – 2.3 million in the third quarter alone
Service revenues grew 10.6% year-over-year to $5.7 billion
Best ever Average Billings Per User (ABPU) of $61.59, up 4.2% year-over-year
Adjusted EBITDA of $1.35 billion, flat year-over-year, impacted by record customer growth
With the fastest nationwide 4G LTE network:
Already reached year-end goal of covering 250 million Americans – targeting 300 million in 2015
Aggressively rolling out Wideband LTE and 4G LTE on 700 MHz A-Block and 1900 MHz PCS spectrum
Continue to lead the industry in innovation:
Un-carrier 7.0 – Wi-Fi Un-leashed: first US carrier to adopt Wi-Fi calling across all its new smartphones
iPhone 6: T-Mobile's biggest device launch ever
Expect strong finish in 2014:
Guidance range for branded postpaid net adds increased significantly to 4.3 to 4.7 million
Guidance range for Adjusted EBITDA unchanged at $5.6 to $5.8 billion
BELLEVUE, Wash. – October 27, 2014 – T-Mobile US, Inc. (NYSE: TMUS) today reported third quarter 2014 earnings which demonstrated continued customer momentum and strong financial results.
T-Mobile reported 2.3 million total net customer additions with 1.8 million total branded net customer additions for the quarter, including branded postpaid net additions of 1.4 million and branded prepaid net additions of 411,000. The strong branded postpaid net addition performance resulted from continued momentum in phone gross additions, which were up 46% year-over-year.
"Despite our competitors' best efforts, the Un-carrier revolution made huge advances in the third quarter with record net new customers," said John Legere, President and CEO of T-Mobile. "More proof of the resurgent strength of our brand and the massive momentum behind the Un-carrier consumer movement."
Un-Carrier Delivering Results
Since launching Un-carrier in 2013, T-Mobile has transformed the wireless industry with innovations such as No Annual Service Contracts, equipment installment plans, the JUMP! device upgrade program, free international data roaming, and lifetime free data allowances for tablets. Earlier this year, the Company launched "Contract Freedom" which reimburses Early Termination Fees (ETFs) for individuals and families who make the switch to T-Mobile and launched T-Mobile Test Drive and Music Freedom in June. In the third quarter of 2014, the Company again expanded the Un-carrier portfolio with:
Un-carrier 7.0: "Wi-Fi Unleashed": In September 2014, T-Mobile made voice and texting available worldwide, anywhere a Wi-Fi connection is available. The program also offers postpaid customers a Personal CellSpot device free of charge to boost coverage in more areas, and also enables free in-flight texting in a partnership with Gogo. T-Mobile is the first U.S. carrier to adopt Wi-Fi calling across all of its new smartphones as well as the first to introduce nationwide Voice over LTE ("VoLTE"). Customers can experience these groundbreaking technologies, including seamless handover between Wi-Fi and VoLTE, on the Apple iPhone.
Operational and Financial Highlights for the Third Quarter of 2014
T-Mobile continues to deliver strong customer growth and ended the third quarter of 2014 with 52.9 million total customers, an increase of 2.3 million total customers from the end of the second quarter of 2014 and 10 million total customers over the last 6 quarters. With 1.8 million branded net customer additions in the quarter, the Company grew its branded customer base at a record pace. Branded postpaid net customer additions were 1.4 million, including 1.2 million phone net additions, more than double the growth in the second quarter of 2014, and 204,000 mobile broadband net additions.
T-Mobile's branded prepaid business is expected to again lead the industry with 411,000 prepaid net customer additions in the third quarter of 2014, up more than four times versus the second quarter of 2014.
As part of the ongoing movement towards simplifying the business, the Company continued to drive the penetration of Simple Choice plans within its customer base. The portion of branded postpaid customers on Simple Choice plans was 84% at the end of the third quarter of 2014, up from 80% at the end of the second quarter of 2014.
Consistent with industry trends, T-Mobile's customers continued to migrate to smartphones. Total smartphone sales, including sales to branded postpaid and prepaid customers, were 6.9 million units in the third quarter of 2014, or 93% of all phone units sold.
In addition to strong customer growth, T-Mobile delivered strong financial results. In the third quarter 2014, the Company again produced the fastest revenue growth in the industry in both service and total revenues. Service revenues for the third quarter of 2014 grew by 10.6% year-over-year, primarily due to rapid growth in the Company's customer base and increased adoption of insurance and upgrade programs, partially offset by lower branded postpaid phone ARPU due to increased adoption of Simple Choice plans. Service revenue growth for the third quarter of 2014 accelerated compared to the second quarter of 2014 when service revenues increased by 7.1% year-over-year on a pro forma combined basis. On a sequential basis, service revenues grew by 3.6%. T-Mobile grew total revenues in the third quarter of 2014 by 9.9% year-over-year due to growth in equipment revenues and an increasing contribution from service revenues. On a sequential basis, total revenues increased by 2.3%.
Branded postpaid Average Billings Per User (ABPU) was $61.59 in the third quarter of 2014, up 4.2% compared to the third quarter of 2013, a significant acceleration over the 1.8% year-over-year growth in the second quarter of 2014. ABPU in the third quarter was the highest in the Company's history. Branded postpaid phone Average Revenue Per User (ARPU) increased sequentially by 1.1% to $49.84. Branded prepaid ARPU increased by 5.3% year-over-year to $37.59.
Branded postpaid phone churn amounted to 1.6% in the third quarter of 2014, down 10 basis points year-over-year, but up 10 basis points quarter-over-quarter due to seasonal factors. Year-over-year, the decrease was primarily due to the continued success of the Un-carrier initiatives.
Adjusted EBITDA for the third quarter of 2014 was $1.346 billion, flat year-over-year but down 7.2% sequentially. Quarter-over-quarter, Adjusted EBITDA was impacted by the higher costs associated with the record growth in customers, including higher selling, general and administrative expenses and higher losses on equipment sales. The Adjusted EBITDA margin was 24% compared to 26% in both the third quarter of 2013 and second quarter of 2014.
Network Expansion and Capital Expenditures
The Company's network expansion is continuing at an accelerated pace. T-Mobile's 4G LTE network – America's Fastest – now covers 250 million people, already reaching its year-end goal. The Company is now targeting a population coverage of 300 million people by year-end 2015. T-Mobile is rapidly deploying Wideband LTE, while at the same time rolling out 4G LTE on its 700 MHz A-Block and 1900 MHz PCS spectrum.
Cash capital expenditures reflect T-Mobile's continued investment in network modernization, 4G LTE deployment, and commencing the rollout of 4G LTE on its 700 MHz A-Block and 1900 MHz PCS spectrum. In the third quarter of 2014, cash capital expenditures were $1.1 billion, up from $0.9 billion in the second quarter of 2014 and up from $1.0 billion in the third quarter of 2013.
MetroPCS Combination
T-Mobile continued to make rapid progress on the expansion and integration of MetroPCS. As of September 30, 2014, MetroPCS was in 55 markets with nearly 11,000 points of sale in total, which includes 4,000 in the 40 expansion markets, an increase of 900 points of sale in the third quarter alone.
The MetroPCS customer base continues to rapidly migrate off the legacy CDMA network. At the end of the third quarter of 2014, 78% of the total MetroPCS customer base was already on the T-Mobile network. Approximately 63% of the MetroPCS spectrum has been re-farmed and integrated into the T-Mobile network at the end of the third quarter of 2014.
In July 2014, T-Mobile shut down the CDMA portion of the MetroPCS networks in Boston, Hartford, and Las Vegas. The CDMA portion of the MetroPCS network in Philadelphia was shut down early in the fourth quarter. Costs for these CDMA network shutdowns planned for 2014 are expected to be between $250 million and $300 million for the year, of which $97 million was recognized in the third quarter of 2014. The network shutdowns will facilitate the realization of the network synergies associated with the business combination of T-Mobile and MetroPCS.
2014 Outlook Guidance
T-Mobile expects to drive further momentum while continuing to invest in profitable growth. With the success of its Simple Choice plans and the continued evolution of the Un-carrier strategy, branded postpaid net customer additions for 2014 are now expected to be between 4.3 and 4.7 million, up significantly from the prior guidance of 3.0 to 3.5 million.
For the full year of 2014, T-Mobile expects Adjusted EBITDA to be in the range of $5.6 to $5.8 billion, unchanged from the prior guidance. Given the expected customer growth momentum, the Company anticipates an Adjusted EBITDA at the very low end of the range.
Cash capital expenditures are expected to be in the range of $4.3 to $4.6 billion, unchanged from prior guidance.
With this growth and rate plan migrations, the penetration of Simple Choice plans in the branded postpaid base is projected to be between 85% and 90% by the end of 2014, again, unchanged from prior guidance.
Windows Central Newsletter
Get the best of Windows Central in your inbox, every day!
Dan Thorp-Lancaster is the former Editor-in-Chief of Windows Central. He began working with Windows Central, Android Central, and iMore as a news writer in 2014 and is obsessed with tech of all sorts. You can follow Dan on Twitter @DthorpL and Instagram @heyitsdtl.
Great, now give me my damn Cyan, and the M8 and 830...Oh yeah, and the 1020 and 1525.

LOL. Cyan is officially pointless. New phone please

Ksmith, Fitbits don't work without Cyan. It also optimizes your phone, so it is a pretty big deal.

From what I hear they are getting the 930 but the sale of Nokia to Microsoft delayed the deal. That was from a couple of guys in two different stores. Not sure how much truth there is in that and I'd be a bit pissed since I just bought one off contract. Apparently they won't get it until 2015 thought :(.

The people who work in their stores are clueless, generally.

I don't care.. I want to find out when T-Mobile is going to get their shit together about this Cyan update. I still didn't get it -.-

Update us now and start carrying some high end WP.

Yes, exactly. If TMO reads these comments they'll notice everyone is repeating the same exact shit

Well, this IS a blog dedicated to Windows, so we may be a little biased. At least they're getting the One W8.

You mean m8. HTCs track record puts me in the Lumia line, waiting. Of course I could always get the m8 to hold me for 6 months and then switch to the next Lumia or MS phone. Depends which comes first. HTC is good for the first 6 months then they abandon the device

No point wasting an upgrade.

Well I have the jump plan. So when I pay off half the device I can choose another phone and trade. So $300/$350 per phone and I can have whatever I want. Paying $25(for$700+ phone) a month roughly as payments on top of my bill which is cheap

I really just want 5" and SD support.

High end and I'll switch.

This CEO is going places. Damn. Turn Tmob around like that in less than 5 years.

Well it's probably not THAT hard to do when you get $2B worth of free spectrum and $3B cash for free.

Hmmm... I don't remember T-Mobile getting those things. Care to elaborate?

AT&T deal feel through because of regulators, and that was the amount owed. Huge boon to T-Mobile for no effort.

They don't necessarily think so: "Magenta lost more than 467,000 contract customers over the 10 months it worked with AT&T on the ill-fated takeover, focusing not on network enhancements, but instead on completing the deal. [...] On the topic of the failed AT&T deal, Humm said there was no way to predict the resistance T-Mobile met with from regulators – "We wouldn't have gone for it if we knew," he explained." There's a *lot* of effort in a failed merger/take-over by the one being purchased. It's a huge distraction, costs megabucks in due diligence, etc. A T-Mobile exec said they wouldn't have done it if they'd known the end result. They're unlikely to be unhappy about the spectrum and the billions they received when the deal fell through, but it wasn't a free lunch. Some market watchers believe AT&T found it worth making the attempt for T-Mobile if for no other reason than it stopped Sprint from (potentially successfully) doing so in that same period of time.

Most of the profit came from me ringing all them porn numbers such as Danny the tranny and skanky Sheryl......

You seem to know a lot about that...lol

AT&T grew. T-Mobile grew. So who lost out (Verizon?) or is this just more people buying phones all over?

Sprint is hemorrhaging customers, but also keep in mind the US population is growing.

Verizon has been kinda quiet compared to past years or maybe TMo & at&t have been making more noise.

AT&T and Verizon have been growing with tablets mainly

Great. So new phones please

Get some more freaking WPs! I just checked their website and they're apparently not even selling the 935 anymore. The site only has the 635 and a refurb 521. They need a flagship Lumia. Even a variant of the 830. Come on T-mobile. Throw us a bone please!

i say no to the idea of a variant.

I wish I knew they had a 935, I would have certainly picked one up.

I picked my 935 up about 6 months ago on eBay. They released it about 2 years ago.

They literally ignore my entire state. There is nowhere in my state that there's anything other than their partner-based 2G. I REALLY want their service, but I can't get it. It's not even that it's inconvenient, its impossible.

What state is that? ​Coverage is sketchy in North GA and around the Gulf and SC and GA coast.

I was up in North GA yesterday(Dawsonville and Dahlonega) and had NO service! Occassionally the screen said 2G, but-nothing! This is on the fringes of a major Metropolitan area. Not good.


North GA is still an area of improvement. But once they turn 4g up there you wont have issues. Im a Tmobile rep and we have a location inside the new Costco in cumming. Tmobile is selling like crazy out there, even being so close to dawsonville and dahlonega. By next summer it will all be 4g LTE. Still a wait but at least its coming. We will be giving Verizon and att a run for their money

I'm glad it's going to be "4g LTE", rather than that non-4G LTE. ;-)

Well, T-Mobile claims that both areas are a SOLID 2G. That is bogus. For the most part reception is ok in the closer outskirts of Atlanta, but not great. When I consider that and them dumping my AAA discount......... Not sure if I will stay around. Looking at Cricket or Boost. Would love verizon, but to expensive

Verizon's price gouging and decline in service probably helped.

Been with T-Mobile since early 2002. Love it and especially after all the great improvements they've made. Plan on continuing with them for as long as possible.

Been with them since omnipoint in 2000. Great company. Best international roaming plan but: Tired of low end Windows phones. 830 please! Or at least 735!

I was one of the lucky ones to jump ship to Cricket and I love it so far.

I am thinking of switching also. Same plan cost as tmo, but with better network support because of att...

What's Crickets monthly charge. They use ATT towers now right?

$40/$50/$60 sign up for bill pay and get $5 off so $35/$45/55 and yes the att signal has been much better then tmo

Keep in mind Cricket limits your speed to 8mbit on LTE. T-Mobile is getting 60+mbit in a lot of areas.

LOL Cyan...just buy unlocked phones from eBay and Amazon, they are brand new and manufacture refurbished

If i lived in a city where T-mo had comprable coverage, I'd already be switched over. As it is, my commute takes me through an area where verizon/att have perfect coverage and t-mo is mostly garbage. Hurry up and build out your coverage so i can switch!

+521 that's cool and all but seriously? No cyan...STILL?!?

This is why MS needs to have universal carrier phone launches. True T-Mobile needs to improve but they are best carrier for an unlocked phone.

I want a L930 or L830. Importing the L830 is such a hassle. Any Canadians want to help me out? Private transaction via Ebay?

Why is importing an 830 a hassle? If you purchase an unlocked?

I need the Rogers version that supports AWS on both WCDMA and LTE and they only let customers buy off contract, so I'd need to get a pre paid sim and cancel. Plus, they only ship within Canada. I'm in NJ. I'd also need an unlock code, not sure the 3rd parties have them just yet!

I'd be happy to procure an L830 for you. Rogers/Fido version?

What 250 Million users...... ? All Indonesia residents is about 240 million...

T-Mobile USA covers 250 million U.S. residents with LTE, they don't have 250 million users on their network.

And what does this got to do with Windows Phones? I bet the success is due to Android handsets mostly?

Lack of support for high end windows phones and crappy service in my area. I'm never switching back.

I guess the poor coverage, misleading JUMP campaign, and snubbing of Windows phone isn't hurting them any.

Poor coverage in your area, the majority of T-mobile customers are happy with their service and T-mobile is getting the One M8.

I travel a lot (part of why after 7 years T-Mobile just wasn't working for me). And I have yet to find this mythical place where T-Mobile coverage is good enough and consistent enough to be worth it. As a Windows phone user these last few years have just felt like abuse. Getting the M8 late does not make up for the lack of support they have shown my HD7, 710, and 810 devices. I feel sorry for the people that are stuck with them.

I'm in South Florida, Fort Lauderdale and I get excellent 4G LTE coverage, but there are a few places I can only get H, H+ and 3G and it's always good speeds.

I agree 100%!! I travel as well. Dead zone after zone! After switching ATT, 3 yrs ago, I never looked back.

Some of us don't care about m8 and want Lumia. Just look at the comments

What are you even talking about .... Coverage is very good..maybe not where you live.. I have had no problems with jump...used it twice...everything is good with Tmobile

JUMP is just an extortion scheme for the financially careless. Expecially for WP users on T-Mobile.

They need more spectrum range.

At&t should be the clear choice for any Windows fan. They have been the biggest supporter of windows and have by far carried the most windows devices bar none. Better coverage than tmo, more windows devices than
Verizon. HTC 8x,920,820,1020,1520,520,635,Samsung ativ, soon the m8 and 830. Why any windows fan would choose any other carrier confuses me.

And ATT mvnos have plans that are cheaper than T-Mobile while allowing the use of ATT phones and ATTs network. Win/win.

this is true but its nice to have subsidies (2 year contract) or installment plans for high end flagships, pluss unlock policy can be a headache.

I'm currently using approx 12GB of data on T-Mobile for one flat rate of $20 extra per month. AT&T doesn't offer this. I use the WatchNBC App for Barclays Premier League Soccer on the weekend when at work.
Plus T-Mobile offers simple billing like no overages whatsoever after you go over your monthly data allotments, they just bump you down to 2G speeds, I don't need to monitor my family data.
So even though AT&T is the best choice for Windows Phones they are not when it comes to subscription, and not all of us want to spend the equivalent of a car payment on a Phone.

Firmware updates are the last thing on t-mobiles mind , they have to make more bloatware first , and android will be done first followed by the less popular windows phones , lucky for isheep t-mob have no say over their phones just a lack luster server from apple

T-Mobile in my town is horrible

Interesting that in all these "Best Ever" statements they didn't address the fact that they are major laggard in devices and software updates. I was interested in switching to T-Mobile but didn't want to have to use an older device with outdated software.

I've been using Walmart's Family Plan for a year now. 40 a month, no contract and they use T-Mobile towers. I have no problems with service in the Charlotte Metro area. The only thing I wish I could get is I cant use my phone as a hotspot. My service is unlimited talk, text and data though. I am thinking of switching to Cricket so I don't have to worry with unlocking ATT WPs though since I want to purchase either an 830 or 1520 on eBay as my next phone.

Good news for T-Mobile. Now where is that windows HTC One M8? it was supposed to come out in "Fall", it will be winter season before you know it.

Fall/autumn runs until late December (unless it's different where you are, it's based around Solstice in Canada), so there's time still.

I have a TMo phone 925 as backup and I can tell ya while they say they cover and have LTE their network's signal penetration and distance really sucks. I cat believe the difference between my att 1020 and my Tmo. That's why they are offering those mini cells because their signals actually suck.

He kinda looks like Rumple in that picture. "You made a deal with the dark one dearie, oh you didn't read the fine print, no cyan for you."