T-Mobile has 'no plans' to roll out Windows Phone 8.1 to devices other than the Lumia 521 and 925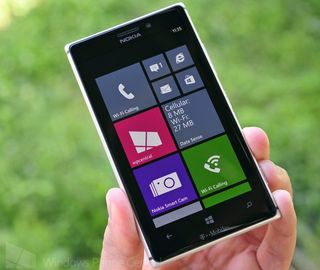 We've got some sad news for those of you rocking an older Windows Phone device on T-Mobile today: if you own anything other than a Lumia 521 or 925, you won't be seeing an update to Windows Phone 8.1.
Unfortunately, that means those of you wielding an HTC 8X are left out in the cold (though that's not entirely unexpected given its age). T-Mobile said the following in response to a question about the possibility of that very handset receiving the 8.1 update:
This is pretty unfortunate news for those of you with older devices on T-Mobile's network. However, what's even more disconcerting is that this makes the possibility of an update to Windows 10 uncertain at best.
Updated: Corrected mentions of "older" to "other" as per the tweet. My brain now knows those are not the same word.
Thanks for the heads-up M. Monzon!
Source: T-Mobile (Twitter); Via PCWorld
Dan Thorp-Lancaster is the Editor in Chief for Windows Central. He began working with Windows Central as a news writer in 2014 and is obsessed with tech of all sorts. You can follow Dan on Twitter @DthorpL and Instagram @heyitsdtl. Got a hot tip? Send it to daniel.thorp-lancaster@futurenet.com.
Shouldn't be their god damn call.

I liked the beginning: Hi!, really, mother fuckers? Tmo, got balls.

Exactly. I don't see my internet provider blocking my laptop's updates. I don't even know why this is even a thing. Carriers should have no control over my device.

You are wrong comparing your laptop to a phone. It is more like comparing your phone with your internet provider modem, your internet provider can block your modem updates. Your laptop has nothing in common with your internet provider, a phone is under your carrier if you got the phone from that provider.

Your analogy is wrong. Laptop and phone are two devices purely owned by the consumer. The difference between contracts with phones and without phones is the extra money we are paying towards our device which is ultimately ours at the end of contract. Consumers should be allowed to use their device according to their wishes. Whole industry is messed up but govts will not disturb this due to huge amount of taxes involved.

I thik the better comparison would be closer to the difference in buying a PC from Dell Vs having an OEM version of Windows. Carriers sell phones with their bloatware and crap on it, and they don't want to be bothered with testing it on all platofrms. Long story short, buy unlocked.

You have to be insane to want govt intervention. It's not like you can't carry a non-carrier phone already. Nobody was forced to buy a phone from and locked to a carrier. If anything is messed up its consumers who buy carrier locked phone and then act like its the carrier's fault. It's like the scorpion and the frog. Don't act suprised if you get stung. The most the govt should ever be involved would be to TRY to protect the careless by making the carriers disclose that in bigger fonts to prospective buyers. Those of us smart enough to avoid the carrier phone downsides resent the people who do buy into it because having such easy prey means the carriers don't have to bother to offer unbranded phones. We don't need more govt; we need better informed less lazy customers. If just 10-15% of the people buying carrier locked phones went elsewhere for open handsets, the big carriers would sell them too.

I would like one unlocked, but I've always been unsure about how well it would work with att or Verizon. If I full price for an unlocked phone I want it to be just as good or better than a locked one.

As for full price, No way to avoid paying full price. A carrier phone will be more expensive either thru it adding more than its worth to your monthy service fees or having zero equity if you "upgrade" or reduced equity if you try to sell it because of it being carrier locked. If someone really wants to overpay to avoid an upfront cost, they can put it on a credit card or buy from a source that finances. As for a phone working with a carrier its not that hard to find the basnds a phone and a carrier use and pick accordingly. If you are talking a CDMA carrier like Verizon (in the US) you may not have a choice where you get the phone, but you do have a choice to NOT do business with that kind of carrier. There is nothing wrong with making that choice because the good (in your oppinion) outways the bad. But someone who does that shouldn't ask for the govt or anyone else to tell the carrier how they choose to compete. Carriers may offer apps or features only for their locked phones but they aren't free because they come with the costs and downsides of having a carrier locked phone (higher cost of ownership, lack of freedom to change when YOU want/need, late or no updates, fewer potential buyers when you sell it, etc, etc., etc., etc., etc.). If those apps are worth all the downsides, go for it but anyone who does, shouldn't then complain about the downsides because they chose them.

My question is: Why does it even bother them to push it out. Does it really effect them that bad that they can't take a bit of time to push this out? Honestly, what else are they doing?

My question is: why do carriers even care. Let the manufacturer host the update servers and let them push out, updates like Microsoft does to windows. Posted via the Windows Central App for Android

They care because they can use it to willing force you to buy a new phone more frequently. The real questions is why MS would allow such methods.

Force you to buy a phone from a different carrier, you mean.

Remember when Apple pushed a update which mess it up with user signal? That is one of the many reasons. Apple has the power to do it, nobody will not-buy more iPhones because of that.

They care as the firmware update is bundled with it, and firmware updates can mess with the radio signal (strength etc.) which then becomes their problem. If it did mess with the signal strength who are people going to complain to? The handset maker or the telco for having a crappy network? It bites but that's why - oh that and so that the device can be certified for use on the network.

It works out Ok in most of the rest of the world where you bring your own phone to the network. Tired of hearing these excuses.

I totally agree jacob114489. I think, especially for an underdog like Windows Phone, Microsoft needs to bring as much of it in-house as possible. If the updates simply came direct through the Windows Phone store, that would be so much less convoluted. Ideally, I believe their phones should be built like iPhones, to work on all networks with all radios supported. You could buy direct from a Microsoft store or online, then pick your carrier--and all carriers would be supported on all phones, thereby increasing the niche market of a niche OS phone. The reason they do things this way now is that each carrier needs to make sure their specific setup works with the specific phone and the latest updates. Things like voicemail, call waiting, SMS, MMS, WiFi calling, carrier payment apps, etc. That takes work. Work they are not motivated to do. The problem is that the business model for cell phone carriers (and really any subscription service) is such that the focus is 100% on signing new customers. New sources of revenue. They don't give a crap about existing customers. If you are stuck on Windows Phone 7, or blissfully rocking 8.1.1, it doesn't make a damn bit of difference to them. Sure, they might lose you as customer, but you might just upgrade in the end too. Ultimately, so long as all options offer you an equally bad experience, it's not likely there will be much of a net change in customers based on the quality of their service. The primary focus is always trying to attract new customers with shiny new hardware and temporary discounts. This runs contrary to Microsoft's goal, which is to win over users through the most desirable experience. Which is why I think they should make that experience as carrier-proof, meaning as carrier-independent, as possible.

No they have to pay HTC for it

They are paid by Google for not to roll out the updates

Because it de-incentivizes people to upgrade their phones every couple years if they have all the new software. So block updates and people will be more inclined to get a new phone.

That would be a valid point if they actually had new phones.

Your mistake is that you're assuming Windows Phone. Their profits are equal or higher with Apple and Android.

But we're talking about Windows Phones. Or are you saying that customers will get annoyed with both the lack of Windows Phone support and devices, and will decide to switch to Android and iOS instead? That would make more sense. Basically, draw in customers by having all platforms, then pull them towards whatever platform/phone they make the most profit from. Whatever the reason, the main point is that T Mobile sucks for WP users.

This T-Mobile user got annoyed with the lack of Windows Phone support and devices and switched carriers. What can I say? I have more love for WP than for T-Mobile by a long shot. They shouldn't have tested my loyalty like that.

But I'm pretty sure the network operators don't get a lot of money if you buy a new phone. After all, you buy it from the hardware manufacturer and not from them. And everything that makes your phone work in the selected network is stored in the SIM, not in the phone itself.

T-Mobile makes plenty of money from the device. First, they amp up the price over other carriers. Then they introduce schemes like financing to draw the financially unstable into spending more on a phone than they probably should and lock them in to T-Mobile. They further extort users with JUMP, a fleecing scheme that only makes sense to the group that uses the IRS as a savings account they close each tax season.

Yeah.. It's not like it doesn't work with these phones. I'm sure there are plenty of people on the developer preview. I know my 8x did just fine.

So much truth in that sentence..

Well Microsoft did specifically say Windows Phone 8 And 8.1 devices will be receiving Windows 10. Not just 8.1

Still depends on carriers. T-Mobile customers can always use Dev Preview/Insider OS updates, but no firmware.

Question is, will windows 10 finally take firmware away from the carriers or are they going to continue down this usual carrier path? Heck they might just package firmware with the OS starting with 10. Doesn't hurt to hope but only MS knows at this point in time.

Old devices will requires carrier testing, I mean, WP8.x devices. We don't know about the new Windows 10 future devices.

Allegedly they ARE bundling firmware in the future updates.

Firmware updates become less important over time.

Sure, unless the new OS isn't fully compatible with an old driver or requires drivers to be modified to function correctly. Then you're stuck with a malfunctioning phone. The ATIV S for example didn't work so great on WP 8.1 using the WP 8.0 firmware. The camera was mostly broken.

So they're trying to force people to upgrade to the next device to fatten their pockets

Much as I love t-mobile, if you are looking for a new Lumia you are downgrading to your next device. My 810 got Amber and was the only Lumia in the world that said Black was unavailable. I only got 8.1 on it with the developer preview...kinda dumb now that I think about it. The 810 was the only one that could be 8.1 with the simple addition of a decimal (sorry, late night post. Lol). I have my (m8) now, but, I still feel like I was a bit burned by T-mo.

Nope, they said only 8.1 devices

Microsoft has just said that all WP8 Lumias will get Windows 10. This does not include phones by HTC, Samsung et al.

Wouldn't this just force customers to dump T-Mobile and move to a different carrier? Or do they have a geographical dominance so that's not possible for some? I don't live in the US and thankfully in my country this is not an issue. And it just seems insane.

Damn, people which are using wp's in US seem to suffer with updates :S I live in Lithuania (Eastern Europe) and every time a wp gets an update I get it in few weeks without any kind of problems. I guess that's why wps are getting quite popular here :)

Right? I didn't realize 8.1 wasn't pushed to all phones yet already!

Weird that 521 and 925 it's already on Cyan (8.1).

My 925 on T-Mobile got denim

I think it came with the dp I reset it one day and updated a few times and it says denim maybe they are bundling firmware now

That's a common bug. You don't.

Yeh no joke! Windows 10 is the fastest OS they've built based on the last released preview OS (Windows 8.1)

Yeah Windows Insider is definitely the way to go and I'm so glad MS gave us this workaround. They know how the carriers are.

I'm afraid that is not true.

You must not have read the terms. It's ok, most people don't. FYI, Dev Preview made my phone unusable, so then there's that.

Had 8.1 dev preview on my 1520, but managed to get it swapped with a new one... Didn't void my warranty with AT&T

8.1 hasn't bricked phones outside of random cases. Besides you should probably be aware of this if you're savvy enough to do the 8.1 update anyway. In the end though I want the choice since I can't guarantee the carriers will be worth a damn so I'm glad MS is at least allowing us a way to keep updating.

8.1 bricked one of my Lumia 1020's. Even reflashing with Nokia Care Suite didn't fix it (just said Phone OFF) 8.1 also ruined my ATIV S's camera until the 8.1 firmware was available. Windows 10 being an ever larger change than 8.1 was is sure to run into even more firwmare related issues.

Lumia restore tool. Not a trace. Posted via the Windows Central App for Android

Will work for non Lumias?

LOL I was on 8.1 Dev Preview when my 925 developed mic problems while still under warranty. I just used the Nokia Software Recovery Tool to rollback to WP 8 and sent my phone in for repair. They didn't suspect anything so they fixed it for free.

No firmware. May end up with broken phone. Undone.

PSA: NEVER BUY A CARRIER HANDSET!!!!!! Now we return you to your regularly scheduled programming.

And you would get WiFi calling how?

Carrier exclusive features that work only with their blessed devices are of no interest to me.

if thats important than your fucked i guess, me personally wifi calling isnt important enough to outweigh getting a phone not in the hands of a carrier

Sadly, that's the boat I'm in. I can go with Sprint and use their Airave system, or stay with t-mobile (better speeds than Sprint everywhere else I go) and use my existing wifi to get calls and texts at home. I can go with Verizon and not have service at home.
I can go with AT&T and not have service at home. Love living where I live, just no cell service from anybody available. I wish T-Mobile had a way to do wifi with "unlocked" phones. I would have loved to get a 1020 instead of the 925, and there are plenty of other phones that would leave me with no service otherwise.

thats understandable, luckily i get service at home no problem though, i still wouldnt buy a carrier branded phone even if i needed wifi calling lol

Even buying a phone from the carrier is no guarantee you will get wifi calling. Just ask those of us that bought the HTC One.

Wifi calling is nothing if you have to use it on an outdated device. I'd personally rather take the updates and own my own device instead of having to beg a sh*tty phone company to let me update my own phone.

Use a carrier with better coverage that doesn't require crutches like WiFi calling.

If you're on a better carrier you don't need such things.

You could switch to a carrier that doesn't suck so you wouldn't need WiFi calling. Google Voice/Hangouts will give you WiFi calling no matter what carrier you have.

Nope, no Softcard support on non-carrier branded handsets. At least not with AT&T, anyway.

That wont matter google is buying softcard. its amatter of time till softcard is taken off of windows phone.

I agree that carrier handsets are the worse to buy, bit having that wifi calling is nice when you're traveling abroad or in small towns that have no service. However, I did learn that its not as important as it once was since I use Skype to voice and video chat while in limited service area, the only downside is you can't call traditional numbers without paying for that service.

You can use unlocked phones on their network. Just sayin

Not on Verizon. And that's who my company phone (an icon without cyan btw) is with.

That phone came out Oct 2012 so its over 2 years old folks

That MS is giving you a way to update outside the carrier is a blessing in this case. Carriers aren't worth a damn in my opinion.

Yes two years old a 1 GB ram and still fast. People ask about my HTC 8x all the time. I will drive this phone untill the wheels fall off ! :)

That phone gas always been buggy on T-Mobile random reboots no wifi calling

I did, was run over in fact..

Yet it got 8.1u & a new firmware couple of days ago.

No it didn't not thru T-Mobile

Wait, people actually still had hope in t mobile? I lost hope after they ignored WP 7.8.

I only stay with T-Mobile because I've been with them a long time and get great deals because of it. I've always used work around to get updates before T-Mobile releases them. (HTC HD7 updated to WP7.8 using 7eighter by Windows Phone Hacker and now running a Lumia 925 with official 8.1 and on Dev Preview so I can have folders and more)

We should be like best friends! I also manually updated my Lumia 710 to 7.8, and joined the dev preview for the Lumia 925 as soon as it was available. Screw T Mobile and their lack of support for Windows Phones. Even on dev preview, we still have to wait for them to release the stupid firmware updates.

Not caring. Pay up or don't get what you didn't pay for. In this case... Updates. Lol. High end phones ftw

925 was *the* high end phone on any US carrier when TMo made it available.

And it got updated move along

Wrong. The 920 and 928 were both out and they are all essentially the same phone. Them the 1020 and later the 925 went to att.

HTC 8X was a high end phone, and the *only* high end WP on T-Mobile for a while. The other option was the Lumia 810, which is still stuck on Amber.

Icon was the high-end phone on Verizon. Still not updated. 8x, just recently updated.

There is a newer Windows Phone with Verizon else than the icon???

I was pretty sure the HTC One M8 is on Verizon. No Nokia's though.

But only the HTC ONE M8 is a more recent high-end device ( WP ) on Verizon.

The 8X WAS a high end phone, ya' maroon.

The 810 & 8x are hspa+ . The 521, 925 ,635 & the htc one m8 fw are 4g lte .so It's understandable

LIES!!! The 521 is not an LTE device.

T-Mobile calls their HSPA+ 4G, so does/did AT&T. Quite different than LTE though.

It's other. My brain slightly malfunctioned while writing this.

Yeah, I'm pretty sure they're going to update the 635. Y'know, their latest Windows Phone.

No surprise. They didn't update the 710 to 7.8 when I had it either. That's why I'm using an unlocked 735 now. Of course now I just wish Microsoft would finally release the denim update for the 735...

Just curious, do you still have T-Mobile as your carrier? I've been looking to upgrade my 521, and the 735 seems like a really solid phone.

I got TMo with an unlocked AT&T 635 right now.

Yes, I'm still with T-Mobile. I get LTE without problems on my 735. Just make sure to get the RM-1039, that's the version that works properly with T-Mobile. I bought mine from B&H Photo

People shouldn't have anything older than those anyway, I can imagine performance not being that great.

Plus they're shit phones by now. It's life. Keep up or shut up

Not true, my 8x works flawlessly and is still fast. Not shit. So does my 925.

I miss my 925. Still has that modern look. I love the cold metal

Yep, I use mine daily, I am just waiting for a new flagship Lumia that has new features to make the 925 obsolete. Until then I have no reason to switch phones. Btw, people have no clue my phone is from 2013, haha.

The 925 is what apple based the 6 off of

Really? Wow. I say Microsoft should make a slightly bigger 925 (just slightly bigger, not a phablet) with new internals and give I a cool name I.e. icon, no numbers. Then release it on all networks.

Of course they didn't but look at them

I'll have to search for a pic of the 6, haha only seen it with cases on. But yes, they obviously didn't blatantly copy it.

They blatantly copied the Lumia 620 with the iPhone 5C

Um lol ever heard of the 3g back in 2008 or 3gs. Seriously some of you need to explore other options, their is more out their then the Windows sphere. Don't be ignorant. Posted via the Windows Central App for Android

Wow you guys are everything that is wrong in the cellular industry.

I have a 810 as a backup phone and it performs nicely

My 810 is my backup as well. Works perfectly. I only ever replaced it because I got such a great deal on a newer handset. T-mobile took an awesome phone and crippled it too soon.

Well, Atleast should stop updating. WP has only gotten less and less efficient. 8.1 doesn't run smooth at all on my Mom's 520. I even gave it a clean install.

Actually, my 810 is still my daily driver. If anything, the tragedy of it is that the 8.1 update makes it into a whole new phone.

Even Sprint pushed out 8.1. Represent!

What devices fall under "older than 521 and 925" besides the 810 and 8X?

I know right. That's all they have. Pretty lackluster lineup of windows phone devices. Smh

At least that's all they have, otherwise you may end up with more than those two phones not getting updated... Besides they dropped support for the 810 months ago.

Lackluster compared to whom? AT&T? Verizon obviously is no better and I am stuck with Sprint who only has the 635. Kind of jealous that they have more than one phone option.

Verizon is a lot better actually, with the ICON and the ATIV SE.

Yeah, and that Icon is still waiting for cyan.

Got Denim now. Meanwhile 810 is on Amber.

Uhm, Sprint also has an awesome HTC 8XT and Samsung ATIV S Neo. Their only Microsoft phone is the 635.

They pulled both of those months ago. In fact for a month or two, they had none.

I'm hoping for a HTC M9 for Windows on Sprint...but alas, if it does come, it'll be shipped on the SS Minnow and we'll never see it.

Allegedly Sprint will be getting the M9 with Windows. The M9 Windows has already been confirmed. Sprint will be allegedly getting it too.

Doesn't mean you can't buy/use/activate em.

Microsoft needs to take some damn control over the updates like Apple did.

Microsoft doesn't have the leverage (read market penetration).

The iPhone had such ability since day one though....

Seriously. Apple did it on day 1 with 0% market share. Even Microsoft has more than 0%.

And one carrier that signed a deal giving apple what they wanted for exclusive rights

The World is bigger than the US..... And, BTW, what is the difference with the Lumia Icon?.....

http://en.m.wikipedia.org/wiki/History_of_the_iPhone Says att was the only carrier at first

Seriously. Apple did it from day one because they already dominated the MP3 player market worldwide. Back in those days people had to carry their iPod and their cellphone and were tired of it. Since day one people were in lines a block long to get the first gen iPhone, people with iPods. Apple ALREADY had a huge market/demand for the iPhone.

And again Apple created the iPods phenomenon from scratch, it was able to negotiate with music companies and and able to offer the device Worldwide.

Apple was able to negotiate AFTER they sold millions of iPods. Before that, people were ripping their CD's. Everybody and their mother had an iPod. Apple gave the music industry 2 choices: make money off of their millions of customers or don't. Microsoft does not have ONE product that sells like an Apple product and until they do they will not have leverage in negotiations.

Carriers bend over backwards to please Apple, because without the iPhone, customers would leave in droves. No other phone manufacturer has that type of clout, and it allows Apple to make their own rules.

Yeah. But they had Steve. He created and pioneered many things while Microsoft stood and watched, and ultimately lost out.

I think that's why carriers are so hell bent on controlling the updates. Apple was smart to control updates since the beginning. Carriers gave Apple too much control, so they than cracked the whip on android and microsoft.

U probably watch family guy.....

If we look at Microsoft as a company and not just WP market share, they have more than enough leverage to do so.

Until they get antitrust lawsuits thrown at them.

None of T-Mobile's phones will benefit from Denim, so who cares. Just grab the Dev Preview for the OS, as that's all that matters to those old phones.

Completely agree, if Microsoft does not step up with full OS and firmware update support, then WP is not worth shit, especially for people that just can't afford to buy a new phone every year.

If you can't afford something who's fault is that? Cry me a river if you want but then build me bridge to get over it... Posted from my HTC M8

How is MS not giving full support? It's T-Mobile who is not allowing an update, not MS

Sounds like the usual T-Mobile, my Lumia 710 got the cold shoulder when WP 7.8 was released, so I'd be surprised if any of them recieve Windows 10 update. T-Mobile mostly only supports the budget Lumia devices and my guess is that sales are so little that they'd rather you buy a new device than to get a free upgrade. It sucks to not have wi fi calling support, but I'll probably never buy a T-Mobile branded Windows phone ever again. I'm currently running a Rogers branded Lumia 1020.

Does the 1020 work with lte? just wondering.

Yes, it does. 1020 and 925, both take LTE/4G network.

Thanks, although I completely worded my question wrong, sorry. I meant to ask if the 1020 lte works on T-Mobiles network. I have heard some things about the network bands possibly not matching up.

I believe there are 3 different varitations of the 1020, not all of them work on T-Mobile. I have the RM-877 model, you'll need to configure the APN for LTE & MMS manually, but yes this one does in fact work with T-Mobile US LTE.

Thanks, I was thinking of a good windows phone for my mom, and she likes to take pictures so I couldn't think of any better phone. Although I would have to do all of the technical stuff for her lol...... She will learn someday.

Yet, if you got a new device with tmo, the fuckers would ask for your old phone, the balls on them people.

Only if you are on the Jump program, and don't have your phone paid off. Not sure how you would be confused by this. If you pay for your phone, you don't have to give them your old one.

At ATT, they asked for my old phone and Verizon or sprint is claiming half off your bill but you need to trade in your old phone. I'm not confused, just saying, often any carrier, not just tmo, will give a credit if you give them your old phone. Unconfused now?

Their CEO is a freaking cheese ball

M8 belongs to AT&T and Verizon for now.

Oops, it comes with 8.1 built in...

Developer preview or Windows Insider takes care of the OS part if you're ok with no firmware updates. Enthusiasts should be taken care of and the everyday non tech customers will never know any better. It's all good...

This. People need to realize these older phones get little to no benefit from Denim firmware. Just grab the OS updates from Microsoft.

Well, of course not, they're HTC. The only other Lumia not on 8.1 is 810, so not even Cyan (which does offer benefits).

All HTC's are on 8.1 or higher.

They said 8.1 not just firmware here

Without firmware updates, its useless; Microsoft should step up and just scrap the 'developer preview' label and create a full update program for WPs as they do for PC's.

Why is it useless? Can you elaborate? Will your phone stop to work?

There are plenty of reports of the developer preview screwing up phones, be it bad battery life or other small issues, just check the forums, bottom line is this was always intended for developers to test out, not as a final release that is bug free and fully operational, since for most optimazation you need the firmware update as well.

This is not true. The technical insider preview is intended for testing but the developer previews are final builds. You can skip technical beta testing and wait for developer preview and your phone will function as intended.

John is correct, well not with the useless part but firmware is very important. 8.1 was coo on my att 1520 with dev preview but once the official update came, it not only was smoother & faster but Cortana gained certain features among other things. Firmware certainly matters!

Should bypass carriers like apple

Since t-mobile has no 2 year contracts and you should have jump and update when a new one comes out......why would you still have an 8x?

Because the 8x STILL is the best form factor, I upgraded because I had volume rocker issues (now resolved by updates) on the 8x, and because of the 1020 camera, to 1020, but holding the 8X is sooo much nicer then the 1020, I will Insider' with the 8x and see how much I will use the 1020 from the W10 download onwards

Because you save a lot of money not being on Jump.

It's like $5 dollars a month, and it's included with your insurance. If you buy insurance with your new phone(most folks do) then you're already signed up for the Jump program. Jump is fantastic, I get two new high end phones a year with that service, and it's one of the greatest things about T-Mo(that and unlimited data)

I never ever buy insurance and buy my phones outright (and not from the carrier). The savings add up in so many ways. As it turns out, I've never needed the insurance. Ka-Ching!

Developer preview is your friend

It does kind of suck. I mean, I still have my 920 as my daily phone. Sure it's old now, but it's still a very usable phone till I go and purchase another flagship Windows phone that grabs my attention. Almost did it with the 930 but lack of glance and LTE in Canada pushed me to wait til the new phones for Windows 10 release. That said, Windows phone preview or insider are the way to go.

That's crap for 8x owners! When it first came out it was a flagship phone and expensive as well. They didn't even follow what Microsoft has said about support. Even Verizon is going to update the 8x. Bypass the carrier with developer preview. It's what I did with my 8x before I gave it to a friend.

T-Mobile... I expected nothing else from them. Land of the abandoned WP devices.

Maybe they are not doing it due to 10. Too close together. ????

Step away from the crack pipe...

Windows preview program, updates for as long as the hardware and Microsoft allow.

That's exactly why I left them.

I have an 8x on t- mobile rocking 8.1 preview.So that means I want be able to update to windows 10 at all?

You will be able to update it, just through developer preview or windows insider.

Sure fire way to keep away potential customers. Granted most of us in the know will just use insider but, the general public will see others phones with features they'll never get. Just sad really.

I had the HTC 8X and was able to upgrade to Windows Phone 8.1 with the developer preview. I rocked 8.1 since the first day it was avalible and never had an issue. It worked wonderfully. There is no reason that T-Mobile can't just pass the update through. Or, dang it, Microsoft just needs to push it through. My youngest got my 8X after I moved over to the HTC One M8 (Awesome Phone!). He reset the phone to log in and he still had WP8.1. He still has no problems. As long as the OEM made the to Microsoft's standard there shouldn't be any reason that the new OS can't be put on it. Every person in my family has already signed up for Windows Insider and we're just waiting for the release. Yeah, even the 8X! I really do expect Microsoft will allow all of them to update.

My only question, how exactly do you "rock" a phone...I never understood that.

Hold with both hands in front of you, gently swinging it side to side. Like rocking a baby. That is the mental image I conjure every time I see that wording.

Kind of like a dance, then?

M8 is an "Awesome Phone", currently "rocking". I let my daughter use my 1020 to play the games her 635 can't. Everytime I see her with the 1020 I think to myself "ugly POS".

Well at least they came out and said it Verizon wont even update the "high-end" Icon. Microsoft better have a good Flagship phone on all carriers like the iPhone or I wont be sticking with Windows Phone. Im tired of no apps and lack of support from carriers.

This is hardly news. We all know the 810 will never get any updates since the one that pushed it to the Amber firmware. Is it a slow news day today?

I'm tired of this ish....yawn

So much for being the uncarrier...

If we don't buy carrier handsets (on T-Mo, anyway) then we don't get access to LTE. Tried with Blu WinHD... No go.

You can always get an unlocked Rogers Windows Phone or the 1520.3 that has all the bands needed for T-Mobile's network.

Blu WinHD is an LTE phone, T-Mo won't allow it access to the network, just 3G

My unlocked Lumia 735 gets LTE without problem from the T-Mobile network..

My AT&T 1520 has LTE on T-mobile. Perhaps your Blu is not LTE capable on the carrier.

Then you don't have the proper bands. I have tested my unlocked 1520.3 on T-Mobile (with my girlfriend's sim card, I do not use T-Mobile) and LTE works just fine.

So much for the "uncarrier." That's worse than Verizon's never-ending Cyan delays.

The wpc tile reminds me of the WPC days :)

Done with smartphones....too stressful :(

I'm going back to sending fucking ravens, Game of Thrones style.

Massive Microsoft fail for allowing t-mobile to screw over WP users. Microsoft needs to step up and provide the OS and firmware update themselves for all devices affected by disgusting carriers or lazy OEMs. T-mobile just lost all the respect it gained by its un-carrier efferts, and they are dead to me and I hope to all WP fans. Receiving updates was one of few advantages WP had over the update mess that is Android, if this is where WP is headed with zero help from Microsoft, then its pretty much the end of the platforms future. And no, developer preview does not count.

Let's wait until someone other than the 8X users (which can update through Preview program if needed) actually get screwed over shall we?

Uh, MS did give the world the PFD program. I never got that with my shortly lived Android phone. Gotta give them that...

My heart was about to drop before I finished the headline...

I wonder why the carriers do this. The main costs that releasing the update entail for them are that they (possibly) might have a few bricked machines that need service. Then again, the carrier makes money when people buy a new phone. Not supporting a two plus year old phone "encourages" people to buy a new one. I think I just answered my own question, and the ultimate source of a lot of peoples' frustrations.

If there's hardly anyone on the network using a particular device, then they probably don't see it to be worth the testing involved to push an OS update out. Just a guess.

Microsoft simply need to sell international versions that work on all networks. Skip the carriers in the USA.

Most people in the U.S. Don't like paying up front for a phone.

When a phone is $40 I don't think they care so much. We are talking 521 level here.

And ne more reason not to switch to t-Mobil I'm on t-mobi mobile but using a 920 o

I don't see this as related to W10 at all. That's a completely different beast. Since their Lumia 635 already has 8.1 this is a non-event pretty much.

You're right, it's NOT related to Windows 10, that's because it's not a Windows 10 article.

As usual, the reading comprehension on this site is abysmal. The article states "However, what's even more disconcerting is that this makes the possibility of an update to Windows 10 uncertain at best." That is what I was commenting on.

Ugh.. Why can't Microsoft just ax carriers and just freaking OTA the updates?
I know the answer to that. It's just more of frustration.

So that means: No 8.1 from T-Mobile

What a coincidence... I will never take my business to t-mobile either, so i guess that makes us even

Once again, carrier screw up a brand

That shouldn't be surprising to anyone who had a Lumia 810 on T-Mobile. They screwed over those customers too.

This seems like an old article. The 521 was replaced by the 530, and their current seller is the 635. Both of which already have 8.1.

Yep. They are going nuts about old $29 phones. I spent more on dinner tonight. Posted via the Windows Central App for Android

I'm currently using the 925, hopefully they don't drag their feet with Widows 10 like they did with the 8.1 update.

Not exactly screwing over the fucking phone is well over 2 years old idiots

Totally agree! +HTCm8. They can't officially support every phone forever. Either buy a current phone or stop complaining. :). If people bought more current phones, maybe we would get more OEM's

Doesn't it make sense that they are no longer supporting 8.1 because of the impending Windows 10? It doesn't sound like a referendum on 8.1, but a retooling/ re focus in advance of W10

That's kinda messed up. Between this & Verizon (did they update the ativ se?) unlocked\unbranded phones on GSM networks are the way to go

I have a 925, and it is on the older side...perhaps its a less-than-subtle was of nudging those customers into their '75 Gremlin and into a store to get something more...relevant...

925 is still awesome just that it doesn't get along with concrete at high velocities

Mine survived at least a dozen drops onto sidewalks, roads, tile floors, wood floors . That phone was a beast! Until someone else dropped it and shattered the screen :(

I've been planning on getting an unlocked 1520 to use on T-Mobile, will this affect me getting any updates on that phone?

CF stands for cock fuckers. T mobile like them cocks. Sadly I'm with them now, but il using my 920 and 1020.

When I had my Windows mobile phone you could go to Windows update to get firmware updates and more.

When is Tmobile getting a flagship Windows phone? I'm in need of an upgrade

I talked to a regional manager a week ago and he said there is a high end in the pipeline but with no release date and nor word of when it will be conpleted

They sell the HTC M8, which is probably the most powerful WP at the moment, just a kind of weak camera. Acceptable for casual shots, facebook, "selfies", etc. It takes fast pictures, though. When you 'click' it's ready to be viewed. I got the m8 from t-mobile with jump so if a great Lumia (or other brand) comes along, I can upgrade. So far there is nothing on the radar.

They have the m8 but I would wait for a Lumia the m8 next to the 1520 /930 is the best Windows phone out there.

So they can get the update once the device is unlocked?

No. Doesn't work anywhere close to that. :c

I don't understand why they wouldn't update all phones.id be leaving that network.and why are the carrier involved as it a Microsoft OS they should be doing it.just like apple do with there's

Glad I waited longer to buy a new device at the time till the 925 came out...I was going to get the 810 HA!

That's a jerk move t-mobile.

Windows 10 Tech Preview is very last thing I would like to have on my Lumia 521 ..nothing much. I know it won't survive or do any good with future software releases due to old age and limited hardware specs.

Well, let's hope with Windows 10 going forward that Phone companies have no say over updates and upgrades. I also plan always to buy my smartphones just as I buy my computers.

Swear to god. I'm going to set up a company as a 3rd party reseller and prequalify models (including carrier exclusives) against US carriers and sell them unlocked with all the qualified SIM cards so they can call them up and set up service.

Maybe Apple and Google is paying pretty much money for avoid windows phone expansion ,is well known that Samsung pays journalist and even in some events like mobile world congress at Barcelona Samsung paid plane ticket to journalists . In that way who dare to says the problem that their cell phones have. In a report of France 2 has discovered that.

T-Miserable strikes again. Losers.

"T-Miserable"
-w- it's beautiful

Shorter T-Mobile: Customers and their needs? Screw 'em! Really don't think this sort of beahviour by carriers should be legal. You sold the phone and you collect monthly fees. Update the damn things!

Herin lies the problem. Microsoft's problem. Get the carrier out of the OS update and Firmware update process. If not for all Windows Phones, at least for the Lumia devices. And while I'm on my soapbox; Enough of the exclusive phones with the carriers, too. Exclusive Windows Phones with T-Mobile, now T-Mobile won't update all of their Windows Phone inventory with a new OS. Who looks stupid now? "Exclusively" Microsoft.

Funny to see the phone carriers fighting so hard to be something other than a dumb pipe. All the way down to the lowliest twitter grunt, T-Mobile's attitude is clear now. Too bad, I thought they were the good guys. Now I know they're just as lazy/useless as Verizon.

Can those phones still do Dev Preview to get WP8.1?

I've been running 8.1 for months via the Developer Preview on my HTC 8X sourced from TMobile. Haven't had a single problem. I say anyone with one should just do the same. You can do it in less than an hour with no hassles.

Welp- wait I own a 521 :3

Guess what Verizon is going to announce about deni...literally every fucking future windows phone update -_-

Wow, that's really harsh :/

All I can say is that I'm relieved to live in a country where carriers a fraction the size of their US counterparts have little difficulties in releasing updates, and just generally have minimal power over their customers...

I'm relieved for you as well.

I can believe that the are still Lumia Phones the are still running on windows phone 8

So don't buy T Mobile from now on... No support for updates means I don't care you.

I should change my username to Foxythepirate

Carriers really do need to be cut out of the update process with Windows 10, or there should at least be an option to get updates directly. Every Windows 10 device should get updates via Windows Update ideally - I know they say they need to test it, but I'm not really so sure that's so applicable these days. In the UK I would always get my phone from Carphone Warehouse as they come unlocked, and are CV versions - Which I believe would cut out this problem, not sure there's the ability to do something similar in other countries.

That's how I always buy my phones in Portugal, and I never agree on ANY carrier contracts. Pay as I go and if they piss me off I can even change carrier always keeping my phone number.

I have a 930 and have all the latest updates.....

This is what I don't get, why should a carrier be allowed to push updates when Microsoft can send an OTA to everyone with a wifi connection, Tmo should just be allowed to push out a radio update to everyone and that should be it. Tmo sending out a firmware update takes forever and they have even killed phones that weren't even a year old......case in point was the Nokia Lumia 810 and now the HTC 8x. Let the software company send out the firmware updates so everyone will be happy and people wont leave the carrier that they like so much.

By chance is there anyone in here that has the Amber Update for the Lumia 810 since its not being pushed out by Tmo anymore.

Yeti80, I have the Amber update on my 810.

Is you phone carrier locked or unlocked?

Too many asshole carriers in the US. I've never seen any carrier in Australia playing dicks. Although most of them delay firmware releases.

And here is T-Mobile, ruining Windows Phone users once more.

Microsoft needs to update phones like they do PCs. Don't have the carrier test the update, just release it for all devices at the same time. If I have to wait for my carrier to approve Windows 10 on my Lumia 735 I'll be dissapointed.

Do they have any plans for denim in 630??

I've been with TMo US for over 15 years and while customer service and rates are the best, their support of WP has been abominable and getting worse each year...

This is exactly why I always go sim-free. Even if I take out a contract and the phone carrier branded, I will sell that phone unopened as soon as I get it and buy the sim-free carrier unbranded version so I know that I will get any updates the manufacturer pushes out as soon as they are released.

Carriers shouldn't be allowed to make the call. I don't want this bs when Windows 10 comes out.

The best build design 925

This is why carriers should not have a say on OS updates we need the jerks in DC to pass a bill stopping this practice.

T-Movie means Terrible-Movie lol

How does it matter? Just use the developer preview! Its as stable as anything

I have no plans to use T-Mobile

I'm no US user, but i feel pity on how US carrier treated you, TMobile is an apple a** kisser, especially the CEO that looks like his past time is combing his hair.

I really don't get why people keep buying carrier locked phones. Sure, it's fine when you get it a bit cheaper but there are also great deals on unlocked phones and at least you chose the carrier which suits you best, leave whenever you want and don't have to deal with carriers bullshit.. Also, country variant versions always come first than carriers versions, at least in Europe.

Once again, glad to be tied to no carrier. These mofos do whatever they want. I WANT A NEXUS LIKE PHONE FROM MICROSOFT!!!!

This is a carriers way of saying update your phone....

T-Horrible strikes again!! I called them out about firmware updates. T-Horrible kept telling to to check with Nokia/Microsoft for not providing firmware updates for the 810. So I did check with Nokia/Microsoft, eventually found out that they did/have sent updates to T-Horrible and they were the ones holding it back. When I went back to T-Horrible with this info, nothing but the sound of crickets was all I heard. I'm just waiting for the new wave of W10 phones to come out. Then I'll be looking for an unbranded, unlocked version, and I'll be leaving T-Horrible for good. I do run the developers preview for 8.1 on my 810, and I have found bugs that could be corrected if I had the Black firmware. But I know there is no hope of ever seeing anything past Amber.

I just had the same conversation with T-Horrible too. Just got a NIB Lumia 810 three days ago and when I went to download the new Amber update, T-Horrible told me that update is but isn't available anymore. How can a update be and not be available for a phone the carry on their website. Fucking idiots over there.

I don't get it. I have a Vodafone-locked Lumia 520 and had no issue upgrading. I even asked them if they plan on blockig the update or push their own custom update and they said it's not their job and as long as MS offers updates it's my call. How come I only hear these things from T-Mobile/Verizon???

Glad I left for Cricket and ATT phones that actually get supported.

Did T-Mobile say how long after WP10 was widespread before they will update their 521s and 925s to 8.1?

Developer preview is fine. All you miss out on is wifi calling.

Personally, I think that if a phone is carrier-unlocked, it should then revert back to the OE image/updates, and drop all carrier-specific limitations (updates, branding, apps installed on a reset, etc.). BUt it is BS like this why I no longer buy locked/carrier-branded phones.

Is anyone really surprised by this move? They already abandoned the 810. They're only updating the two best sellers. Anyone using one of these "other" devices should sign up for the developer preview. While the firmware updates are important, the device will run fine without it. My Icon has been on 8.1.1 for the last three months without any issues.

I have an 8x on t-mobile,will I still be able to get the win 10 insider preview?

I really wish that MS makes and delivers updates of own phones independent of carriers. It is not understandable, how come that Lumia 1520 is still not updated to Denim as planned. Limited updates in Finland and few more countries is just shame. Why can't be that changed with Win 10?

Wait a min. Isn't this old news? I mean Lumia 925 already have WP 8.1 isn't?

I think it is because my Lumia 521 received Cyan months ago.
Windows Central Newsletter
Get the best of Windows Central in in your inbox, every day!
Thank you for signing up to Windows Central. You will receive a verification email shortly.
There was a problem. Please refresh the page and try again.