T-Mobile uses 'real-time customer experience' for its new coverage map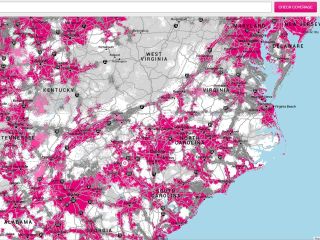 T-Mobile has launched a revamped version of its coverage map that is based on what it calls "real-time customer experience" to offer a more accurate look at its footprint in the US. T-Mobile says the map on its website is based on "200 million actual customer usage data points every day" rather than just best estimates of its coverage. It also uses third-party customer data from sources like Inrix and others. Here's what visitors can expect when they check out the new T-Mobile coverage map:
Customer-verified coverage based on actual customer usage, resulting in a vastly more transparent and accurate map, showing, for example, exactly where you can expect 4G LTE, 4G, 3G or other levels of coverage.
A Verified Coverage icon indicating where the majority of data is provided by T-Mobile customers reporting their actual network experience, providing an added layer of confidence.
Data that's updated twice monthly − compared to data presented on the carriers' maps, which is already dated by the time it's printed and published and may be months or even years old.
Speed test data from trusted third party apps showing average download speeds from customer speed tests over the last 90 days.
The new coverage map is now live on T-Mobile's website (opens in new tab).
Source: T-Mobile (opens in new tab)
Windows Central Newsletter
Get the best of Windows Central in your inbox, every day!
Well, judging by their map I've still got better coverage with AT&T.

T-Mobile is only in the early stages of low-band deployment (MBS), vs. AT&T who've had low-band spectrum for decades, so it'll take time.

That's great, but T-Mobile owns exactly zero towers in the entire state of Montana. Yes, people live there. It's blanketed in LTE from AT&T. It's also a marvelous state. Stay out. Brutal: http://i.imgur.com/xYhRPtW.png

Visited Montana 2 years ago and can confirm the "Marvelous state" bit. People were so incredibly nice!

Att, Verizon lie on their coverage maps. Love T-mobile.

VZW lies, AT&T I feel is mostly accurate, at least in my area, the strengths are spot on, outside of buildings of course

The way att colors their maps I believe that they are most truthful. They shade the orange spot on. Verizon is straight red "every where" which is false advertising. Sprints green map is sad. T-Mobile is growing but its got a ways to go. Only 2g in my town.

This is actually useful as we are considering T-Mobile but idk how their coverage is in north Carolina/raleigh area for my family there....I'm in California myself 70% of the time. Will be checking it out.

I live in Raleigh, the LTE coverage is great here, all throughout the Triangle.

I second that. Great coverage everywhere except Target at North Hills (it is under two levels of parking deck)- but since they added free wifi throughout the building I now can use WiFi-calling and it works great :).

I live in NC your best bet is Att or Verizon

Oh gee. Look at that. A WV sized hole right in the middle of their coverage map -_-

WV is a hole for pretty much all carriers. There's a local one down there that we had to use, because even on Verizon of all carriers, they had spotty EVDO\2G coverage.

We had ATT when we lived in Charleston, WV and had some spots where we had little to no signal but for the most part we had pretty decent service?

Pretty crappy coverage in the west. Yeh, we're spaced out more than east coast, but people still live out here and use cell phones.

Low-band is coming to many of the Western States, and that will help hugely as it gets deployed.

Yes. The West is a gaping hole. AT&T is king, followed by Verizon. I love T-Mobile, but their Western coverage outside of CA/WA is horrific.

Don't let the map fool you. Their coverage in CA can be rather horrific as well.

I'm outside of Phoenix and their coverage is great out here. I just moved out here from Philly and I bugged out when I was able to make trips across blank, desolate deserts (reservation land mostly) and my Extreme quality Spotify playlist didn't miss a beat. It does get average speeds or LTE cover between the Northern edge of the Valley and Sedona but I would expect similar results from any carrier in that area. There are no homes or a customer base to support out there.

LOL I live in the "eye of the hurricane" If T-mobile expanded their coverage I'd consider them and instead of building new maps they need to be building new coverage areas.... ahhh well verizon it is lol.

I feel like a broken record here. But maybe this isn't common knowledge outside of HoFo? They are. Lots of it. Including low-band spectrum for the first time. The end of 2015 their coverage map will look all kinds of better than it does now.

We'll see but their coverage has not improved much where I live in florida since before they were t-mobile.... course ATT does not do much where I live either... very sparatic lol....

Hmmm, Looks like whereever I select in 3 states, it has 4G LTE.

Suspicious map data, on their previous map my parent's house was squarely located in the 2G region, now it shows the highest level 4G LTE and specifically mentions strong indoor reception. They host christmas dinner ever year to 50+ people and no one has ever been able to get T-Mobile or ATT coverage there. So either they built a brand new tower very recently or this map is not accurate.

Or they recently co-located MBS spectrum on a tower that didn't already have it. You need four times as many PCS or AWS sites to cover an area than you do MBS.

Sounds like a privacy nightmare

How is it a privacy nightmare? I haven't looked at that map for long, but so far I can find anyone's personal details on it.

Ok
but think about the customer data T-Mobile has to collect to produce it.
There is a reason T-Mobile is still installing the nefarious Carrier IQ software on all their Android handsets.

T Mobile signal is very suspect and the map coverage is very misleading. I've been in areas where the map shows courage, but I had no signal whatsoever. Love there cheap prices though! Lol....

I'm ​on t-mobile but gonna have to switch to Verizon. At&t just put a tower in where I live but I can get on a Verizon plane that's more then half the cost.

T-mobile is great in LA. I'm on Verizon and my little brother is on T-mobile. He had coverage everywhere I did and his speeds are consistently higher. When we left on family trips was a different story though :P

The new coverage map is inaccurate and misleading. The map shows 4G LTE and Typical Indoor Connectivity for my home address in Fort Lauderdale, FL. In reality I have no reception in my house and in my entire residential community. That's why I am using 2 (two) T-Mobile signal boosters in the house. One booster is for T-Mobile phones, and the second booster is for other non T-mobile phones. Just crazy!

Just use Wi-fi calling, that's exactly the point of it.

Outdoor is fine. I need a map for my indoor connectivity. Half a shade of pink near the window. White everywhere else. I hate receiving calls at home.

What's going on in West Virginia? Looks like a huge dead area there...

LTE is spotty in the NW Hills area of Austin and a few other areas. However, is excellent throughout most urban Texas cities. Especially great in San Antonio and flat parts of Austin. Can't wait for Spartan so websites load even faster.

Chyeeeaa tmobiles cheap prices def beating att.