Take your Windows Phone 8 camera back to the U.S.S.R. with Soviet Kam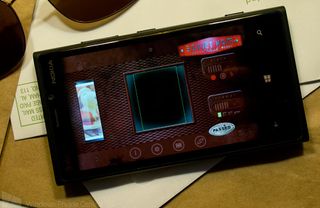 Soviet Kam is a Windows Phone 8 app that turns your Windows Phone camera into an classic film camera from the days of the Soviet Union. You swap out lens, flash and film types to add effects to the images you capture to give them a behind the Iron Curtain feel. Soviet Kam adds faded colors, imperfect color balance, and weathered film effects that film pictures these cameras so fondly produced.
The interface takes a little time to get use to but Soviet Kam does a good job of giving your Windows Phone a look and feel of cameras from days of old. You may get the urge for vodka shooters but Soviet Kam is a nice addition the the Windows Phone photography app lineup.
The main interface with Soviet Kam is from the back of the camera. There is the center view finder, to the right is your flash controls and format settings and to the left is a preview window of the last image you captured. The format setting is basically choosing which crop you want to apply to the image. You have a vertical, square, horizontal and landscape crop to choose from. A green outline will appear on the view finder to illustrate how the format will crop the image.
Along the bottom of the camera back are buttons to access the about screen, settings, darkroom (photo gallery), and camera face where you can adjust the effects settings. Soviet Kam's app settings cover sounds on/off, the option to save a raw photo (no special effects added) to your Pictures Hub, and any image quality options (device dependent).
When you pull up an image from the preview windows (just tap it) or the darkroom it will be joined with an information panel on which lens and film were used. You also have options along the bottom of the screen to delete the image, upload it to your SkyDrive or share the image on Facebook. In tapping the thumbnail image from this view you can view the photo full screen.
Changing the effects settings is where Soviet Kam's interface gets a little cumbersome. To change your lens, film or flash effects settings you have to hit the rotation button to go from the back of the camera to the front. You can swipe the film windows to scroll through the film choices but you can't do the same for the lens or flash. To change these options you have to tap on the button with the eye icon. This will pull up your current effects settings and allow you to swipe through all your lens, flash, and film options. If you tap on the option, an information screen will pop up detailing what that lens, flash or film choice will do.
Once you have it all saved, you have to back your way out of the effects settings page to the front of the camera and then return to the back of the camera. There is a slight delay once you find your way back to the camera back view to allow for the new settings to take hold. All the movements from the back to the front of the camera to change the effects settings can be a little frustrating but with use, it does get easier. Ideally, the developer could have put the effects settings button on the back of the camera to make things a little more efficient.
Now here are your effects options with Soviet Kam. As far as the flash settings are concerned you have standard, power3 and tints of flame options. Each applies a slightly different lighting pattern on your photos.
Soviet Kam Sample - GoldenEye Lens and Black Paper Film
The film choices include:
Clear Tears: A light paper with no border where the emulsion has disappeared from the borders.
Black Paper: Gives your photos a black border.
White Board: Gives your photos a white border.
Black Board: Similar to Black Paper but with a narrower border.
Wall Paper: Similar to White Board but with a wider border.
Aged Mono: A low contrast, warm black and white film.
Serie Noire: A high contrast black and white film.
Soviet Kam Sample - GoldenEye Lens and Wallpaper Film
The lens selection for Soviet Kam include:
1982: Dark mood, strong grain and blue low lights.
Hot and Warm: This lens has warmer tones with a slight blurring.
Blue Ambience: This lens gives images a cooler tone with a slight vignetting.
Goldeneye: Warm tones with yellow and red shades.
Green Attitude: Green color tint with slight blurring.
Soviet Kam Sample - Blue Ambiance Lens and Wallpaper Film
As far as image size is concerned, there is resizing and how much varies with the format option you choose. For example, the above raw photo of the Statue of Liberty replica is 2048 x 1536 pixels with a resolution of 72 dpi. Soviet Kam crops and resizes the image to 1008 x 756 pixels with a resolution of 72 dpi. I'm not sure how printable these photos would be beyond say a nice 4" x 6" print but they do nicely as web photos.
The only other nit with Soviet Kam is that you can't apply the effects to existing photos. Which isn't necessarily a bad thing in that it gets you out taking new photos to be creative with. Neither the interface or the lack of applying effects to existing photos are deal killers for Soviet Kam. The resizing of the photos is really user dependant based on how you use these photos. If you're only publishing online, they'll do just fine. If you like to print your photos, then it gets a little tricky. It would be nice to see a full resolution option though to support either option.
Soviet Kam has some nice photo effects and it's nice that you can review the information on each photo taken. All in all, Soviet Kam is a very nice photo app for your Windows Phone 8 devices.
There is a trial version available for Soviet Kam that is fully functional except images are not saved to the Pictures Hub. However, if you buy the full version you can manually save any photos captured with the trial version. The full version of Soviet Kam is currently running $1.99 and you can find it all here (opens in new tab) at the Windows Phone Store.
George is the Reviews Editor at Windows Central, concentrating on Windows 10 PC and Mobile apps. He's been a supporter of the platform since the days of Windows CE and uses his current Windows 10 Mobile phone daily to keep up with life and enjoy a game during down time.
Its works on my lumia 800too

I don't take much photos or like to use these filter apps, but this seems like a fun way to take some snaps with that old look and feel.

This is a cool app! Just for fun... like when you take a picture of a Lada... LOL

This app works on my Lumia 710 as well

A little bit scared by the fact that something with Soviet in its name just asked permission to access my location :-o
Windows Central Newsletter
Get the best of Windows Central in in your inbox, every day!
Thank you for signing up to Windows Central. You will receive a verification email shortly.
There was a problem. Please refresh the page and try again.