Technical reviews for Windows Phone 7 are out; overall quite positive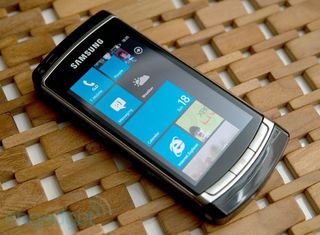 Looks like some of the big sites managed to get a hold of some tester Windows Phone 7 devices (luuuucky!) and the consensus overall seems to be quite solid. The hardware is a Samsung Taylor SGH-i707 with 480 x 320 (HVGA), which is a bit odd although reportedly it looks really good. The Taylor also has a 5MP camera, speakers plus microphone on the top and bottom for both and a non-functional front-facing camera. There's even a dedicated camera button that works if the device is locked.
Engadget points out the great on-screen keyboard, camera and even browser, and finally concluding that WP7 is a work in progress, a promising one, but not quite there yet.
Paul Thurrott also does a fantastic tour of the device and is quite impressed with the OS. Although we have to experience Windows Phone 7 vicariously through him, we usually agree with his insight and highly recommend the full read.
There's also Matt Miller of ZDNet (and of Nokia Experts) who has a nice 8-page review, concluding that the "...current experience is amazingly stable and fluid and I am quite impressed with what they have done".
Anyways, we'll let their reviews stand for themselves. Read 'em and comment back here if you're more or less excited now.
George is the Reviews Editor at Windows Central, concentrating on Windows 10 PC and Mobile apps. He's been a supporter of the platform since the days of Windows CE and uses his current Windows 10 Mobile phone daily to keep up with life and enjoy a game during down time.
I didn't expect them to call this build a "tech-preview", I suppose it'd be fine to think of it as a beta probably, or a near RC.

I'm not going to post a link here as I am not associated with this site, but there's also a positive review with a lot of pictures on Slashgear.

Still waiting for MS to announced anything business people oriented.

There have been plenty of stories about business features. Guess you'd rather just complain than read them.

The deep sharepoint intergration is huge for business for one thing. Also the new Windows Phone Live stuff should be a major bonus as well (at the start you can sync OneNote files to skydrive but they'll add the rest in time for sure). There's also a good chunk of support for encryption and so on. I'm sure MS has more planned but no need to show all your cards so early. Once the phones start shipping them MS can pull a few surprises.

Cut/copy/paste will help business use a lot when they get that update completed. I kinda get the feeling that there is unused space on a lot of areas that might be better used for a business user. The bubbles around texts, for example, are often too big in this and some other UI's like WebOS that might be more efficient for busy business users. A minor quibble, but something that sticks out to me in reviews like this one. The graphical transitions are interesting, but may get old in everyday use like watching a Mac slide show when someone has all of the random transitions turned on. Also, does anyone else think that each time you see WM7 the clock and other items on the top tray are way, way too small? The tile info is okay, but why is the top tray so crazy small?

don't need copy and paste if all you need to do is search for what you highlight.

The only balanced review mentioned is the Engadget one. The others read like Microsoft advertorials.

The engadget review was not very balance because they failed to mention all the services that would be included with the device. It's probably better to read people who follow MS more closely and actually has an inside with the company than someone who doesn't really follow them outside of the typical press release.

What sucks about the Endgadget review is that they kept calling the 'hubs';'apps', ie 'pictures app', 'people app'. Only towards the end of the article did they start to mention that these are properly named Hubs. Other than that i can't wait for this stuff to hit the stores..

"To sync with the PC, you'll need Zune 4.7 or higher, which adds support for Windows Phone devices and a few new features. Note that this software is the only way you can interact with Windows Phone on a PC; there's no other way to acquire photos from the phone's camera, and you can't access the phone like a mini-hard drive as you can with other smart phones." I'm really excited about this phone(OS), but this really bothers me about this platform, and could be a deal breaker for me :/

You don't really need to sync your phone to a PC, it's pretty much standalone. However if you do sync with a PC you can more easily manage your Zune stuff. But you can do this all wirelessly via skydrive.

Who really cares, sooooooo last year and just another IPhone. I do not want the IPhone, so why would I want a duplicate. Wonder what apps Microsoft will deny, Google Search, Google Voice, or Kinoma?

Bill Gates, we need you as bad as Apple needed Steve Jobs a few years ago, hopefully before Mr. Ballmer drives Microsoft further down the path of poor Project Management. I'm just hoping that before 2020 we will see one of these Phones in the real market, at least before Google and IPhone are into their 10th generation of new devices.

Yeah, that's why, just like the iPhone, it isn't going to come with many different hardware types from a bunch of different OEMs and Kinoma Play and competing things aren't being sold in the Marketplace right now and why Flash, the direct competitor to Silverlight, has been denied and, thus, isn't planned to be made for WP7. The mimicry is uncanny!

Skyfire bailed as well, can't blame them really.

To the developers of this platform, just make sure any app you produce is not better than what is supplied on the device if you wish not to be rejected from the Marketplace......

I can't tell if you're blind or retarded but this phone looks nothing like the iphone.

Ok, so I will write really slow so you can understand. What I mean about it being just another IPhone is the control they are placing on these new devices. In fact, your ncomment to me indicates that this phone will be perfect for you; idiot proof.

To my point, Mozilla has stopped all development for Windows Phone, I cannot verify this, but seeing they develop a better browser, they probably knew they would be rejected. Mozilla has proved their better with their Firefox browser.

To my point, Mozilla has stopped all development for Windows Phone, I cannot verify this, but seeing they develop a better browser, they probably knew they would be rejected. Mozilla has proved their better with their Firefox browser.

No mention of the Gizmodo review? You know it's gotta be pretty good when Giz likes a Windows Mobile product.

Yes. The Gizmodo review is pretty positive overall. http://gizmodo.com/5590327/windows-phone-7-in-depth-a-fresh-start?skylin... Worth reading if you're really into WinPho7.

Interstingly, only ONE review I've seen actually described the phone call making experience - from The Boy Genius Report. And the review of the actual experience of making a call in WInPho7 was not very positive. http://www.boygeniusreport.com/2010/07/19/microsoft-windows-phone-7-prev... [i]"Phone We

BGR came off EXTREMELY bigoted; I would not trust their "review". Everything I've seen from all the other reviews suggests a real appealing, functional device.

the review is a bit raw, but says many of the same things as others. but no other review i've seen actually mentions anything about dialing and using the phone to make calls. And for me, this is why i've stuck with winmo standard (qwerty candybar) as opposed to windows professional (which i also find to be klugy to quickly make calls).

The screen resolution is *not* HVGA, but WVGA (480 x 800), as defined in the WP7 hardware specification. It's a gorgeous AMOLED display, easily outshines the iPhone 4 (I've compared them side-by-side). The device is based on the Samsung i8910 (http://en.wikipedia.org/wiki/Samsung_i8910), where internal components have been replaced by those which match the WP7 hardware specs.
Windows Central Newsletter
Thank you for signing up to Windows Central. You will receive a verification email shortly.
There was a problem. Please refresh the page and try again.