Thermodo, turn your Windows Phone into a pocket thermometer [Updated]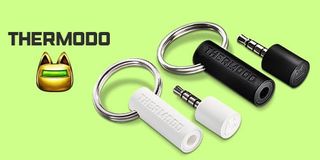 Robocat is a mobile software developer from Copenhagen, Denmark that has mostly concentrated their efforts over on the iOS and Android platforms. One of their more popular apps is Thermo (opens in new tab), a temperature app, that often confused users thinking the app turned their iPhone into a thermometer (even though the app description clearly states Thermo shows the current temperature outside).
This confusion sparked the idea with Robocat to develop a plug-in sensor, the Thermodo, that would turn your smartphone into a thermometer. The company needed funding to develop the hardware and tossed the concept over to Kickstarter and because of the success, Robocat has expanded the support for Windows Phone with the Thermo app in the works for our Windows Phone.
The Thermodo sensor looks rather interesting. The sensor plugs into your 3.5mm headphone jack and sends the temperature readings to the Thermo app. When not in use, the sensor has a key chain holder to keep things handy. The Thermodo will be offered in black or white plastic and anodized aluminum.
The Thermodo Kickstarter campaign has eleven days remaining and has raised well over $250,000 (their goal was only $35,000). The $1 minimum pledge packages offers a mention on the Robocat website but the $25 pledge will gets you the choice of one black or white sensor. Other pledge packages start at $25 and top out at $999 which gets you a trip to Copenhagen to tour the Robocat Studio along with an aluminum sensor and a little Robocat swag.
For more information on the Thermodo, you can find all the Kickstarter information here (opens in new tab). Robocat is also offering the SDK for Windows Phone so other developers can integrate the Thermodo in with their apps.
Update: We've recieve clarification on a few things from Robocat. The original notice we recieved had Windows Phone support for Thermodo already in place. Apparenty that is not the case. Robocat has to reach $400K on Kickstarter before the company commits to Windows Phone. Additionally, Thermo isn't coming to Windows Phone but rather a companion app for Thermodo sensor, should the fund raising goal be met.
It's a neat concept but I'm not sure it's worth the investment seeing that Windows Phone support is no longer a guarantee.
Windows Central Newsletter
Get the best of Windows Central in in your inbox, every day!
George is the Reviews Editor at Windows Central, concentrating on Windows 10 PC and Mobile apps. He's been a supporter of the platform since the days of Windows CE and uses his current Windows 10 Mobile phone daily to keep up with life and enjoy a game during down time.
This is a really cool and neat concept.

a funny thing would be to use it in a waterproof phone and put it in your mouth for body temp

Better stick it in your mouth than elsewhere :-)

You're on to something. Isn't that an Xprize? A tricorder type health device? A phone, app, and cheap accessories are the way to get that. I wonder how much power and data can be sent through that jack.

Kickstarter is 403 currently. LOL!

Definitely looks cool. Unfortunately they are no where close the 400k they want to create a native app for windows phone. Hopefully a developer will create one with their SDK they will provide

I completely agree. I don't wanna pledge $25 or $39 for the device if they're not going to be able to get to the WP8 threshold, leaving me with just an expensive keychain.

Be cool to give you phone temp as well.

I'm not sure I get the appeal of this. Sure, the cool factor is there, however, what actual problem does it solve? They point out in the video that weather stations are not necessarily at your front door whereas Thermodo is. But when has it been a problem that the nearest one wasn't accurate enough? Maybe my location/climate enables me to be narrow minded about it, but I just don't see it.
I suppose if they crowd source the data and make it accessible by the public, that would be pretty awesome. Perhaps I missed that in the video?

Maybe someone who works in a place where they don't always have mobile data connection? (literally the middle of nowhere I suppose...)

I just love accurate reports and mobile apps is always shaky in reporting the correct temp.
Many care deeply about weather in various situation. I work outside a lot so kind of nice to get a correct reading
Useful or not is going to be personal preferences.

I could see my father using this. He is a farmer and could use it when he checks/monitors the temp in his greenhouse since a normal weather app list the temp outside instead of inside the greenhouse.

Well I live in the Rocky Mountains and until recently I didn't have the best reception everywhere and the large elevation changes causes huge temperature variations. So I could find a use for it but my car has a thermometer in it.

Sold! The aluminium one probably isn't quite worth $40 (not sure about $25 for the plastic one either) but since the money goes towards supporting them and that's what kickstarter is all about!

supporting them lol? 400k? kidding me.. i rather buy a thermometer for like $5? they are looking for money not supporting real cuase

Thanks, armchair business expert.


Phone manufactures can have this build-in for a few dollars. An external measurement tool is not needed.

$125k for an Android app, and $400k to make a WP8 app. So these devs need an extra $275k to fund a WP8 app? How many devs do they hire. Doesn't sound convincing.
Pass.

Would be nice if the WP app was a higher priority then making a Red plastic and Green Aluminium one.

agreed with you totally... they are just way tooo greedy.

So as you where saying square?

Updated the post... our original notice from Robocat indicated support for Windows Phone was already there. Such is not the case. They'll need to reach $400K to extend support to Windows Phone and the app is a companion app for the sensor, not Thermo.

After the update my reaction is just to yawn... *YAWN*

Very sad that Windows Phone gets the short shrift again.

more like developer is greedy now.. 35k for ios, 125k for Android and now they want 400k for WP?
doesn't that look like greediness to you?

If I keep the keychain in my pocket the reading would be not accurately reported

I guess this would appeal to some (i.e. the guy who worked outside or the farmer checking greenhouse temperature), but to the average Joe like me, it's more of a gimmick than a very useful app and/or device. Also, wouldn't a greenhouse have a thermometer inside it already? I thought that was SOP.
I wish them the best of luck, but I'm gonna have to pass on this.

The greenhouse has a thermostat in the center of it but when the greenhouse is the length of a football (American) field then begin able to test the temperature at any point in the greenhouse and to be able to walk the length of the greenhouse and monitor the variance is useful.

No go for me as well. no point in giving money to a project that does not support the platform I use.

This is the response I got from thermodo back in March:

Date: Sun, 10 Mar 2013 14:49:40 +0000
From: notification@kickstarter.com
To: ......36@hotmail.com
Subject: Robocat sent you a message about Thermodo ~ The Tiny Thermometer for Mobile Devices. Robocat says: Hi Willem
We are unfortunately not Windows Phone developers ourselves. We will try to get some help this. If enough people want this. We can make this as a stretch goal.
With the current design we can't add more sensors without sacrificing the simplicity of the design and the size of Thermodo. We will look into this for future improvements.
The Thermodo prototypes are quite accurate, but we have to do more test on the final product.

Supported just because its a pretty novel toy to play with. Plus, I've got a bunch of ones so it'll work with at least one of them even if WP support doesn't pan out.

This certainly isn't necessary for me, but its a neat gadget, and I would have probably plunked down $20 or less for one of these. Unfortunately, it feels like intentionally or not, they have set the goal for WP unattainably high.
Windows Central Newsletter
Thank you for signing up to Windows Central. You will receive a verification email shortly.
There was a problem. Please refresh the page and try again.