The Times of India app adds nifty features in the latest update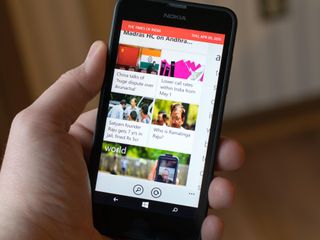 The Times of India is India's leading English daily published by the Times Group, one of India's biggest media houses.
After the first update in three years in January this year, The Times of India app received a major design refresh and new features as it was bumped to v3.0. The latest v3.1 adds a few new nifty features.
The Times of India app offers everything that an avid news reader is looking for – breaking news, latest headlines, trending stories and in-depth coverage of sports, entertainment, business and technology. The app also packs in exhaustive local coverage of more than 45 Indian cities. The company claims that the app is accessed from more than 225 countries of the world, and is the first choice of NRIs for news about India.
The latest update brings improved memory handling and fixes random crashes that some of the users reported. There's also Live Tile support, as well as the ability to bookmark your favorite articles, movie reviews, and photos.
The app now offers a dark theme that looks very nice. Also, you can now change the font size for stories. The change log suggests that there are some minor design changes and several miscellaneous improvements and bug fixes,
The Times of India app, after the last refresh, is a pretty good and comprehensive news app. I'm a fan of Microsoft's News app that assorts from several news sources online, but if I need to check out a publication, it's the TOI app. What's your favorite news app for India?
Download The Times of India from the Windows Phone Store (Free)
love the dark ui in app must needed in windows os : known for

now the entertainent section is just a web wrapper

Timesmobile limited has been very supportive to the platform in recent months.

Waiting for the update of NBT app.

Now what I want was cricbuzz app needs to be updated as it was also a part of times group...

Ya need that too. Just too many bugs.

They didn't even update it for the World Cup! Last updated in 2012. Android and iOS apps were updated in time for the World Cup.

I prefer Hindustan Times.. I like their way of writing and content much more than TOI's..

But the TOI app is awesome

Does it support background tasks now ?

Great, dark theme at last, nice update

MSN does the job for me. Still good one from TOI.

MSN all the way. Though happy that Indian devs are supporting the platform greatly.

The problem in the TOI app is, it loads photos section before loading headlines news... That's worst part...

But he almost seems faster! :-P

What the fuck Does when in India mean ?

The west folks made a joke when they couldn't handle the rise of Indian market in WP segment. Sheer jealousy.

Notifications support please

Glad to see this support. RIP version 1.0, you had a good run.
Windows Central Newsletter
Thank you for signing up to Windows Central. You will receive a verification email shortly.
There was a problem. Please refresh the page and try again.