Top Windows Phone apps for keeping track with Formula One Racing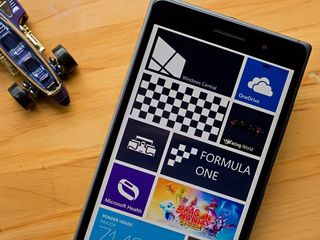 The 2015 Formula One (opens in new tab) racing season kicks off today in Australia with practice rounds for the Australian Grand Prix. While NASCAR is king in my neck of the woods, the open wheel racers have just as strong of a following globally.
In recognition of the start of the 2015 Formula One season, it was suggested by one our readers (thanks Harry) that we put together a roundup of the Windows Phone apps that will help you keep track of all the Formula One races. All of the apps listed will deliver news, standings, stats and racing schedules to your Windows Phone. The collection has a nice range of designs and some are also available for Windows 8 devices.
PitLaneOne
PitLaneOne makes use of a series of tiles on the main page to pull together a hefty amount of Formula One information. The tiles includes access to:
News: Set up your favorite RSS news feeds to get all the Formula One news. You'll need to go into the app's settings to choose which sources you want to follow and you can view them from your Internet Explorer or an internal browser.
Live: This Beta feature allows you to follow live scoring provided by ScoresPro.com during races and view live comments about the race.
Races: Your schedule of Formula One races along with venue information, practice dates and a layout of the track.
Standings: Here is where you find out who is leading the Driver and Constructor Championship.
Driver and Teams: These two tiles will offer you information on your favorite (or not so favorite) F1 racer and teams.
Settings: Along with the ability to set-up your RSS feeds for the News Tile, PitLaneOne's settings offers options for the Live view and options for opening Twitter profiles.
While PitLaneOne does have a slightly cluttered appearance, do not judge this book by its cover. There is a host of information available behind PitLaneOne's tiles on Formula One. PitLaneOne is a free, ad-free Windows Phone app and a Windows 8 version is also available.
Racing One
While PitLaneOne relies on tiles to navigate around all of its features, Racing One takes advantage of the Modern design's panorama style of navigation. Pages for Racing One include:
Upcoming Race: Information about the upcoming race, which includes pre-racing schedules, location, lap counts and distances.
News: All the news that is fit to print about the Formula One racing season.
Standings: Season standings broken down by Driver and Constructor.
Calendar: The complete 2015 Formula One schedule along with information (much like you see on the Upcoming Race page) about the venue including track layout.
There is a trial version available for Racing One that has a few limitations and ad support. The trial version will not have support for a Live Tile or live feed and live timing for racing results (found on the Upcoming Race page).
Racing One is a clean looking Windows Phone app that offers a respectable amount of information on the Formula One. Again, it does have a trial version with limitations with the full version running $.99. You also have a Windows 8 version of Racing One for those looking for a Formula One solution for a larger screen.
Racing World
2015 Racing Guide (formerly F1 World) delivers Formula One news, standings, schedules and driver/team information to your Windows Phone. Race information includes details on the track, a map of the track and any news specific to the event.
News feeds for Racing World include Espnf1.com, Crash.net, BBCft, Formula1.com, AutoSport and F1 Fanatic. You can narrow the field of RSS feeds by tapping the Source button on the app's main page. News items are presented in summary form with control buttons to view the full news piece in an internal browser.
Driver and Team information includes news items for that particular teams/driver, results and team member information. There is a TV Guide feature that requires an update to Racing World Pro but that version of the app appears to be still in transition from the older version, F1 World Pro.
Racing World comes across as a nice, middle of the road option for keeping track of the Formula One season. If the TV Guide feature would become active, the Windows Phone app would have a bit more appeal.
Download Racing World for Windows Phone (Free)
2015 Formula Racing Guide
The 2015 Formula Racing Guide is designed to deliver all the news and latest information on the Formula One season to your Windows Phone in an easy to navigate package. The panorama design has pages that include:
A countdown display to the next event
A calendar listing of all events in the season
A list of drivers based on their points rankings
A list of teams based on their points standing
News feeds from 24 different sources
Photo Gallery from Flickr
Tweets from various Formula One sources (drivers, teams, ESPN F1, F1 and more)
You also have an Other page that will let you filter the RSS feeds that supply the News Page, filter the Twitter accounts monitored by the app and access the app's settings. Settings mainly cover content such as options to delete all saved articles, delete all liked photos and refresh the news feeds.
While the 2015 Formula Racing Guide provides comprehensive coverage of the F1 season, it is not an official app from Formula One Management.
Download 2015 Formula Racing Guide for Windows (Free)
Your Turn
If I could only pick one to recommend, I would lean towards 2015 Formula One Racing Guide solely out of personal preference to the layout and navigation. However, each of the four Formula One racing apps in the roundup are more than capable of delivering all the racing news, stats and schedules to your Windows Phone.
In addition to these four dedicated Windows Phone apps, you can also catch Formula One racing news through Bing Sports, ESPN ScoreCenter and ScoreMobile.
If you have a favorite Windows Phone app to keep you up to date on all the Formula One action that did not make it to the roundup, feel free to toss out your recommendation in the comments below.
Windows Central Newsletter
Get the best of Windows Central in in your inbox, every day!
George is the Reviews Editor at Windows Central, concentrating on Windows 10 PC and Mobile apps. He's been a supporter of the platform since the days of Windows CE and uses his current Windows 10 Mobile phone daily to keep up with life and enjoy a game during down time.
I don't suppose there is gonna be any half way through the tournament.
------------
Was just searching for a Formula One App. Had to rely on Bing Sports a lot for news.
Thanks George.

What makes PS4 sell faster??

Now this is what I'm talking about! Interesting indeed. Many F1 fans here?

I love all racing. But I am for sure a NASCAR guy. Go 88!!

Yep! Last year was awesome. Lets hope this season will be even better! Hammer time!

Agreed! Yep plenty of f1 fans here! #ForzaFernando!

Big F1 fan here for more than 20 years... GO Alonso!!

Massive F1 fan here in NZ. Go Hamilton...!

I second that. ESPN F1 is my go to. Then the BBC Sports app.

I use ESPNF1. The times show my local time so I don't have to convert when the race is on the other side of the world.

This is the only worthwhile F1 app I the store since we may never see the official app and the new premium service they have this year

Agreed. Pretty & functional.

Not a F1 fan but SofaScore added F1 to their app in the new update that came out yesterday

Ahh, the formula one, the only sporting event you can hear from 10 kilometres away.

Not anymore. The new v6 engines don't make the same noise as the old v8's

Weren't the old engines v10?

Nope. 2.4L v8 which has now been replaced by 1.6L v6. V10's were used before 2005.

The V8s were used until the end of 2005. They were nowhere near as good as the V10s.

V10 were used to 2005. They switched to V8 after that and then to V6 last year

Awww, I'm going to miss the sounds of the engines roar around Albert Park while I'm stuck serving absolutely no one at work because they are all at the Grand Prix.

The Honda doesn't sound to bad. I think it sounds the best out of all of them. (especially the blow off valve...)
http://www.youtube.com/watch?v=_0cEGvBNUqg

Sadly sound is the only thing they have right now. With the current form they'll be lucky to make it to Q2 in qualifying.

True.
However I was watching some onboard footage from practice in Australia and compared it with vettels onboard footage on youtube. Vettel was really trying, throwing the car into corners etc. Car looked a bit unstable but decent.
But when I watched kmag and Jenson, they weren't even trying. They were taking it easy, and it looked severely down on power as well. My guess is that they were taking it easy on the engine, and that they cant run full power yet. I'm waiting for Barcelona before I panic...

I remember going to my first F1 race in Melbourne 2005 - still V10s back then. I was about 400 m from the track when the first Renault pulled out for practice, almost got knocked over by the deep roar (or so it felt). Not the same on TV, recordings cut the deep sub frequencies significantly.

If you want to feel the sound go to a top fuel drag race.

But its just not the same

I live about 6k's from the track and I can hear them right now.

Well IAM an F1 fan!!! Bring 'em on!

They are working on the official app, hope to have it with us by Shanghai but that's not a promise more of a hope.

All these pale to the official f1 app we used to have. None of these apps have real time telemetry with track map. Hamilton ftw this year!

+ATIV S Neo for the Hamilton comment!

We had this awesome app called Live Timing. But the FOM forced them to remove it.

Looking forward to Cortana F1 predictions.

No no no ! Cortana is American (yeah, not really, but she is more American than european, right ?), she must predict Nascar races, not f1

She could predict both. F1 has a fan base in America too (United states grand prix in Austin Texas)

I've been asking MS for proper F1 teams and drivers following for a while now

Yeah ... What about ESPN F1

ESPN and SofaScore FTW. But they should have real time telemetry, and other fundamental stuff for a F1 app.

Yeah we need something with real time telemetry. What happened to that $35 F1 app?

Never updated from 2013. Still have it loaded. It was great.

I use sky sports for my formula 1 news

No EPSNf1 on the list? thats what i use right now, will look into some of the others here

How could you leave out ESPN F1??!!?

Anything for the world of Moto GP?? Love me F1 but would love something for the bikes too

Wow, So nice to see this on here. I wish F1 would make an official app our phones. As a huge F1 fan and ex MotorSports photographer I use Sky Sports and ESPNF1 for my apps.

Go Max Verstappen! (the reason I started watching F1 again)

He is good, better than Jos the Boss. Schumacher destroyed him!

I like that many apps show live timings and season standings, but i'm more interested in the news sources. And most F1 sites or racing sites don't have a Windows Phone app, which is a pity. Bing Sports also is more focussed on soccer in The Netherlands.

Superb! I also use ESPN's F1 app. Does anyone know which station broadcasts F1 racing live in U.S. Of A?

May I ask, where do most fans get their information about upcoming televised races? Road races not NASCAR. (I live in the USA.). Best Wishes

Racer.com is a great source. Usually have upcoming race times on tv. Sportscar365.com and dailysportscar.com are good also

I use ESPN F1 app! Haven't heard about the apps posted here. BBC sports is good as well.

Motorsport-total.com Brand new and gorgeous app for the German speaking part of the world: http://www.windowsphone.com/s?appid=35a2229e-f876-4d61-9cff-6c1dd40b018a

ESPN F1 seems to vanished from the store. I just changed from a 1520 to a 930 and now can't get it...

But what if you're following Super GT? How am I going to follow Goodsmile Racing?! >A

Wow thats really useful for me

Looking forward to the 2015 season...it should be very interesting...but I am wondering what the average F1 fan thinks about an editorial by Bob Lutz in ROAD & TRACK...he talked about the idea of giving the teams a fixed amount of fuel and allowing them to develop any engine configuration they want...

Maxim Bob? Gotta read that. Thanks for the heads up

They should be allowed to develop their engines throughout the season regardless. At least we wouldn't have to suffer through the boredom of last season with Mercedes running away with it.

Thank you so much for this! I did a factory reset on my L830 last night and when restoring I noticed this massive hole on my start screen where ESPNF1 previously was. Store says "no longer available" which is too bad, it was a really good app.

Is there an app that can stream race footage?

ESPN F1 is a good alternative!

Very cool. Gonna try out Pitlaneone. Thanks! Great article. Go Kimi!

Hey! Great article. Have the ESPN F1, but had NO IDEA there were other apps of the quality that these are for F1. Thanks!!
Windows Central Newsletter
Thank you for signing up to Windows Central. You will receive a verification email shortly.
There was a problem. Please refresh the page and try again.