Toshiba Portege G810: Hello, goodbye ...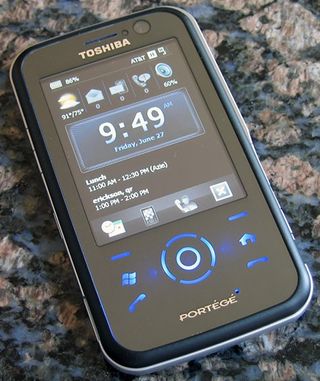 We had high so-so hopes for the Toshiba Portege G810, with SPB's Mobile Shell built into the interface from the get-go, and Pocket Plus and Full Screen Keyboard thrown in for good measure.
But Pocket Now has run the device through its paces. And while the guts of the G810 are still nothing to sneeze at (and you gotta love the lights), a lack of tactile feel from physical buttons and beyond sub-par battery life are cited as reasons to pass on this one, especially with a $700 price tag.
Read the full, extensive review here.
Via Engadget Mobile
Get the Windows Central Newsletter
All the latest news, reviews, and guides for Windows and Xbox diehards.
Mobile Tech Review have a similarly detailed, but somewhat more positive review here:http://www.mobiletechreview.com/phones/Toshiba-Portege-G810.htmVerdict? I'll keep it. It's not the perfect smartphone, but then there isn't one out there yet. It does offer a very pleasing combination of style, portability, a great touch screen and a full set of features for the power user: GPS, WiFi, Bluetooth 2.0, FM radio and a 3 megapixel camera with autofocus.

Yeah, it is scary when reviewers with a new (pre-production or else early production) review unit trash on a device mainly because of battery life. By now they should know that review units arent necessarily the best judge and you may have just recieved a 'bad' early device, or bad battery or just the normal new battery build up, or.... As this thing obviously ships with a good sized battery, and yeah some hardware tweaking is done, but WM6.1 supposedly does some tweaking itself so...
It looks like a pretty sweet device..