Uber officially returns to Windows Phone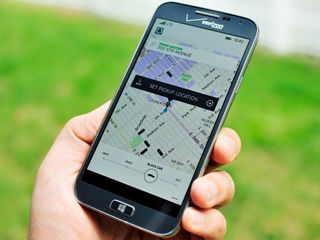 Welcome Uber back to Windows Phone. The official Uber app for Windows Phone was first launched in March 2013 but pulled from the Window Phone Store a month later in April. That first app wasn't anything to write home about and customers complained enough that it was removed. Now Uber is back.
Uber is a livery service that allows you to request a car in major cities around the globe. Here's what you get with the app for Windows Phone:
Request a ride using the app and get picked up within minutes. On-demand service means no reservations required and no waiting in taxi lines.
Compare rates for different vehicles. Add a credit card to your secure account so you never need cash on hand.
Easily set your pickup location on the map, even if you don't know the exact address. Get connected to your personal driver and check the progress of your Uber at any time.
Sit back, relax, and go anywhere you want. We'll email you a receipt when you arrive at your destination.
Those features of Uber are all available in this first release for Windows Phone. Over the next month Uber will be adding the following features:
Fare quotes within the app
Shareable links with trip map and ETA
The ability to split your fare with friends for a more affordable ride
Anyone user Uber? It's incredibly handy when you're travelling. We're downloading the app right now ourselves, but take it for a spin and let us know what you think in the meantime.
Get the Windows Central Newsletter
All the latest news, reviews, and guides for Windows and Xbox diehards.
Glad to see...WP gaining potential

If it's love they'll find their way back to you... or something like that. Either way as a genius articulate Dachsund I need services like Uber because it's impossible for a wiener dog to drive himself around.

It took me 3 tries to read and understand this comment.

The comment was satire that was not the most obvious.

Yeah. Really dumb comment for a person. But pretty impressive if he really is a dog.

If you love her (app) let her go (uninstall)

That is one app to cross off the list.

I want to schedule a trip so I can use Uber.

Please write an article about pakistan...we don't have any official maps for us...please please please man...no bing no here drive no uber no google no no and no

It changes so much geographically, must be hard to keep up map wise.

Have you tried Waze? It works great in my country (Guatemala) and like yours, we don't have here maps/drive support.

Not only is Waze owned by an evil company, but it is completely different from Uber.

I never said it was like Uber, I was answering something related to Mavee's comment.

Mavee responded to a comment about Uber, in an article about Uber. You brought up Waze. I pointed out that Waze is evil and not like Uber.

You should stop being paranoid.

Paranoia is fear without cause. Prudence is discretion based on evidence, such as this.

A map of US drone locations would be more useful.

Anyone else notice that in one of their screenshots, there is something called "UberT"?

Agreed. Are there any major apps still missing?

With Uber (again) on the platform, I'm just missing a Verizon FiOS app for my Lumia and my Surface

Lots, of course. But getting better. Citi and Amex have no apps still, for two that I personally could use (though by no means NEED now that they both have excellent mobile websites).

I will write to them and ask them to make apps.

The big name apps, not really, but it is the ones that are important but not huge, like Nest, Chipotle, Starbucks, etc.

Apps really aren't needed, but it does imply to people, "if Starbucks and Chipotle ignore Windows Phone, I suppose I can too!"

Considering that Nest is owned by Google, I wouldn't hold my breath for that one. But there is a 3rd-party app (wellNEZTed).

for me Starbucks... but downloaded Buckstar. I like the wallet integration, and not a bad app.

Note that you have been able to use http://m.uber.com for awhile now, and it can do the fare quotes & splitting if you need those features still and can't wait for it to be added to the app. It is actually a pretty impressive web app they built actually.

Yes, it is boring that we now have an official app that millions use. Well done. Yawn indeed.

Pretty half assed, since you have to go to the mobile site to get a fare quote.

Over the next month Uber will be adding the following features: Fare quotes within the app Shareable links with trip map and ETA The ability to split your fare with friends for a more affordable ride I guess, since it's only a month, they could have just held out until it was more complete.

Agile... Why hold off on releasing anything until it's "Complete" apps are never done, just good enough to use. I think they were happy with the current feature set being bug free and wanted a presence on WP sooner rather than later. That's a good thing. Its only bad when they release a half-done app and don't frequently update it to add the missing stuff. 1 month cycle with testing and MS store review time is probably reasonable assuming there will be several decent. same cycle as MS with windows fixes (patch tuesday is only 1x a month).

Clearly you didn't read the details on the app and made yourself upset because you lack reading comprehension.

I've been using the mobile wrapper. So glad this finally came!

Love to see all these official apps heading to the store

Oh my god so happy right now! Sorry Lyft you are not getting a customer because you don't have a WP app

Yeah! That, and the whole pink mustache thing.

Is this a fully fledged app or a wrapper?

Native app! And a very well-done one at that.

Sweet still got £10 credit. Use on-line promotional code: drupadt

Nice one. Thanks. No idea how this works but I've now got credit.

Think when you first order a cab, you get £10 off so if actual cost is £15, you only pay £5.

Didn't work for me. Said "Another promotion was already applied". Maybe I used something before.

Maybe you already used another promotion on your account?

Fuck. Launch app and this is what I get... Everyone's private RESUMING... driver

Well, that is one official app to cross off the list. Let's get some more coming.

Finally, been waiting for this for a long time. Thanks

Great to see them back on WP. Even without the features they plan to add in the next month this is a nice app. It is way better than the old version.

Now that there's an app, I'll actually use them next time. If the mustache folks made it first, I might've gone with them despite the dumb mustache.

"Who wants a mustache ride?"

Sign up with promo code uber4windowsphone to save on your first ride!

LOL. No, this isn't cab, this is Uber...

I was just coming over here to mention this was available. Nice to see I was beat to the punch! Now to see if there are any drivers available where I live...but i can finally do that on my WP :) Doesn't have the universal app icon though :(

I guess not, I can't get past Set pickup location and there's no displayed time so I have to assume (No message) that theres no one to provide service near me.

This is awesome. Have downloaded, pinned app to start, signed in and have deleted the Uber web app I've been using for almost 12 months! It feels nice to be official :)

Returns? When was it here before?

I think they had a web wrapper app before. Their mobile web app is actually really nice. I've used it.

Previous version was pulled from the Store in April of last year

I can't get further than the text code validation bit of set-up... Anyone else having issues?

Same here, I just went to the web page, resent the code, replied go and then went back into the app again and it works. I have opened a ticket with Uber Support about this issue.

Yes did the same. But app does not let me sign in again. Useless

Still waiting for that text...it been 9 hours and countless taps of,the resend

the uber short code has been blocked by the carrier. You need to call them to unblock. I had the same problem and got it resolved from T-Mobile in the US.

So if anyone wants $30uber credit and help this poor kid out, would be helpful thanks Use my Uber code, yasera5, and get $30 off your first Uber ride. Redeem it at uber.com/invite/yasera5.

Neat... Nice to see this. Could be useful.

So if anyone wants $30uber credit and help this poor kid out, would be helpful thanks Use my Uber code, yasera5, and get $30 off your first Uber ride. Redeem it at uber.com/invite/yasera5.

Thanks! Promo code yasera5 gave me $10 in credit.

There is drupadt floating about. Has worked for a few of us.

I'll spare you all the spamming of the promo codes since Uber still isn't quite online in my city yet (regs were just passed for Uber black, we'll see what happens.) In any case, while in Chi town I used the mobile page a bit. I was constantly frustrated by it because the buttons to access account and the like are small and unlabled. And frankly I was not familer with using Uber so I was constantly confused. The App at least is a step in teh right direction and I won't have to keep worrying about accidently closing the webpage while trying to do something else!

Not for me, Google has heavily invested into Uber ($258m) so that's the end of the journey for me.

I didn't know that. Thanks for the info.

That's great that we get it to WP. But I don't understand the point of using an app vs just a good mobile website for this. Maybe there are reasons though. Either way, happy to see that they are back on WP!

Notifications. Let's say you're playing a game and your ride arrives, it can pop up a notification saying your ride is here. Or perhaps they get delayed, they can say they're running late and it'll pop up a notification saying they're running late.

Love uber, finally a real app!

Very happy to see this app back in the catalog. Already downloaded!

The app looks and feels great. I can't really use it, since they're not here yet, but thanks to you guys I have a 10$ credit for once they launch here.

I am very happy this happened because I use Uber quite a bit. This is great! Now, if Zipcar can get off their lazy asses and build a WP app, that would be fantastic.

Too bad our city has been fighting to keep Uber out of it.

Awesome, I still have the original version of under on my old titan II. Also, I really want a new ATIV on AT&T, the SE looks really nice.

Great to see this app back. 2014 is the year of Windows Phone!

Cool, I want to try uber next time I'm in Chicago.

Hmm, what about Ukraine and Turkey?? Should I try it? Or is it worldwide?

This is awesome, just yesterday a friend was telling me that Uber arrived to Munich, Germany and now app available. Very cool indeed.

The city council has said Uber drivers are operating illegally in Myrtle Beach. The police will arrest anyone the catch. I signed up anyway.

The web app was actually pretty good, but happy to have a true version. Downloaded!

Love Uber and very happy to see a legit app hit the windows phone. More and more official apps = better acceptance of windows phone!!

Does it support being a driver?

I don't use it but, welcome new app!

Awesome! So happy its back to wp

Yes...good addition...have been using the web wrapper...Great to see the official app for WP...Thanks Uber!!!

For Romanian wp8 users there's Clever taxi, but I don't think that has the secure card thingy implemented. Welcome back Uber

I gotta say, this (and lyft) is the app I've been desperately needing. I live in an urban area and ALWAYS needed a lyft/uber. I would carry around my iPad and tether my 920 so I could call an uber on my WiFi iPad. It Sucked and many of my friends were turned off by WP without a ridesharing app. Uber is a great first step! FINALLY! Now we need a lyft app!

I usually go to the corner and hold my hand up when a cab passes by. How quaint. Now, instead of demanding that my city improve public transportation, I can pay $200+ for a smartphone, $30+ a month for a data plan and then have the honor of having a fee automatically charged to the credit card I voluntarily gave them. The future is now!

What are the 40 cities mentioned? Is it usable in Dubai?

Installed the app and wanted to register but when I am asked to enter my credit card details it does not accept my Dutch credit card. :/ Will have to try register through the website, which is a little disappointing.

Use This one if u wanna get a discount on your Next drive . code: ECKAJ

I love Uber. I used this all weekend in California. They have a promotion that gives you 25% off normal pricing through August as well. The app is not exactly on par with ios yet but it s pretty close. You can use offer code 7F994 for $30 credit towards your first ride also.

Anyone from Manila who has used Uber? Heard good reviews from friends iOS users. But haven't heard from WP user like me.