UCWEB: Yet another browser for WM - but it's actually really good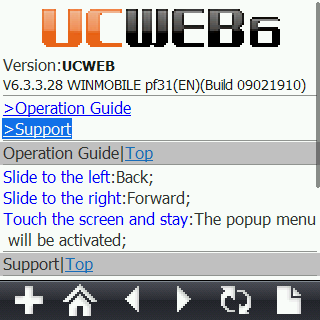 Yes folks, yet another web browser has slowly crept out from some other company. This one is called UCWEB. Never heard of it? Neither had we but according to its Wiki it claims it is "...now ranked #1 in the Chinese mobile web browser market, with over 60 million accumulated users and over 10 billion page views per month by November 2008". Gotta be worth a spin!
Lets cut to the chase: UCWEB is in the vein of Opera Mini: it uses servers to compress and reformat full websites to dramatically improve speed and appearance. But UCWEB has waaay more functionality than Opera Mini which is what makes it a fine alternative (plus you don't need finicky Java installed).
Wanna see it in action with a brief tour of its features? Click the link to get the full scoop with some pics.
First, you'll notice that for some reason UCWEB is kind of hiding this strictly WM version from their main page. Dunno why, but it can be found here: download UCWEB.
Second, while it should run on WM5 and WM6 touchscreen devices, non-touchscreen (aka WM Standard) devices appear to be unsupported at this time. Boo.
The download and install is exceptionally tiny: ~500kb which is a huge welcome from the MBs that browsers like Skyfire, Opera Mobile, Netfront and Iris require. Further it uses about ~3mb of RAM which is also on the low end for a browser.
According to their site, UCWEB accesses the internet via "CMNET and CMWAP" and is a combo WAP/Java that supports standard html, wml files and Java script. What you need to know is that technically any personal info you put in is re-transmitted through their servers and while this makes a great user experience, it is a could be risky for personal data for those concerned. On the other hand...it's crazy fast.
After installation, you have a simple icon in your Start menu to launch the browser. The first launch is the slowest as it appears to authenticate and register the device with their server, so give it time. Relaunches are nearly instant after this initial run.
Feature rundown
Here's what UCWEB has that makes it unique and pretty killer:
Download Manger: start, pause downloads, control where files default to and see your download history
File Manager: explore and access files on your device for easy uploads or to view images
Tabbed browser: open any link or image or new page in a new tab
Built in Search: quickly launch their search engine via Menu key
Options, options: You can control the size of the font, spacing, scrolling action, zoom or reformat views, where to save files, image quality, pre-load cache settings
Skins: by default you have black, classic blue, pink and night view
Better image handling: zoom in, save, etc.
The way UCWEB can be best described is think Opera Mini but more WM friendly with a ton of configuration options and tighter integration with the OS.
As far as speed goes, on a site like www.dlisted.com it takes about 10 seconds to load whereas Opera Mini 4.2 was about 8-9 seconds, so we're talking pretty close in regards to speeds between the two.
(And as of now, though they list video support and even link to YouTube, it does not appear able to play videos...yet)
Conclusion
UCWEB has me pretty excited. While I found Opera Mini 4.2 with some Java hacks (found at XDA) to be pretty darn good, UCWEB is much better suited for WM Pro devices. The Left/Right Soft keys give all the necessary menu options needed for breezy web surfing with "Enter address" being the 1st option which is just logical.
The UI is also very nice: it's all finger-friendly, swishy and just plain nice to look at. To go back a page, just swipe your thumb left; to go forward, right. The reformatting is also much better than Opera Mini as images are kept a more reasonable size, plus with the ability to change font and the font-size (we like 15), it is much easier on the eyes to read. Finally, the built in "update app" checker makes having the latest version simple.
While UCWEB has appeared to slip under the radar so far and it might be eclipsed by Opera Mobile 9.7 (which basically finally combines Opera Mobile and Mini) but for now, it is definitely still worth checking out.
Phil is the father of two beautiful girls and is the Dad behind Modern Dad. Before that he spent seven years at the helm of Android Central. Before that he spent a decade in a newsroom of a two-time Pulitzer Prize-finalist newspaper. Before that — well, we don't talk much about those days. Subscribe to the Modern Dad newsletter!
WM Standard is supported. You have to visit wap.ucweb.com with the default browser (PIE) to see the link. I have downloaded it more than a few times from that site using PIE in my Blackjack II. One more thing, it supports multiple fonts and font sizes. So if you are not satisfied with the default display and rendering, you can alter those. Pretty neat in a WM Standard device, where we can use tahoma etc with rendering as good as cleartype. Altogether, as the review said, it is a rocking browser, actually the best there is on par or even better with Opera Mini. But IMHO,it still got some more way to go, until it becomes as smooth as Opera Mini in basic browsing experience.

this browser has a lot of potential. In terms of speed, I think opera mini is still faster by about 1-2 seconds. However, the biggest problem is that some sites are not readable and the rendering is not as good as opera mini. Check www.arstechnica.com and you will... I mean, won't, be able to read much of the text when you have it set to Zoom mode. You can see that the text is there in the page overview, but when you zoom in, the text is close to the same color as the background which makes it unreadable. If Opera 9.7 comes out with the best of Opera Mobile and the speed of Opera Mini plus the ability to play video like Skyfire, I think it will be the killer app for any platform.

opera mini > UCWEB This browser does show promise though.

hmm, looks nice. trustworthy? idk, deff gonna try it out

One thing that's bugging me (and that I think the Firefox folks are doing right): There's just so much chrome staring at you on the screen. Especially with a mobile browser, every pixel is sacred. Finger-friendly's important, but at least get rid of the top bar.

@Phil Yeah, it is a little chunky, but I just hit the Right soft key and put in full-screen mode. Most of the commands can be done now via Left or Right soft keys (unless you're using a Treo Pro, lol) and to go back/forward use the swipe method. I really like it in full screen.

Your article said that Smartphones were not supported but they are. I had to look around the English site and find a model smartphone that it supports aka the Blackjack and you'll find the URL http://wap.ucweb.com/dl_platform/publish/scripts/mobiledetail.php?projec... What I'm trying to find out is how to set the language to English in the smartphone CAB.

I've been using this since there latest release. Barely use Opera mini anymore. Needs work but so far much more finger friendly then Opera mini.

UCWEB > Opera Mini In a few words: Tabs, powerfull download manager and native wm support not java. Rendering not quite as good as opera mini but its pretty close. Interaction is fast and smooth.
Windows Central Newsletter
Thank you for signing up to Windows Central. You will receive a verification email shortly.
There was a problem. Please refresh the page and try again.