Upgrade your units and buildings to Age 9 in Age of Empires: Castle Siege update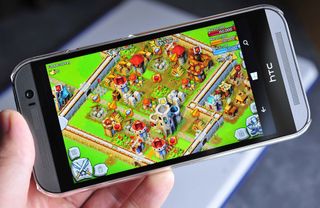 Microsoft has updated its action-strategy game Age of Empires: Castle Siege for Windows Phone and Windows 8.1. This update will allow players to upgrade their units and buildings in the game to Age 9 for the first time.
Here's what's new in this extensive change log for the 1.6 version update:
New Features
Players can progress to Age 9 and purchase Age 9 upgrades for units and buildings
The Watch Signal is available for purchase in Age 4 and can be upgraded through Age 9
The Watch Tower allows Alliance members to donate squads to other Alliance members that will help defend the castle if the Watch Signal is triggered during an attack
Players can store decorations in the Market inventory and withdraw stored items at no cost
New unit, Grenadiers can now be recruited from the Siege Workshop in Age 7
New structure, Musket Tower can be built in Age 9 and set to short or long range attacks to create different defensive strategies for players
Stability
Fixed UI soft lock that occurred when the Friends button and X button were tapped at the same time
Fixed connection error that would occur if the app was suspended while trying to reconnect to the server
Fixed frequent crash on phones due to low memory allocation for world rendering
Fixed connection error that would sometimes occur at the end of battles if the player skipped opponents before starting the battle
Open Attack System
Players will now receive a message when they are about to become open to being attacked
The Peace Treaty icon will be red if you are openly able to be attacked
Players will now receive a Peace Treaty for every attack. If the attack is less than 1 star, they will receive a Peace Treaty equal to one fourth the length of a one star Peace Treaty
Gameplay
Fixed players seeing a variable amount of scouting time depending on how long it took to load the empire
Fixed a bug where archers could defeat the tower during the tutorial and prevent player progression
Players now get the free tech for the civilization when switching to a different civilization, in addition to the hero and special unit
Fixed a bug where revenge attacking a player would extend the Peace Treaty of the defender
AI
Hermann von Salza's description was updated to reflect the fact that Shield Wall affects all nearby squads, not just food soldiers
Squads will now select a new, nearby target when directed to an arbitrary location instead of returning to their previously auto-selected target
Fixed a bug where some siege units would stall out if a large group of siege weapons were re-targeted at the same time
Chat
Fixed being able to type more text than can be displayed in the chat window
Fixed focus being lost from the chat text box when pressing "enter" on a keyboard
Improved cleanup of old messages in the alliance chat window
Fixed a bug where having a space at the end of your chat message would make you unable to send it
UI Polish
Fixed green "move" arrows not looking correct for some buildings
Removed food resource display from hero recruiting screens as this resource isn't used here
Fixed "back" button appearing on some screens that shouldn't have it after going back from a screen
Fixed certain letters popping in when scrolling through lists
Fixed resource fill bar lengths appearing different for the same capacity
Fixed loading screen on phones not showing the error popup when the server is offline
Fixed bug where unit stats wouldn't appear on some screens after viewing certain hero info screens
Fixed incorrect deploy time shown on info screens for guard houses under construction
Switching civilizations will no longer select different heroes in the hero selection screen
Thanks to Vishal for the tip!
Download Age of Empires: Castle Siege for Windows Phone (Free/In-app purchases)
Download Age of Empires: Castle Siege for Windows 8.1 (opens in new tab) (Free/In-app purchases)
Windows Central Newsletter
Get the best of Windows Central in your inbox, every day!
Always good to read an in-depth changelog.. Thanks windows central !!

How does it compare to World at Arms?

Worked at arms is nothing compared to this !

Yessssssssssssssssssssssssssssss

Fear that the update might wipe out my game progress data.. Anyone confirm if it is fine to update?

Yes, go ahead and update. Everything will remain the same ..cheers

Like gfw you usually have to have not played for a year for them to wipe out save data

Wasn't there another AoE game announced quite a while ago? What happened?

This was my tip ..and for the first time i was first one to give it..!! *opens a bottle of coke to celebrate *

I know tha..... Wait, I don't.

Wow, a bottle of coke. Don't get too crazy....

Glass of milk should do, cant go wrong with that :D

Nice update, but I wish they'd fix that error telling me to sign in at Xbox.com.

Everyone else getting this error!?

Switch off your mobile internet data after that , connect your phone with WiFi and try to load the game again. If successful , turn off your WiFi connection and try to use your mobile data again.

It is a smart filter deal. If your institution blocks games that is why.

I'm at home, using the house Wifi.

Go to settings re sync ur primary email account (the one you used to login into WP) there is no need to reset your device.

Restart your phone.. Should be works..

Soft reset phone sometimes not even the patch properly installs if phone has been on for a while

Open the Xbox games app, login for the account section by around left, let it show your full profile then open AoE from the app itself.
That worked for me. Make sure you have logged in at Xbox.com atleast once before in IE.

Yeah, and i still in Age VII :v but..., seems faster :D

It's not letting me sign in now....

Seriously, I hate this game,
May be someone else gonna be happy, but these types of game isn't of my taste, but yeah! Updates are always welcomed..

Yeah.. This type of game are for "the real strategist".. You hated this? Maybe you're not strategic enough.. Go back to CoC where you belong..

This is more of a sim type game tbh, not really rts. At least, Castle Siege.

I'll take it as bygone era.

Glad they fix the connection issue in this game. That is the most annoying thing everytime we're playing. Btw thanks alot John highlighting the change log for this version.
Ps : I'm still at age 6.... Lol

If only changelog like this would be for other apps..

Haha. Since this is a major update.....

Keeps asking me to log into Xbox.com

Re-sync your Microsoft account. Then start the game it will work fine

Shoot. I just got to age 8. I'm still upgrading lol. And the grind begins again.

is the game working for u guys yet cuz i cant get on

Servers are down for maintenance. Should be back in an hour if everything is alright according to aoe forums

I have tried this game but it does not look the AOE I used to play in PC. Kinda make me sad not having the great game it was once..

PC controls are much broader than Smartphone controls.. You cant really expect to have both way.. Hope you get the point..

Yeah, its a completely different game with an AoE theme to it. I wish they would release something more like the original. I enjoyed the player vs computer mode.

it has to compensate from being pay to play or some sort. i love aoe series but this is a dumb down version for mobile/tablet. its actually pretty good once u get into it.

It still is a great game if you play on PC. AOE II is still one of the best strategy games I've played. Smartphones can't have that amount of controls. As @ivan said PC controls are much broader.

My Droid friends are soooo jealous!!!

Gotten pretty bored of these type of games, not really taxing or much strategy required....

I agree, i Grinded to age 8 to fast, for some reason age 8 made the game boring to play. Hall of heroes lvl4 made the game to easy for wiping out other castles, So I stopped playing and now Im playing HoC when I can.

Cant play...coz won't letting me in... -.- .. Must sign in-.-

Please release this game for androidddd.it looks very awesome. Posted via the Windows Central App for Android

It a windows phone exclusive.

It IS awesome. You could.... you know... buy a Windows Phone!!!!

Love this game. Can't wait to upgrade to age 9

I loved this game when it first came out. I was top 10 in the world at the time I quit playing. Glad to see it's still thriving, but it became too much work for me to keep up with everything.

You could have just kept the profile for occassional gaming sessions. Playing needn't mean staying in top 10.

It disappeared from app list after updating now dont know how to open it, in store it is showing it installed

That happened to me once when I installed through SD card. Had to hard reset the phone. Try soft reset first though, but its unlikely it'll solve your problem.

Awesome, just started playing a week ago

Must be why I couldnt log in earlier today...

Frustrating game. Getting my heroes to use their super skills correctly is spotty at best. My keep is level 6, but i get attacked by keep 7's all the Frickin time. I've given up on it.

You should build a good defence then .. Mine currently at age 6 hasn't been attacked for almost 2 weeks already. Lol.

My defense is decent, but only as good as a 6 can be. I win half of the attacks.

Now if only they'd update hexic for wp since the further you go the higher the chance it crashes when doing big combo chains

So do I need to be in an alliance to use the watch tower?

Great!!!! Upgrading to age 9!!!!

Great update! Chance to share troops now of other clans oops i mean alliances :P great work MS studios.

Can't fight anyone after this update

Super duper game. However connectivity issues in this game still plague me big time. Have lost a great sum of crowns due to battle being suspended showing network issue. I've tested my network and found that the game fails to fetch data. Opening the game takes about 5 miutes too. Any solutions? Hoping this update fixes my issues. Haven't really been able to enjoy this brilliant game, connectivity issues have wrecked my experience.

It takes 5 minutes if you're on 2G. Get a fast internet. 3G or some good WiFi.

The update seems to make AOE on my Lumia 620 unstable. I can't even open it after updating.

It's been awfully quiet on there it gave me enough time to collect enough wood to age up to 7(yes I'm not the quickest player) level up almost everything I could

i dont have friends yet..., i dont know how to add friends.... anyone add me please.., or ill add you just teach me how to do it

Today i received the latest updateof age of empire castle seige (1.9),but unfortunately after installation i couldn't find that any where in my phone. store show as already installed.Please Help me to fix the problem cause i love this game....Tried re installing but not working