Vague Snapchat tweet gets Windows Phone hopes up, but try not to get too excited
Make this chapter 684 in the Snapchat vs Windows Phone saga. A saga which we've covered in-depth over such a period of time that we'd assume all hope is lost at this point. And then there's a tweet. A vague tweet.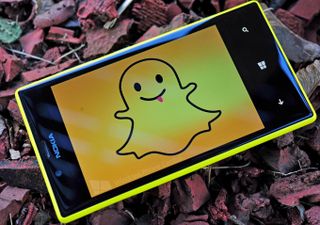 One which Windows Phone/Snapchat fans would immediately jump in the air at reading, because it seems to suggest that support may finally, one day, actually be planned. HUZZAH! Right?
For fear of getting disappointed again, we should try and curb the excitement. Because none of this is in any way a 'confirmation' that Snapchat 'gave in' or anything.
Here's the tweet:
The "it" being Snapchat for Windows Phone. But considering the company's seeming lack of interest, even complete disregard, of Windows Phone as a platform, it's tough to see what may finally have changed their minds. The new Android/iOS app porting tools? Microsoft throwing a ton of cash their way? The CEO finally woke up one morning and realized the error of his ways?
So, maybe there is hope. But try not to get too excited just yet. Remember who this is that we're dealing with.
Source: @snapchatsupport
Thanks to everyone who tipped us!
Richard Devine is an Editor at Windows Central. A former Project Manager and long-term tech addict, he joined Mobile Nations in 2011 and has been found on Android Central and iMore as well as Windows Central. Currently you'll find him covering all manner of PC hardware and gaming, and you can follow him on Twitter and Instagram.
Bull spirit sounds like a cologne. :P

Yep... It's made with bits of real bull, so you know it's good.

Is it better than my sex panther?

HAHAHAHAHAHAHAHAHAHAHA!!!!!! I usually don't comment, but this made it worth it ..... They've also done studies... 60% of the time works everytime.... LOL

Spirit animal of Snapchat.

Who uses snapchat outside U.S . atleast no one from my contacts . IN

It's used everywhere in Europe too. Choice is good. I'm intrigued... How much money has msft forked over lol. Anyway, lets see what happens.

Lol dude. This is total bullshit. Not one I know has ever heard, cared or used Snapchat. And I know a lot of people in Europe. Quite Funny how some people in here are like "Me and my 2 friends use Snapchat! This means it is used everywhere across Europe!".

Literally every teenager in Sweden uses it. What are you on about?

@Forc3, the world is bigger than your social bubble.

Snap chat is on every single iPhone and most Android phones in the US I guarantee it.

lol, these "guarantee" comments always crack me up. As if you have any way to actually back that up.

How is that any different to "I don't know anyone who uses it!" when you only know a dozen people - and I seriously doubt you've asked every single person you know if they use SnapChat. It really depends on the demographics of those people, especially the age. I can say that nobody my age would use snapchat but I'm part of the 35+ crowd so that's easy to say - however, I do know (from my friends who are Teachers) that a lot of teens use it. These SnapChat demographics would seem to back that up: http://recode.net/2015/03/26/heres-the-chart-that-explains-why-media-com...

Everyone uses it here... It' the most popular app among the youth

As a European HS teacher, I can affirm that their first way to communicate is whatsapp, then snapchat... Twitter is now "old", and FB is nonexistant to these younger crowds. Lol. Then they have other apps that I had never even heard of! So yeah, Snapchat is really relevant, as much as I hate it.

You know, the same exact argument can be used against you.

I live in Europe (Denmark) and travels a lot. Young people, especially in scandinavia uses snapchat more than SMS texts and the facebook chat. This is also pretty common amoung adults. Traveling to france, the UK and Germany last Christmas gave me the same impression. Many companys also uses snapchat, and even politicians in their election campains, etc. You are simply wrong.

Every other female friend of mine uses it in the capital, IN.

If you dont know the meaning then don't interrupt with your nonsense.

I completely agree.. No popularity of such shit apps in India.. We are happy with WhatsApp :)

No one I know uses whatsApp. Never heard of it except on this board, and even then only from non-US folks.

Not used in your region makes sense but you never heard of WhatsApp....kinda shocked me! O_O
Guess its not as popular as I once thought ...

Italy. Talking about my friends and colleagues and (I work in the digital industry). WhatsApp is so spread that even in adv they say "send an SMS or a WhatsApp". Snap chat no one I know or know of, but I guess it is well known among teenagers. This is my report

whatsapp is uses across latinamerica (you know many countries) and also India it seems. so yeah it's big. snapchat, only few people who told me "I used it couple times and I don't use it anymore" thing.

Its very popular in Turkey. I mean very!!

I wouldn't use it if they paid me. They've made it clear that they don't want WP users, and life goes on just fine without it.

+1 I will sit on dogs poo before I download this app.

Is used a lot here in Brazil.

Not true. Only a handful of people use it here in Brazil, mostly iPhone users (which are a tiny fraction of smartphone users). Whatsapp, on the other hand, is used by almost everyone.

Very popular amongst my peer group in New Zealand. I felt pretty horribly ostracised when Snapchat killed third party support.

i'm from india.
all my classmates (except me and another girl who has a lumia) use snapchat.

Dude here in mexico everyone I know has it, srsly, we even have the annoying people whose stories reach over 200 seconds.

well, i live in uruguay, and everybody here uses snapchat, even more than instagram, or twitter. all my friends and adolescents uses the app, haha

Well I have pulled 40+ friends from Snapchat..... Will not use it , even if its app get 5.0* rating

Ignore this. I'll believe it when I see it.

Even if they make the app, it won't be updated / lack features / incomplete. Or by the time it launches its popularity will be long gone like happened with candy crush, or there will be a "snapchat 2" only for android and ios.

Should we start a flood of tweets to Snapchat, Snapchat Support & Evan Speigal? Please?! Can't hurt.

About the only thing most folks on WP have to tell them is FCK off and stay there.

@Novron, that is hardly going to help the platform. Some people just can't live without... sadly...

At this point I feel the CEO is writing these kind of tweets to calm the users down so that we don't bother hoin that much

what is the meaning of chapter 648??

"Hope is the first step on the road to disappointment." WH40K quote. But... in all honesty... it pumps hopes up! I never used snapchat nor am I interested, but this is good for the plataform. I feel this change makes the plataform look like it's equally important for developers, hence people will not feel scared to buy a WP device because they know they have the support if needed.

Let's remember how many times companies have tweeted stuff like this then it never happened. I've seen it happen way to much to even believe this. Posted via the Windows Central App for Android

He's such an idiot that even transforms into an idoit.

He was an idiot who wanted to look cool and ended up more idiot than before.

Is this based on the fact that they have banned third party apps? This is merely a security problem for them. Doesn't make them idiots for keeping the channels closed. Also business decisions are based off good information. So has he personally said anything that makes him an idiot other than the fact that he doesn't support Windows phone? A CEO makes the decision whether there will be any monetization with an investment that he/she makes. Honesty Windows Phone is likely more of a "future" investment for those who believe Microsoft will break through the tough market. It is a really tough market no doubt. So some companies may not believe it will happen. Maybe recent build has changed their minds because Microsoft looks to be taking things seriously.

Then they must still have gaps in their security then

FarStrider... it's more about getting blamed for something that isn't their fault. Third Party app causes a problem and SnapChat takes the beating.

No, first the CEO is a loser who royally screwed his startup partner out of the company. Second, he made the comment when asked about a WP port, "Windows Phone? Didn't think anyone used that?" Third, there was no security. It was a rushed app.

So basically: How dare he make a comment about the lack of users on windows phone! (which is kinda true).
But I guess if he made a "lagdroid" or "crapple" reference he'd be a hero here. Also, about the security issues. Honestly, most startups with "new" ideas often lack in the security and performance area. Look at Whatsapp and Minecraft as reference. At the very least things are proper now (I hope). This is coming from a windows phone user who likes his phone btw.

There's meaningful commentary about poor performance of market share and then there are derogatory and dismissive insults. The security is his problem. Instead of fixing the locks on his own house, his lawyers went out and locked devs inside theirs. This is coming from an iPhone user whose WP sits in a drawer. This guy is a prick.

Great comparison with dem locks srsly.

It has nothing to do with his decisions as CEO, he's just a plain idiot.

Nah, he's just straight douche. I'll still think that even after they put out an app on the Windows store.

He's said many things that prove he's made of pure idiot.

How dare you speak logic!

Still not in the forbes tops? Both Bobby Murphy & Evan Spiegel are ranked # 1250 and could be richer! You know like Bill Gates! Then again keep thinking that locking any costumer out will make you more money! http://www.forbes.com/billionaires/list/#version:static_search:snap

locking people out is how bill gates got rich.. funny isnt it

No... Gates did not got rich locking people out! Windows & Office were accesible for everyone and every OEM, not just MS own hardware! Office worked on any mayor plataform since the beginig! That's how MS kick Apple back then and even bailed them out few months before bankrupsy! Also Google´s founders became rich by not locking costumers out, and kicked MS, Blackberry, Nokia, etc. in Movile by being open to every consumer, which by the way pissed off sJobs. It just happes that Apple also became somehow more accesible to every consumer with iPods, iPhones & iPads... I mean not everyone buys a Mac, but hell, lots buy iPhones! They are copying bigger screens because if they stay closed minded to 3.5" smartphones it would be a joke!

You sound you first saw Microsoft with Vista :O

That's why I'm having fun with his little sister

Just because he wont develop for an OS with less than 10% of market share? His only idiot move was not selling few years ago. If he doesnt want to develop, it's understandable given that even Microsoft puts WP behind iOS and Android.

Well, afaik offered to develop and maintain a wp snapchat app. But he didn't take the odder cause wp isn't cool enough.

how is Microsoft putting WP behind if they are developing Windows 10.... oh yeah because clueless people like you say it? The CEO is an idiot because he is an idiot. he can do whatever he wants with his app. it doesn't change the way he manages stuff. developing or not an app won't change the way he is... and other have developed apps for "10% marketshare OS" and they are bigger and better. But you are clueless so why am I wasting my time? ^____________^ I guess you can and other can keep thinking Microsoft is putting Windows 10 behind only because your brain seem to be not working well and forget Microsoft is developing a new version of the OS so they are working on it, because I guess you should know, it-s stupid to develop or fix apps that will be abandoned with Windows 10, since true universal apps it-s the future like Office, why would Microsoft update Windows Phone 8 office if they are developing something new?? oh but yeah, clueless people like you won't ever understand that. Android and iOS are already made, they are stable and all Microsoft offers there can be updated... while Windows 10 Mobile is months away from complete and not everyone will or can run it. so Microsoft can't offer much. but again, like Ihave said twice...you are clueless so I don't expect your brain to understand simple things in how Microsoft is developing Windows 10 and all the other versions that are based on it.

TLDR your feelings were hurt and you need a reality check sadly, regarding Windows Mobile. Windows had supposedly been in beta and developing for over 5 years as Microsoft puts it and guess what, during that time it has remained stagnant and hasn't seen massive growth. iOS is a much more profitable ecosystem, even more than Android which is also massively profitable and unlike those Windows Mobile isn't as profitable as those so of course many software companies wouldn't invest in Windows Mobile because it is not as profitable as iOS and Android. Be thankful that some do instead of being so hateful and spiteful to other users. Posted via the Windows Central App for Android

@_Emi_:
If someone's clueless (or straightly ignorant that is for that matter) it's you.
Microsoft is putting Windows Phone behind iOS and Android because they develop applications of considerable magnitude (Office, Sway, you name it) for their competitors platforms first and later for Windows Phone (or maybe, in case of Sway, never at all). And we're not talking days here, which might be an accidental slip, but month or years, which is TOTALLY unacceptable...

Behind because MS make their apps and services available for other platforms first.

Lol. "Windows 10 is coming"... Haven't we heard that before? Oh yeah, WP 7.5 is coming and it will change things. WP 8 is coming and it will change things. WP 8.1 is coming and it will change things. Yes, Windows 10 is coming and it will change things...for surface and desktops. Yes, they will allow devs to port apps easily for WP, but who says they will? It's one thing to develop, its someone else entirely to maintain and update. I hurt your bubbly feelings, I understand. But if you think their CEO is an idiot just because he won't invest into an OS that has a questionable future, well that makes you delusional. Thanks for saying that my brain won't understand, clearly you have a grip on this when you call people idiots.

he's an idiot in real life, not because of the issue with the Windows Phone app.

He's a massive d*ck, yes, but all d*cks lift their head out of ignorance one day... Beautiful metaphor, don't you think?

At least the CEO Pulled out (his dick)

Their ceo is biased towards a (growing) community, which is equivalent to an underdog, because of his dissatisfaction of the windows systems and ui. Doesn't make him an idiot. Just a guy with his own opinions (even though these opinions are somewhat prejudiced). Hate him though.

iOS keeps losing market share lately during most quarters, usually it's like 1%, but still. It's easy to make or even 'port' it over for us, and only has to do once! More users is more users. When it's this easy now, the better question is "Why NOT make a Windows app?!"... Can't hurt him/Snapchat. Growth is growth. He has a personal vendetta against Windows Phone unfortunately...

You said it correctly. CEO is biased against Windows Phone. If, with the level of bias he has, he decides to develop for Windows 10, then you know Microsoft had done something right.

He may be an idiot, but he's finally realizing his Snapchat is heading the way of MySpace... Time to make friends with everyone

I'd say the porting tools were the swing factor, probably along with a wad of cash from Microsoft.

Maybe for W10 mobile, big stress on the MAYBE, though

Here comes the Windows 10 effect!

That's what i was thinking!

Yeah right... Dream on. Windows on mobile is always going to be a minority... Sorry to disappoint you...

Agree...been saying for over a year, 10 ain't gonna do dick... Tired of saying it, let be so I can stop...wish I was wrong, but doubtful...

you are missin the point here, when windows 10 is ready, the OS will be running on a huge number of devices, along with them a fraction of phones, which luckly will be able to run the universal apps. So the platform is actually a huge apportunity for devs, as the OS just jumped from a small number of phones to huge number of device.

Oh, am i really missing the point here…or is it you? As long as Samsung, LG and Sony doesn't produce high-end phones with WP (or W10), we won't get a higher Windows-position in the market…

Actually it is still you. from a developers point of view they want the highest exposure possible for thier app with the minimum effort/ captial. i would prefer to showcase my app on windwos 10 market with a huge amount of laptops, computers, highend phones, lowend phones, hololens, huge surfaces (which is a huge amount of unique users). rather than IOs or Andoird which together barely reach the number of PCs available alone. Noting that IOs and Android users, will probably have a windows 10 device in their house somewhere, maybe their fridge in the future.

Ok, let's see whos right... i bet it's the same situation even two years from now... Mark my words.... if the 3-4 biggest companies doesn't release high-end phones in this period, then WP/W10 on mobile will die a slow death.... and I'm pretty sure i'm right... time will show....

The companies listed will more than likely be producing windows 10 devices of various shapes and sizes...unless I've missed their memo that they are closing down their laptop divisions...? Your argument seems to forget that W10 will bring with it universal apps. Right now, it seems, snapchat's CEO had kept his board on side. This is unlikely to continue with universal W10 apps. Even if it does, it still doesn't make him an idiot as many are suggesting. Annoying? Perhaps. Tactless? I'd say so. But the insults about him are pointless and counterproductive.

I'll stick with Cyber Dust

I want to use Cyber Dust but none of my friends will download it. :(

Dang, true that. Everyone heard of Snapchat or have used it before, but I think it's to say I'm the only person among my friends that heard of Cyber Dust.

Use Xim by Microsoft. It functions without your friends having to download anything beforehand. You just install it on your phone and you can type in the phone number(s) of those you want to sent pictures / message / video to. They will receive it. Very nice features. Image are deleted from those phones you send to.

Whoa, nice. Will try that soon. Thanks for the suggestion!

I honestly prefer Snapchat over CyberDust. Snapchat is a much cleaner and more fluid interface even giving its horrible bugs but I'm running a beta version. Posted via the Windows Central App for Android

Chances are it won't see the light of day before Windows 10 but the fact that it may be released at all is certainly good news for the platform. Even though personally, I couln't care less about Snapchat - I'm not really into that stuff. :P

I'm not excited about the app. But I will be happy to see it on windows phone.

Same here. I don't care much for it. But it's Another Brick in the Wall.

And Microsoft will say Hey You to Snapchat's CEO.

Me too. I'd love to use it, but can live without it, either way. But its addition to our Store would be very beneficial.

Ohh shit I just swithced to Android cause of Snapchat. Oh well, the interface is on the whole better anyway after a week of usage.

Good for you, and the whining is a lot less over here.

Yeah - I feel on balance it was the right call. Particularly with Microsoft bringing their key services over - I feel confident I am missing out on little.

You will miss: * Stability * Upgrades * Privacy I've got a Samsung Note 4 here, and I had to ROM it to get rid of the hideous (and nagging) Samsung cr*p, and had to put a launcher to make the start screen less messy. I am paranoid about putting a banking app on it (as I have no idea what is in the code in this ROM) and the launcher crashes occasionally. I waaayyy prefer WIndows Phone, its more elgegant, higher quality, more private and more reliable.

@BEECHBOY707, so your confident in knowing that there could be other loop holes in Android that may allow this (presuming Google has patched this particular flaw) :p. http://www.majorgeeks.com/news/story/android_os_loophole_allows_secret_photos_to_be_taken.html I'm aware the Link is old, it was much quicker than hunting youtube for the video and has other relevant info.

Oh,I never imagined period would switch platforms just for one app

While I do like the direction Lollipop took, I still think that I prefer the Windows UI. Granted the settings are a disaster which I hope W10 fixes. So far it looks better judging by the insider builds, but only the first page of settings. Also google is really slow and requires insane hardware. This may change in the future but will have to see it in action. Then there's the updates at the mercy of the carriers. Windows 10 will take charge like ios, not sure if Google will ever do that.

You switched because of one app? Lol I don't get why people do that...

Switched from a 1520 to an Android One M8. Can confirm. Not a troll. Posted via the Windows Central App for Android

You are Soo "Cruel" valdez.. :D But like M8 also..

Will altso switch to Android after this phone. Windows phone is good, but as a Swede we don't have much support from Microsoft. I want Cortana, better Bing results and so on

Why not just change region to USA?. I live in NZ and have Cortana working fine.

Then Bing don't work at all :/ Will just get American results if I change

Join Android Central and don't let the door hit you from behind. In fact feel free to take some Snaps on the freeway, or a bridge, or a cliff maybe.

Almost every electronic device I own has Windows, or are manufactured by Microsoft. Xbox 360, Xbox One, My computer, my two windows phones. But I have to say that I do love this phone and Windows, but the people that support Windows phone especially are assholes(not all), and that include you sir. Android is good, and also Windows phone but Microsoft don't do much right now for costumers outside Us, and that's why I will leave Windows phone until we get what we deserve.

You love and support Windows, yet bailed on them and are using their competitors. MS has done their part, W10 is gunna be amazing as an OS & a whole ecosystem /platform. The only lacking part is developers (which Microsoft is working on with the app compiler) and users, like you, who gave up, 6 months before Windows 10 is even out (yet MS even lets you use it early)! Google and Apple don't. W10 is pretty awesome. It's what we deserve, pretty solid as of this month. And you can even use it today!

Am not bailing the Windows phone, just going to change my primary phone, and that's like a year from now. Yes, I use windows 10 on my 920 and I don't know how you can think is stable, it's unstable. But it's fun to follow the improvements:) And I would love to use Windows phone as my primary, but the support here in Sweden for Windows phone is so low, not even Microsoft is doing something about it. No apps, no fast writing, no Cortana, Bing doesn't work well here and so on. I have been waiting since 2012 for support, but can't wait anymore because of my job:/

Oh! So you also own a Microsoft branded Toaster running Windows? :D And hope you'll enjoy your next phone :)

What a pleasant disposition. And here I thought the Windows Phone community was more polite and carefree. Android Central, much like Windows Central, Crackberry, and iMore are all filled with helpful, and quite nice people. We are all part of the big happy Mobile Nations family. You should visit a few of those places, and you'll realize everyone changes platforms for various reasons, and they are all by and large friendly. Wishing ill will upon them is no bueno.

Yeah, well I'm an individual, a hard-core user. And I shouldn't have to write "my opinions and comments are that of my own, and not a reflection of the entire community". And I used to be a part of the PreCentral community of Mobile Nations. Mobile Nations just owns all the sites. It's just a host, to ALL rival OS's tho. Soo...

Ain't that serious bro, lol. Posted via the Windows Central App for Android

Lets share that tweet. They need to know we are a growing community!

Very good point. If you're on Twitter, retweet this please. We need to show them that we matter too.

Sounds like a plan at any rate.

We do need to spread this. Find the tweet! Repost!

I bet you it'll be a beta port app and months to come before we get update to be at the same level like in other platforms… I pass

Off topic: Whatsapp for android got ads on latest update!!??

Yes due to cheapskates not willing to pay a dollar for service per year

I'm not gonna pay either cause I prefer Skype.
All my friends now have a Lumia (cause of me) and we are waiting to use the new messenger on W10 with Skype. If it is like we are expecting there is no reason for WhatsApp or Viber

Wooo I'm waiting for it too.

Give Xim and GroupMe a try.

I do not care about Snapchat, I care about something more.. If snapchat is to be available on Windows for Phones, this means the system made some good base and it can not be ignored... this is the real deal for me..

Microsoft should only throw tons of shit their way, wouldn't get cash if I was the decider

I don't get the reference lol can you break it down for me :P

The windows phone community has been following the news quite closely in relations to snapchat. There have been more than a few articles involving the service, and more threads than I care to count. Joke of this is, "tongue in cheek high number of the saga of Snapchat on Windows Phone."

Meanwhile WMPU says to take it wit a few spoon full of salt :p

I don't see how that's different to what I wrote. I just like to avoid tired clichés wherever po