Viber looking for new Windows Phone 8 beta testers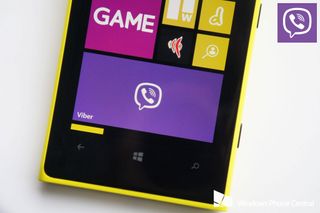 Viber is using its Facebook page to recruit some new Windows Phone 8 beta testers in order to improve the popular VoIP app. The Facebook post itself doesn't offer any details of what exactly Viber has planned for new app features, but it sounds like the company is eager to get some feedback on something they want to launch later to the general public
The Viber app for Windows Phone, which first launched in May 2012, has come a long way in just over two years, with a boatload of new features added since that time (the first version didn't even have audio call support). In the Facebook recruitment page, Viber says they are looking for Windows Phone users with "a strong desire to improve" the app, along with "a keen eye for detail, time to dedicate to bug reporting and completing a short feedback survey."
If users have those qualities, and a Windows Phone 8 device, they are directed to register their interest on a separate website, after which they will get an email with more instructions to follow.
So what will Viber's beta app for Windows Phone 8 include that's not available in the current public version? That remains to be seen but if we get any information about what these Viber beta testers are checking out, we will report on it as soon as we get confirmation.
Thanks to faalil and everyone else for the tips
Source: Viber on Facebook
Can we use any alias associated with the (Microsoft) email address?

the question is ..can we or will the address later be the address used for the beta participation

Not unless that's the one you're signed up in Windows Phone (based on experience) Edit: I just checked my phone and even though I signed up with an alias (not primary email), Windows Phone shows my primary email under email+accounts for the Microsoft Account. Now I'm confused. So it might work if you give the dev an alias account but your phone shows up your primary account?

It will work because all of your aliases will eventually mapped back to your primary Microsoft ID

Oh yes, Of course it's for 8.1 because you read the title.

For Windows Phone 8 and above, not just 8.1...

How to signup?
Edit: Nvm.. Done it! :D

What's the benefit for us if we participated

you are taking part of beta program. if you dont know what the benefit is please dont even sign up for it. your participation will be useless for everyone

Good move Viber, not like others! Cough *Whatsapp* Cough

WhatsApp has a beta program, it's just not open ;) (And they updated the beta app today, so it's very active).

That's what I meant, to have an open beta.

Well some of it has to be, given the large gap before the last update :P

weren`t they supposed to bring voice chat in the last update ?

If anyone here goes with this please ask them to resolve name issue where the Title/Prefix is used as Mr/Mrs/Miss and etc... are all under letter "M" therefore for Mr Joe Blogs you would have to look under M meaning everyone in my case are under M unless I remove everyone's title however need to keep it as that's how the office database syncs with it :-/

What exactly do I have to do in order to Sing-up?

Viber will continue to be unusable until it starts receiving messages in background like WhatsApp

It can receive messages in the background, if you enable it's background use trough the settings (or battery sense on 8.1). If that does not work then you go in the settings and then nofitications to enable use push notifications.

Push is not background work!

Oh? Well doesn't the app need permission to run in the background to send out push messages and so on?
That's what I learned anyhow.

Push is when you get notified about new message waiting for you, and then you start the app and wait for it to load messages. It takes quite a while! When WhatsApp gets a push notification it connects to server and fetches the message for you in the background so you don't need to wait for that procedure when you open the app to read the message which was already fetched from the server. This way WhatsApp is much faster. I want Viber and Skype to work in background the same way.

Oh I've missed that, neat. Yeah, hope Viber and Skype gets this aswell then!

Well said ZvjerOPC. I agree with all you said. I wish Viber was as fast as Whatsapp. Everyone in my part of the world uses Viber. It's embarrassing to use Viber on WP in its current state!

Just signed up, I got things that I would like then to be enhanced ( especially on the visual side of the app) ..
Post more comments so we can collect more and more ideas.

What I'll like to see most is for them to improve on the startup/resume time.

Don't use this anymore...

Thanks god, Viber is unbelieveble slow on my L925 (wp8.1)

You are not alone, took approx. 6 secs to start/resume the app on my L925. That is way too slow...

Soo truee even on lumia 720... Loading time suckss...

signed up , still waiting for their approval :D

I remember my days of Voip. They are not missed, lol. Just noticed this was posted by John C. Man if you're a constant over here on WPcentral I hope your posts aren't so overly anti Microsoft as they appear over on Neowin. I will say, I know how Neowin can be and Welcome to a higher quality site!

I always liked viber but sad that more friends are on WhatsApp...

Why bother, it took them ages to adopt WP and now there are dozens of other apps to use, let viber rot!

The current version sucks bigtime. The layout is not nice phone gets extremely hot when calling. Also call will drop every 5 min. I have superb connection 4G @ 50Mbps even on Wifi signal is always poor.

I can be sitting right in front of my home router/modem with 200Mbps and the connection is still choppy...

too difficult to sign-up, hope it happens for me! maybe is the israel/Japanese way?

I like VIBER. Works great on my 1020. Its nice to have a phone and PC synchronized messaging system. WhatsApp doesn't have the PC part (yet). Had a great video chat on VIBER yesterday. Just like sky, but easier. No need to know some special Skype name, just had the phone number and it worked great. my VIBER wishes? faster start-up
voice-notes (like WhatsApp) more advertising about its capabilities. They need to mKe hay while there is sunshine and before Facebook starts pushing WhatsApp big time to its user base.

excellent. just signed up. Im using Viber more and more these days, Whatsapp is just a disaster. Well done to the Viber team for this

Like viberout, I'd really like to send texts. Willing to pay for them. And startup time=>sucks

I have signed up for this. I use Viber to call my step-dad in the US for free. I use it to send stickers to my hubby when he is at work. It is like Whatsapp and Skype voice rolled into one with stickers. I hope I get onto the beta test.

They released a viber beta to store but i dont have permission to download it :-(
Windows Central Newsletter
Get the best of Windows Central in in your inbox, every day!
Thank you for signing up to Windows Central. You will receive a verification email shortly.
There was a problem. Please refresh the page and try again.