Video 360 is a new universal Windows app for watching YouTube videos in a whole new way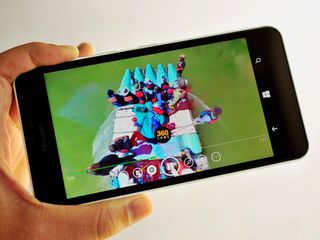 Did you know people make 360-degree videos now and post them to YouTube? Truth be told, I did not. In fact, you may wonder how to view something like that on a static phone or computer display. Luckily, Windows Phone and Windows 8.1 users now have an answer: Video 360.
Video 360 is a brand new app from Webrox. You may recall that they are the same folks behind the popular Tubecast app for viewing YouTube videos (and casting to your TV through Xbox). Similar to that app, Video 360 is available for both devices with a 'buy once, get everywhere' model.
How it works
Of course, you can just load up your own 360-degree videos but my hunch is many of us do not yet shoot that way. Instead, you can search YouTube for them. Video 360 lets you tap the search key, and it auto-launches Tubecast with a 360° video search. Once you find a video you want to watch you can watch it in Tubecast as a flat version or tap the '360°' icon in the upper right-hand corner of the video. This action now sends the video back to Video 360.
How it works Part II
Viewing a 360 video is like virtual reality: you use your phone's gyroscope to pan and scan around the scene. In other words, you can just watch the video as a TV or peek around the rest of the scene just like you are the cameraman.
Trust me, this is one of those things you have to experience yourself. It is truly fascinating!
What you need to know
The cost of Video 360 is $1.99 just like Tubecast. However, there is a free trial available where you can view 20 videos to test it all out. That price unlocks it for both phone and Windows 8.1 although you can donate more if you like it.
Video 360 does support videos up to 4K too.
If your phone does not have a gyroscope the app can emulate one for you and yes, it works on devices with 512MB of RAM.
For Windows 8.1 users, you can opt to not use the sensors/gyroscope and instead use the keyboard or an Xbox controller.
Takeaway
Up until this morning, I did not even realize that 360-degree videos were a 'thing'. Now I am thrilled to see an app that not only works but is from one of my favorite developers. Tubecast is already on our top recommendation list, so I say give this a shot. There's little risk, and it is a heck of a thing to experience.
Stay tuned as Windows Central will do a hands-on and review to get a better idea of how it all works. Otherwise, grab the links below!
Download Video 360 for Windows Phone ($1.99, free trial)
Download Video 360 for Windows 8.1 (opens in new tab) ($1.99, free trial)
Download Tubecast for Windows Phone ($2.99, free trial)
Download Tubecast for Windows 8.1 (opens in new tab) ($2.99, free trial)
Daniel Rubino is the Editor-in-chief of Windows Central, head reviewer, podcast co-host, and analyst. He has been here covering Microsoft since 2007 when this site was called WMExperts (and later Windows Phone Central). His interests include Windows, Microsoft Surface, laptops, next-gen computing, and for some reason, watches. Before all this tech stuff, he worked on a Ph.D. in linguistics and ran the projectors at movie theaters, which has done absolutely nothing for his career.
It's a great app, great developer too!

my goodness i want to watch these videos using an oculus rift, or a hololens.

Hehe, push someone with one and watch them freak out. https://m.youtube.com/watch?v=uT_b5gqCG_c

Woohoo developer! The sky is not falling for Windows Mobile. Well be fine.

Assuming that they are not familiar with current predicaments of Windows phone.

What predicament(s) would that be. Please answer from an "I actually know what I'm talking about" standpoint please. Thanks in advance.

Yes,I was not clear,predicaments were:-When Microsoft says that they'll continue to support windows phone for 2 years and then decide to go on or just quit,many of our app developers would ultimately lose interest after such declaration.I mean why would they support or even release their apps for a platform with uncertainties.

What I got from the "Microsoft making phones for 2 years." What I got from this is that they hope that by then there will be more competition. They will likely partner with Samsung, HTC or some other company. So that the other can have space and make some revenue. It's not in Microsoft's interest to take over the whole WP market like they do now.

If I am not wrong, the iOS Youtube app has the feature. By the way, I also discovered this "360 thing" a couple of weeks ago and is amazing!!

Yeah I first heard about it a few weeks ago on PhoneArena and it is under the settings on the Android YouTube app. Pretty amazing actually. I'll have to download this on my 920. Posted via the Windows Central App for Android

I'm not sure, last time I checked it was only available in Android and in PC only in Chrome, granted that was like 3 weeks ago.

Looks nice, I didn't know 360 degree videos existed.

Not working for me says I need to go to app store when I click on 360 tab

Yes there is a "store cache" so Video 360 will be available in few hours with the button. For the moment download the app regulary with the links in the news post ;)

There is an new app available on store "instanote" from microsoft

It's old , about a week or two

Wow, apps get old in a week or two. But movies stay in the new release section for a year...lol

They talked about it here: http://www.windowscentral.com/microsofts-instanote-windows-phone-app-mak... :P

I have tubecast, did the in app purchase to unlock features months ago. Just bought this 360 app and it wants me to buy the tubecast pro version even though I already did the in app purchase to unlock pro features.

Wasn't tubecast free? When did it become paid?

There is a pro version for unlimited casts

Just tried it, amazing! Wasn't aware there is such a thing as a 360 video either. It only needs a VR headset and would be perfect.

If im not wrong there is an avengers 360 Samsung YouTube video not sure if it works.

Wow, obviously I need to "purchase" (spend Bing Rewards on) this app! Thank you!

Would be nice if Denim hadn't broken the gyroscope on my 1520.

Couldnt find it in appstore windowsphone 8.1 :(

I mean, we posted the link here and gave you a QR code.

Link doesn't work in Windows 10 Mobile, app is simply not searchable there =( Edit: seems the same in Windows 10 for PC, app isn't in the store.

Ok what is the difference between windows phone and windows phone 8.1

I'm pretty sure there is no difference at all... Its two (different?) names for the same thing

Read it once again, there's Windows Phone and Windows 8.1 (without the phone)

Glad to see the feature come on Windows phone. After seeing it on a nexus I was disappointed it wasn't available on this platform. Wish it was completely integrated though...

Please people buy and support these awesome developers who truly make great windows phone apps.

Great app! Amazing developer! Microsoft should bet more in the French market, 2 of my favorite developers are from there, Rudy and Poppyto!

As soon as I saw the video above, I wanted to throw them my money in their face... but no... not available in Austria -.- PLEASE, PLEASE MAKE IT AV​AILABLE!!!! edit: nevermind, I'm just dumb =P
I couldn't find it on Phone Store, but if I open the link above and say, download, it says, not available in my region, look in the Store in your region, I clicked the link, clicked download and without a problem, everything worked. And it is just AWESOME!!!! Thx WC for this tip! =)))​

The HoloLens team will certainly make a good use of this!


Sorry guys, what's the difference between Tubecast and Tubecast pro?

How is the app supposed to work? I "bought" it, but I only seem to be able to see the demo background.

Download a 360 video onto your device from tubecast and open it in the 360 video app

It's definitely cool, but seems kind of gimmicky to me...

Yes I can watch Björk's Stonemilker Music Video in 360 on my windows phone. IV been using my dad iPad and on koloreyes desktop

can't download on 930 on w10... why????

Hi, I have a Lumia 725 and a Ricoh Theta S. I bought Video360 app and it's ok with video (download some videos demo and launch them from a local Lumia folder). I see video with a Cardboard and it is really good! But now... if I want see a 360°-PHOTO from my Theta S, I download it via pc, load it into Lumia photo folder but... nothing! Video360 says: ERROR: MF_MEDIA ENGINE ERR_SRC_NOT_SUPPORTED: can't get the media, check the internet connection is worjìking and the video is available. Any suggest?! Thanks! M.

Hi, I bought VIDEO360 and all is running ok with my Lumia 725 and a cardboard to see local 360° video...
My question: I have a Ricoh Theta S, and if I upload via pc to Lumia photo folder some 360° photos and I try to open this with VIDEO-360 app I have this error msg: ERROR: MF_MEDIA_ENGINE_ERR_SRC_NOT_SUPPORTED: can't get the media, check the internet connection is working and the video is available. Does VIDEO-360 app view also 360 photos rathen than 360 video?! Thanks! M.
Windows Central Newsletter
Thank you for signing up to Windows Central. You will receive a verification email shortly.
There was a problem. Please refresh the page and try again.