View the sunset in the latest tech video for Sea of Thieves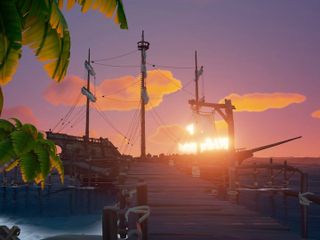 Developer Rare has released yet another tech video for its upcoming pirate-themed game Sea of Thieves for the Xbox One and Windows 10. This video goes behind the scenes of the game's lighting effects.
The latest video shows Rare's art director Ryan Stevenson and its principal environment artist Andrew Finch discussing the realistic lighting effects in the game, while footage of those effects is also shown. The Sea of Thieves art team is using light propagating volume (LVP) technology for those effects, which allow for the illusion of light to bounce off objects in the world, so it offers players a naturalistic look at the visuals.
There are 98 "curves" or variables of light that can be put into Sea of Thieves, at least so far. The game developers even tweak the timing of these kinds of effects for certain situations. For example, a sunset in the game might last a little longer so that players can actually get a kind of "hero moment" in the game world
Microsoft will publish Sea of Thieves sometime in 2017.
See at Microsoft Store (opens in new tab)
Windows Central Newsletter
Get the best of Windows Central in your inbox, every day!
Ahhhh (or should I say Arrrrrr) I can't wait for this game! Looks awesome and is Xbox Play Anywhere if I remember rightly!

You are correct. and THAT, I'm excited about. I really hope play anywhere takes off and more publishers allow it.

Cautiously optimistic about this. I like what I see, but for the moment it rings of NMS in that it's not really defined very well what you'll be doing. And though it's had actual hands on demos they're all for about 10-20 mins of a small area where bumping into someone is a must.... I want it to be an intersting game. But I'm wary it's gonna be an hour of joy then a lifetime of.... yuuuuup... But we'll see.