VLC becomes a true universal app for Windows Phone, Windows 8.1 and Windows 10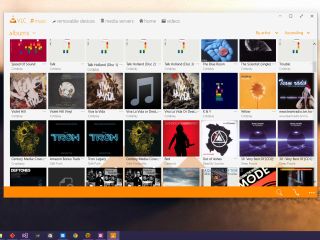 The main developer behind the Windows 8.1 and Windows Phone versions of the VLC media player has announced new updates for both apps, along with news that VLC is a universal app for both platforms. The app works with Windows 10 as well
In a blog post, VideoLAN developer Thomas Nigro announced the team decided to pause releasing weekly updates for the Windows Phone version of VLC in order to turn it into a universal app. Most of the code is now shared for both apps. Nigro wrote:
Here's a look at what's been added to the new VLC Windows 8.1 universal app, according to Nigro:
Creating a playlist, editing a playlist (early support though)
Your videos are displayed in three categories: videos, camera rolls and shows. We automatically detect if a video is an episode of a show.
You can see the upcoming shows of an artist
Social sharing (« #NowPlaying Shake It Off – Taylor Swift »)
Nigro said there are now "hundreds of bug fixes" in the new version, adding, "You can finally open a video, or a music file from the Windows Explorer, with the VLC Universal App. Should work fine. If it's not the case, tell us." A couple of features have been temporarily removed, including DLNA support, which is "set to come back as soon as possible" along with "manually changing the album cover. That will be back next week (and will also be available on WP)."
The Windows Phone version got an update today, but it's mostly bug fixes. Nigro stated, "We needed to publish an update so we could monitor how the WP version is evolving, and prepare your devices for a much bigger update that will come in the next couple of month, with Direct3D rendering and hardware decoding."
At the moment, it would appear that the VLC app for Windows 8.1 is not available in the Windows Store but we will update this post when it goes live. Update: The Windows 8.1 app is back in the Windows Store.
Source: Thomas Nigro
Now VLC is really gonna replace Xbox Music and Video. Way to go Thomas and other devs.

Not if it can't play music from Xbox music subscription, it just says "can't enable background audio".

It's not replacing anything until it's compatible with RT.

Yeah, have been waiting for them to get it working on RT for a LONG time.

I fear we have been left out in the cold! Not even sure how much of Windows 10 we'll be getting :'(

If it works with phone, shouldn't it work with rt?

Nope. WP and RT are not the same thing. Unfortunately. Sometimes, I wish I had an iPhone so I wouldn't have to worry and beg about damn apps.

The choice is yours, there are many iphones for sale.....

Don't use this bullshit on me. There is a reason I'm still here, that doesn't mean I don't get the right to think loudly. I'm not threatening or blackmailing anyone. Grow up.

Yes your right to 'think loudly' does not suddenly end your capacity for simple respect for other people's effort does it? It is very disappointing when developers work so hard to deliver impressive apps and all they get in return is endless criticism, not even a small word of appreciation or encouragement! Yes you have your rights to free expression or whatever but this is simple decency between human beings. Good work Thomas et al, keep up the effort!

Look at the replies again, mister White Knight in Shining Armor.. He said VLC will replace Xbox Music and Video. And I said NO because VLC is not compatible with Windows RT and there are plenty of people out here using Windows RT. Should I get on my knees and thank mister Nigro for the support? NO, his product is clearly not good enough for me yet cause I can't use it on my Surface 2, so there is nothing to replace anything. Should I also mention how it took the guy 2 years to make the app? This however, doesn't mean I don't appreciate his efforts, he is clearly appreciated and respected but I want concrete and useful results before we can all start sucking each other's dicks.

Ahoy....Don't drag me in the fight atleast.
-------------
@Wael Hasno----And yes I say I'll switch to iSheep too if WP 10 doesn't satisfy me. Have a 6 somewhere in a drawer.
-------------
@Kaymd----Thanks to Mr. Thomas (Nigro) cause he atleast made an app (after 2 years) that has an excellent UI (and nothing else) but he still wants respect (and for us to have patience) and also good reviews on WP Store (for an app which still crashes on opening).
-------------
@VLC Devs----A nice move to make the app universal. Saves a lotta work and now VLC will progress faster, definitely would like it to be the best (and out of beta soon).

No worries. I didn't mention any names here. I just stated facts. I've been here through a good amount of time and 3 Windows Phones. I an entitled to saying that I wish things were different, I am the customer after all and I have the right to offer judgment and criticism or simple wishing things were like something else that is in fact in a better situation than us without worrying about fellows like Kaymd playing tough and telling me to get out. Let us for a moment pull our fingers out of or asses..

Even in comparison to Windows Phone, there is hardly anyone using RT, and it's a dead platform. Sorry, no dev should be bothering to waste any time on RT compatibility.

Thanks for this reply man!
I think I'm getting sick of the endless whining about apps here, imagine the impressive effort Thomas and his team are putting into development of the VLC universal app and all some people can do is complain, seriously wtf??? Anyone not satisfied with WP can please leave the platform for those who appreciate it and are willing to allow it find it's own growth. WP is not iOS or Android. It is WP. If you want a Droid or an iPhone you know where to go right?

No not when surface for example is using tegra & xps10/lumia 2520 run snapdragon(it should but it doesn't). This is same reason why some xbox games don't run on 360 & why xb1 doesn't have backwards compatibility it's just too time consuming to support several vendors

I love RT. I have a Surface RT and Surface 2. They hold their value on EBay well. I don't get it.

Good. Xbox Music and Video are so useless. Just the fact that they're 2 separate apps makes them useless to me. Then when you dig in a little bit you find out quickly they have less features and options than the oldest most basic media players. I also hope Microsoft will notice how useless they are and fuse them into a new universal media player. We need more choice in media players. Of course I'm also rooting for VLC.

Few more updates and this will be best in store :)

It's going to be awesome! ( windows 10 )

Its not rock its thomas nigro

Yay! This is great news, thanks for the support team!

Where can I send feedback ? I dont see any in the app. I got atleast 15 updates in last months and still the same BIG issue. When video starts, it freezes on 1 second and the audio goes on. Using Lumia 925

VLC doesn't support 720p and fHD videos.

The Best band and the best album right in the middle (:

Yeah Coldplay! My all time favourite! Though I like Muse as well.

They gonna release their last album this year. Dont know if that's a good thing or a bad thing. :'(

sorry, I don't see Rush there!

And soon our VLC's will display Drones :)

Where did you see the Bg Wreck album?

Can't say I"m a fan, especially after ripping off Joe Satriani

is it avialable for my pc now?

So vlc is better on WP than other mobile OS's

I personally feel that , specially the interface

And so it starts... windows 10 is going to be a watershed for windows phone.

Now where have I heard that before....

Yes but this time it's different.

This too has been mentioned before Posted via the Windows Phone Central App for QWBASIC :|

True. As the Verge said, Microsoft is ready to be loved again.

Hopefully we won't need to wait for Windows phone 10 release for the next VLC update

Vlc can't even play camera roll videos that I took ... On my 720,630 & 730

Yes, even after the new update. Still can't play. 720p (SD Card) still lag. L630 :'(

huge news for platform. having a much used app like VLC true universal and showin platform capabilities is AWESOME! let this be the slow but sure of important app becoming universal. also, im thinking to download this app just to rate it 5*

Hell yes❗ I can't wait to see how these universal apps turn out to help Windows gain market share...

We're all on the same side.... We just disagree on things here, and there.... Everyone here wants the same thing, though...
.......
We all want W10 to be a huge success...

We all want Microsoft/Windows to grow. But we can't always pamper em and turn a blind eye on their mistakes (marketing).

Works better on my 520... But there are lags on playback some videos...

Works fine on my 520 too. Video lag may be phone's limitation.

It doesn't support HD and fHD videos.

This version of VLC is even supports windows 10 for phones...

Like all the apps available until now...

Many don't work I suppose.

Can it read Embedded Album cover? It's such a pain when this app is putting a wrong album cover but it is still a great update. Thanks

Cool it's universal and is only very buggy now; before was utterly useless.
This is looking good.

THhis is pretty awesome and sounds like it was fairly easy for them to implement. I'd love to see an article that gets multiple developer viewpoints on how either easy or difficult it is to create universal apps.

I dont see it for RT, am I missing something? its not universal if it doesnt run on RT. oh, wait, its not live yet...

Don't get your hopes up ...

It actually does look good. If this is how apps somehow look on Windows 10, hell yeah! :)

When I had my first Windows Phone, there was no VLC app there and I was using some random player. Now, VLC is a true universal Windows app. Good job!

Poor poor poor performance on my 8X. Moliplayer is still the best.

Updated on my SP3 last night and the performance improvements are great, a few crashes but otherwise close to being my main player. Only needs to be able to recognize my current playlists and it'll be perfect for me. Great work, Thomas.

Feeling excited after hearing It

Windows explorer ooption is for pc or phone

Awesome, this will prove to an excellent test case for universal apps. As it shows by coding an universal app developers can reduce coding man hours (development) substantially and address bugs for more than on platform at the same time. If this (universal apps) doesn't turnout to be an eye opener for companies, I don't know what will.

This version still cannot even play videos that I have shot with the phone (Lumia 920). Plays the first frame of video, audio plays in the background though. Hopefully this will be fixed soon.

May be this question is stupid. But still I need to ask as this confuses me. Will there going to be another update for VLC in Windows phone 8 after VLC goes live in Windows 8.1 store??? Or it is of same version as that of update which is released today for Windows phone?

I am also confused, but I think still its separate update. It is just that probably 80% code is same.

And this is what is a Universal App: an app that share a big part of the code with some pieces of code that are platform-specific. Pay attention the 80% of the XAML is shared, the XAML is the language which a developer uses to create the interface, it is obvious that can't be the 100% if the devices are different. But the code that do the real work is the C#, and according to the the developer, the 95% is shared that is a really high percentage

Is the update release now

there is a bug, the screen sometimes become black then comes back in patches(boxes) after playing a few seconds. This happens/repeats at few seconds interval

Beautiful UI! Thanks Thomas!

It does not shows music downloaded from mix radio on my phone? Anything? Lumia 620.

Isn't supposed to as its drm'd

So is there a solution for that?

Is it available on w8.1 RT now??

According to the official VideoLAN press release, this is the first public release for Windows RT.

Fight the popular vertical video syndrome! VLC automatically detects rotated videos and rotates them using hardware acceleration (on compatible platforms)! This is supported for MP4/MOV, MKV and raw H264. Resume playback where you left off. Supported on all the mobile versions of VLC for quite some time, it is now available on the desktop. Vastly improved support for UltraHD video codecs like VP9 and H265, including encoding. New hardware acceleration mechanism, GPU 0-copy decoding, faster and implementations for Linux, Android, and Raspberry Pi. (Other OSes will have it in 3.0.0) Extensions: supported since a long time, we now feature an in-app downloader for the desktop, like Firefox Subtitles downloading extension Compatibility with a very large number of unusual codecs Vastly improved compatibility for problematic files in Ogg, MP4, and WMV. Support for Digital Cinema Package to play native movie theater formats. Experimental support of Interactive Menus of BluRays: BD-J On OS X, we've updated the interface for Yosemite compatibility. On Android, we rewrote most of the UI to match Google Material Design. This is the first public beta releases for Windows Phone, Windows RT and Android TV. It is also the first non-beta release on Android.

Yes I've seen it. But that doesn't necessarily mean it is available on ARM. If so where can I download it?

Great news! Does this mean it will also be available for WinRT devices (Surface 2)?

Very encouraging words from the VLC team which shows the true optimism and potential of universal apps. Hope other devs take note.

VLC here, VLC there, VLC everywhere

If this happens with all major apps on platform....I'm at o once in love with the shown UI of this app... Now just wanna see if universal apps works better than other rival platform on on windows10

Waiting for video pixilation to be fixed before I totally replace XBOX Music/ Video. The UI btw is to die for. Great Job Negro!

I think VLC will able to play video after hardware decoding part is done

Still not able to play videos recorded via my phone.

Crashes quite a bit on my 1520

Anyone tried Gom player windows store app, at this moment it is more reliable and efficient than Vlc player. I have it installed on my Surface Pro 2 but never used in months.

Why? Why the hell this region lock? What you gain from it? More users? Better supportability? More visibility? More anxiety? I'm so pissed now, I could even stop using the desktop version of this excellent player!

there is no region lock there is a link under that (check my windows phone store)

No region lock is there! Just the thing is app is not live!!

After update , crash alot and freezed

Great Job Nigro!!!! Thank you Video Lab!

This is how universal apps should be. Take note Microsoft: use Metro

On my Lumia 920 it can't play video. It will load a frame and play the audio. Its not beta. It's pre-alpha

"Nigro said there are now "hundreds of bug fixes" in the new version" Oh, God knows how many "millions" of bugs are there! Because in every update we get the news of hundreds of bug fixes yet I've never been able to play any video in my Lumia 720 with VLC!

Soon vlc replace shitty Xbox music and even worse shitty Xbox video ... Way to go devs :)

Too good that im not gonna use xbox music and video apps anymore.... Its just perfect ! the complete multimedia experience. Nice integration. if it were to add photos also ... Too bad microsoft didnt come up with something like this !!!!!!!!!!!!!!!!!!!!!!!!!!!!!!!!!!!!!!!!!!!!!!!!!!!!!!

On a somewhat related question does anyone know if this means that ffmpeg and gstreamer have been ported to WinRT as a result of this work? Can we use gstreamer in our own applications?

Congrats Thomas. This is the way to go for both customers and developers

Wow this is epic thank you Thomas for your dedication to windows

Thanks Thomas and the vlc team.

It didnt recognise the album covers of music that downloaded through Nokia mix radio.. Or am I missing something.... Someone pls tell me..

Is it just me or is everyone able to play xbox music using this? I get error staying background audio cannot be enabled.

Its still causing problem in 525......why Lumia why?

It's says vlc for windows phone, bit after update its still vlc beta and still cannot play full HD videos

In my L920, still vlc doesn't support album art.

This is gonna be great. Can't wait to see how this works on Win10 TP once I can get it installed. VLC could be the real poster child for the promise of Universal apps.

Agreed about the whinging. My thoughts.... If Windows people willingly paid for apps like apple people do then developers could turn app writing into their full time employment and thus write more and better apps.

Contrary to the view of the most here I think windows 10 poses a sort of an existential threat to vlc...win10 is likely to do what vlc does without vlc installed. Not saying it will kill vlc but might put a dent on the latters popularity. I may be wrong.

You'll see that the Windows Phone update doesn't bring a lot of improvements or bug fixes, except maybe the fact that the AppBar and the Music player are merged.

Poor app bar. You'll be missed.

After the latest update it doesn't even run on my 820, only the splash screen and then nothing.

Great improvements, but still no background audio support on FLAC

Can't get it to work on WP10 Preview - it crashes immediately on launch on my L730. Previous builds were getting more and more stable and usable - seeing all the work going into it with each update. One thing, it would be nice to turn off the pictures in the list of artists - for someone like me with lots of music, that would save a lot of scrolling.

When was it released on wp store? Thought it was dev unlocked beta still

Is it just me . Its not downloading. Stuck in the middle

Anyone know if hdhomerun dual(the version before the dlna support) works

2 features universal VLC should have: - Let the user choose to play music and video together (not in 2 different categories). If you have music videos, for example, you don't want them to be treated as videos, but as music. - Allow giving star ratings to music/videos (with half-stars, and saves this to the file's metadata). If it has these 2 things, I'm switching to it as my all-around media player!

Media Center on Windows 8.1 and 10 seems to be a much better app than VLC. iIt certainly looks a hell of a lot better and does more than VLC. Available on everything except for Windows Phone.

BUG REPORT: Running Windows 8.1 version here. It doesn't scan my FLAC audio files in my library somehow. But I can open and play individual ones just fine.

On L730 and wp10 it can only play music. None of the videos are running...

When is the Windows version hitting the store?

It's really nice to hear but... Before the update, VLC works fine for me, and after the update, I can't seem to use my subtitles, and some audios from my videos like ... broken, *I don't know what word to use :)* So does anyone have any idea where the problem came from?

It keeps crashing.. Is anyone getting the same problem

Great. Always one of the first apps I install on any new device.

Thereis a serious crash that nakes app unusable after some time on,my htc 8x.i commented this on store.but for a couple of minutes i used the app i really liked it

Couldn't get the latest version of VLC to run on Windows 8.1 running on VMware. Tried both 32/64 bit versions. Installed older version and it works fine. (Not using the app, using Windows install)
Windows Central Newsletter
Get the best of Windows Central in in your inbox, every day!
Thank you for signing up to Windows Central. You will receive a verification email shortly.
There was a problem. Please refresh the page and try again.