Reminder: Vote in the Windows Phone Next App Star competition and win a Lumia 920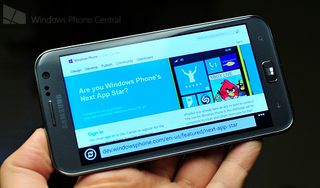 Microsoft's Windows Phone Next App Star competition is heating up and 64 finalists have been selected for the public voting phase. If you're not up to speed, it's a contest for Windows Phone apps to be voted on by the public for $60,000 worth of prizes. Through head-to-head style voting, the grand winner will pocket the opportunity to have his (or her) app featured in a Windows Phone prime-time TV advertisement spot in the US.
So how many apps were entered? 9,000 entries were looked through, from more than 79 markets - that's some number. Judging to select the 64 finalists was based 50% on total app ratings on the Windows Phone Store, with the other 50% on app quality. Of the 64 apps, 32 are free and the remaining apps are commercially available.
Now we're in the public voting phase, Microsoft is offering Lumia 920s as an incentive for consumers (as well as developers) to vote. Fancy winning a brand new Nokia Lumia phone? Be sure to get involved and vote for your favourite app. It's all Facebook orientated (as is everything these days) so head on over to the Windows Phone Next App Star page for more information and to view the brackets.
Apps will be going head-to-head, with multiple rounds of voting. Simply cast your vote on your favourite app out of the entries listed and votes will subsequently narrow the field in the consecutive rounds. To serve as a reminder, here are the dates for each round:
March 19 - 22
March 23 - 25
March 26 - 29
March 30 - April 1
April 2 - 5
April 6 - 8
Each vote casted will count as an entry into the daily sweepstakes to win the Lumia 920. Should you not win the device on the first day, fear not as votes will carry forward until that round is over.
It's worth noting that our own app is listed, but we're up against tough competition - ARMED!. We'd ask readers to vote for our own app, but ARMED! is such a quality title that has brought unique functionality to the platform. As always, choose wisely and pick your favourites.
Head on over to the Next App Star Facebook page for more information and to cast your votes.
Update: Looks like the Facebook page is experiencing issues. "Windows Phone Next App Star is temporarily unavailable. Please check back soon." Be sure to keep checking the links to get in and vote when it's once again live.
Source: Windows Phone Blog
Windows Central Newsletter
Get the best of Windows Central in in your inbox, every day!
Rich Edmonds was formerly a Senior Editor of PC hardware at Windows Central, covering everything related to PC components and NAS. He's been involved in technology for more than a decade and knows a thing or two about the magic inside a PC chassis. You can follow him on Twitter at @RichEdmonds.
No, go away. If you sign up my chances are going down!

Ugh, why Facebook? I have an account, bur I barely use it. I would rather make a dummy/throwaway account with the sole purpose of entering this contest.

I can go all the way to the Vote Now link on the 822, then becomes unresponsive. Ugh, why Facebook?!?

Man. Up against Armed! That's a tough bracket!

Agreed, I would liked to seen them go head to head in the last round, not the first...

But WPCentral is winning.

Does it show by how much?

I voted for WpCentral...but it really f*ck Me...i mean Armed it's amazing

"Its all Facebook oriented (as is everything these days"
...has to be the stupidest thing I've read on a WPcentral article. Seriously, is having a Facebook account a prerequisite for any online activity??

How is that the stupidest thing you've read on here? We didn't create the contest and have no control over using or not using Facebook. But yes, a lot of online services use Facebook as a login.

No, and I wasn't talking about what the contest needed to participate in it.
But not "everything" online is Facebook oriented and it didn't seem right to almost sort of justify it needing this.

Just remember English isn't completely literal, "everything" in this context does not actually mean "every single thing online".

How is that the stupidest thing you've read on here? didn't you see the solar charging post? (sorry rich, that was stupid)

Not sure if it's the stupidest thing you've read on our website, but your comment is certainly in my top-10 most ridiculous comments I've read on our website. Most competitions ran by Nokia, Microsoft etc. require Facebook participation. Hence what I wrote in the article is pretty much spot on.

So because I have no Facebook account I can't vote with you guys? Really?

I don't think you understand. WPCentral is not running this contest. They are only reporting on it. Just like a conversation you would have with someone. Hey, there's a contest for apps, you have to utilize Facebook though. Would your friends bust your chops for telling them there is a contest but YOU are making them use Facebook? Makes no sense...

This comment is pretty stupid too you know...like someone already said Sam was simply saying a lot of things online now require Facebook or allow it's integration. There's no denying that.

Ouh, WPCentral or Armed?! I dont know what to do/vote! :(

Translation:
Vote for WPCentral!

WPcentral. Armed isn't any fun with all of the new gameloft stuff

...There needs to be an Armed 2 game.

Vote for WPCentral and UC Browser!

Just kidding:)

Vote for Amazing Weather HD :) ,Also we are updating the app (with cool new live tiles).

This is an awesome news! But my question is, will we be able to choose our own picture from picture hub for the awesome lockscreen in the next update?

Why didn't weather flow get in?

Looks like the Facebook page is currently down?

Wohoo! My app Wiztiles is there. I know, I haven't updated the app for a while. Dealing with different resolutions and multiple tile sizes is quite tricky. The updates are coming, please be patient!

I will never use Facebook or twitter. They are pointless.

Not nearly as pointless as your comment.

You don't have to use it. Just have an account. It's like a lot of sites require a disqus, livefyre, yahoo, etc account to post comments. Just create an account and never visit it.

I know seems like everywhere you go you need a Facebook this or a twitter that...why? Was the world really crappy with out them?

I partially agree. I hate that they so many things are linked to Facebook.

Your grandparents probably said the same about email. Don't be a luddite :P

Mail was not reliable for my grandparents...important mail now email and other forms of mail are more reliable how has Facebook made anything that was poor or unreliable and fixed it?

The website is down, has been down for more than an hour. Anybody else have this problem? Or is just another contest only available in 'selected markets'?

Nope, there is a problem... I also have it...

The windows blog says they are working on it.

I checked it again the next day and it was online for half a second. I press on one of the apps and now it's back to being unavailable... This is getting rediculous.

Ah! I voted for you... :)

I still can't get in. Wtf?

I'll root for WPCentral, but don't use Facebook, so I can't vote. Surprised they didn't use something on Xbox.com instead, so all you'd need is a windows live id to vote.

Done, best app ever :D, I do t care what it's up against, it my source to all WP information, and they love nokia :D

Voted for wpcentral app...u guys deserve it :D

It looks like the app beat out ARMED!
Usually that would be a good thing BUT since the winner of this contest will be used to advertise the Windows Phone platform it would be better to have something like ARMED! still in the contest.
I don't think the WCentral app is terribly exciting to people who have never used the OS.
Windows Central Newsletter
Thank you for signing up to Windows Central. You will receive a verification email shortly.
There was a problem. Please refresh the page and try again.