VyprVPN review: A provider that's open about the logs it keeps
Solid performance, an intuitive app, and a base in Switzerland are a few things VypvVPN has going for it.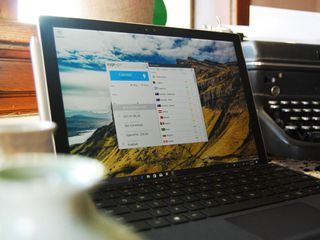 Virtual Private Networks (VPN) are becoming a necessity in an online world rife with spying, spoofing, and eroding privacy. A VPN acts as an encrypted tunnel, shuttling your data between your devices and a special server before hitting the open internet. You'll no doubt find plenty of VPN options on offer, but beware; they're not all run to the same standard.
VyprVPN, from Golden Frog, is based in Switzerland and has a strong set of features that novice and advanced users will appreciate. Let's take a close look at VyprVPN to determine whether or not it's the VPN for you.
Worth the money?
VyprVPN plans and pricing
One of the first things most people will look for when shopping for a VPN is the price. When it comes to annual plans, VyprVPN's basic package is among the cheapest options out there. You'll be charged $60 once per year, which is $5 per month. Not bad at all.
The basic plan includes unlimited data usage — you won't be throttled, no matter how much data you use — for three simultaneous connections from different devices. If you'd rather pay for less time, the price goes up to about $10 on a monthly basis. That seems expensive but is on par with most other VPN services. VyprVPN, however, does not offer a six-month plan.
VyprVPN also offers a premium package, which costs $6.67 per month when you buy annually. That's a total of about $80 for a full year. You can also buy a monthly subscription for about twice the monthly price, coming in at about $13.
The premium plan also has unlimited data usage, but the total simultaneous connections allowed is upped to five from three. You'll also have access to Chameleon, which is VyprVPN's proprietary technology that apparently keeps OpenVPN metadata secure. This means that situations, where VPNs could be sniffed out, will no longer occur; this is especially useful for users in countries with oppressive governments.
Also included in the premium plan is access to VyprVPN Cloud, which is a server deployment solution compatible with Amazon Web Services, VirtualBox, and DigitalOcean. Regular users of VPNs won't really need to worry about this feature, but it will no doubt come in handy for some.
The balance between features and price seems fair, and I can see most users going for the premium package, if only for the ability to use more simultaneous devices. As for payment options, choose from credit card, Alipay, or PayPal. It's disappointing to not see any cryptocurrency or gift card options, which can be used with many other leading VPN services. There is a three-day trial available for both basic and premium packages.
Advertisement
Retaining information
VyprVPN security protocols and privacy
Here we have a good selection of connection protocols, including PPTP, L2TP/IPsec, OpenVPN, and the proprietary Chameleon, which is based on OpenVPN's 256-bit protocol. We recommend sticking with OpenVPN wherever possible, but you'll have to live with L2TP/IPsec for Windows 10 Mobile. Other mobile platforms, however, can take advantage of OpenVPN's strong security through VyprVPN's mobile app. If you go with the premium package, Chameleon is an added bonus that takes your VPN one step further by blocking evidence that you're using a VPN.
A NAT firewall is also available, which automatically blocks inbound traffic that doesn't check out. If you're primarily using mobile devices with a VPN, this feature becomes more important, as they don't have built-in firewalls that can deal with outside scans.
VyprVPN and its parent company, Golden Frog, are based in Switzerland, which is known for its stance on privacy, including the Swiss Federal Data Protection Act and the Swiss Federal Data Protection Ordinance. In the privacy policy, it is stated that your IP address, the VPN server's IP address, the connection time, and the amount of data transferred is retained for 30 days. This data is kept "to use with billing issues, troubleshooting, service offering evaluation, TOS issues, AUP issues, and for handling crimes performed over the service."
The privacy policy also includes info on what Golden Frog does not collect:
While VyprVPN does not retain any logs on your traffic or data, those 30 days of IP address retention might turn off some of the more security-minded folks out there. It's unclear if other VPN providers that claim "absolutely no logs" actually keep some sort of information (how else would they deal with Terms of Service issues?), and trying to get a straight answer is often like trying to catch water in your hand. At least VyprVPN lays it out bare and is honest with what they're logging.
Lean set of solid extras
VyprVPN features
To account for the subscription price you're paying, VyprVPN offers a small set of solid extra features above the usual security associated with a VPN. There are more than 700 servers in more than 60 countries that are run and maintained in-house, meaning there's no reliance on third-party servers to up the count. There's no limit to how often you can switch servers — you can jump around between servers as much as you want to find an optimal speed — and there's no bandwidth cap or throttling.
A kill switch will halt all internet traffic if your VPN connection fails, and DNS leak protection keeps your real IP address safer when connected. Also included is something called VyprDNS, which is Golden Frog's own DNS service. You will not be connecting to your ISP's DNS server, nor will you be connecting to any third-party servers. Everything stays in-house, which also means you can bypass man-in-the-middle attacks, which are mostly put in place by oppressive governments.
The amount of security piled on by these features (don't forget about the Chameleon protocol and the NAT firewall) is appreciated, and in testing, all worked without flaw. As far as compatible apps go, you have all of the following, plus VyprVPN works on Tomato-based routers, Synology NAS, Boxee, and Blackberry.
Note that VyprVPN does not allow P2P sharing, and, poking around the internet, there seems to be a few cases in which a user's subscription was canceled without reimbursement due to a DMCA claim from an outside party. Remember those logs kept for 30 days? Here's where they come into play.
No frills
Setting up and using the VyprVPN app
Image 1 of 2
Like any good VPN service, installing and using the VyprVPN app on Windows 10 is easy as can be. You click your platform, choose to install like any other program, log in, and click a big button to connect to the fastest possible VPN server.
This is one of the most minimalistic apps we've so far seen, but it relays the information you want, including speed, server location, IP address, connection protocol and encryption, NAT firewall status, and how long you've been connected.
Image 1 of 2
When not connected to a server, you can choose to view a list of available servers, plus you can add servers to a list of favorites for quick connection. All servers can be sorted by speed and location, making it easy to find the fastest server located in a specific country. To speed things up even more, the quick connect button can be modified so that it connects to a specific server, the fastest server possible, or a server from your favorites list.
There's no map view (something that's gimmicky at best), and there's no Windows 10 Mobile app. That's a common theme in the VPN world, but you can always connect manually to their service when using your phone.
Overall, this is a simple app that gets the job done without any flash. All the most important settings are at the forefront for you to monitor, and the settings menu is easy and obvious.
Advertisement
Reliant
VyprVPN speed and performance
To measure performance, I used Ookla Speedtest on a Windows 10 PC connected via Ethernet cable. Results were collected at different times of day, and an OpenVPN protocol was used.
First test (Early morning)
Swipe to scroll horizontally
| Test | Ping | Download | Upload |
| --- | --- | --- | --- |
| No VPN | 18 ms | 26.82 Mbps | 2.32 Mbps |
| VyprVPN recommended server | 45 ms | 24.32 Mbps | 2.20 Mbps |
| VyprVPN fastest server (Canada) | 53 ms | 24.28 Mbps | 2.14 Mbps |
| VyprVPN fastest server (United States) | 45 ms | 24.36 Mbps | 2.14 Mbps |
| VyprVPN fastest server (Australia) | 252 ms | 11.52 Mbps | 2.07 Mbps |
Second test (Mid-day)
Swipe to scroll horizontally
| Test | Ping | Download | Upload |
| --- | --- | --- | --- |
| No VPN | 18 ms | 26.69 Mbps | 2.31 Mbps |
| VyprVPN recommended server | 53 ms | 24.17 Mbps | 2.11 Mbps |
| VyprVPN fastest server (Canada) | 55 ms | 20.26 Mbps | 1.93 Mbps |
| VyprVPN fastest server (United States) | 46 ms | 24.05 Mbps | 2.14 Mbps |
| VyprVPN fastest server (Australia) | 249 ms | 12.36 Mbps | 1.33 Mbps |
Third test (Early evening)
Swipe to scroll horizontally
| Test | Ping | Download | Upload |
| --- | --- | --- | --- |
| No VPN | 18 ms | 26.82 Mbps | 2.31 Mbps |
| VyprVPN recommended server | 45 ms | 23.57 Mbps | 2.07 Mbps |
| VyprVPN fastest server (Canada) | 53 ms | 15.13 Mbps | 2.20 Mbps |
| VyprVPN fastest server (United States) | 46 ms | 20.50 Mbps | 2.02 Mbps |
| VyprVPN fastest server (Australia) | 247 ms | 14.56 Mbps | 2.01 Mbps |
In my experience, connecting and disconnecting from servers happens relatively quickly (about 4-5 seconds), and connections seem to be quite stable once you're hooked up. When a connected does rarely drop, you have the option of killing all traffic immediately. When using VyprVPN, speeds remained about where they should be. Fluctuations are normal, as there are many factors that contribute to the speed, including the location of the Ookla server, the location of the VPN server, and my actual physical location.
Lacking
VyprVPN customer service
If you need a hand with VyprVPN, the app has a built-in support option in which you can send an email detailing your problem. There is also a decent amount of topics that can answer most general questions, which can also be accessed through the app (a new web page opens).
In my experience, after sending an email to support staff, it took about 3.5 hours to get a response. That's not exactly a great time, but the VyprVPN website does have a live support chat option.
Mixed feelings
VyprVPN review conclusion
With a lightweight Windows 10 app, reliable performance across the board, and lots of servers to choose from, VyprVPN seems like a great choice for anyone who wants a bit of privacy online. A few extra features, including the Chameleon protocol, VyprDNS, and a NAT firewall make the affordable package even more enticing.
However, there is no option to pay with cryptocurrency or gift cards, and there is no live support option if you run into trouble. The email support system, in my experience, took hours to get a response, which isn't great.
VyprVPN is honest about the logs they keep, for better or worse. Your IP address and the VPN server IP address, among other data, is kept for 30 days. Whether or not you trust other providers' claims of "absolutely no logs" is up to you, and most of the time you're taking a leap of faith; just try asking a VPN provider specific questions about the information they keep and why.
Pros
Strong set of extra features.
Works on a wide variety of devices.
Solid performance.
Lots of servers.
Based in Switzerland.
Cons
Some logs kept for 30 days.
Slow response to support email.
Can't pay with cryptocurrency.
We test and review VPN services in the context of legal recreational uses. For example:
1. Accessing a service from another country (subject to the terms and conditions of that service).
2. Protecting your online security and strengthening your online privacy when abroad.
We do not support or condone the illegal or malicious use of VPN services. Consuming pirated content that is paid-for is neither endorsed nor approved by Future Publishing.
Get the Windows Central Newsletter
All the latest news, reviews, and guides for Windows and Xbox diehards.
Senior Editor, Laptop Reviews
Cale Hunt is formerly a Senior Editor at Windows Central. He focuses mainly on laptop reviews, news, and accessory coverage. He's been reviewing laptops and accessories full-time since 2016, with hundreds of reviews published for Windows Central. He is an avid PC gamer and multi-platform user, and spends most of his time either tinkering with or writing about tech.