Walmart and Microsoft team up in potential challenge to Amazon
By Dan Thorp-Lancaster last updated
Walmart is tapping Microsoft's cloud technology as both companies seek to take on Amazon.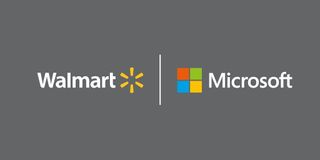 Microsoft and Walmart are joining forces (opens in new tab) in a partnership that will see Walmart adopting Azure cloud services to "further accelerate" its retail digital transformation. Though Walmart already uses some Microsoft services, this expanded partnership will see the company expanding to tap into Microsoft's machine learning, AI, and data management solutions across its business.
Throughout the five-year agreement, Walmart plans to migrate "a significant portion" of its online presences at walmart.com and samsclub.com to Azure. Walmart will also leverage Microsoft's IoT solutions for everything from reducing energy usage with its refrigeration and HVAC units to optimizing routes for its supply trucks.
Microsoft 365 will also be rolled out to Walmart associates, giving them access to productivity tools like Workplace Analytics, OneDrive, and Microsoft Stream.
And in case there was any question, Microsoft CEO Satya Nadella confirmed to The Wall Street Journal (via Engadget) that the two companies' rivalry with Amazon is "absolutely core" to the partnership. Though today's announcement doesn't make mention of it, Microsoft was recently rumored to be working on a way to use its AI to automate checkout at retail stores, with Walmart rumored as one of the tech giant's potential partners. If true, Microsoft and Walmart could be setting the stage to challenge Amazon Go, the online giant's physical store that uses AI to eliminate the need for cashiers and checkout lines.
This is the second major partnership announcement to come during the week of Microsoft's partner event, Inspire. Yesterday, the company announced it is teaming up with GE for a set of Azure integrations focused on Industrial IoT applications.
Dan Thorp-Lancaster is the Editor in Chief for Windows Central. He began working with Windows Central as a news writer in 2014 and is obsessed with tech of all sorts. You can follow Dan on Twitter @DthorpL and Instagram @heyitsdtl. Got a hot tip? Send it to daniel.thorp-lancaster@futurenet.com.
Having Office and Azure is suddenly going to make Walmart competitive with Amazon? Something tells me those are not the things holding Walmart back.

Honestly, competition is good for everyone involved. $119 for Prime isn't justified for me any longer, and being able to ship items without paying that fee for free just makes sense. It's these types of competition which make business and pricing work.

Does Walmart have a competitor for Prime?

yes and no they offer free two day shipping without a sub. they also do site to store, grocery pickup, and delivery. so I would say yes they are becoming on par with Amazon.

These AI-checkout is in my town already. And it's not just Walmart, other supermarket or stores can migrate too. The more sample / data the system collect, the more faster the system and AI can grow. The study and QA can be applied to something else too. You don't think we can replace Windows in those machines with an Android (with google cloud, google AI and re-code, re-train, re-QA?) or iOS (no cloud, no AI and cross-device isn't Apple's strong point) do you?

* most likely IOT and always connect.
The UWP in these smart checkouts can surely be updated through WinStore.
If I were running this project…
1. help maker, let these machines enter as many store as possible.
2. years later when things settled a lilo, roll out SDK, let'em compatible with MS's services e.g. Reward, XBL, Pay, etc. (optional, but Walmart has a co-dev agreement. You help me I help you)

Maybe the scope of this just went over your head.

I don't think you read the whole article...

Anyone that doesn't already see Walmart as a competitor to Amazing, even before this, is an idiot.

That's great after Walmart migrated all of their systems to mac if I remember correctly but I guess some business is better than no business.

> rumored to be working on a way to use
> its AI to automate checkout at retail stores
oh... maybe I'm the guinea pig to this project already... Seiyu Group, is a Japanese group of supermarkets, shopping centers, and department stores. Now owned by Walmart.
And, around... 2 or 3 months ago, the Seiyu supermarket in my town start rolling out these auto-checkouts.

Well, we've had these automated robo-tills in the UK for ages. I never use them, they are hateful to have to faff with. I prefer people. I note the price of the shopping stays the same whether I do the checkout job or it's done by staff. I'm not a charity for supermarket shareholders, I don't work for free unless it's to support union members.

I suppose the wait time will still be different cause you can fit more machines than traditional people checkout? I'm not a everyday supermarket shopper so I can only comment my experience on SAT and SUN around 4~6 o'clock. People checkout has much longer wait time than these self-serving ones...

What will we call it? Micromart? Walsoft?

This is good. Both for Microsoft and for everyone. Competition is good. Having only a megastore is bad.

Interesting. In one space, Microsoft is trying to collaborate with Amazon to take on Google (Cortana and Alexa working together) and on the other hand Microsoft is working with Walmart to take down Amazon.

different lines of business. you can't think of MS as one line of business you have to think of it as multiple. each one of their lobs have competitors and partners. good example is MS and Apple they are competitors in hardware and OS but they partner for productivity software like office. Another one is home media they compete with Sony using xbox for the living room but partner with amazon for the digital media to put them on the Xbox. As the old saying goes you have to pick your battles.

First it's 'Walmart to start selling Comic books' and now this? Walmart is on a roll...

And later, we'll see Walmart on MsStote... XD

Interesting. Hopefully we'll also start seeing a Microsoft section in stores now? Their current half-butt crop of PC's don't count. Along the same lines, I'd like to see Amazon buy out Sears, and make them their physical store fronts
Windows Central Newsletter
Get the best of Windows Central in in your inbox, every day!
Thank you for signing up to Windows Central. You will receive a verification email shortly.
There was a problem. Please refresh the page and try again.