Weather Premium, a unique approach to the forecast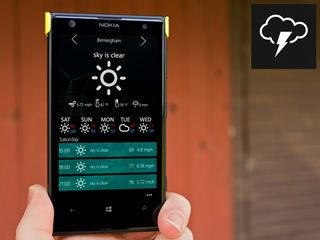 Weather Premium takes on the weather in a common sense approach but does not stray from the traditional forecasts too far.
Weather Premium offers the weather forecast in three styles, Classic, Clother and Awesome. While the Windows Phone weather app lacks radar and severe weather alerts, Weather Premium does a nice job presenting the basic weather information to get you through the day.
Main Layout
The main layout for Weather Premium has three pages that are side swipable. These three pages represent the three approaches Weather Premium offers for your forecast. They include:
Classic: This is your traditional view of the weather with current conditions displayed above a five day, extended forecast. Tap on a particular day and the forecast is broken down in three-hour increments.
Clother: If you aren't sure how to dress for the day, the Clother approach makes it simple. A cartoon stick figure appears wearing appropriate attire based on the forecasted weather.
Awesome: Want a simplified forecast? It doesn't get much simpler than the Awesome approach. It is a humorous, brief and often accurate description of the current weather conditions.
Across the main pages you will see a three-dot menu that will give you access to Weather Premium's settings and an option to refresh the forecast.
Weather Premium's Settings
Settings for Weather Premium cover your forecast cities, unit of measurement choices, Live Tile settings and a tutorial to walk you through the app's operations.
Weather Premium does offer support for multiple city forecasts. As you add locations to the city page of the settings, you can swipe between the cities at the top of the Classic forecast page.
Live Tile options include choosing which forecast approach you would like displayed on your Live Tile (Classic, Awesome or Mix). The Clother option is not available.
Overall Impression
I liked Weather Premium's simple approach to the weather forecast and for a basic weather app, it does a nice job of things. It may not have many bells and whistles but if you need a quick and straightforward approach for checking the forecast, Weather Premium is a good option to consider.
The downside to Weather Premium is the lack of weather alerts, radar, or location based forecasts. I don't think the lack of these features is a deal breaker for Weather Premium but may hold it back from being your "go to" weather app.
As is, Weather Premium is a well-designed option to consider as a supplemental weather app for your Windows Phone. I can see Weather Premium being a good choice when all you need it the basic weather information or maybe to use as your weather Live Tile for a glance view of the basics.
Weather Premium is a free, ad-supported app that is available for both Windows Phone 8 and 7.x device. You can find your copy of Weather Premium here in the Windows Phone Store.
Windows Central Newsletter
Get the best of Windows Central in your inbox, every day!
George is the Reviews Editor at Windows Central, concentrating on Windows 10 PC and Mobile apps. He's been a supporter of the platform since the days of Windows CE and uses his current Windows 10 Mobile phone daily to keep up with life and enjoy a game during down time.
Unique? A weather app? :D

Yes, its awesome section is unique. And very funny too. Though i had got tired of the 'damn's the developer used. Even "enjoy the birds singing" had to be "enjoy the damn birds singing"... P.s. Let the live tile flip back, it says "cant you just look out of the window ?"

I like the approach as I think about it. I may give it a go. Any chance getting a version without ads?

I installed it this morning and it's a decent weather app. I found the data it pulled to be wrong for the greater Seattle area in terms of local temps and forecasted temps compared to mainstream weather groups. It averaged 3-5 degrees cooler than the actual temps in the area and also put snowflakes on my forecast even though it's supposed to be ~58 degrees tomorrow and Wednesday (low of 41 according to the app, which is also slated to be off compared to every other weather station I checked it against). I would like them to pull better data or at least average it out a bit. I don't require exact temps but it was a little goofy to see snowflakes in the forecast when there is 0 chance of it snowing both in or around Seattle. The humor edge is great and the design looks nice. I hope the dev expands it a bit and brings in more witty comments to describe the weather. I absolutely loved the "you can look outside for more information" line. So great.

I'm not crazy about ad modules. But good luck with it.

But does it have a transparent tile?

Transparent tiles with background images are eyes raping.

Nope. It is awesome, but gonna wait update for that. Still using blue skies.

Wow, another weather app. Who would have thought?

Oh hey! It looks like we're gonna have a Weather telling device with a Phone Feature HAHAHA!! I guess it's really hard to come up with a news? Hahahaha!!

Another drawback is language support.

Isnt there enough weather apps to choose? Developers should of think of anything else that we don't have :-o

http://www.windowsphone.com/s?appid=8a18fab4-c0c6-4beb-97ba-e14ec8616185

I wonder if that app will have an issue now that Bing Weather has dropped the "Bing".

Nice app but bad form to put it here.

Why not download the Weather App App. It provides a daily forecast of when Weather Apps are available in the store and percentage likelihood of them being featured on WPC.

I like moWeather. Very beautfull layout. And bing weather for radar maps.

I'm not surprised that it's another weather app, but rather that there are always those who complain about it.

Ok, we all get it, there are alot of weather apps. But I really wish more of these weather apps would incorporate a radar....that would actually get my interest and perhaps sway me to change my current weather app. I guess incorporating a radar is harder to code into an app or something, but come on guys!

I'm thinkin that the hardest part is to get a data source with radar information, coding is no THAT hard to get when you have the right data source

Now if the deal is closed between ms and nokia firmware should roll out quickly right??

No, not necessary..
Infact i'd expect it to roll out for 520 in India by end of June or maybe july..

What does that have to do with this article ❓

Why would i need another weather app? Cortana had my back. ::))) How many weather apps do we now have in Windows store? I don't just want our app store to be like Google store. Just saying...

This is new favorite app. Its so damn AWESOME! haha :)

Very nice! Only thing missing is transparent tile support. I've been using BlueSkies because of transparent tile support but that app loads extremely slow :-(

A cool app with potentials for sure. Wish they focus a bit more on the temperature itself.

OMG more weather!!!! We should call this platform Weather Phone 8 SMH!

Cause both Android or iOS don't have enough Weather Apps of their own to qualify for the title. Right? LOL

Seems like it is trying to be Swackett with the clothing....which I wish was on WP.

TWC may be slow and ugly but it's the only one I've found that shows wind and direction throughout the day. Important stuff if you have to walk a puppy twice a day. Radar is always old so I use Rad Now.

I like Weather Premium. But it needs a transparent tile to qualify! :)

Transparent tile! The app itself is awesome!