What can we realistically expect from a new Xbox 'AAAA' studio?
Recently, Microsoft posted (then deleted) a job listing for a manager of a new Santa Monica-based "AAAA" game studio, but what can we realistically expect?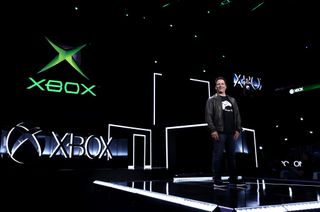 (Image credit: Windows Central)
Microsoft's first-party games lineup has been under a microscope as of late. With PlayStation putting out photorealistic blockbuster after blockbuster, Microsoft hasn't really met them head on. Xbox has had a ton of success regardless, owing largely to third-party developers and its Xbox Live legacy, which remains, arguably, the most stable gaming platform on earth. But core fans are increasingly noisy about the lack of truly great games emerging from Redmond.
Xbox faced issues when it was part of the now-defunct Windows & Devices Group at Microsoft. Now, Xbox head Phil Spencer is fully in charge of the division, and is able to splash the cash to invest in new content. The first signs of this arrived with the promotion of Matt Booty to first-party games lead, and the hiring of ex-Tomb Raider studio head Darrell Gallagher, who is, "coincidentally" based in the south California area, where Microsoft is planning to set up a new studio.
SoCal has a vibrant developer community and is a focal point for industry talent. God of War, Sony's recent hit, was developed in the region too, where Microsoft is seemingly seeking to build this new studio. But this late in the generation, what can we realistically expect here?
What types of games can we expect?
Microsoft has been criticized by core fans for its focus on multiplayer, "games as a service" type experiences, putting single player stories on the backfoot.
Indeed, service type games are the true money makers these days, and therein lies Microsoft's biggest strength. To deliver these games, it doesn't need to pay a third-party cloud provider to power them, and thus, they often have better margins for Microsoft than they would another company, who don't have their own cloud infrastructure. Ubisoft's online systems and PlayerUnknown's Battlegrounds are both powered by Microsoft Azure, as well as all of Microsoft's first-party multiplayer games like Halo, Forza, Gears of War, and Sea of Thieves.
So, does that mean we can only realistically expect more multiplayer games? Not necessarily. Xbox gaming chief Phil Spencer is a fan of single player games, and has been on the record in previous interviews to say that he sees Xbox Game Pass as a way of delivering single player stories. A gamer who isn't necessarily interested in multiplayer games might not subscribe to Xbox Live to play online, but they might subscribe to Xbox Game Pass, if it was delivering quality offline experiences.
Diversifying the portfolio of games available on the $9.99 Game Pass subscription, similarly to how Netflix has with anime, cooking shows, dramas, covering all sorts of genres, is going to be crucial to truly scaling the service beyond your typical online gamer, which has traditionally been Microsoft's bread and butter. Microsoft could even create episodic games, delivering new pieces on a month-by-month basis to keep subscriptions rolling.
Either way, I think Microsoft is really looking to build quality titles with this studio, rather than the smaller, "AA" experiences we've gotten with the more limited likes of Sea of Thieves and ReCore. The job listing specifically requested experience in making "AAAA" games, with a whole additional "A" over the "AAA" Triple-A we've long equated with flagship games, so hopefully that indicates that Microsoft is thinking big.
New experiences, reboots, or sequels?
Microsoft has a huge wealth of intellectual property it could potentially hand off to this studio. Microsoft's biggest franchises include Minecraft, Halo, Forza, and Gears of War. Redmond is rumoured to be building Fable again, alongside Playground Games (known for Forza Horizon), and is also building Age of Empires IV with Relic Entertainment and Sega.
Microsoft picked up a huge amount of IP when it purchased Rare, including Battletoads, Banjo Kazooie, Viva Piñata, and Killer Instinct. Redmond also has a few old school franchises waiting in the wings, like MechAssault and Phantom Dust. There are also modern properties like ReCore to consider, which held a tremendous amount of promise, despite its mixed responses from game press and players.
Having this studio build a sequel to a game like ReCore to address the criticisms of their predecessors might seem like a smart move. Marketing a new IP is always difficult, and sequential franchises have established fan bases and effectively market themselves, to some degree. However, there's also an argument to be made that starting fresh might be the better option for a new studio, particularly if they're hiring in new, outside talent. It might be beneficial for the studio's culture to work on a game that's "theirs," rather than work on an existing IP that belonged to another team, previously. Personally, I expect this studio would work on something fresh, on that basis, but it's hard to say for sure.
Don't expect anything soon
The final (somewhat obvious) point to make is, building "AAAA" games (as the job listing describes them) takes a long time. God of War was announced in 2014, putting its development at at least four years, quite possibly longer. If Microsoft is building a studio from the ground up now, then it stands to reason that there won't be anything serious emerging from it for at least a few years.
Theoretically, this could indicate that this new Santa Monica studio is gearing up for publishing for the next generation, which is expected to start with the PlayStation 5 anywhere between 2019 and 2021. That doesn't mean that the games won't be compatible with Xbox One S and X, however, as Microsoft has put an emphasis on change-resilience in its developmental toolchains, meaning that games built for Xbox should be able to scale dynamically across hardware generations, much like they can on PC.
Either way, these recent developments show that Microsoft is committed to improving its games offering, as it attempts to entice more people into subscription services like Xbox Live and Game Pass. It's especially critical when you consider the device-agnostic future gaming is heading towards, where the console hardware matters less than the speed of your internet connection.
What games would you like to see emerge from Microsoft's renewed push for fresh titles? Hit the comments, let us know.
Get the Windows Central Newsletter
All the latest news, reviews, and guides for Windows and Xbox diehards.
Jez Corden a Managing Editor at Windows Central, focusing primarily on all things Xbox and gaming. Jez is known for breaking exclusive news and analysis as relates to the Microsoft ecosystem while being powered by caffeine. Follow on Twitter @JezCorden and listen to his Xbox Two podcast, all about, you guessed it, Xbox!