What does the WarnerMedia and Discovery deal mean for video games?
It's doubtful games like Suicide Squad: Kill the Justice League will be impacted.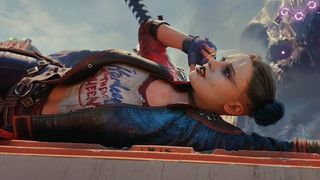 (Image credit: WB Games (screenshot))
What you need to know
WarnerMedia and Discovery are merging in a deal worth $43 billion.
This creates a lot of questions, specifically what will happen with WarnerMedia's game division, Warner Bros. Interactive Entertainment.
AT&T, the owner of WarnerMedia, said that some of the game studios will be sold off, but not all of them.
In a recent deal worth $43 billion, AT&T is merging its WarnerMedia division to Discovery, just three years after it bought Time Warner for $85.4 billion. This means that WarnerMedia, which includes HBO and DC, will now join forces with Discovery and brands like TLC and HGTV to compete with Disney, Netflix, and other gigantic entertainment brands.
It's a deal with huge repurcussions in the entertainment industry, and there are a lot of details that both experts and consumers still don't know about it. Does it mean HBO Max and Discovery+ are combining forces into one giant streaming service? Does it mean Batman will be getting his own show on Investigation Discovery? Rooster Teeth is a part of the sale, so what does that mean for the online brand?
However, for our purposes, it leaves a lot of questions concerning WarnerMedia's gaming divisions, specifically Warner Bros. Interactive Entertainment (WBIE) and its 11 video game studios, which includes NetherRealm Studios, Warner Bros. Games, Rocksteady, Avalanche Software, and others.
According to IGN's Julia Alexander, AT&T said it's going to sell off some of WBIE, but not all of it.
https://twitter.com/loudmouthjulia/status/1394339533542539277?s=20
At this point, it's unclear what a lot of this means, or which brands are going to be sold off. A lot of theses studios make games directly off of WarnerMedia IP, like Rocksteady and Batman and Avalanche Software and Harry Potter. These connections mean it's doubtful that these studios will be sold to somebody else. Rocksteady right now, for instance, is working on Suicide Squad: Kill the Justice League, which is due out in 2022. It's unlikely that this will change despite any merger deals.
Other studios, like NetherRealm, which makes Mortal Kombat, are a bit less tied to WarnerMedia, although the enterainment conglomerate just released the new Mortal Kombat reboot on HBO Max last month. Then, there's Injustice 2, which is basically Mortal Kombat but with DC characters. Alexander also singles out TT Games Publishing, which works on LEGO games. LEGO has closer ties with Universal Studios (although the LEGO movies were distributed by WarnerMedia).
Looks like WarnerMedia and Discovery are still figuring out the specifics of the merger. We'll continue to follow any news regarding WBIE and its studios since who owns what can have a huge impact on who works on what. It's likely that a lot won't change with established IP like Batman, but they're a bit more up in the air for studios not as attached by IP.
Carli is the Gaming Editor and Copy Chief across Windows Central, Android Central, and iMore. Her last name also will remind you of a dinosaur. Follow her on Twitter or email her at carli.velocci@futurenet.com.
MS should grab Rocksteady and NetheRealms, then call it a day.

They looked into it but the problem is some of the studios big worth is in the IP.
With it they're worth more than without because without all you get otherwise is the staff. Not even the back catalog.
So Rocksteady (with MK) is doable and so are Avalanche and TT, but not as valuable since their signature IP is licensed.
Best guess is the numbers won't make sense just as they didn't when ATT last tried to sell tbem off. Not to be forgotten, also, Discovery has/had a game division dating to 2019. BTW, there is a lot of misreporting going on elsewhere with this deal.
Some places are reporting ATT as selling off WarnerMedia when they are spinning it back out and selling 29% for half of what they bought it in the first place. And The new Warner/Discovery is taking along a chunk of ATT debt so to a large extent this is more of an unwinding of the ATT-WB merger and a followup merger of WB and Discovery. It's all about the debt. WB sold out to ATT because they needed big bucks to compete in the streaming war and ATT was looking for content they could tie to their distribution system for extra money. But with net neutrality back in play and the debt load killing them, they're backtracking. Why is this relevant to MS? Because the merged company is still going to be cash starved. With a big debt load.
So, maybe MS breaks the game studios gordian knot by buying the whole kit and kaboodle.
Or Apple, Google, or Facebook do it. Amazon is apparently finalizing a deal to buy MGM (a real good fit) and VIACOM CBS is in play, maybe to Apple. So MS can buy a controling interest or the whole bundle if they want to add another subscription service to their empire. It *is* doable. And MS did have an interest in playing in the online media game a while back.
They might go in to buy a couple of studios and walk away with a bigger haul. A good way to put tbeir cash stash to work for tbe long term.
Windows Central Newsletter
Thank you for signing up to Windows Central. You will receive a verification email shortly.
There was a problem. Please refresh the page and try again.