What is your favorite Twitter app for Windows Phone?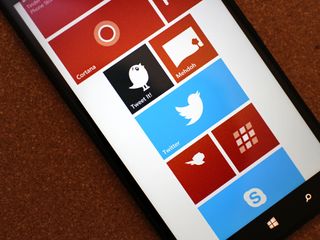 On Windows Phone we have the official Twitter app, but we also have a healthy selection of third-party alternatives. Twitter is a big social network with millions of users all wanting to use the service in different and unique ways. You might be content with the official Twitter app. However there are a handful of others who love third-party apps for the features they bring to the table. Which is your favorite?
A discussion currently happening in our forums is asking that question. What's the best Twitter client for Windows Phone? It's ok if it's the official Twitter app. That one was just updated two days ago with multi-photo upload, ability to tag friends in photos, inline media support and more.
Everyone will have varying opinions and preferences when it comes to Twitter, but here are a few third-party apps that have stood out so far in that forum discussion:
Those are just some of the favorites that have been mentioned so far. Join the forum discussion to voice your favorite Twitter app on Windows Phone.
Windows Central Newsletter
Get the best of Windows Central in your inbox, every day!
MeTweets by far is the best and most customizable twitter app. Anyone who hasn't tried it should.

Yet another yep again. :3

Correct. I've only used the official, even before the update, you know when it sucked balls.

Agree especially as light Twitter user I just need functionality. I would like to see Tumblr updated though.

Yup. Need more Tumblr users to get the devs to update.

Exactly what I was going to say...

Yea, I use the default Twitter app, just wondering myself, is there really a better client ?

Not as robust as its Android offering, but same here.

Official twitter app FTW!!!

Yep, official Twitter app is good enough for me.

Until Tweetium comes to Windows Phone, yep.

Yep, agree. Just came back to the official client due to the recent update, after having used MehDoh for a while. MehDoh is great, except for one thing; it doesn't display fave, follow and RT notifications like the official Twitter web client or mobile clients. On MehDoh or other 3rd party apps I've used it jumbles them up all over the place, and sometimes will never appear at all. On official Twitter clients, they always appear ordered together correctly.

Have to go w/MeTweets. Love that it works in Landscape mode.

I'm a huge fan of MeTweets. Lots of features and the developer is very responsive on Twitter (even if there might be some gaps between updates if you ask he'll tell you why).

+1020 I've tried them all and MeTweets is by far the best.

I'm just not a fan of the pivot & scroll bugs, but its still the best

Been using MeTweets since it launched!

Tried them all, and I've got MeTweets in first and Twabbit in close second. MeTweets is damn awesome and worth a try. And I'll have to try the new official one xD

been curious about MeTweets, does the notification of MeTweets just as good as Rowi (or as close as the official twit app) ???

Notifications are within 90 seconds for me. Its a fantastic app, & while the releases are often slow, the developer is extremely responsive.

I use the official App, isn't bad at all, never used a 3rd party App, even if most of them are paid apps

The official Twitter app works perfectly for me!

Here too. Inline thumbnail image is where it is at. Of course I dread the day I have to get a new device as I we can no longer get this app.

Inline thumbnail images are present in the official twitter app now.

Yea but the official one has to much wasted space and the reply, retweet, favorite line should be in auto hide till you tap a tweet. In my opinion it looks horrible as is.

I had the same feeling, but I got a 520 after they discontinued the app and I was able to download it again, since I purchased it before. I don't know if there is still a possibility to do that through "my apps". It is a shame that they stopped supporting it because it was the best. (I still use it everyday)

Mix between official and tweetit

They all pretty much suck unfortunately

Mostly Mehdoh but sometimes official

Official for WP, but Tweetium on W8.

Tweetium is so nice. But can't say I would prefer a one time premium versus semi annual reoccurring.

Likewise here. Official on Windows 8 hasn't been updated in ages and is seriously lacking.

Or cowlick. Posted via Windows Phone Central App

I use Gleek as well. I'm fairly certain that Liquid Daffodil's clients are the only ones that support TweetMarker AND instant notifications. Usually these apps have one or the other... That's a pretty big deal for my daily use, and I'm surprised that I don't hear others talk about it more.

Gleek for me and sometimes I use Cowlick. I like how I can color code people I more interested in reading .

Mehdoh has TweetMarker and instant notifications

False. Mehdoh does NOT have push notifications. It checks for notifications every 30 minutes.

Yup, I'm a Gl33k guy too.

Wow, thought nobody was going to mention Mehdoh, finally! I use that client too, although it's lost some of it's mojo due to WP8.1

Mehdoh is a mess. Or should I say, meh.

I like it, it doesn't always work properly & then they blame Microsoft, but I can tweet from source with downloading a hub & I like the url shortener as that can not always work on Tweeter official, I will see what they do about update's. I have Twitter official too. I'm looking forward to Twitter 8.1.

Mehdoh works wonders for me. Tweetmarker integration and share to pocket are a must for my twitter app.

i guess it's just you and me using twabbits, but since the official twitter app has been updated, i really like using much more than twabbit, i guess i'll give these ones here a try.

With you on twabbit. I'm not a heavy twitter user but it works for me, though I do wish the icon was live. Only dislike I've had with the app.

I have several, but my favorite has to be Twabbit

Official app is sweet after last update. Could be better tho

Started using the official one once Rowi was forced to drop support. I haven't really bothered trying other ones.

Official Twitter app works great for me. It could use a few tweaks though, but otherwise gets the job done well.

Twitter Beta/Official Twitter app. The limited functionality of Twitter's API for third parties makes me hesitant to use them.

Since the last update,the official Twitter app.

Twitter Beta. Tried them all, spent about a fiver on them but the official is still the best, despite being a bit basic. A lot of the bells and whistles and fancy stuff (weird stuff too, Gleek) on the others is just superfluous. Twitter's API removes a lot of the main functionality too which limits the 3rd party choice. Nothing comes close, for example, to the mentions feed. Only twitter aggregates them into one place.

How can you use Twitter Beta? I thought it was disabled from Windows Store & our devices if we'd managed to download it?

Rowi. (oh wait) Official app, but I still haven't found the "perfect" Twitter app yet.

that means you haven't used mehdoh :D the perfect twitter app B-)

I've used Mehdoh and it's a great app, barred by the restrictive Twitter API.. You can't even view who favorited a tweet!

Not true. Mehdoh isn't the best. Try creating two tweets and you'll see that it doesn't work like MeTweets. There's features that the two of these have which if combined could create THE best app available. Tweetcaster on Android has a bunch of freaking features it's not even funny.

Been using motweets and twitter beta .. But I miss rowi...

Mehdoh. Dev is great, and imo the only contender to his will be Tweetium.

Never touch official. It's just bad. I am currently using Medoh, but I sometimes use MeTweets, as well. I appreciate scheduling Tweets and using Quote Reply, neither of which the Twitter-direct app will do.

You can quote reply in the official app after yesterday's update.

You could also do it before :-)

I don't use any and never will

Rowi was the best until Twitter pretty much killed it. Now I begrudgingly use the official one...

Official client works great for me and I really like the latest update!

Official app since I hardly ever use twitter anyway.

Yes, 'Tweet It'... I gave up on MeTweets, Mehdoh, Rowi, and others. I like the simplicity but still has all the options. The official one has really caught up though and I sometimes use it.

The official Twitter app is good for me. Especially after the update

MeTweets with MehDoh as backup.

I stay with MeTweets. It became free for some days just after I received my first Windows Phone (Lumia 800). The only reason that I maintain Twitter Beta (yes, I still have it!) is that it integrates with the People hub just like Facebook. Once this feature come to MeTweets (the developer already announced an upcoming update) then goodbye official app.

MeTweets is getting fully integrated into the people hub?

Mehdoh. But dam I wish it was.more polished.

The official app. However, since the last update I get double notifications.

Ok glad to see it's not just me

Me too, though it doesn't happen everytime.

Just logout and login again. That solved the problem for me.

Having used almost all of them at one point or another I find myself sticking with the official Twitter app. If Tweetium ever gets ported like was announced that will likely change.

Mehdoh and then the official app

I use the official app. Works great, but I'm not a tweet-a-holic. Last update has some really nice enhancements.

MeTweets for complete feature and Tweet It! For its beauty

I use the official app. The twitter options on WP are severely limited. Would kill for a 3rd party app with great design and functionality. I bet the Readit guys could make a killer Twitter app if they ever wanted to. I would pay for that.

I looked at the other apps mentioned in the article through the store, I'm too used to the official one to try to get used to another.

i use Gleek, because I haven't seen any other twitter app that lets me pin live tiles for all three twitter accounts I manage ;)

Medoh for sure. It was hard to pry me from Rowi, but I got a new phone and had to move on. Tweet streaming is one of my favorite features in a twitter app, and theirs dominates. Super customizeable home screen.

I love Mehdoh. Been using it since it came out.

Twitter beta. Where is it? Miss notifications

Rowi (RIP) was my go to app. Now been using official one mostly. Still switch to mehdoh sometimes for list support.

gleek! isn't on the list?

I use the official app and have to reinstall it once a week. The cache doesn't clear and slows it down.

Tweet it.. I'm waiting for it to come on myAppFree... Coz SBI Debit Cards don't work with WP for some reason...

I'm really like TweetIt, but you know, I need a FAST notifications, so I use official app

Looks like we got badass over here :D

Metweets currently until Tweetium gets released!

Tweetium is coming to WP. I will be ditching gleek to get Tweetium. Tweetium rocks on my windows tablet

Official one is enough for me as I am not an avid twitter user :)

Carbon used to be the bomb

Gleek. Use to be carbon but no more support

Someone knows an app that notify me who unfollow me?

ive tried them all, and Peregrine became my top one.

Same I tried them all and Peregrine is pretty close to perfect.

Official beta. I've paid for a lot of Twitter apps and I don't have one of them installed. None of them really had any staying power for me.

Used to use Mehdoh a lot. Now, the official Twitter/TwitterBeta apps are my goto especially after 8.1

The official one works great for me

MeTweets. The way it creates a second tweet when you're over the limit is the best I've seen so far. Tons of options.

I was a big fan of Birdsong before they shut down their app. Now, Mehdoh is my go to client when I need a Twitter app. I usually just use the integrated people hub for reading tweets.

Try twitter++. Its awesome

That's just a web wrapper..

No its not. But yes its only a twitter feed reader with some good unique features with importance given to the ppl one is following

I've tried to use other apps like the official and tweet it! but I keep coming back to Mehdoh. It's such a solid app with all the features I need. All I would like is for some stability and performance fixes.

mehdoh and the official app

I'm using the official app on both Windows and Windows Phone, they do what they should do, and that's enough for me.

Not on twitter as much lately, but I like Tweet It!

MeTweets and Twabbit. The official duplicates all my notifications since this latest update.

Official Twitter app works fine for me!

My favorite app was the people tile. Now I use the official app, but the live tile doesn't work, so I nite rarely use Twitter. I mainly used it for news aggregation, but Bing news is doing a fine job. Who needs Twitter?

I need Twitter, fool. ;-)

mehdoh. soundcloud integration won me over.

Official Twitter. Nice one, need the same on Windows 8.1. That one is lame.

Surprised gleek,s not getting a mention..

Twitter... I gave up on third party twitter apps when twitter started revoking amount for their API and all that other junk that went on... Plus they support their own app pretty well now so...

Am I the only person that uses text messaging a lot? Only for my main account and use Gleek for the other ten.

The Official app and TweetIt! As a backup

I use the official one. It generates a lot of data though. Eats into my 820's already limited storage

The official Twitter app.

Actually I don't miss anything in the official app. With the latest update it is even greater.

Rowi is still my main driver... but I have the official one as a backup

The official Twitter app has improved greatly. Still also use Cowlick.

Twabbit off and on, but since the update for the official app I'm using it exclusively. Along with Unfollow Spy.

Used some of the third party apps, but the official home (even though it is far less eye-catching) just feels more like twitter to me

Used Rowi til it was discontinued. Switched to Mehdoh, but gave that up after the official client was updated recently. I also used Tweet It! for a while, but it seems like the dev has completely abandoned that app. It hasn't been updated in 6 months. The official client has reliable/fast push notifications (Mehdoh's push svc has always been really squirrelly for me, sometimes delaying notifications by hours, or not delivering them at all), but I really think Twitter needs to further tweak the UX in their app, as the nav bar at the top takes up way too much space.

I was a Mehdoh purist until MeTweets stole my heart. The Twitter app competition has some very strong players.


After the last update... The official twitter app.

Im still using Mehdoh with Wp 7.8.

I prefer the official Twitter app ..

I feel like I'm the only one who uses the awesome twabbit ago

Tried Mehdoh but don't think its very smooth. Been using twitter beta because of the social integration with 8.1. But found another one the other night in these comments called Cybercrow Beta. Very nice, simple, and smooth. Emailed the dev and said he wasn't planning on updating however. But maybe if enough people try it!

I want a twitter app which schedules tweets...

Which one can categorize my feeds? Where I can make custom categories like friends/sports/tech, just like booklet for Facebook.

I use only official apps. Gotta keep em happy

I like metweets and tweet it! Official twitter client is also a good option for me. Cowlick is Just soooo damn slow...

Cybercrow my favorite Twitter app.

Offical app but, alway looking out for the bigger better thing.... and the offical app has some limits that I am not crazy about but, it does the job...

Used to use Carbon, Rowi, Mehdoh. Gave up on the first two because the devs gave up on them, thanks to Twitter's token limit. Don't use Mehdoh either anymore (sorry). Now use the official app... Barely. I really don't find much appeal for the service anymore.

I just use the official app. I haven't had any problems with it and they just updated it yesterday so it has more features. I used to use another one back when I was using my Trophy but I can't think of it right now.

Mehdoh because it will for the most part start where I left off when catching up on a few hours of missed tweets. If the official twitter app did that then I would like the official twitter app better.

Used to be Rowi, but I had to go from WP8.1 to WP8.0 and can't download it! Now I'm stuck with the official twitter app because every other app is sub par.

Official twitter app works ,I wish I didn't have to scroll up to see new tweets...

MeTweets, as it works in landscape mode.

Damn... this made me realize I don't use it much at all anymore since the integration was removed from 8.1. So I guess I still like Rowi the most.

Cybercrow BETA is really cool too. Posted via Windows Phone Central App

There's a newer one called Cybercrow. It's in beta and is a very nice twitter app. Almost like Tweetit but way different.
http://www.windowsphone.com/s?appid=5b3b4c62-890c-45c9-b78c-0aa50ac5df87

Official app for me, it's good enough. Recently tried Metweets, that one is good too, but I still prefer official.

By far it must be tweebots(iOS) but I must content with metweets with WP. Although I believe it can be improve

Sorry guys but Gravity for Symbian, I miss it dearly.. Almost all WP twitter apps has annoying bugs. I somehow keep changing between Mehdoh and MeTweets. I hope WP8.1 support by developers soon and all the apps rewritten to get the best of WP 8.1 developing tools. That being said all major twitter developers are now rewritting the apps, so good days are coming to all WP users.

I remember WP7.5 when WP had more twitter apps than any other platform..no one wanted to use the official one. some vanished in the past or killed by twitter eg. rowi

I found mehdoh to be feature rich but slow to load - always resuming and loading compared to the native client. Also scrolling not smooth. TweetIt and MeTweets are great. TweetIt will have a new version coming out soon according to their dev (you have to buy it again) until then I'll be on MeTweets. Native sucks as it wastes so much screen estate.

I've been using Gleek too.

I like and use the official Twitter app. I've never needed a 3rd party app

Right now - MeTweets and Official Twitter. MeTweets for scrolling and tweeting and official for notification's. I've tried Mehdoh (too slow) and TweetIt. Tweet it looks great but I already spent too much on apps. Waiting for this big update.

How many people are using "official" because they think it's the best vs just because it's "official"?

Offical app. I moved to Tweetit for a bit but it annoyed me that I would get repeat notifications for the same mention or message.

The official app works fine and looks better especially after the recent update. i wish apps like plume and hootsuite would come to windows phone.

I was using Tweetium, recently switch back to original since the latest update , thank you Twitter !!!

Tweet it works for me.....but the official one as well! Gotta love twitter.

Unless Rudy makes one, OFFICAL!!!!

The problem I face with the official Twitter app (and some other apps too) is that it's just so super big! I've got a 6" inch phone and the app seems to think it's running on a 3" phone and should magnify every single pixel by 4. Not needed! And I'll try all the alternatives.

IE11 ... don't need an app for Twitter.

I am using official app. But I don't find it that good.

bring back Rowi please :'( or maybe another kind of it

liking official twitter app only spcly after it's update..

Uninstalled all but official client

Official Twitter and Tweet it!

We need to enjoy this conversation while we can. Come a short while, none of these apps will even be functional.

I have Peregrine installed, seems good (especially the streaming of tweets) but rarely use it. I'm all for the official app but I do have a problem with it. The Draft folder doesn't retain my saved tweets.

I use Peregrine because I can get more than 50 or so tweets. Also, when you hit load more tweets in the official Twitter app it takes you up the timeline, so you have to scroll back down to get to the place you were one before. The official app just needs to fix that and get rid of the unused space (at the top) to fit more tweets on a page then I'd definitely use it more.

Mainly Mehdoh for it's customisability, sometimes official app. Still miss Rowi, by far the best.

Peregrin, because it keeps my place and when I come back, it starts in the same place I left off, no matter how long I've been gone. I *hate* the other apps, because I lose my place and have to try and figure out where I was before I closed the last time.

Great point. MeTweets isn't bad as long as you coax it a bit. Like me tweet for the size of pictures, big enough to view until you decide to open.

People hub Posted via Windows Phone Central App

Had to use mehdoh. Official twitter often crashed in my 620 :(

Official one but it sucks so much!!

I am using the official Twitter app but i have a problem with it. if i skip a day to check it it will only show the recent tweets skipping older ones unlike the iOS app . is there a way to keep all tweets and not skip any? Thanks

Why Mehdoh is not showing to download in Lumia 730?