What is (or was) your final Windows Phone?
The last Windows Phone I used was the HP Elite x3, a phone I initially loved, but came to loathe.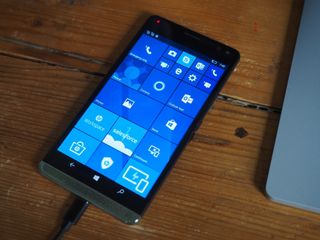 Windows 10 Mobile is nearing the official end of its life, with support slated to end pretty soon. (opens in new tab) Unofficially, it has been in an undead, zombie-like state, with residual app support from the occasional UWP update, from the remaining devs still passionate about the platform and its users.
I was clearing out some closets today and came upon my old HP Elite x3, which was the last Windows-based phone I used before fleeing for the green pastures of Android. I purchased the HP Elite x3, slightly begrudgingly, desperate to feel some form of life in the cold digital bones of this dying OS. Initially, I really enjoyed the HP Elite x3 (which is still semi-available, being sold at absurd prices on Amazon (opens in new tab). Later, though, it was pretty much the reason I left Windows 10 Mobile for good.
What I really wanted was a Lumia 1520
It looked pretty sexy in its ads.
I ended up ditching my Lumia 950 XL because the battery life had just become so, so terrible. That was partially due to Twitter switching to a PWA and not being adequately integrated with the Windows 10 Mobile OS. Twitter began draining battery like crazy, and I never really enjoyed the third-party apps like Tweetium or Tweet It! which had a litany of their own limitations for a social media junkie like me.
After experimenting with a fairly ridiculous giant battery housing for the Lumia 950 XL, I decided to just get an HP Elite x3, which seemed like the closest thing to the classic Lumia 1520 we were ever likely to get. A gigantic, pretty gorgeous display came with a spacious 4150 mAh battery, which is beefy even by today's standards. Its unique design and intriguing speaker grill across the bottom made it stand out, with a modern-style fingerprint reader embedded in the back of the phone.
The HP Elite x3, for those who don't know, came in a gigantic box, easily the biggest box I've ever seen (or probably will ever see) for a smartphone. This was in part due to the Continuum docking station it came with, along with piles of cables to accommodate it. Continuum, was, of course, Microsoft's phone-to-PC solution that still hasn't really gotten any mainstream traction, even with experiments from Samsung's DeX platform. It worked pretty well on the HP Elite x3, but for all the effort that would have gone into carrying the dock around and all its cables, you might as well have just taken a laptop. Continuum may never be a thing, but it was a nice thing that might have found some potential with enterprises, had Microsoft not abandoned the OS completely. The x3 also came with some nice earbuds, which I still use to this day, a couple of years later.
On the hardware side, there was little to complain about. The buttons were well-placed and tactile, with a metallic finish. The screen was huge and crisp, and the phone was generally zippy executing commands and opening apps. It just arrived at the wrong time, too late to make a real impact.
Windows 10 Mobile was already rotting
The worst thing by far about the x3 was its camera, which is perhaps the worst smartphone camera I have ever used in my entire life. I'd say the cameras on the old budget Lumia 520 phones were more impressive than the HP Elite x3's effort because at least the Lumia camera software didn't crash at every possible opportunity. HP never fixed the crashing problems it had with its camera, right up until the end.
Beyond the camera issues, Windows 10 Mobile itself was already falling apart, with an app platform being abandoned in droves and software that had just fallen too far behind competing solutions. Even on the x3, Twitter and other staple apps didn't work correctly. Twitter was crashtastic as a UWP program, and the Windows 10 OS Meta apps from Facebook and Instagram were, and still are, garbage.
The HP Elite x3 for all its beauty and good intentions was just simply never meant to be.
What is (or was) your final Windows Phone?
For me, my experience with Windows-based phones truly peaked with the Lumia 1520, which defied ideas about what a smartphone battery could be, how big a smartphone could be, and how loud a smartphone could be. That slab in polycarbonate red was a true diva, and I can't really see it being unseated as my favorite phone of all time in the near future. Unfortunately, I only had borrowed a Lumia 1520 for a while, and by the time I could afford it, they were simply hard to get.
The HP Elite x3 was a chance to reclaim a bit of that 1520 nostalgia, but as good as the appearances were, the OS had already begun falling apart, at least for me.
Whether or not you've moved on, what is the last Windows Phone you're currently using, or did use? Hit the comments, or jump in the forum thread I made over here.
Windows Central Newsletter
Get the best of Windows Central in your inbox, every day!
Jez Corden a Managing Editor at Windows Central, focusing primarily on all things Xbox and gaming. Jez is known for breaking exclusive news and analysis as relates to the Microsoft ecosystem while being powered by caffeine. Follow on Twitter @JezCorden and listen to his Xbox Two podcast, all about, you guessed it, Xbox!
Last one I had was the 930, really did love the Nokia 900 series but time just moved on from the Windows OS and I needed something a little more stable for my work day

MSFT LUMIA 950. Loved that phone

Still on my Lumia 1320 with WP8.1 and I have a glimmer of hope that Windows Core OS will give us a modern browser on these older phones if someone manages to port the OS. That's all we'll need: a modern browser to support PWAs and WebAssembly and we'll be set. I don't think I'll need super modern hardware for the foreseeable future.

Had a lumia on Verizon, call me dumb but I would for sure buy another Microsoft phone if they dropped a new one. 💯💯💯

Last ones are Alcatel Idol 4S With Windows 10, Lumia 950 XL, Lumia 950, Lumia 1520, Lumia 1020, Lumia 830, HTC One M8 With Windows 10. I have all of these and keep them charged up and used in various ways. The Idol 4S is a sign of what could have been, powerful Snapdragon 820 in a sleek design, it is my daily Windows 10 Mobile phone. I love the screen and build quality. My 950 XL is currently doing WOA duty. The rest are just charged up, updated and used for gaming and nostalgia, just like my 808 PureView and Nokia N8.

TimB
I also had/have the Alcatel Idol 4S...I am crying that Windows 10 Phone is leaving us... I was rebelling against all things Apple and Android...now I have no ammunition left. :(

I resisted the urge to follow the crowd and buy a smartphone for the longest time. Then I heard about the 640. It was running Windows, and it was only $60, so there was very little downside to trying it out. I loved it. That led to a Lumia 650, still one of the most beautiful and elegant phones I've ever seen. After that, I bought a 950 XL. I still love it, and I would have used it until the very end, but several applications that I needed were unavailable, and trying to access services through the browser was becoming too awkward. (I just had it dual booting Windows on ARM and Windows 10 Mobile, but there was too little space left after installing WoA, and WoA was a little sluggish, so it's back to Windows 10 Mobile only for now. The potential for Windows Core OS on this device is huge.) After the front-facing camera on the 950 XL died -- and after reading Steve's praises for it at AAWP, I bought an Alcatel Idol 4S. The screen and speakers are great. It's really beautiful. Now, I'm using a Galaxy Note 9. (Just got it for $215 "renewed" at Amazon after applying points. I pay off my card each month, so it's free money.) The Note's beautiful and fast, and I've done everything that I can to turn it into a Windows Phone. So now I wait for the Surface Phone. As long as it takes. (Or for Core OS w/CShell to be ported to the 950 XL.)

Was happily using 650 till last month. Weak battery, dieing apps and Microsoft dumping the platform made me switch to realme Pro 3. Now I am able to comment here which was impossible with windows phone. I must mention that I find UI of windows central on windows phone much better.

There there there...Windows central app was way more beautiful and sleek to use on windows phone.

Finished with my 950XL. Wish they actually pushed the ecosystem and eventually combined with windows 10 lite

My last was the Lumia 950 XL, the front camera ended up crapping itself, which then prevented the facial recognition from working.

Lumia 1020. Best phone to date.

Loved my L1020, even if the camera was super slow, the stuff you could do was amazing.

My last Windows Phone is Lumia 830. I love this phone so much. However, I always has problem with camera on the phone, which caused by Facebook app. Today, I still stick with Microsoft ecosystem. However, I use Moto Z2 Play (with Microsoft Launcher) and iPhone 6s Plus. Both are Google-less phone.

Still using Lumia 1520 did battery and screen replacement a year or so ago both of which to my surprise are better than the original ones! I am tempted to switch to Nokia X71 for it's cameras but the processor feels outdated

I had Lumias 520, 535, 640XL and 950. I regret only for 535 (most for the camera) but I would still use my 950 but the camera broke one year ago. I am on Android now and I still use live tiles (launcher 10) and the same apps as before. Miss my 950

2015: Lumia 640 switched to Nexus 5X by end of the year.

As an aside, I agree the Lumia 1520 was a phenomenal piece of equipment, that phone is still the best phone I've ever used.

950 XL. It would have been a great product if it came with inking and that 'hold to glance' sensors as shown in the product vision video put out by Windows Central here. If continuum was a great thing, and the OS was polished apart from a supercool UI, with a better 'working' marketing strategy, it might would have been successful 😥

I'm actually still using a Lumia 950 as my daily driver. It's the best phone I ever had. Even with all Microsoft apps Android is not the same. I have the intention to keep using my Lumia 950 until the OS completely stops working.

Lumia 930. I couldn't take the weak battery, yellow screen full of burns, non working flash light, bent frame and buggy software (Camera works half the time, OneNote no longer syncs properly ...) any more and returned to Android last November. I picked a Huawei honor Play and its perfect. Excellent build quality & good software. As for Microsoft, my current Microsoft devices (L930, Xbox 1 & OG Surface) will be my last Microsoft devices ... I'm done with their hardware.

The GREEN Lumia 830.... it was a time when smartphones made you smile. Sadly the quality of the 830 line was a bit so so, after going thru two 830 in a year my 4 year stint in wp-land ended.

Lumia 920. That thing changed instant photography and phones in general imo. Image stabilization and awesome low light processing was unbelievable. In addition to 60hz panel, super sensitive touch panel (glove support) and wireless charging set the foundations of current phones imo.

950XL - Just switched to Samsung S10+ for my first non-Windows smartphone.. It's great to have fully functioning apps. But honestly...I don't like the user experience. Already miss my 950XL.

Agree. Hardware on the S10+ is phenomenal, but Windows OS still ***** on all others. What a shame.

A few months ago I went from a Lumia 950 to a Samsung S10+. I agree with you that the hardware is excellent and also about the comment that the UX is not the best. I don't really find myself interacting with this new phone - the excitement is not there, the apps are but it seems a cold, functional experience. Whether my feelings are a lack of experience with Android, a total familiarity with Windows Mobile and a learning curve, who knows? But the delight in using the phone isn't there and despite trying various launchers and fully functional apps. I think, for me, Samsung and Google have to go a lot further on the software side to deliver for me.

I have gone through all comments and your's is the one suits my exactly same feeling. Yes android is good, functional and there is lot to play with but I miss a wow factor. Android couldn't give a full satisfaction. Those lumia phones are still my dream phones, every glance taking at my lumia devices and windows mobile os gave me wonderful feeling. It is microsoft's fault that they messed up windows mobile may be because of lack of vision...whatever...eventhough it was a great os ever on a phone.

950 was my last and I switched to a Samsung S8 and then to a Samsung S9+. I still miss the Windows Phone/Mobile.

I have a S9 Work phone and i really dislike Android, however my 950XL is still working great, and my 640 takes abeating and keeps on going!!

I had a Lumia 950 DS with 8GB SD Card, I mysteriously lost last fall somewhere on the way to Istanbul, unfortunately.

Last one is Lumia 950 DS and still using it as primary phone. Looking forward to force WoA onto it once I make the decision. In order of appearance I had: 520, 520 again, 630, 640, 950 DS.

Started out with the Lumia 530. Then went to the Idol 4S. I retired the Idol 4S a couple of weeks ago, due to the battery dying off. I'm now using the Razer 2 with Android. I've installed Microsoft Launcher and all the MS apps. I really enjoyed Windows Phone. Alas.

End up with Lumia 950XL, and using Nokia 9 PV right now. Miss the live photo feature so much.

My last WP was a Lumia 925, that replaced my Microsoft-abandoned Samsung Omnia 7. After that it was a borrowed Huawei P9 Lite for a couple of month and then an iPhone8 as soon as it was released

The 925 was warrenty replaced by T-mobile and is almost brand new looking/functioning its our back up phone. Awsome camera still.

Never had one. The platform was dead on arrival. You had to be stupid to not see this...

Except you simply use what you enjoy 😂 enjoying for the 5 or 6 years I enjoyed means it wasn't dead lol. It's not like I couldn't switch out of it whenever I wanted. Pretty much all of us on here simply enjoyed it while it lasted. No one is stupid for that. It's stupid to NOT use whatever you like the best while you can.

Why do you feel the need to poo-poo what people enjoyed and insult them on top of it?

Hey Steve78UK,
No need to be abusive...'stupid'...really? Even if we 'saw it coming' doesn't mean we didn't like it and will miss it. I for one was impressed by how well it mirrored my desktop (for the apps it supported, of course). I liked the tiles much better than Apple or Android. They were much more flexible for configuring. Three different sizes, grouping was better implemented, and groups within groups were great. So your opinion is just that ... yours only. You can keep your 'stupid' comment to yourself...I would respect that!!

In my family (5 people) we are still using 4 X 950XL's and we have purchased plenty of spare batteries. My youngest son (19 - very active on social media) has now started to use an iPhone XR. But he confirms the moment MS would enter this market again, he will return to the MS eco-system. As for my wife, her employer has been using WP until 2 months ago but they have now shifted to Android and she hates it. Privately she continues to use the 950 XL. We always pay our phones cash (so no telecom plans that forces you to shift every 2 years), so we will use the phones until they die (as my youngest son shifted to iPhone we now have a spare / replacement 950 XL). The moment all our 950 XL will have died - if that will happen we will reluctantly move to Apple until MS is back. We still have a 1520 that we switch on regularly (on wifi) and a 920. Oh one more thing, when travelling I still use my 1020 (41MP) as my "camera" next to a Sony a9 physical camera

My last was a Lumia 920. I got tired of the lack of apps in March 2015 and got a used Moto X (2013 version). When I saw how capable a then outdated Android phone was at that time, I kept it until November 2015, when I got a new Moto X Pure Edition and stayed with Android since then. My current phone is an LG V20. I also have a Nexus 7 (2013) tablet, which is still running great now.

The last windows 10 mobile phone i used was a Microsoft Lumia 950XL it was one of the best Windows phone i ever had now I've gone over to android using Xiaomi phones.

Yeah, Loathe is a bit harsh. I still use mine to date and the camera is actually pretty good, rarely crashing and has great wide angle. Awesome for landscapes. The app thing has never really been a problem. I also have had the 950xl and 950 at my side but since getting the Galaxy S10+ I have put the MS phones away and only use the HP. Overall the Elite is and was a very good device. I have really enjoyed it for years now, but time to move on (partially).

Lumia 820 (until 2017). Do miss Windows Phone, and especially the fact that I can't get a lot of the features the 820 had, even six years later, without buying a high-end Android phone. Almost bought a 950 midway through 2016, but it was pretty clear the writing was on the wall, so went with a Oneplus 3T a few months later. Turned out to be a good decision with the official killing off of WP following not too long afterwards.

Lumia 950xl was the last one but it's build quality wasn't like the Nokia phones. I used lumia 920, 620, 730, 830, 640xl and 950xl The 920 was the best phone I used in my life
830 and 730 were good phones too

Last one I had was the Xiaomi Mi4 LTE (and before it - HTC Windows Phone 8x, Lumia 520 and ZTE Tania), with a registry hack to mimick Lumia 950 to receive updates. But at Dec-2017 I have replaced it with a Samsung Galaxy S7 Edge (still in use) - to be honest it have all MS software preloaded and 100GB OneDrive.

I am still using Microsoft 540 and it's going fine but, battery get drain very fast as I am using whatsapp (not frequent) on it . Only call it goes 6 to 12 hr in battery saving condition.

Last one I had was the Lumia 930, had to switch because a lot of apps weren't available anymore.
If another one with good app support comes out I will be switching back in a blink, though.

My last one was the Lumia 640. Also had the 820 and 535. I still use the 640 as my bedroom roku remote as well as some random searches and stuff when my primary LG V40 is in use. Haven't done an update on it in well over a year though because it always says there isn't enough storage even though I have deleted everything that can be deleted (apps, photos, contacts, videos, cache and temporary data, etc) with no exceptions. It is as barebones as you can make it, yet it still tells me I don't have enough storage. I just redownloaded the roku remote app when all that didn't work.

Had a Nokia Lumia 830 which was my daily driver Up indtil two Days ago. My bank's mobile banking app was updated with Better security and they stopped support on Windows Phone.

Still using in 2019 Lumia 735 updated to Windows 10.
I love it!
I don't ever found until now a valid substitute about solidity, OS concept, dimensions.

Till now I have the 930, 7XX and 950XL

Last was my Lumia 950xl but had an Alcatel Idol 4S as backup. Had before that Lumia 830 (amazing on WP8.1, shouldn't have updated to W10M). Also an HTC 8X and in the old days an HTC Touch Dual in the Windows Mobile 6.1 days.

Microsoft Lumia 950. My Windows Phone lineage was the Samsung Focus, HTC HD7S, Nokia Lumia 900, Nokia Lumia 920, Nokia Lumia 1520, and lastly, Microsoft Lumia 950. I still miss the Lumia 1520. Super powerful, insane camera, great screen, ridiculous battery life... it was a literal beast.

I had a number of 1520s, an 820, and a couple of 950s. I loved them all, but the 820 was underpowered for me. Last year I smashed my 950 so I decided it was time to make the switch. I started using my wife's old iPhone 7. I hated it but it got the job done. Then Microsoft started putting a lot of effort into make the Windows/Android platforms play nicely, so I was interested... Then Razer developed the Razer Phone 2 and I made the jump. Using that phone is just fun! As far as a phone OS goes, Windows is a million times better. The fingerprint sensor went out on my Razer Phone, so I had to pick up another phone while Razer was taking care of my warranty. I went to ebay and picked up a used 1520 for $34. I'm loving it!

HTC HD7, then the Lumia 640, then finally the 954 XL before I finally (and reluctantly) switched to an S8+.

Very similar to my story, (920, 820, 520 (crap) then a 640 (still have tied to my now worthless ms band 2). I reluctantly switched to the S8+ Unfortunately android phones are just far too "noisy", too many notifications, no matter how much i fiddle with em. I preffered the Windows Phone OS, didnt overload me with tons of useless notifications. What a shame MS abandonded a fairly good system. Same with the Band 2, worked great, still can rival most modern smartwatches, but abandoned by MS. I wish I could go back and do it all again. I now have a 640 and a ms band 2 sitting in my drawer doing nothing. What a waste.

Still have 950 XL DS for WOA. I still need to load the latest iteration. It still has its leather back cover and new battery.
Everyone once in awhile I'll power up my 640 with soldered on Qi wireless charging. For a $50 phone, that 640 rocks... or at least it did in the day.

My last phone was the Lumia Icon since that was the last WM device released on Verizon before the platform was officially defunct. It was a disappointment that the 950 wasn't available to me or I definitely would have upgraded to it. At the end of the day MS anger over the Icon / WP 8.1 debacle produced the bad result of Microsoft cutting out America's largest carrier from the platform further pushing it to the grave. I'm not sure why anyone in company thought people would change networks for the 950.

I don't think they expected anyone to buy the 950. They certainly didn't put much effort into it.

I think you'll find there's a long and old debate about this, with blame being fairly evenly attributed to both sides. I, for example, don't know why Verizon would expect phone manufacturers to make phones for their network, when they are almost the only carrier in the world using CDMA.

950XL. Still use it for quality photos as Razer 2 camera doesn't cut the mustard. Nor does Android version SwiftKey predictability for that matter. Will be angry at MS for some time to come

950XL, and I'm going down with the ship...

I was using the x3 for a while, but my biggest issue was that it would just ... not power on. I could charge it, I could attempt to reset it, but it stopped doing anything until it had sat for (indeterminate amount of time) - at which point it would work again. I started using my wife's old 950 and that worked well enough - until I dropped it and shattered the screen. :( I tried to resurrect the x3, but had lost the SIM tray so that was a no-go. I switched over to a Pixel 3, sadly _just_ before Google ran their 1/2 price special, but still got it at a discount. It works well, but I do miss having an SD card as an option. Using MS Launcher for the interface because I like it better than stock Android. The camera is good - can't complain there. It's enough where I'd consider getting a 3a for my kid when it's time.

My last WP was the HP Elite x3 as well... still have it for emergency back up. A year ago I moved to Android and currently run with a Nokia 7.1. https://msftman.wordpress.com/2018/06/25/reluctance-revelations-realizat...

Lumia 950. Had it until about a year ago when it took a double fall and the screen cracked.

My Lumia 920 lasted me until just under a year ago. The poor thing that took an 8 foot jump onto concrete (that ended up doing more damage to the concrete than the phone) finally lost its service after a run in with the contents of a bottle of mango snapple; it will be missed.

Lumia 735. After more and more apps began to abandon the system I finally gave up and went with Android. Took me around a month to get accustomed enough to appreciate it but I still think mobile Windows had the best UI. Also I had to buy a couple of apps to make some things work the way they did on Lumia and were immensely useful (e.g. automatic speaker activation when I put the phone away from the ear) but now I'm pretty happy with it.
And it works in my car via Android Auto, WM never got the MirrorLink update :/

What's the name of the speaker control app?

My final Windows Phone was the HTC 8X. I loved that phone: the beautiful blue color , the camera, and WP 8 was the best mobile experience I've ever had. Sadly, the apps just weren't there and once I bought a Nexus 5, I never looked back. I've tried to replicate the home screen on Android but it's just too flaky.

Samsung Focus, Nokia 900, Nokia 1520 and Lumia 950 XL. The later recently had an update, interestingly enough. No, no features. But, the update was Windows 10 for ARM devices.

950 XL til the end which will come before this december for me. Without WhatsApp, I can't have this phone. Now looking for Android alternatives that are as good.

Every Android phone is better than that terrible device. This website never even reviewed the XL it was so bad.

They did plenty of reviews of the 950XL 🙄

The Lumia 950, paid full price for it. It had a few bugs, but I loved that phone.

Lumia 950xl. Would've liked a revamped 1020 but unfortunately that didn't happen.
Miss that camera phone. 😢

My last phone is Lumia 650

I'm still using my Microsoft Lumia 950XL and will not change until this Christmas (when updates end). I love this phone. The photos are phenomenal and as far as apps go, I use the Edge browser for banking, social media, etcetera. My battery life is still good, but I noticed that Candy Crush kills it fast. My whole family used to be a Windows Phone/Mobile family (there are 5 of us). I even got my youngest son a Windows phone for his 1st birthday. We had the Lumia 620s, Lumia 520s, Lumia 1320s, Lumia 640s, but I was the only one who moved to a Lumia 950XL. Everyone else got Samsung phones now (Galaxy S9, Galaxy S7, Grand Prime, Galaxy S4 Mini). I plan on getting a Samsung Galaxy S10 for Christmas and my wife wants an Apple iPhone XI or 11 or whatever the new iPhone will be called. I hope Android can live up to Microsoft's standards.

My last Windows phone was/is a Lumia 950XL DS, which is still a great phone, but I moved to Android as my daily driver 6 months ago (when I learned just how awful Android really is; lots of apps, but worse than my years old Lumia for speed/stability/productivity/ease of use, etc). I will load WOA on my Lumia as soon as they (3rd party developers, way more invested in the platform than MS ever was) get the phone capabilities (calling, SMS messaging) a bit more stable. I had grown thru the ranks of WP7/8 before moving to W10 mobile, and with each step towards the integrated nirvana that MS was feebly seeking, the mobile platform dropped lower and lower on their priorities, having destroyed what had the potential to be the best mobile platform by far; but I might as well be wishing for a herd of unicorns . . .

Mine was a Lumia 950 XL. Still has a better camera than my current Android phone!

My last Windows Phone was the Nokia Lumia 1520.

Lumia 950. The battery started to swell up and pop the case open, and at that point it was not worth purchasing another battery.
Both my wife and son had 620s and they were also on their last legs (and my wife was very frustrated at the lack of apps she wanted) so we all traded them in for Samsung S8s on a nice BOGO deal.
I slapped SqaureHome2 on it and have not looked back.
I do miss the elegant and intuitive Live Tiles interface and slick integration however......sigh.
Ah, memories.

Lumia 928 still going awesome

A Lumia 640, it wasn't a powerhouse but at least it did everything that I needed. Used it for 4 years, till 3 months ago when I bought a Nokia 7.1. I have to say that I'm still in love with it and using it sometimes for a little nostalgia.
/sorry for bad english/

Still using LG C900 Optimus, with the hardware keyboard, and replaceable battery on Windows Phone 7.8
It's been 6+ years now. And replaced it twice, each time for $40 total purchase price off Amazon. I have a Lumia 650 with Windows 8 phone for testing out, but haven't switched, since I don't like full touchscreens. Sticking with 3G phones until they take the network down. later
-1

Are you on T-mobile or ATT 3G ?

Still using my HP Elite X3

Lumia 928. Loved this phone and OS and finally gave in and bought the S10 a few months back. Sad but the S10 is pretty sweet...

Have owned Lumia 925, 640, 650 DS, and currently using 950 (till the end). My wife 820, 650 DS; my little sister 640, 650 DS and currently 950, no need to mention my cousin's and friend's (they have all adopted Windows Phone under my influence and have confirmed that it was the best mobile phone OS for them.
I've always have android phones and iPhones on hand, Windows Mobile is by far a superior os. So intuitive ( Microsoft is very good at that) Very customizable ( No 2 windows mobile phone can look the same).
My little sister is stylist, as she always works with her Windows phone next to her, the theme of her phone always match the color she's wearing and the color of the tissue she's working on. She's gonna miss her Windows phone.

I did had a Omnia 7 (my first WP), 550, 625, 640, 925, 930 and the 950 Xl til two and a half months ago when half screen die (look like TV noise) and sadly was my last WM10 device. I wish a could install WM10 on my P20 Pro, that would be something.

Lumia 950 was my last actively used Windows Phone and I miss it. It just worked. Unfortunately, when it was 1st announed to no longer get insider updates inline with desktop and apps started to disappear, I needed to be be able to work (and play) on my phone. For the 1st time since the Samsung Blackjack 1st released, I ended up on my 1st Non-Windows based phone. Does it work? yes. Does it play? yes. Do I wish it was a modern high end Lumia? YES!

It was Lumia 830 here. Lumia 920 was before it.

My last WP phone was the Lumia 1020. I miss the OS and have to tolerate my Android replacements.

I am a Micro soft loyalist, and I plan on sticking with my Lumia 950 XL until December 25.

My best experience with phones with Windows was the amazing Lumia 1020 powering Windows Phone 8.1, after trying Windows 10 Mobile, I knew it was going to be a failure, so I left. I still bought a Lumia 640 XL for whatever reason and installed Windows 10, but never really enjoyed it. For me W10M was always a piece of dung. Now I just need to replace the battery and the charging port of my Lumia 1020 for using as an amazing Camera with Windows Phone 8.1, it deserves to be rehabilited.

Lumia Icon, which I miss and still keep ready to go as a phone to take places I don't trust (for instance, China). Camera still holds up pretty well, battery life is alright and its fast and fluid. I miss it. I messed with Android the past two years and finally gave up last week. It is a constant fight to protect my privacy on that platform and stay ahead of the latest security holes with venders basically not being up to date, plus you have at best 3 years of support assuming you buy at full price on day one of release of a Pixel device. I never thought I'd do this, but I got an iPhone Xs I found cheap on Swappa. I hate the UI. Nothing is going to change that for me. But I'm absolutely stunned by the display quality, the fluidity (like the Icon when new) and the battery life. With normal use I can get nearly two days on a charge, it's crazy. I don't think I'll ever like the UI (seriously, Windows 3.1 people?), the notification system is inconsistent and confusing and the gestures don't work as expected. But its fast, secure, high quality hardware and will be supported for 5+ years minimum which matters nowadays since hardware advances have slowed down. Also, I didn't find it that hard to de-Apple it, disabled iCloud, Siri and other services in favor of MS/Amazon services with the exception of Maps (hopefully I can replace that in iOS 13). It also requires no special apps on my PC thank god, iTunes is a terrible thing. I think I can live with this until/if MS gets back into this space. At least I'll have years to coast until the market changes again.

Still rocking a Lumia 950. The apps I use still work great. I do cheat a little and use mobile websites for some, but hey, it works fine. Still no "nail in the coffin" for me yet.

My first Love, My Lumia 640. I still miss it each and everyday. That beautiful OS will always be the best thing I will ever see.

Went from a Lumia 620( Loved that phone, was my first smartphone!) to a Lumia 640 XL, Which I use as an Alarm clock. My daily driver is a Moto G4 Plus, which I dislike because of the extremely low battery life compared to the Lumia 640 XL!

My current phone is the X3, I've gone from hp pda's windows mobile to Samsung blackjack 1&2 hp 910 hp glisten Samsung focus Samsung ativ-s nokia 1520 to Elite x3 my wife 2 htc windows mobile nokia 920(yellow) yellow 1520 and 950xl my daughter's 950 took a swim, I currently carry my ativ ,1520 and X3(daily phone) i still have every pda and phone all working except the 950.
for me the promise of a windows pc in my pocket that can make phone calls is what keeps me going I cant stand the fact that I now only have two choices of smartphone OS Android or IOS.

I gess i was the only one here with a 1320, and I loved it but it broke around the time MS was abandoning Windows phone, so i switched to Android and I'm not very happy, windows phone 8.1 IS alot better than *looks at settings* Android 6.0.1

I had a 1320 as well but micro USB port gave out. Thankfully micro Usbs are being phased out.

I'm still using a yellow Lumia 1520 and still LOVE it! As a backup, I've got a white Lumia 1520. The 1520 still does everything I need/want it to, so no reason to stop using something I love! :-)

I still use the HP Elite x3 and plan on doing so for many years to come. I even have two backups ready to go in case something happens to this one. It's a great phone. I love the size, the screen, the front-facing speakers, and the Windows Hello integration--either the camera or the perfectly placed rear finger-print sensor, as either are snappy and accurate. The W10 Mobile OS is still the best mobile OS on the market, even without any new features added in years. I never had any of the issues mentioned in the article (I'm not saying that Jez didn't have them, just that I didn't)--no app crashing, no camera crashing, no battery drain, et cetera, and I use Twitter's app on it all the time. The only downside on the phone is the camera shutter speed, which is too slow and particularly struggles with movement. My Lumia Icon and Lumia 928 were better in that regard, but I'm not a huge photographer. I'm just so glad that HP decided to bring this to Verizon after all that time. My Icon was on its last legs and the newer X3 on Verizon will enable me to stick to Windows 10 Mobile for a long time.

My last was the 950XL, which still sits on my desk, but was abandoned as a daily driver years ago. My last act was to reset to factory, and most all of that still works just fine. Wanted to comment on a line in the article though, referencing Continuum. "It worked pretty well on the HP Elite x3, but for all the effort that would have gone into carrying the dock around and all its cables, you might as well have just taken a laptop." You didn't need to do that on a 950 or the X3. You could cast the screen via Miracast, and use a BT keyboard and mouse. A whole lot of TVs, back then, and more today, have the Miracast (compatible) capabilty built in, and the Miracast dongle wasn't that big, for anything with an HDMI in. (Firestick size). A MS foldable BT keyboard and a Surface mouse make a pretty small package. For the size of a paperback book, you could easily carry what you needed to work off the hotel TV from your phone. You could even use the setup to RDP into a VM or physical machine and take advantage of full Windows. Would have been nice if MS had followed through with this. At this point we could well have had a version of Windows shoehorned into a pocketable device for use with a dock solution, and a mobile OS to be used like a phone.

My first Windows mobile device was HP iPaq and my final was the 950xl. Now using LG Q6 with quite a few of the MS apps... Will get either the LG thinq G7 or if feeling plush, the V50...

The last phone I had was the Lumia 950. My wife and daughter also had the 950 as well. First my wife went back to iPhone for school related apps and eventually needing it for becoming a Postmates driver. My daughter was next to go back to iOS to be able to play games with her cousins and classmates. I held on the longest but after an accident I had, the phone didn't fully survive afterwards so I went back to iOS. Do I miss it yes, but it is what it is.

Lumia 950XL. I Miss it, but moved on. I can actually I've in the modern world now. Wife used an Alcatel Idol 4s.

Using Lumia 950xl daily along with Note 9 and iPhone 6s. I still like Windows Phone UI compared to Android. Most probably keep using 950xl until it dies.

I received a free Samsung Focus S back when the local Microsoft store was promoting this giveaway if you were willing to trade in your phone (any type) after you fail a timed test against a store rep. I failed the test and handed in my Android phone to receive a brand-new Windows phone. I loved that phone's smoothness and found Cortana extremely helpful and useful. What killed the phone for me was the store. I'd use the term "haphazard" to describe its arrangement, and "abysmal" to describe the quality of its apps.

Anyone else notice that opening up the Cortana app. In Windows 10 mobile just. does not give you a feed

I had three Windows Phones: The first was an LG with a slide-out keyboard. The second was a Nokia Lumia 635 (I think), and the last was the Lumia 640. I eventually gave it up last year for Android, but Androis with Launcher 10, so in a way it's like I never stopped using Windows 10 Mobile.

Last windows phone was the 950xl. Loved it, did everything I needed. Only stopped using it when my contract was up and MS announced the death of the ecosystem.
Ended up with a Galaxy S8 which took some getting used to after years of Windows phones,(going back to the mighty HTC Titan) Used Arrow/Microsoft launcher for a good year or so, but then moved onto Evie which I found to be less cluttered.
Did not enjoy the bloatware of the S8, the uninstallable Samsung apps, Bixby and all the other crap.
Last week, I purchased a Pixel 3xl... decided to go full Google... cancelled my office 365 subscription and moved over 10 years of files over to gdrive.
Lost all faith in MS over the last few years from a consumer point of view. Thankfully I keep my toes in the water with my surface tablet and the xbox1x, though I am considering getting a Chromebook soon... (yeah, I know) as the surface 3 is getting a bit long in the tooth now.

HP Elite X3. I loved that phone. Battery life was awesome, loved Windows Mobile as an OS, and it looked impressive. No regrets paying a premium only to grudgingly move to a Galaxy Note 9 running Android. Anything but iOS.

I'm still on my L950
I usually spend ~300€ on smartphones, buying 6 month old mid range devices.
For the L950, that's the price I spent for the phone + dock thanks to the announcement of abandonship of W10M in mid 2016.
Currently I start to find decent replacement EQUIVALENT for a little bit more money... (I m not talking about power, but everything else)
So I'm still waiting, I don't want to spent another 300€ for the same hardware just with another OS

I still use the Alcatel Idol 4S + Lumia 1020! 😁

I used my 950 until it started boot looping. I still have it and turn it on occasionally but it usually goes into the same cycle. I still have and use a 640 at home but not as a phone. I also fire up a WP 7.8 (HTC Arrive) and WP 8 (Nokia 822) just for fun. I've been using an Android phone for about two years. Now I'm using an Asus Zenfone 3 Zoom and experiencing zen with the battery life.

950xl is still being my one and only phone. I'm lucky to get the new genuine battery from the service centre, so all good.

Still have my Acer Liquid Jade Primo though it's far from a daily driver. The end of CamScanner became the end of Windows for me. Still the best Outlook experience on a mobile device bar none.

Its a shame about CamScanner not updating anymore. :-( I agree about the Outlook experience on Win 10 mobile, its way ahead of samsung & android mail.

My Samsung ATIV SE was my favorite windows phone, until I got my 950 XL. REALLY loved this phone, with the MOZO leather back. I still pick it up every once in a while, but more and more stuff doesn't work. Sad. I've moved on to an S8+.

Still using a Lumia 950 as my daily phone, have two 950's and hp elite x3 in storage for just in case I ruin one, I use a android phone occasionally with wifi for banking apps.

Came late to Windows Phone only in 2014 with the HTC One M8, followed by the Lumia 950XL, the Lumia 550, and lastly the Alcatel Idol 4S until switching to Android in June 2017.

Microsoft Lumia 550 was my first and last windows mobile, and I've been using it for almost four years now. It's been great and now I've currently switched to Samsung Galaxy M20 as a budget phone.

Current Phone: HP Elite X3
Future Phone: HP Elite X3
Final Phone: HP Elite X3 (Probably) Android while the app selection is nice from my personal experience in dealing with the UI, its just very inconsistent and unpolished at times. Most of the apps I've tried finding that mimics functionality on Windows 10 Mobile are either pure garbage or its extremely difficult to find. Sometimes too much of a good thing is a bad thing. Yes, having NO app support/very limited 3rd party developer support going forward on Windows Phone is a HUGE issue, but its a non-issue for me considering all the apps I currently have installed work just fine, and I don't anticipate running into problems for the next few years. For example, I love I can simply rip music from Mytube to my SD storage and save for later. There's no close alternative on Google (most likely because Google won't allow it) YES there's technically New Pipe, but I hate the UI and saving to SD card never worked for me. Another irreplacement app for me is Outlook Mail and Calendar ON Windows 10 Mobile. Talk about simplicity at its best. A beautiful dark theme, simplied notifications, and ability to pin "individual" mailboxes are huge for me. I have a weather app (Vieather) that pins the next 7 hours to a wide live tile, taking up only 13% of my screen real estate (2/15 tiles). The efficiency of the home screen and live tiles also allows me to pin MyRadar tile to the home screen and instantly see radar AND hourly forecast in one glance. You can't do this on Android without taking up 70% of the screen. I use Groove for offline music playback (from previously downloaded songs ripped on MyTube) and Pandora ocassionally. Pandora might eventually go away, but I use it still cause, hey, it works. I have the Plex app and a lifetime Plex pass which works fine and downloads my photos to my NAS to keep my OneDrive cloud space clean. Reddplanet is the BEST reddit client I've ever found. There are a few on Android that work alright, but nothing compares. The HP Elite X3 camera is not as bad as what you are making it out to be when used properly, or paired with a proper app like ProShot. I actually quite enjoy the true to life tones on the HP Elite X3. The resolution isn't amazing (10MP jpg) and suffers in low light but its a business camera and should be graded as such. I think part of your crashing issue may be due to low battery life but its just a theory. Voltage irregularity basically. I was shooting a few pictures just fine earlier today, then went outside to take a few more shots tonight when the battery was at 15% to test my theory and sure enough, app crashses. Try taking a photo at 90%, then again at 50%, then again at 10% and tell me the results. The camera experience is not "HORRIBLE" per say. Nothing to write home about, but in good enough lighting I'm more than satisfied with the pictures. You have to lower the expectations a bit. Do I like Android? UI WISE= NO I HATE IT. Part of this is due to the inconsistency between different UI skins (Samsung touch Wiz vs OnePlus Oxygen OS vs LG UX vs BLAH BLAH) but mostly due to the fact I am not willing to change my filthy ways and accept change. I wholeheartedly admit that and its probably whats keeping me from a "real" smartphone experience. Another part of me does not want to be bothered with the everyday hussle of marketing and gimmickry thats out there. Buying tech can become very expensive and I just don't want to be apart of the mass hysteria. Leave me out of it. Send me an email, not a snapchat message. The more we lash onto technology in mobile and become spoon feed the answers to life, the less likely we are to engage in critical thinking skills and think independently. Smartphones are very useful don't get me wrong, but they should never be controlling or that influential you can't think on your own. Free the grip a bit and get a Windows Phone!!!!!!!!!!!!!! Or a dumbphone, whatever. :)

I plan on using all my Win mobile phones untill the last one breaks, thankfully they all still work great.

My 950 XL dual SIM is still my daily driver for personal and work. In some ways I'm glad I jumped off the upgrade tread mill all those years ago because I have a SIM-only contract which costs me just £15 per month for unlimited calls / SMS and 15GB of data. Everything I need still works and I'll consider getting an Android over Christmas and then wait for the new year sales. I'm in no hurry.

I still have Lumia 830, but not using it regularly.

Lumia 950. Finally switched to Galaxy S8 with Launcher 10 launcher a few months ago. 😭

Mine was the 930, still have it as my work device

Really great that you just took the time to share and support folks still utilizing windows phones and ones who held on there for a while. Telling it like it is too...I still have a 1520, but sold my whole stock of parts and whole phones months ago. Now I use the 1520 for aptx bluetooth playback.

Lumia 640 XL, a great phone on budget. it died about a year ago and switch to a Xiaomi redmi note 5 (again a great phone on budget). and about the camera of your Elite X3, my Lumia had a great camera but in the last system update it started to crash almost 1 of 2 times, maybe your problem was related to windows, not to HP

Mine was the 930. I used to pull up windows central several times a day waiting/hoping for some kind of news about new flagship phones(830 doesn't count). Then when the 950 came out I ran to the nearest MS store and bought a 950XL. I came back to my office. Closed the doors and booted it up. After a couple of hours playing with it I realized it was basically a bigger version of the 930. No new features or anything. After a weekend of testing I boxed it back up and took it back to the MS store. Depressed knowing I was pretty much done with the platform.

"It (Continuum) worked pretty well on the HP Elite x3, but for all the effort that would have gone into carrying the dock around and all its cables, you might as well have just taken a laptop." I said this at the time Continuum first appeared. Many times. I was shouted down by all of the "true believers", who said things like "but just imagine going to hotel with only your phone. You get to your room and there is a dock and keyboard and display, and away you go". To which I would reply "Imagine you run a hotel. Would YOU want to supply all of that crap - plus cables - for all of the different phones out there? Why not just supply a laptop?" Crickets chirping. Component computing is never coming back. Personal Computers requiring multiple gadgets and assorted cables went away around 1980. In fact, it took a SINGLE box with a SINGLE power cable to really make the personal computer market take off. Things like the TRS-80 Model 3 and the IBM PC. Before then, "home computers" were the realm of hobbyists. You had a big, stupid looking box for the actual computer, a separate power supply, separate keyboard and separate display. Then you had 1 or more disk drives and/or cassette tape drives. If you were REALLY wealthy you had a 5 MB - yes, MB - hard drive. Plus 2 dozen cables connecting/powering it all. Today we just grab a phone or iPad and go. If you need to get "work" done, you take a Windows laptop. No one wants to carry all that junk around, and no one is going to have a stock of everything you might need when you forget something. It seemed (to some, certainly not me) like a good idea, but it is totally impractical. OK, rant over. I still have a 1520 and an Icon. I use them occasionally as very clunky MP3 players. That's about it. I moved on 3 years ago.

Lumia 950XL. Loved the phone. So fast and easy to use. I loved the tiles and menu for navigating. Typing experience was the best. Camera was amazing. Shame to have to leave that phone behind. Was hoping MS could have figured out an OS for the PC and Phone that was one OS and Windows mobile could have continued.

Lumia 735. Newest and last available on Verizon. I will have to fire it up again soon😁. On Android now. Man I miss live tiles!

My current phone is L950. I have used L925, L1520 and L640XL before. I think this is will be my final Windows Phone.

Lumia 950. Had been with Windowsphone throughout its life well before the Mango days... Incredibly sad what this moron SatyaNutella did and killed off what he failed to accomplish and blatantly lied to everyone.

Last phone was the Idol S4. First was the HTC 8XT, still my favorite mobile phone ever. I went to Android for a year, then over to Apple where I've stayed.

Lumia 950 XL until yesterday (5/30/19). I'm heading out camping this summer and Spotify is just horrible on the Windows Phone, and I'm tired of the warnings of impending doom from Instagram and others. I snatched up last year's unlocked Samsung Galaxy 9+ and two Samsung Galaxy 9's for all of us. Now that I've figured out the Outlook syncing issues and phone favorites, the rest is easy. Microsoft Launcher is no Windows OS, and Android is still just as awful as my first Galaxy phone years ago. Android made me switch to Windows 7 Samsung phone and I never went back until today.

I am still using Lumia 930. Good phone with amazing display but the os is going abondend and these days the phone is going warmer. But the best phone I have ever used and don't like to move to other dull platforms but have no choice.

My last WP was the Lumia 950 and ended up on iPhone. I couldn't not bring myself to move to Android. I had so many issues with the 950, battery drain, random reboots, call drops and screen freezes. I loved the WP interface and flow...I really miss it. I sure hope they eventually re-enter the mobile market. But for now, I am sticking with iPhone.

1st and last...was a Lumia 521, I still have it at work, just in case. Gave up due to lack of available apps for work related issues. Love the phone.

Don't suppose you ever used HP's Lapdock for the X3? For me it was a toss up between the x3 and 950XL, ended up getting the 950 XL primarily due to the camera. my 950XL is still going strong and now I say that... it will develop some random fault knowing my luck lol... Got the L950 XL for £124.99 on ebay, it had a little chip on the corner which I solved using £1 debrand skin from clove.co.uk. Only I could find that wasn't stupidly expensive, for the screen I'm using a ant-glare screen protector which I bought for 8.59 for a pack of three. This one doesn't have the idiotic gaps for the ffc, iris scanner and the other front facing sensors. Also bought a 128 msd card for £20 and finally a cheap tpu gel case. Therefore overall spent just over £155 on the phone itself and later bought the Continuum dock (HD-500) for £25 or so - all in all about £180 total spend. It's a shame Microsoft really didn't push UWP much, continuum is just awesome... soo much under utilised potential especial with xcloud. You could leave your PC turned on, use remote desktop (via a vpn) to use proper desktop applications if need be... that reminds still haven't gotten round to messing around with remote play with the desktop Xbox PC app yet lol.

Lumia 950 on AT&T was my last phone that I traded in for a Galaxy S8. Before that I was on Verizon with the Lumia Icon, my favorite Windows phone. It felt like a premium phone. I only switched to AT&T because they were the only ones carrying Windows phones when I was ready to upgrade. I now own a Galaxy S10 and it is a nice phone but I miss Cortana the most. Cortana was so intuitive and seemed so seamless and natural. Bixby feels like a toaster in a vacuum cleaner world that just burns the bread and just plain sucks.

The Lumia 950 was my last Windows Phone. Over the years I owned a Samsung Focus, a 920 (in sexy cyan!), a 1020 and then the 950. Each had its quirks, but all were pretty good devices save the 950. That steaming pile of garbage remains the worst electronic device I have ever owned. I got it super early and paid the price. That dang thing NEVER WORKED PROPERLY. Windows 10 Mobile was an utter disgrace of an operating system, especially at launch. Microsoft needed to give it at least another year of internal development and testing before unleashing it on the public. That 950 turned me from a Windows Phone advocate into an antagonist.

I switched to a Samsung, but still keep my 950XL charged up so that I can read the WP7 News app every night. It lists all the new articles by WC, WMPowerUser and a number of other MS-centric websites. I miss using Windows Phone.

My last one was a 1520 and enjoyed it. I didn't know so many people still use their Windows phone. Interesting. I left around the time of the iPhone 8+ release. I continuously felt the Windows phone had such great potential. I would've loved for continuum to be perfected. I was looking forward to upgrading so I could finally use that daily. Although I really enjoyed both a 950XL and 1520 for a time (Even with some of its lackings) I don't know if I would ever trust MS again if they were to release another phone type of device.

950XL. Even bought a 2nd battery to extend my use but finally when to the Note 9 late last year. Ugh, Android despite more features and app (most I don't use) but hideous to navigate and look at.

Green Nokia Lumia 930! Loved that phone! RIP WP

first and last was lumia 930 ...battery died, got replacement but then noticed damage on charging connection and now cant charge. i was hoping to take it few more months until i get something new. due to the unexpected death of my lumia (although im thinking to fix it by getting broken 930) im now using an old huawei p9 lite as a temporary phone. im thinking about huawei p30 or honor 20/pro but with current situation i dont know for sure.

Yes, I am still using my HP Elite X3 for the fantastic screen and Continuum. I use my Nokia Lumia 930 for photos, banking and phone calls. Microsoft To Do is just brilliant on Windows 10 Mobile. Twitter works for me on these phones. Having my maps downloaded makes me invaluable when in isolated areas.

Oh Lord it's a miracle, my lost Lumia 950 has been found, that's a dilemma whether to go back or keep forward with my Nokia 7 plus and Android, what to do?

I have a verizon Nokia 928 and verizon icon 930 I was shocked Microsoft gave up making
smart phones.
now they cannot give the Enterprise phones that truly integrate with windows 10 which
was a big mistake they should have improved the 950Xl & kept Windows phone alive to give
the Enterprise a phone that integrated with Windows. I wish Microsoft would make a 7 to 8 inch
tablet that ran Windows 10S and has a built simple feature phone so people could send & receive
voice calls. this phone would not be good old Windows phone but Windows fans would buy
such a Tablet

Last one I had was an 820 and for $200 it had hardware, 8 years ago, that was the equal of today's superphones. MS needed to let their ex Nokia employees loose and worked on both their OS and the app shop. W8.1 was affine OS and the Nokia hardware was exceptional in my opinion, but it seemed like Nadella was trying to convert MS to something else while sinking his company's reputation.

Since I got 2 SIM, the second is used for voice mainly, decided to prolong the agony with WP, and thus brought my lumia 950 back from the dead, till the bitter end.

I would agree the Lumia 1520 was the pinnacle windows phone in its hay-day. I still like to have it around, update is and use it from time to time. The screen and battery on both are and were simply amazing at the time. I use a 950XL still today as my daily driver. But that 6 inch screen on the 1520 is simply gorgeous. Reading on a lumia 1520 is simply better, due to the large size. Performancewise I notice a difference between the 1520 and 950XL. Performance is better in the latter. The screen is also brighter on the 950XL and that amoled display on the 950XL is amazingly crisp. Both phones have their battery problems. After 3 years capactiy of the 1520 was below 75% capacity. The phone died quickly after the capacity was below 50% battery charge. I could at best use it half a day. I replaced the old with a new one, and the phone works great again.
950 XL is a powerhungry phone, but it is possible to use it more than a day. The screen is amoled, so tweaking the software and use dark mode standard helps a lot. I've bought 2 new batteries for the 950XL. It's a bit hit or mis. The first one lost enough capacity to not make it completely to the end of the day after one year. My current battery seems much better and I can to date do even 1 1/2 days on occasions depending on my usecase. I feel the last OS updates helped with this to a degree. I think the 950 XL will still be my daily driver, as it has been for the last 3 years. The phone and software is great. The camera still makes great photo's. The pureview technology still has its quality merits, even compared with today's high end camera phones. Steven Litchfield has made some interesting comparisons with many of the current android flagship camera phones. There is something about that pureview camera software technology that Nokia did right. I'm still very much on the fence what I'm going to do in 2020. With bonker high end smartphone prices, durability is becoming an ever important argument. I'm done with the 2-3 year smartphone support cycles. It's becoming too wasteful and expensive. I think Microsoft has to date still shown great support, as are its developers, for maintaining and updating the phone regularly. I hope more android device makers will follow suit from 2020 onwards. I'm not going to buy a phone that is outdated in 24 months. Even androids 3 year update guarantee to me is a meager proposition. If it were at least 60 months of OS and device support it would be a different story. I feel like the smartphone is going to become the third most relevant purchase in life after a house and car. The ever increasing prices of the flagship and high end midrange smartphones are telling.

I'm very confused about your battery issues. My L820 lost 20% power after 2 years, the second one i bought served me 2 years and another 2 for my dad. But with Android, just don't buy flagships. Buy a cheaper one (Xiaomi right now), because you need a windows based mobile device anyways when you regulary go on business trips.

Lumia 525 then lumia 730, and lastly, lumia 550.

Lumia 950 (which i only had one year) after 4 years of Lumia 820 (still the best phone i ever had). Just switched my dad's 650 2 weeks ago.
Xiaomi MIUI in combination with Sqarehome make the transition easier, but still Android is a big step back in usability, performance and design.

I still use a Lumia 1520 as my house jukebox. Load it up with songs on the SD card synced from main PC. Then it DLNA or Bluetooths to my hifi. Its an amazing jukebox with beatiful graphics and can be picked up for about $150 on eBay new. Great for dinner parties

Im still using a Lumia 950XL

Lumia 1320 my first and only. Updated to W10M through registry hack.