WhatsApp finally brings voice calling to the masses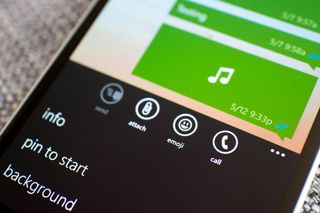 WhatsApp users, the time has finally arrived: voice calling is finally here for everyone. After being announced more than a year ago then launching in private beta earlier this year, the calling feature is here after a long and twisting road.
Of course, there's another minor addition in this update as well. Here's the full breakdown of what's new in WhatsApp version 2.12.60:
WhatsApp Calling: Call your friends and family using WhatsApp for free, even if they're in another country. WhatsApp calls use your phone's Internet connection rather than your cellular plan's voice minutes. Data charges may apply. Available on Windows Phone 8+.
You can now send audio files (available on Windows Phone 8.1+)
And there you have it, the wait is finally over. If you want to get started calling all of your buddies from the warm, green comfort of WhatsApp, you can grab the update from the link below.
Thanks for the numerous tips, everyone!
Download WhatsApp from the Windows Phone Store
Dan Thorp-Lancaster is the former Editor-in-Chief of Windows Central. He began working with Windows Central, Android Central, and iMore as a news writer in 2014 and is obsessed with tech of all sorts. You can follow Dan on Twitter @DthorpL and Instagram @heyitsdtl.
it just seems alot faster

Oh ya baby, waited long time for this.. Ohh its like fulfilling a dream..

Poor functionality with Bluetooth and voice quality sucks! Still Beta App... :(

Hey mate, why don't you sit back and relax and maybe then realize that there's gonna be UPDATES to improve the quality. Just learn to appreciate some major work

Voice quality also sucks on ios and Android. I guess its a general problem.

Dude, voice quality is really good. Maybe you should try the Android version and know better.

Voice quality was amazing on my call when I used it today. Functionality was fine as well. I'd say not a beta.

There's just too many improvements. The notification pop up, the separation between the recorder and the blank space for texting, the numbers of unread texts showin' besides ' watsapp ', CALLING FEATURE, FASTER... Man, they're doing alot of work. Keep it up. :)

Yes and also in privacy settings can disable the "read" blue double checks. I just tried the call and sometimes it's choppy, but I could communicate pretty fine 80% of the time.

Omg!! Thanks so much for telling me that blue check thing. REALLY needed it...

We have got read receipts and a changed logo as well. Messages, especially images are left and right aligned.

Read receipts were already there...you just had to tap and hold on the sent message for a few seconds to get that option.

But now we have an option to turn those off.

yup... just some more improvements needed... like multi-select msgs which was there in the beta... conference call would be a great feature.. hope they will add it in the near future.. :)

Do you guys get a ringtone when someone calls u ? I have noticed that it only lights up the screen and no audio. Anyone ? Is there a setting I overlooked ?

Check whether you are in vibrate only mode

NOOOOOOOOOOOOOOOO!!!!!!
And now the explanation: I really couldn't care less about this function. I had it until monday on my Sony Xperia Z2 and just hated it. The call function in whatsapp is a lot les stable then calling via the GSM network, so I prefer calling the 'normal way'. And I was used to call people straight from within the Whatsapp app (which I now hate because it automatically use the built in whatsapp function) which is now a big annoyance. And the free calling part I dont care about either becouse ive got unlimited calls in my contract, like many people do have in my country. So when I ditcht my Sony Xperia Z2 for my brand new Lumia 930 I was happy with the whatsapp app being 'normal' again. I really dont like this at all!!!

You are not that clever. Here in Europe not everyone has a Flat, and if I would call my gf (she is in norway right now) from Germany, I would pay 90cents/min. So yeah, calling is great!

There are multiple (better) options for making international calls over the internet, you don't need WhatsApp for that. The call button in WhatsApp worked flawlessly before they forced there internet call services on us. I'm okay with that, as long as the quality doesn't suffer, which it does!

Chill man. Why would Whatsapp allow normal calling via their app when they have their own calling feature. Every company prefers their own services over others, that's how it is

It would be nice if there call function would be on par with existing services. Now its just a shitty function that half the time does not even work properly.

Wow.......definitely need too calm down, don't like it DELETE it! I think its a great addition to whatsapp. Slow to thank,quick to moan on here

I think it is better than Skype though with occasional echoes. I see myself using this more in the future than Skype since all my contacts are in WhatsApp. And as for Microsoft, they must update Skype for better experience and not wait for the "next big thing" if they wish to stop their landslide of market share.

Buddy007 you must be crazy, WhatsApp better than Skype? Skype calls are the clearest plus they Alsop have video calls and share screen. Tell me buddy which other service you know that can send any file size over the internet? With Skype it doesn't matter what size file you are sending. The only prop I would give WhatsApp over Skype is its feature to access all your contacts which is not so secure.

I can't delete it. There is no option to disable there new callfunction so I can't use my regular callfunction directly from within WhatsApp. Or where you sugesting I delete WhatsApp completely? No option either, over 80% of Dutch smartphone users use WhatsApp. So they are the most dominant texting app in the Netherlands.
Not using whatsapp is not an option. And I would not want to either. There app works perfectly, on every platform out there, except for there shitty internet call feature, that sucks!

This. i really really like to disable the damned call function in whatsapp. i d'like to use the link in whats app to call the people normally. so useless.

The windows phone design of WhatsApp sucks big time

Finally we found a dude who loves vintage technology.. Lol

His not the only one, that I assure you. They always come out of the woodwork sooner or later :P. Joking, aside there are many who prefer the previous model where it would initiate a prompt and accepting said prompt would use phone's dialer to call. As for some the quality of the call is much more better than the convenience of using Wi Fi or mobile data due to caps (plus the addition of unlimited calling minutes) and some just don't like progression at all.. darn luddites lol. Personally, I would rather prefer they add both options. Calling over Wi Fi would save me alot of money as I don't have unlimited minutes any more. However sometimes that just isn't possible due to crap mobile internet coverage (have unlimited 4g data, with 200 calling minutes that was trade off - unlimited minutes and capped internet - chose the former as barely make 50 minutes of calls a month sometimes 500 depends on work etc) In regards to the audio quality, I imagine they just reduced the call quality (with minimal compression) to keep bandwidth cost per user pretty low. As result you get pretty poor audio quality; so more users who use this service it will only degrade not get better. Unless they start provisioning more servers to increase bandwidth allocation or enable better compression or do both - it will always have poor audio quality. (excuse the essay of a post, you can blame shape writing for that lol).

don't update and stop bitching.

Just updated. Yet to test:-)

They added an icon beside whatsapp header to show the number of unread messages. Nice to see that.

Every time i try to click on Smily icon, i end up clicking on Calling icon.... Stupid me!!!

Any idea..where the audio files are saved? Edit..found jt! In the picture folder of whatsapp!!

It's now the individual selection of messages available?

They pulled multiple messages select feature back

Oh God....Why ? I hope they'll bring that feature asap. It's actually very needed feature without it, Whatsapp looks crippled against its Android counter part.

That's what iv been crying about all this time. Oh and ability to search through texts, were need that as well

Also ability to store a list of previous statuses

WC editors, any idea why this feature was left out of the update? Its been in the beta for a long time, right? Does it not work well?

and small notification on "main page"

next to header there is a number of unread messages

And What's App logo on action center and banner notification it's no longer green, thanks God.

Also it is now showing up in most of my share options

I love the share option now :)

Yes I was waiting for this.

Finally!!!! Long waiting lol

I don't get why even after so many updates they can't simple stay with the multiple select messages!!!

It was in beta.. They pulled it back

Maybe it conflicts with the audio share?? Who knows? This is Windows Phone version after all, not the iOS - Android ported versions.

Finally....... Yay....!!!!!! Its time to party now

It now shows the number of unread messages beside an icon at the top. A welcomed addition.

WOOOOOOOOOOOOOOOOOOOOOOOOOOOOOOOOOOOOOOOOOOHO LET'S PARTY

The armpit sweat stain in your DP is disgustingly distracting

Hee Hee Beavis, he said DP!!! Hee Hee!

Finally!!! I love whatsapp hahaha

Audio share is also inculded...awesome

Any idea where the audio is saved?

Ah found it! It's in the picture folder of whatsapp xD

Finally! Now I just hope the rumored desing overhaul is actually coming for Windows 10 Mobile!

No, current design is good

damn that thing is sweet!
whatsapp needs a design overhaul, big time! it's too basic and dry right now. those screenshots you've shared give me hope, but i'm guessing whatsapp won't put that much effort in for windows. still, we can always hope for better design. the current one is literally bare bones.

That concept doesn't look good to me. I like the current design.

So, a Lollipop looking app eh? Well, it doesn't look too ugly, I'll give you that

Noooo,i love the current one!!!

Now... How to add video's? Tat option went missing....

Use the option of album...pics and videos can be shared using this option

omg so great, now all the crying will finally stop!

No it won't.... Tears of joy :'D

Still no multiple message select option that's much more usefull that call function

where's the multiple select messages???

Ability to select multiple texts. They should add searching through messages as well

Searching actually was there long time ago. For some reason they disabled it, and now it's useless

When in...oh never mind. I'm so happy today :D

Hooooooraaaaaahhh...finally feel something to celebrate. Was fed up of new builds and bugs..

And then, there's also this new animation when you tap on a chat.. The screen drops to open the chat..

deleting messages too. You don't even notice when it's deleted, it just disappears lol

Yes right bro. I guess noone noticed that. I noticed it and I was also amazed.

Yep, it's better than having just the name you tapped drop down.

Was waiting from many days.

Finally! A feature I'll never use!...and added sound share, something I really care more than calls

Sure, you are not alone there.

Even I thought I won't use the WA calling but when I tested today morning its amazing and you know it worked smooth on 2G what else people want, the cons was the dialogues were fractions of seconds late that's fine, I think that problem won't occur on 3G LTE or Wi-Fi

Celebration time! Come on!

Design overhaul. PLEAASEE !!!

Not available in my country

Expect another update to fix bugs by tomorrow morning

Whatsapp seems to open faster.I don't know I used to see long times of loading on the 520.But now that loading time has been reduced.Opens faster.

It absolutely is opening faster.

Also some minor tweaks. If someone sends an image. It shows in the notification as a Camera Icon. !