WhatsApp finally brings voice calling to the masses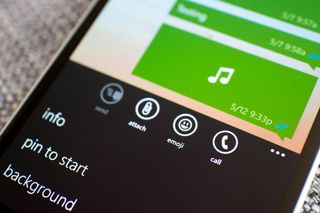 WhatsApp users, the time has finally arrived: voice calling is finally here for everyone. After being announced more than a year ago then launching in private beta earlier this year, the calling feature is here after a long and twisting road.
Of course, there's another minor addition in this update as well. Here's the full breakdown of what's new in WhatsApp version 2.12.60:
WhatsApp Calling: Call your friends and family using WhatsApp for free, even if they're in another country. WhatsApp calls use your phone's Internet connection rather than your cellular plan's voice minutes. Data charges may apply. Available on Windows Phone 8+.
You can now send audio files (available on Windows Phone 8.1+)
And there you have it, the wait is finally over. If you want to get started calling all of your buddies from the warm, green comfort of WhatsApp, you can grab the update from the link below.
Thanks for the numerous tips, everyone!
Download WhatsApp from the Windows Phone Store
Dan Thorp-Lancaster is the Editor in Chief for Windows Central. He began working with Windows Central as a news writer in 2014 and is obsessed with tech of all sorts. You can follow Dan on Twitter @DthorpL and Instagram @heyitsdtl. Got a hot tip? Send it to daniel.thorp-lancaster@futurenet.com.
it just seems alot faster

Oh ya baby, waited long time for this.. Ohh its like fulfilling a dream..

Poor functionality with Bluetooth and voice quality sucks! Still Beta App... :(

Hey mate, why don't you sit back and relax and maybe then realize that there's gonna be UPDATES to improve the quality. Just learn to appreciate some major work

Voice quality also sucks on ios and Android. I guess its a general problem.

Dude, voice quality is really good. Maybe you should try the Android version and know better.

Voice quality was amazing on my call when I used it today. Functionality was fine as well. I'd say not a beta.

There's just too many improvements. The notification pop up, the separation between the recorder and the blank space for texting, the numbers of unread texts showin' besides ' watsapp ', CALLING FEATURE, FASTER... Man, they're doing alot of work. Keep it up. :)

Yes and also in privacy settings can disable the "read" blue double checks. I just tried the call and sometimes it's choppy, but I could communicate pretty fine 80% of the time.

Omg!! Thanks so much for telling me that blue check thing. REALLY needed it...

We have got read receipts and a changed logo as well. Messages, especially images are left and right aligned.

Read receipts were already there...you just had to tap and hold on the sent message for a few seconds to get that option.

But now we have an option to turn those off.

yup... just some more improvements needed... like multi-select msgs which was there in the beta... conference call would be a great feature.. hope they will add it in the near future.. :)

Do you guys get a ringtone when someone calls u ? I have noticed that it only lights up the screen and no audio. Anyone ? Is there a setting I overlooked ?

Check whether you are in vibrate only mode

NOOOOOOOOOOOOOOOO!!!!!!
And now the explanation: I really couldn't care less about this function. I had it until monday on my Sony Xperia Z2 and just hated it. The call function in whatsapp is a lot les stable then calling via the GSM network, so I prefer calling the 'normal way'. And I was used to call people straight from within the Whatsapp app (which I now hate because it automatically use the built in whatsapp function) which is now a big annoyance. And the free calling part I dont care about either becouse ive got unlimited calls in my contract, like many people do have in my country. So when I ditcht my Sony Xperia Z2 for my brand new Lumia 930 I was happy with the whatsapp app being 'normal' again. I really dont like this at all!!!

You are not that clever. Here in Europe not everyone has a Flat, and if I would call my gf (she is in norway right now) from Germany, I would pay 90cents/min. So yeah, calling is great!

There are multiple (better) options for making international calls over the internet, you don't need WhatsApp for that. The call button in WhatsApp worked flawlessly before they forced there internet call services on us. I'm okay with that, as long as the quality doesn't suffer, which it does!

Chill man. Why would Whatsapp allow normal calling via their app when they have their own calling feature. Every company prefers their own services over others, that's how it is

It would be nice if there call function would be on par with existing services. Now its just a shitty function that half the time does not even work properly.

Wow.......definitely need too calm down, don't like it DELETE it! I think its a great addition to whatsapp. Slow to thank,quick to moan on here

I think it is better than Skype though with occasional echoes. I see myself using this more in the future than Skype since all my contacts are in WhatsApp. And as for Microsoft, they must update Skype for better experience and not wait for the "next big thing" if they wish to stop their landslide of market share.

Buddy007 you must be crazy, WhatsApp better than Skype? Skype calls are the clearest plus they Alsop have video calls and share screen. Tell me buddy which other service you know that can send any file size over the internet? With Skype it doesn't matter what size file you are sending. The only prop I would give WhatsApp over Skype is its feature to access all your contacts which is not so secure.

I can't delete it. There is no option to disable there new callfunction so I can't use my regular callfunction directly from within WhatsApp. Or where you sugesting I delete WhatsApp completely? No option either, over 80% of Dutch smartphone users use WhatsApp. So they are the most dominant texting app in the Netherlands.
Not using whatsapp is not an option. And I would not want to either. There app works perfectly, on every platform out there, except for there shitty internet call feature, that sucks!

This. i really really like to disable the damned call function in whatsapp. i d'like to use the link in whats app to call the people normally. so useless.

The windows phone design of WhatsApp sucks big time

Finally we found a dude who loves vintage technology.. Lol

His not the only one, that I assure you. They always come out of the woodwork sooner or later :P. Joking, aside there are many who prefer the previous model where it would initiate a prompt and accepting said prompt would use phone's dialer to call. As for some the quality of the call is much more better than the convenience of using Wi Fi or mobile data due to caps (plus the addition of unlimited calling minutes) and some just don't like progression at all.. darn luddites lol. Personally, I would rather prefer they add both options. Calling over Wi Fi would save me alot of money as I don't have unlimited minutes any more. However sometimes that just isn't possible due to crap mobile internet coverage (have unlimited 4g data, with 200 calling minutes that was trade off - unlimited minutes and capped internet - chose the former as barely make 50 minutes of calls a month sometimes 500 depends on work etc) In regards to the audio quality, I imagine they just reduced the call quality (with minimal compression) to keep bandwidth cost per user pretty low. As result you get pretty poor audio quality; so more users who use this service it will only degrade not get better. Unless they start provisioning more servers to increase bandwidth allocation or enable better compression or do both - it will always have poor audio quality. (excuse the essay of a post, you can blame shape writing for that lol).

don't update and stop bitching.

Just updated. Yet to test:-)

They added an icon beside whatsapp header to show the number of unread messages. Nice to see that.

Every time i try to click on Smily icon, i end up clicking on Calling icon.... Stupid me!!!

Any idea..where the audio files are saved? Edit..found jt! In the picture folder of whatsapp!!

It's now the individual selection of messages available?

They pulled multiple messages select feature back

Oh God....Why ? I hope they'll bring that feature asap. It's actually very needed feature without it, Whatsapp looks crippled against its Android counter part.

That's what iv been crying about all this time. Oh and ability to search through texts, were need that as well

Also ability to store a list of previous statuses

WC editors, any idea why this feature was left out of the update? Its been in the beta for a long time, right? Does it not work well?

and small notification on "main page"

next to header there is a number of unread messages

And What's App logo on action center and banner notification it's no longer green, thanks God.

Also it is now showing up in most of my share options

I love the share option now :)

Yes I was waiting for this.

Finally!!!! Long waiting lol

I don't get why even after so many updates they can't simple stay with the multiple select messages!!!

It was in beta.. They pulled it back

Maybe it conflicts with the audio share?? Who knows? This is Windows Phone version after all, not the iOS - Android ported versions.

Finally....... Yay....!!!!!! Its time to party now

It now shows the number of unread messages beside an icon at the top. A welcomed addition.

WOOOOOOOOOOOOOOOOOOOOOOOOOOOOOOOOOOOOOOOOOOHO LET'S PARTY

The armpit sweat stain in your DP is disgustingly distracting

Hee Hee Beavis, he said DP!!! Hee Hee!

Finally!!! I love whatsapp hahaha

Audio share is also inculded...awesome

Any idea where the audio is saved?

Ah found it! It's in the picture folder of whatsapp xD

Finally! Now I just hope the rumored desing overhaul is actually coming for Windows 10 Mobile!

No, current design is good

damn that thing is sweet!
whatsapp needs a design overhaul, big time! it's too basic and dry right now. those screenshots you've shared give me hope, but i'm guessing whatsapp won't put that much effort in for windows. still, we can always hope for better design. the current one is literally bare bones.

That concept doesn't look good to me. I like the current design.

So, a Lollipop looking app eh? Well, it doesn't look too ugly, I'll give you that

Noooo,i love the current one!!!

Now... How to add video's? Tat option went missing....

Use the option of album...pics and videos can be shared using this option

omg so great, now all the crying will finally stop!

No it won't.... Tears of joy :'D

Still no multiple message select option that's much more usefull that call function

where's the multiple select messages???

Ability to select multiple texts. They should add searching through messages as well

Searching actually was there long time ago. For some reason they disabled it, and now it's useless

When in...oh never mind. I'm so happy today :D

Hooooooraaaaaahhh...finally feel something to celebrate. Was fed up of new builds and bugs..

And then, there's also this new animation when you tap on a chat.. The screen drops to open the chat..

deleting messages too. You don't even notice when it's deleted, it just disappears lol

Yes right bro. I guess noone noticed that. I noticed it and I was also amazed.

Yep, it's better than having just the name you tapped drop down.

Was waiting from many days.

Finally! A feature I'll never use!...and added sound share, something I really care more than calls

Sure, you are not alone there.

Even I thought I won't use the WA calling but when I tested today morning its amazing and you know it worked smooth on 2G what else people want, the cons was the dialogues were fractions of seconds late that's fine, I think that problem won't occur on 3G LTE or Wi-Fi

Celebration time! Come on!

Design overhaul. PLEAASEE !!!

Not available in my country

Expect another update to fix bugs by tomorrow morning

Whatsapp seems to open faster.I don't know I used to see long times of loading on the 520.But now that loading time has been reduced.Opens faster.

It absolutely is opening faster.

Also some minor tweaks. If someone sends an image. It shows in the notification as a Camera Icon. !

Yes, noticed the same thing with video.

Yay! But what what about OS text sharing? Such the most simple feature for any app, they must've overlooked it.

Hai friends, In my Lumia 820 it showing calling not available in your country. I am currently in Saudi Arabia. How to fix it.​

Does Viber calls works in KSA?

Some folks are reporting voice calling via WhatsApp is banned in KSA

Change your government. :P

Update government please.

Lol, update your government.

Works like a charm on the L830!

Great moment in morning happy to see the update ..., while ending a call gets a small beep sound,? Did any of them is getting like tat?

Yup, they are recording your calls.

I can only see people calling me using whatsapp WHILE i am in whatsapp app.. It doesnt wake up phone and no indication when phone is not within the app.. Anybody has this issue? EDIT: nevermind. A simple soft reset fix that. Looks like its working as its supposed to. Sorry. False alarm :)

Mine works fine. I dont have any problem like yours

Hopo they bring the notification reply as soon as W10M comes out

So is this basically the same thing as what Skype has done for the last ten years? What is with all these kids these days getting excited over simple shit that has been around forever?

Lots of people use what's app that's why they are excited.

I do not need some hxxp//:www.xxx.yz sign in, to use whatsapp. Add credit like viber and the good old Skype is dead for me...

Just try Skype call on 2G you'll hate it like anything

The key difference is that most people with a smartphone have Whatsapp installed and running on it. Don't get my wrong, I've always found Skype's voice quality excellent, and I used to try to get friends and family to install it on their phones. But after helping them through the hassle of setting up an account and the app, it would then stop running in the background after a while (I think this was particularly a problem on Android, don't know if it still is) and they would usually not bother signing back in because they never really used the app anyway. Whatsapp has never done anything revolutionary, functionality-wise, but the key reason for its success is it just using your phone number - no messing about signing up then asking people you know whether they're on it and what their username is. Just install the app and boom - everyone you know who is on it is there.

So, basically, they just catches up with Skype.

Skype app's a piece of crap in terms of ease of use compared to WhatsApp. Something as simple as copy-paste # doesn't work in Skype. Contact navigation and calling is better in WA.

Skype is crap. Even on Android it's crap. Good for video calls only. Posted via the WC App for Galaxy S6

I thought this will bring me happiness.. NO

This can make u closer to ur other significant, she can make u happy :)

Got new animation while entering the message.

What do u mean by new animation

Not available in my country..... SAD!!!

Btw, you can turn off read receipts too....a.k.a. Blue ticks!

How is this better than Skype?

It is not, but since more people use it...

WhatsApp: Very commonly used
Skype: I hear it has got some serious issues

I'm in a long distance relationship at the moment. I've tried them all for calls. Skype is the most reliable and best quality. Facebook messenger is pretty good as well but I think Skype might be behind it?

Skype video calling is the most bandwidth friendly.

Simply getting on a call is faster on WA than Skype.

Skype is a good multi platform service. But WhatsApp is best gir mobile bcoz its optimized for low network devices.

There's a little icon that tells you how many unread chats you have. Also, a feature that more important than calling to me, you can finally share things via WhatsApp! Awesome update!

Wow huge performance improvement!

Available for W10M 10080 build?

Yes it is! But you have to update it through the new (Beta!) Store. I don't know why, since the last update on W10M came through the old store. But that's how it worked for me after the old store didn't offer the new update. When you go for the update, don't get confused: it shows "install" when you open the whatsapp-page in the store. Just click on that button and it will do the update (not a re-install, if you are afraid).

Great ! Was waiting for this.

They shrank the message bar. Why?

I didn't say its ugly, I really don't think that, I just don't get it why.

Have they? Thank gosh, since the last few updates they supersized it and it's too big for my liking.

I still call my family abroad thru SKYPE, because I prefer video calling than just voice. It's a good feature though for WhatsApp but I am not really waiting for it.

I know this may be a very stupid question but, is there any chance that Symbian will support voice calls? Because the app keeps getting updates every so often

Maybe they are planning it. My friend is also waiting for it.

Is there any app that can do IP call on Symbian?

Get a lumia, and join the party :)

I've got one, but I still use Symbian once in a while...

Yes, got it. Gotta test it though.

No more loading...hurrayyyyyy.

App is faster also to open and resume almost instant on lumia 730...

Yes same here before it was staying on loading/resuming screens AT LEAST for 5sec now its just for 1/2 sec

First good news in the morning

Now waiting for video calling so I can finally ditch Skype for good.

best news from day . facebook is next ???

WhatsApp calling atlast, now we all can die in peace... -_-

It opens up the app after ending call. Which shouldn't be there!

Opens up? I think it just go back to the last app, if your are calling through What's App you should expect it returns to that. If you call from Phone app, after ending it returns to the Phone app as well.

I received the call,was on the screen,when it ended,I was on the WhatsApp app. Try it.

Just like when you receive and read an incoming whatsapp message.

Yes I know, and I think it's pretty normal.

voice calling not working with me :((

Good stuff.... I hope they dun change the UI, keep it simple and clean... And the next stop .. sending any file format....!!

I didnt get whatsapp call yet :(

Wow. This is the most beautiful news I read today.

Finally some great news for windows phone users...thnx...now awaiting video calling on viber

Saudi Arabia blocked Whatsapp voice calling. Wtf. -.-

They have added Read receipts option too in privacy settings anyone noticed?

Yeah I noticed.But not sure if it was there previously.I too think it is new.

Could this be because of app porting... The project Astoria thing.... Because suddenly after long time they have made major improvements

Anyone noticed they are now giving number of unread messages on top of the screen (after "whatsapp" written in app)

Yup but now you can share audio files is well

I can make calls but when someone tries to

I can make calls but when someone tries to call they get an error message, that I need to update my Whatapp

Reverse for me.i can get call but when I can sometime it says that they need to update.

Bhenchod multi select to forward messages wala feature Lao...

But still audio msgs cant be saved.

they are saved in pictures»WhatsApp!

You need to use a file explorer app such as Microsoft Files to see the audio files.

Can save only mp3 files ...recieved recorded files are not saved..any idea?

Not getting notifications when the app is closed anyone facing the same

Yes, this update bugged the notifications for me aswell.

Finally wait is over. Great news.

Wow its fast. And smooth.. :)

Cool deal another way to communicate.

Bhai.. Android walo se kuchh sikho yaar.

Android ne Windows phone se bahut kuch seekha hei

Sahi kaha.
Modern UI.. Naah
Material design... Waah /s

Finally! Also, it actually seems a lot faster. No trolling. Noticed the new animations also when opening any chat.

None of you can see there is audio files now we can send
Oh god finally.,,...

One question
What about the recieved audio files, would they be saved again as unreadable content in WhatsApp folder or would be saved in phone memory like an audio file, later to be extracted in music player

check whatsapp pictures folder.There you can find your mp3 files

Don't know about this but it keeps telling me that the person I'm calling needs to update theirs but yet that person is calling me np using the same WhatsApp calling. WTF!!!!

That's the server error don't worry they will update it in one or two days
Though m happy they gave us nice update

I am from Indonesia. I really need to practice English with some native speakers, if you like to chat with stranger, please leave me a message on WhatsApp :D +6282370241721

Hate it when WP does something and it's so f...kd up. Why would this app keep telling me someone who has the update to update their device and they're calling np. This shit sucks ass.

Probably just a temporary server problem.

Animation is good when you tap a conversation

Finally. Better late than never

How can someone know if when you click on the little phone icon at the bottom of a chat conversation, that it is using WhatsApp to call someone? I tried pressing the little phone icon before (not knowing it wasn't active) and I think the call just went through my normal phone plan. I want to call a friend in England (I live in the US) but I don't want to chance that it won't go through WhatsApp and then I get charged for an international call. When it goes through WhatsApp, is there any difference in the ring, or any indication that it is going through WhatsApp?

The calling page that pops up is a little different ;D

There is WhatsApp call written on top when you call

Where Can I Find The Audio Files Which has Been Downloaded trough Whatsapp?

Alot of big updates in this one..the calling feature, the blue ticks and the audio sending option. It's just getting better for windows. :-)

You can also save the audio files to the phone.

Where will the audio file gets saved?

How to save received audio on phone?

It gets saved in the whatsapp photos folder in pictures, only change the name and move to music folder with some file explorer app

I cannot call from 520 but it works when i called from 625

it's nice that they finally managed to integrate a feature which is available in skype for ages. now make whatsapp voice working on tablets and other platforms than mobile phones only. on the other hand would i trust FB? do they own the calls like they own messages and pictures?

Facebook doesn't own your messages and pictures unless you set their privacy setting to public!

Alright, this update is worth a download. 3features have been added.
1. Voice calling.
2. Can send audio's.
3. Enable/Disable read recipient.

Waiting for this from a long time

Joyous moment, but the messages ticking feature, the search message feature would be more useful than calling.

I can't wait to see the faces of Mobile operators, they're gonna be so pissed off. First SMS , now calling too..
Ha ha ha ha ha ha ha..

Finally! Just tried it and it worked very well. The other person uses T-Mobile which had terrible coverage where she is, we already use WhatsApp instead of SMS due to this, I'm excited to see if WhatsApp calling will prevent constant dropped calls!

Excellent call quality.....great job!!! Thanks. Now need multiple selection of chat messages.

Am not able to hear sound when someone calls even though my media volume and WhatsApp tone is assigned. Secondly, call and some msgs are not coming if am in my home screen. Only if im within WhatsApp am getting call. Pls let me know if this is an expected feature. Thanks in advance.

Just uninstall and reinstall it will work. I faced the same and i reinstalled the app now its working fine.

You might have disabled WhatsApp from running in the background. You can check for it in the native battery saver app if you have WP 8.1 update 2

You don't need Update 2 for that!

Finally!! Delayed features all thanks to Microsoft's retarded app framework

Had a fight with my colleagues yesterday during lunch regarding this... They (Android Users) abused me (like Snapchat CEO).. Today's lunch goona be interesting.... ;-) No snapchat though (sigh) :(

U fight for such reasons?

Anti-WP can be really annoying. I even fought with a waiter once because the boy kept telling me how "bad" current Nokia phones are when I just want the Wi-Fi password.

Lol... Honestly they are.. Some people don't know how to mind their biz!

I've had assholes tell me Apple is the best and Nokia sucks. Totally unprovoked!

Nokia got one of the best things. I always used to wait for nokia to come out with their innovative things and collaborations. I want microsoft to hire those nokia engineers who are still there st nokia. They can be a big boon to the hardware family of microsoft and even beneficial for windows 10 in the later years.

Are windows insiders running Windows TP (10080) able to update the app? my windows store is showing version as 2.12.60 and no update button. But my whatsapp about me page gives version number 2.11.69. NOT able to update

Multi select features it was there in beta what happened to it for the official version? Was it so hard to implement?

Voice quality is really good... Keep it up WA team!

Update won't install, had to uninstall and reinstall...

Calling feature is not working...

Ha,finally its here...what about the call quality?

Updated on lumia 822 and 640xl, work fine in 822 but app crashes on 640xl, calls are not sending sometimes, or call conect and then app crashes.

This is great news.
Please can any one suggest a good app I can use to merge my contacts. Am trying to get my contacts from showing duplicates on my Lumia device

Assuming your contacts are linked to your jurist account then sign in to your Microsoft account in a desktop web browser and go to contacts, from there you can merge them.

You can do the same in default people app by following these steps:
1st: Open people app on ur Lumia.
2nd: Go to the contact that u want to merge then open it.
3rd: Tap on the pivot button (...)
4th: Tap link option from pivot menu (...) It will show you the contract that have same name
5th: Just tap on the contact that you want to merge with the opened contact. If you want add the contact that doesn't have same name then do this. 6th: Tap on choose contact.
7th: And select the contact you want to merge. If you have any problem just reply me back with ur problem. :)

Thanks. Helped alot. But I was hoping I would get an app that would give the exact number of my contacts instead of me linking them in people hub. Any suggestion please?

How to save audio that we received?

I think it automatically gets saved in the WhatsApp photos folder.

Yes! It gets saved in Whatsapp's Photos folder.

And you gonna need a file manager app to retrieve it.

Microsoft's Files app can help you for that.

WhatsApp calling doesn't work in the United Arab Emirates.

It has been blocked officially! There are a ton of news articles in the local news sites!

Now its awesome.. Calling is so clear in 2g too.... Still whatsapp takes 2-4 sec for loading.. Anyway good update....

Its with me. Maybe bcoz of 512 nv ram snd dual core processor. Mostly 1 gb ram phones open WhatsApp quickly in 2 seconds or within 2 seconds.

In the pic here...call button comes in the fourth position...whereas mine in third...ruling the previous smiley button

Love it windows phone ❤ great voice quality good work

Don't get the call feature

Try to uninstall and then install the app again.

I tried it out and it's got a great call quality.. Happy it finally came

Great news (not tested yet). And now, pls enable backup to Onedrive so that I won't lose my chats with a device switch or a hardware reset.

Just noted that you can select and share song directly from files folder Also you can share webpage directly from internet explorer to WhatsApp

WhatsApp finally adds 8.1 sharing support.

Nice. I just tested this and it works! I had to copy and paste the link before.

That's the thing I was waiting for

Calling is not important for me..want multiple select msg....thanks for audio sharing feature.

Finally sharing feature :D

I just want to have new emoji..

It shows little camera icon for images in notification center

Wow.. Just Awesome :)
Is the feature to search within Conversations and Selecting Multiple Messages Available ?

Selecting multiple messages not available - just checked

But we want voice calling on facebook messenger.

Human needs never ends. It increases step by step..:)

Oh boy!!!( COunter Strike!)

Tested it this morning, audio quality is very good, no delays.

It delays 2 sec, on both 2g & Wi-Fi

finally But snapchat we miss it

I don't miss snapchat. Miss 6snap.

There is a problem in the application of the new whatsapp When making a call there is no ring tone so you can not call attention that there may I received

Same happens to me.. No ringtone..
But it did work for the first time...

I had my standard ringtone as WhatsApp calling.

Tried to make calls from my 830 - no issue, voice was clear. However there's some lag time with the dial tone. Another issue would be: I can barely make calls from my android phone (zenfone2). My whatsapp on the Zen2 keeps giving me an error message asking for my 830 to update its WA version. The only way for me to call my 830 is through the "call back" feature which can only be done if my 830 made a miscall to my Zen2. Anybody have the same issue?

Read reciepts turn off feature is also here!

So just updated to the latest build of Whatsapp. Amazing to have the calling feature. However, when someone calls me, my phone does not ring. there is no ringtone or audio. Is anyone else facing the same issue. Yes Ofcourse I have rechecked, my phone is neither on vibrate mode or quiet hours turned on.

Ok It started to to ring with audio suddenly. Dont what happened where.. lolzz

Does anyone know if the calls are transferred over an encrypted connection like in Skype?

If WhatsApp allowed developers to make third party clients. Then they would get fucked by indie developers.

6App would be better name, i guess! U knw who im talking abt!

Hey Guys, It seems that one other feature is added in the new update.
there exist calls and message notification next ti whatsapp title. Check it out.

You can also now share audio files and share weblinks if there's a whatsapp link in IE.

Super fast! Hail Windows Phone.

No ringtone or notification while reciving calls from other users........
Am I the only one here?

Why There isn't a real UI? Is just ugly...

U guys whinge over petty stuff... What has UI got to do with functionality? Hiss

Maybe you should ditch windows phone if you don't like the UI, as it follows the minimal design philosophy of wp. (not written to blame you or anything)

Believe me,
The ability for an app to follow the accent color is great.
I think it should stay that way so we don't get bored by the look of the UI

God bless facebook... God bless WHATSAPP A native app from facebook will be the greatest news ever for windows phone. Some people moan they don't use Facebook but will promptly download it lol

The phone is heating up and battery drained too fast!

U can delete the app. Not by force

Any tips on the saved audio file? I cannot find it anywhere :/

I found.... All the downloaded files goes to your Whatsapp's photo folder. Check it out!

No ringtone n notification...

Hi , Still,I don't see selection of multiple chat messages to delete or copy. This seems to be a major issue.Please bring this feature also. Thnaks...

WhatsApp/Facebook doesn't read these messages...

Me too...want this feature....don't know if its supported with wp 8.1 or not...and of message are transparent over chat background...it will also look cool

Calling on WhatsApp is horrible

I updated WhatsApp on me and my brother's phone (730 and Icon). He can call me but when I try to call him, it shows that he needs to update his WhatsApp to get calling function - even though his is already updated and can make calls. Any ideas on how I can fix it?

Same problem with me I can receive calls from my partner on her Lumia 435 but when I try to call her from my Lumia 635 it says she needs to update to the latest version of whatsapp.but obviously she has updated because she can call my lumia

Uninstall and reinstall the app I had that same issue but reinstalling sorted it

Will the messages be lost on a re-install? (the icon does not have an sd card, so unable to backup the messages)

Same problem and same question as games

better late than never Posted via the Windows Central App for Android

I love whatsapp! Supports Windows. Not like kik...

Where can I raport the Finnish text translation errors? If person does not have WhatsApp version that supports VoiceCalls, the error message is funny in finnish language perspective.. :)

Maybe they would include mutiple deleting chats in their next update. Maybe they wanna first test how calling feature is working on the platform. I thought really that's a is problem that WhatsApp maybe lacking feature but they really suck at updating the application upto mark. Now things are fine and they should hurry up in bringing the new features to windows10.

Hey. Haven't got the update yet. Checked the store even. Nothing!

I just updated and it works wonderfully well.Thank you WhatsApp.

it is not available in all the countries... one of them Saudi Arabia! an error pops up and says not available in your country!!!

It is officially blocked in the country

Change your pho...government.

Boos in speed.... Great job done by team ....

Boost I speed.... Great job done by team ....

Really good! Now chat open faster.no resuming bug

I noticed it only works when WhatsApp is open. Doesn't work when WhatsApp is closed or running in the background

Maybe a soft reset will fix it?

Awsome really fast !! Plz add only 1 feature to select msgs while deleting!!!

Worth the wait!!! Worth every second of it. Awesome update

There are so many small improvements in this update its fantastic!

Whatsapp new update allows me to receive whatsapp calls from my partner Amanda Lumia 435 windows phone. But my Lumia 635 windows phone with the latest whatsapp update wont let me call Amandas Lumia 435 windows phone when I try it says Amanda needs to update to the latest version of whatsapp.but obviously she had updated as she called me in whatsapp.I'm stumped please help

Called like seven people today call quality depends on strong network or Wi-Fi signal.

Working like a charm! Viber is getting out of my lumia :)

Goodbye Skype. Good riddance

lock whatsapp with windows phone new app https://www.windowsphone.com/en-us/store/app/lock-whatsapp/7596ed37-754d...

From the description...the app seems to be the same as some other app available in the store which just create a shortcut and lock it.

Well, i hope they change the design!
- Calls via Whatsapp need no one !
- A new design need everyone!

Yeah totally the design sucks

The design is much better thn their android version

Well, i hope they change the design!
- Calls via Whatsapp need no one !
- A new design need everyone!

I just need mutlselect chats and delete chats. I don't send audio bcoz the received and sent audio quality is so poor when compared to Skype and BBM. I hope with windows 10 in the later run WhatsApp collaborates with Microsoft to make WhatsApp best messenger for sending pdf, word docs, and everything related to Microsoft Office. Though Microsoft have and will tighten the integration of Skype with windows 10 but many ppl especially in India need this feature as in the end its beneficial for Microsoft too.

Awesome, that at least brings us somewhat on par. Would've been nice if they pushed it down a few weeks earlier was getting alot of "I've been calling you via whatsapp, why don't you ever pick up" lol.... It was funny the first time but 20th time not so much. At least the poor audio quality has stymied prevalent use lol.

Now when the hell CORTANA arrive in INDIA

It's already here but in alpha version.. You can activate it..

Just happened to install whatsapp again after long hiatus and out of curioosity I placed voice calls to India and I was amazed with the call quality it was crytal clear(my phone was connected to wifi).I'll test later with 3G and 4G and see how it fares.


You forgot to mention about the read receipts feature! I'm loving this.. Keep it coming :)

Many other small tweaks...

Call feature not working in United Arab Emirates :(

For some ppl the call goes.. Eg. Android users and few Lumians. And for some it says that they need to update their app.

@Daniel or @Mark pls do a complete hands on with the new Public version of the app... Request!

Hey can anyone tell me how to use what's app calling in windows phone. I didn't get call button even after update.

Hey can some one tell me how to place a voice call in new update of what's app???

Hi can someone Pl tell me how to use WhatsApp calling ???

Besides the ui update, video call might be one year update since now?

There is a red colour camera when there's an image sent in the notifications centre

It did worked faster. Thanks team for the good work.

When will multiple message selection feature arrive?!?

When will multiple message selection feature arrive??!? Waiting...

Am I the only one who's having issues with this new calling feature? Everytime I try and call my wife, WhatsApp is telling me that she needs to update her Whatsapp in order to receive calls. Well, she already did, it's the latest version available. And she can call me just fine. Dafuq?

I made a call accidentaly this morning through Whatsapp, I was looking for the attachement icon, but wow! I was calling a friend on Android, and the call quality was crystal clear, like HD! In fact, my friend said it's like you're right next to me! After a while though, I could hear my own voice echoing, but still, an impressive feature! I'm still a Skype user, but this is definitely easy to use.

I'm not able to call anybody. It just says the the receiver need to update the app, even though they have the the updated and can call me on WhatsApp. I can receive their call

Bug: Screen turns off while calling. Cant connect on Lumia 930

Cool...everything seems so fast like I'm riding with Quicksilver

Strange not hearing "welcome to the o2 voicemail service, the person you are calling etc"

Amazing...first of all app is faster...secondly in africa we have poor connection and the call quality is superior than viber and skype...no cut call at all durin an hour talk and no stattering or lag in voices at all...only issue is some person can call me but i cant call them coz supposedly they didnt update their app yet

For some windows users when I try to call, it says they need to update the app. They have updated the app. They are able to call me. But im unable to call them. What could be the issue? I'm not sure. Pls help

This is good news so when is voice calling coming to Facebook Messenger?!

Finally..... Its working really great

Whatsapp should add the search feature to conversations as it is on Android

A lot of delay even with 4G

I am accidentally pressing the voice call button again and again inside personal Chats.. I think it would take time for me to get used to it..!!

For Indians only... Sign up with referral code XR43KZ and earn Rs 100. Download the app from www.ola.bz/b
Pkka milegaaa guaranteed I also got

Unable to make or receive calls :(

Well there goes my use for skype. they have been slow out the gate. Plot twist.... In one year Whatsapp starts rolling out video calling.

Hmm, I'm now able to share links from a webpage, which I was unable to, previously.

They've also added the ability to share photos from within the photos app and camera finally. and music from the music app can't be shared as well.. And some visual changes.. All by all very good update!

Finally...WhatsApp is...home!

Still cant see the audio files received..I hv checked the WhatsApp picture folder ..

The WOW Improvement. There is not just two update some of them are below : 1. Whatsapp Calling 2. Audio Attachment 3. Opening style of a particular message. 4. Now you can see on the TOP "total number of people/group having unread messages". # I can see all these updates Atleast on my Lumia 830. Many thanks for this update. :)

What is "Opening style of a particular message."????

Cant see audio files received..check WhatsApp picture folder too...Any idea?

Can see audio files of mp3 type...but cant see audio files which has been recorded by someone

It seems like the voice calling only works with other WHATSAPP users? What good is that? Skype works everywhere!

Does anyone make phone calls anymore? I am more excited about sharing audio!

There is something with my moms Lumia 435.. She didn't get that update yet..
Meanwhile I tried calling to others from my Lumia 735, the call quality actually depends on the speed of the internet though!

Where is WhatsApp popular because I don't know a single person that uses it. I'm in the US.

so it took 2 1/2 years to release an update to attach audio files .. anyways .. thanking you sincerely.. really good job -_-

WhatsApp for Windows Phone is up to standard at this stage. If only we can have Multi Select Listbox for adding members to the Broadcast List.

Call quality needs improvement..

My 1020 cannot call to 1520, asking me to update whatsapp on my 1520 but it was up-to-date.

Sharing links through WhatsApp is now easier by using the system App selector.

feeling angry about myself as I got to know about the updated version after two long days of its announcement

Viber has had that for ages. Viber you can get on the pc and use it just the same as on your phone. I'm not a big whatsapp fan as you can tell, its to old school now. Sorry peeps

I think it's great, I just haven't had the opportunity to try it out cause since I updated whatsapp today I can't open whatsapp despite reinstalling

Note to WhatsApp developer... I've just experienced while on a WhatsApp call when accepting a GSM (regular) call the person on WhatsApp call can hear everything on GSM call this bug needs to be squashed, thank God a brethren and I was just talking business because his dad called and I heard everything thinking its his other phone

Already I downloaded and am enjoying the new update , but when the developers of WhatsApp , put conviter for group ??
Windows Central Newsletter
Get the best of Windows Central in in your inbox, every day!
Thank you for signing up to Windows Central. You will receive a verification email shortly.
There was a problem. Please refresh the page and try again.