Hands-on with WhatsApp Calling for Windows Phone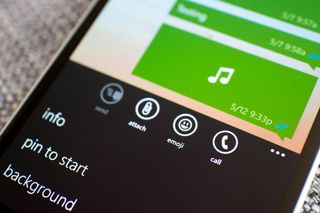 Earlier this morning, the private beta of WhatsApp for Windows Phone received an update that enabled voice calling (VOIP) for the modern messenger service.
We got our hands on the latest release and demonstrate how it looks - and how it works - on our Lumia Icon calling an iPhone.
So how is it? The audio quality is magnificent, much better than you would expect for such a new service. In general, it is quite fast to make the connection to the other party's phone and it uses your WhatsApp number for identification purposes. There are clear indicators that it is a WhatsApp incoming call as well, plus users can decline and use messaging instead.
Public release and Skype
There's no word on exactly when the full Voice Calling feature will be rolled out to public users of WhatsApp on Windows Phone. Seeing as it now only spreading out to the beta group it is safe to say we are likely a few weeks out before things are finalized.
The good news here is we are not too far behind Android, who only received this feature a few weeks ago (plans for the service were announced in February 2014).
Can WhatsApp with voice calling beat Skype? Perhaps not for business users or those who like to jump on PC, tablet and phone, but for pure mobile we think WhatsApp has a good thing going.
Reminder
WhatsApp voice is only for the beta version of the app. The public version of WhatsApp that's in the Windows Phone Store does not yet have these features! Please do not ask about how to get access to the private beta, as there is no public sign-up method. Thank you.
Windows Central Newsletter
Get the best of Windows Central in in your inbox, every day!
Daniel Rubino is the Editor-in-chief of Windows Central, head reviewer, podcast co-host, and analyst. He has been covering Microsoft since 2007 when this site was called WMExperts (and later Windows Phone Central). His interests include Windows, laptops, next-gen computing, and for some reason, watches. Before all this tech stuff, he worked on a Ph.D. in linguistics, watched people sleep (for medical purposes!), and ran the projectors at movie theaters because it was fun.
Agreed. I've used it extensively on android and I'm surprised how good the voice quality is!

something for WP users to be happy about ... I wonder why UI is so ugly on WP?

I like it. The Android version seems to me, if not ugly, a little bit tacky. Beauty is in the eye of the beholder, experience morphs our perception...but maybe you're universally right and it's ugly as hell... ¯\_(ツ)_/¯

Yeah, even i like the windows phone version which is more minimalistic in design.

HEy you bro.... Have u ever seen windows phone, Android is much ugly as compared to wp....

I think the WP version is nicer. I realized that for Android and iOS versions (as far as I know), you cannot change conversation bubble colors, unlike WP. TL;DR: WP Color scheme also affects WA's conversation bubbles, and that's a plus to aesthetics.

Android whatsapp has search feature. Not yet on WP.

Yeah, definitely. Beats waiting on Viber to get video calls.

It's time Skype paid the price for being outright terrible and slow. Looking forward to this. Will be happy to switch.

But Facebook already has a calling service in their messenger app on android and iOS Posted via the Windows Central App for Android

So, how does that even remotely relate to WP?

Even hike has it on other platforms

But FB owns WhatsApp, no ??

After use whatsapp for a call with a friend and then use skype, there is no way that whatsapp call can beat the quality of skype. There is a very long path for whatsapp

I think its at the same hight of quality. Skype isn't that good too. Stup praising everything that's owned by Microsoft... And more people I know use wa so I'm really looking forward to it

Same...Viber sux on WP so this will be way better option to call my contacts

Yeah I use skype a lot and it has a LOT of issues still to this day

Skype VoIP and Video Call quality is pretty bad. Part of the reason why I switched to iOS is becasue Skype is pretty terrible and no one I know uses Hangouts (I'm not on Facebook, but when I was its Voice Call quality was amazing compared to Skype's - I've yet to try their video calling, and probably never will).

It depends on your data network quality and the recipients as well. Personally I prefer WhatsApp over Skype. Posted via the WC App for Galaxy S6

Agreed. Skype >>> whatsapp call, line call, viber. Skype soooo clean. Even i can heard small sound from my girlfriend kitchen, bathroom, street so clearly. Gtalk? Wtf is that? Lol

Me too. I play dota with my friends with Skype calling and I can hear his fans sound very clearly.

I agree. Whenever i call my cousin who is 700kms away from me on Skype using Wi-Fi i hear the vehicle passing on the road clearly even after his house is 40 meters inside from the road. I keep telling him to choose windows. There should be minimum 500kbps speed.

They should not merge Facebook Messenger and WhatsApp in the near future. Don't like Messenger's UI.

Sucks battery a lot..??
Currently just has support for Facebook friends..??
Slow and buggy app..??

If they do merge it, they could use all the benefits of whatsapp in messenger e.g. Add contacts that are not friends, battery efficient and a fast app. So your reasons are not very good. Any more?

Why don't they merge every service into Messaging, People Hub & Phone native services? And put WhatsApp, Messenger, Viber, Facebook, Twitter, Instagram, etc2 into legit BETA apps that include new features developed by the companies and later will be integrated into native services.
Then, Windows Phone will be the ultimate OS!

Yeah, I would prefer the hubs concept of merging all social media.

Yeah, that would be truly awesome. But Microsoft would've thought of it, right..? Maybe having some issues.

If you want that then be prepared to wait for a long time for new features

That's the reason people hub is separated from the OS core :-)

Always contradicting.
Both of em sucks battery big time, neither app is perfect and I don't want to merge 'without phone number' contacts with the others except in the People's Hub.

Finally.... At least a glimpse...

Finally, the first article that says 'thank you' at the end to readers!

You have low self-esteem or something? lol

How do we get access to the beta?

Are u blind? Read the article

Do they have it in braille? Besides, I was hoping Rubino would respond, not you pal.

You're so mean..#supazeez

And you are so ignorant. Last para is enough to get your answers.

Just send an email to WhatsApp support introducing yourself as a beta tester.

It's a closed Beta. Am a Beta tester on my other account, but that is not the one currently in my phone. It's mostly invite only, especially Microsoft folks in the Seattle Office.

He's lying. It works. I'm using the beta now using that method.

Really? You just made my day.

I sent an email to whatsapp (basically begging) to be one of the beta testers. You should do the same, there's no harm in trying ;)

That's exactly what I've been saying.

Well, share to us how to be a beta tester in the forums! That would be interesting for us, though :)

Do let me know it tooo, which method u r up too??

Link up a screenshot of the Beta App up here.

I wish he hadn't said that last sentence --__--....

Then how he got access to this beta version for testing?
why can't v do it, if he can?

Either he was added on invite, or a mail stating his designation would have been enough.

May be this way he did.
http://windowsphonehub.in/tutorials/tips-enroll-whatsapp-private-beta-wi...

That's a complete bs. Try doing it and do tell me when they say a big no.

That's an automated response. You have to reply to it. Then it will be read by a WhatsApp staff.

And then they will say we don't need any new Beta Testers.

It's worth a shot. Maybe they will feel bad and enroll us. And dude, be a little more optimistic.

Go ahead, try it. Do share their responses. It's not about being optimistic, it's about knowing the result before hand. And why would they feel bad....?

There is something you must learn young Grasshopper, sometimes it is better to try and fail than never to have tried at all.

So have you passed old grasshopper? Posted via the WC App for Galaxy S6

Actually, I ain't that old. More like a 18 year old grasshopper.

Hey! Gallery S6!
Lollllzzzzz....So its the stolen piece or the gifted one.
Hahahahaha.

Lolz, looks you r reading "motivational quotes" these days.
Though, nicely said.

Try a new one bro, it's already said. Coco.

Hey Aman2901, that dude with the odd name ((mathsisbest)) says this worked for him. So, not to sound like a kindergartner but I told you so.

Odd name? You kindergartner :)

Sorry. But maths being the best IS ODD

Maths is the only universal language. More people interact with maths than English, Mandarin, French etc. combined.

Jeez..take it easy dude. I was just kidding. No need to get all worked up about it.

I'm just joking. Acting stressed out is my speciality ;). Maths is Best is just a joke name, I hate maths.

Even though more pupil fail in maths exam than English.
I had learned English for ₹10,000/-($167)in 1yr.
Maths, I'm dealing with it since childhood, n still end up with less remarks.(since 18yrs of math's, wasted a lots of money, can't even count the amount I have wasted on math's, its tuitions )

Keep trying. Just like begging for being a beta tester on whatsapp, trying in maths will get you where you want. Never give up.

1st of all, I just asked about beta version just curious to know about it but never wanted to grab it.
and about math's, I have math's as special subject.

Never give up, young Vineet. Never...

Till he links a screenshot of the app from his device....He's a liar for me. And I may tell you that, that kid and I don't go very well on WC, so....

Lolz, i never said, that I'll try it.

No. That guy's right, it probably won't work. I just didn't want to admit it.

Congrats! u r on the right page now.

I'm just happy you didn't say Lolz

keep it going man. the serotonin will do you good.

Why the heck the golden 930 is there -_- ? This features seems really cool :D

What was that given long ago that WhatsApp voice calling would use Skype in the backend? Is that still true?
Also, this is the beginning of the end of Skype unless the Skype team wakes up from years of sleep.

Why did Skype never get this developed? I have both WhatsApp and Skype, but pay for Skype (long distance on my mobile). Wonder if that will go away.

Skype was built for PCs and then went mobile. WhatsApp is mobile and stayed mobile. Technically, WhatsApp devs have it much easier.

+1. Personally, I rarely using Skype on mobile devices, I'd prefer the PC one. Much better than Skype on mobile for me.

Me too I use Skype more on pc rarely on mobile. Bcoz even its an imp international call ppl prefer using Skype

Don't know about WhatsApp, but the viber has beat the Skype on calling...

The best part is not video calling but the audio file attachments.

I bet you people won't read the reminder footnote...

Still needs a better UI, I, don't know how can they improve it, bit I'm pretty sure they can do it

Waiting, goodbye login, account bs..

Copied a number, no way to paste into Skype, Nokia 630 DS⁉

That's why I prefer to use Skype on my laptop, than on my phone. Well, one of the reasons...

Is the voice quality better than Skype even with a slow connection?

If its a slow connection then yes it is if not they're pretty close Posted via the Windows Central App for Android

Did you read the article....?

Going to be all about integration. If they support the messaging hub and integrated VoIP it could work.

Too bad no more option to call via cellular network.

My experience with Skype is just trash. If someone call or text me I receive the notification minutes after. Pointless. Hope WhatsApp can do better.

They actually do better than Skype based on what I tried on android Posted via the Windows Central App for Android

Hey guys .. I have a issue with whatsapp voice recording feature.. whenever I tap mic button for voice recording.. App suddenly goes off.. I have tried uninstall and all .. but still this problem continues.. Anyone please help me to fix this issue

Press and hold the power button. Your phone will show a message saying Goodbye.

soft reset means all my files and also WiFi password will be gone ??

No, unless if you hard reset your device.

so if I soft reset my phone.. WiFi password will not be gone.. right. ??

Yup. I've soft reset so many times without any settings get reset or WiFi profiles get removed. It seems that it refreshes the cache or such. Just try it :)

thanks brother :) so i hope soft reset will solve whatsapp voice recording issue..

You're welcome :) Let's hope that your phone gets its job right again :D

Power + Volume Down will soft reset your device.

Oh my god Daniel who are you calling im dying to know with that pixelation! /s.

I hope the calling and sending music features come out soon. No complains about quality though. Skype has done well for me as for now depends which one does better.

It should allow to save the audio like Telegram Messenger beta. And save all the previous status like android..I appreciate the effort though..

I kind of like the feature but material design for WhatsApp on window's phone is also due, gush android latest is awesome

Facebook needs a kick in the groin for having an inconsistent commitment to Windows. They only handle development on Facebook Messenger but leaves Microsoft to work on Facebook app. Their other assets like Instagram sees no development while WhatsApp is working to bring feature parity to its Windows app. Really frustrating.

My experience with Skype calling is much better than Viber and Zoiper on mobile network even on 3g. Zoiper doesn't work at all unless purchase premium codecs to get it work with mobile network. Hoping WA won't be that bad!!!

how it vil get..plz hlp mee

You didn't read the article did you?

Voice calling has been available for android devices for a while. Not a few weeks.

it's actually a few weeks only..not a while

SKYPE PROS: can be used on PC, Smart phones, tablets and Macs unlike WhatsApp CONS: delay in placing calls and complicated process of adding friends.

I didn't get any update.. Any one help

Read the article. It is a beta. Why can't indian people just read the god damn article? -.-

C'mon dude... That was uncalled for.

.....but wen in India..... Not Indian btw...just getting a kick out of the comment trends from the 19hrs difference readers Posted via the Windows Central App for Android

Considering the 2G / 3G quality In India, should be performing better if not the best.

How long after beta release do new features make it into the official version usually?

WhatsApp for windows phone is the most ugly app on the universe!! Need a redesign ASAP

Seriously, That's your input???

You have my vote for the most clueless wp fan

I like it! My wife has many family members who she texts with using What's App in Germany. It will be great now that she can also call using the same service!

Eagerly waiting fr the public release...my breach btn Ghana and China is about to end..

Good job. Tesco released an app like this for windows phone customers in the UK few days ago, we got viber, skype and wechat. I have high hopes for windows phone in the long run especially with windows 10. Lets keep a positive mind

A question.
What about selecting multiple messages?
I'm waiting for this simple feature since long ago!
Sick of sending messages one by one.

You mean sending one message to multiple people?

No it means forwarding or deleting multiple messages..

Can anybody tell us if the beta has a message search facility?

So, isn't this basically like Voxer or Viber?

Must resist the urge to ask lol

look Mark..... Daniel blurred you:)

but can it match the quality of viber ?

Why no audio sharing yet???

I've been using wechat for voice and even video call for quite sometime, does it really takes that long to release the free call to Windows phone....

Plz add saving music files also in whatsapp folder

Skype is lot better see how it goes.......

I really like this application in my windows phone. I even use whatsapp now to learn english via skype at http://preply.com/en/english-by-skype

Viber over WhatsApp... Any day

When can we attach the mp3 files

Besides having this feature....i would also like the WhatsApp for WP to have a provision to change the color of the msg bar....it shudnt just copy the same color as the phone theme's color

Using Viber till WhatsApp voice call....

Beat Skype? Well, I like the idea behind WhatsApp. But having Facebook storing my every message and every phone call is horrifying. I put my trust in Microsoft and Apple, and I rather take a dump on both Google and Facebook.

So does this mean, I can call someone without a SIM card?

You must first verify the account with a number, once up and running you can remove the SIM and use over Wi-Fi. It has been that way for months now.

Is it like Skype? Or I'm calling a phone number?

This is seriously ck tease

What's the big deal ? I want to be exclusive, no accesible to idiots !! Whatsapp isnt welcome !!!

leaving the audio and calling functionality (it is cool but) it should also check for the reliability and the speed of the application as it is very slow in lumia 520.....the access is very slow in opening the apps and downloading the content....compared to android and iphone...as they are fast

Hahaha.. Nice article, but my fav part: Reminder! Good one @DR.. :P

I'm still waiting for voice calling on Facebook.

0:31 when you tap the conversation the name gets animated (It slides down) but, when the conversation opens it doesn't go animated to the top, it's just there already. Is this a beta thing?
Windows Central Newsletter
Thank you for signing up to Windows Central. You will receive a verification email shortly.
There was a problem. Please refresh the page and try again.