How to use WhatsApp for Windows 10 Mobile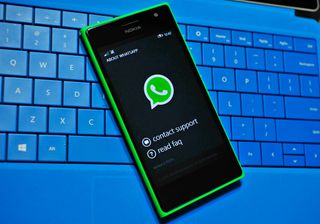 With over a billion users, WhatsApp is one of the biggest messaging apps in the world, letting you send texts, photos, video, contact, locations, all for FREE!
You can even make voice calls to any number in the world, for FREE. Did I mention that it's all free? You don't need a pricy calling or data plan to connect with friends and family all over the world – you just need an internet connection!
WhatsApp also lets you back up all of your messages, photos, and video, so that you can take them with you every time you switch phones so that you never lose touch with your contacts.
WhatsApp is free to download and use.
Download WhatsApp (opens in new tab)
Mike is a staff writer at Mobile Nations and fancies himself a musician and comedian. Keep dreaming, Mike.
What the hell? Second article about this?

Maybe WhatsApp is threatening to remove its app from windows mobile and they want more ads. Who knows

If you get paid by Facebook just tell them to update more often the app for the mobile.
Thank U.

Oh, come on!!! Really?? Is this really what you guys came down to? What's the purpose of this? Is Whatsapp even that hard to use or important that it warrants all this filler?
I really thought Windows Central was better than this.

Its really disappointing.i think they want me to use more and more mspoweruser for all the news. Their app is really really awesome also.

Agree, MSPoweruser app is smooth and fast as compare to WC app

The purpose of those laughably mundane guides is to fill the website with *something* to decorate the gaps between ads and social media trackers. And to please the Pagerank by luring in unsuspecting users that literary Google for "how to X". WinCentral is behaving like a content-farm for months already, but this is a new low.

There is a new build for insiders

Downloading it on the UK. 930.

This is getting embarrassing... WC u guys have sold ur souls?

How to use Snapchat on Windows 10 Mobile would be better

Not really. Not much to report on the Windows10 front so time well spent I guess.

Haha. WhatsApp store description copy paste!

Where is the how to use part again?

Did y'all know their is a new OS build? Downloading 10.0.393.67 as we speak..

My L1520 wont read SD cards any more... I'd love if anyone here shows me where whats app stores backup in phone memory... Yesterday i installed whats app (beta) and it prompted me to restore a backup it found on my phone memory.. But last month i did a hard reset and lost all my whats app chats and stuff...

I think the WhatsApp backup could be via internet. Or it could have still saved on it on your SD card. If so, a hard reset wouldn't have wiped that (unless you had selected "Erase SD card"... If so, I'd assume it was an internet backup (maybe))

No, there isnt any SD card on my phone.. It just freezes if i put one in... Internet backup is not available on whats app for windows yet .. Its there only for android and ios i guess... :'(
I am 100% sure it restored from phone memory... I can't find that damn hidden folder

Ah, well not sure then. Ik where the app files are kept on laptop/pc but not sure for mobile :P also can't imagine how the phone had whatsapp backup on it after a hard reset too... My third suggestion, "Miracle"? Haha

sd/WhatsApp/WinPhoneBackup/ it's not even a hidden folder I guess it makes the same folder on internal storage if there's no sd card but I don't know for sure Whatsapp makes a new backup there like every day, so after the "restore" you would still only have the chats and stuff from after your last hard reset

Thats the problem... It does make a backup folder in phone memory if there's no SD card but its hidden...

What? If on phone it's hidden but if on sd it's not? That logic :D

Whatsapp logic... Try it...

If you install WhatsApp on your SD card, the related backup folders and files would then be on SD. That's what I did on my 830. Just a couple of days ago, I got a 1520, I just move the SD from my 830 to the 1520. Then installed WhatsApp (on SD) it found and restored from backup. All the conversations are there, downside is the picture in the conversation is just thumbnails, the links to files are screwed.
If your 1520 can't read SD, I would say all your apps are on phone memory. A hard reset would have nuked everything...

You can't install WhatsApp on sd card, it says internal storage only if I try

C'mon guys what do you expect to see at windows central? No new apps,no new phones. Tomorrow we will see here 'how to open a new tab at edge?'

How to sms in W10M, that'll be thrilling reading.

Obviously it's a paid article...they need money to keep running Windows central...
Nothing wrong Posted via the Windows Central App for Android

This is not a paid article, if it was Windows Central needs to disclaim that it is sponsored in the article. This article I think is more for SEO purposes (AKA ranking in Google) . For example search for "whatsapp for windows 10 mobile". Not that there is anything wrong with this. In fact this article is a great resource for people that are looking for more information about all the functions of whatapp on windows mobile. I could be wrong here, but more clicks = more ad revenue.

It's not a paid article, so correct, nothing to disclose.

Will there be articles how to use viber, line or telegram? And how to install them?

??I think more people in the world know what is WhatsApp

Something fishy going on here....

Lol wtf. Never go full retard. Never.

Next article: How to use a mouse on Windows 10?

love whats app on any platform. im now on a s7 edge because of paypal, here maps, gestures all gone, i now have them all on android but you know what, i still miss windows mobile 10, its much more intuative, it feels more focused on doing things with less click, i hope windows gets these apps back so i can return one day cause even though i love the edge, and i even like the os on it, it still doesnt come close to loive tiles or even the ui that makes windows mobile great. PSD: can you plse show me how to use whats app like the title said?

How to use the publish button 1. Write article 2. Check article title 3. If article is about WhatsApp use, do not press the publish button 4. If article is about anything else than WhatsApp use, press the publish button

Dude,you wrote an algorithm.

I like the article because of the comments.

Why? WhatsApp has been around for years.

WhatsApp Go! trend in WC.. Kind of annoying.. But good for new W10M users.. But how many are there anyways... ??

Next "Mastering" series: BBM

Uhhhh... I was kidding about part 2. But then, might as well complete the series.

Seriously, any app that needs this many how to articles is just to much work, especially when there are so many alternatives out there. Never mind I still have never met someone who actually uses it.

Maybe Daniel knows UWP Version of WhatsApp is coming and is preparing for that :)

Using lumia 930 on Windows 8.1but whatsapp showing expired and when i go to window store then there is no update so plz launch or update whatsapp for Windows 8.1

Anyone know the difference between the WhatsApp beta version and the non beta? Which one is smoother and has more functionality?

Well the beta version is still on testing meaning it will get the new features first but they might be buggy or won't work properly. So they can still be fixed before released to the official version. Ive been using the beta version since its available for everyone to download and I think it has never crushed on me, its all pretty quick and smooth. (although the official version is likely to be smoother). So I would definitely go with the beta since you get the new functions and UI improvements a few weeks earlier.

Beta is not smooth as official. I tried it on my 950 xl few days back.

Also got the 950XL but its running pretty smooth for me

I tipped Windowscentral two days ago to write an article on how to text and make Voice calls using WhatsApp... and today, it has become a reality! Awesome guys...... keep writing......

WhatsApp it's a one shot restore you miss it, you are done

Wanna call someone?: Click the miniscule icon in top corner 5000 times!

ding ding ding ding ding ! It's coming.....

It would be nice if the app would continue to upload a video in background or when the screen is off: at the moment sending big videos is a pain, progress bar ends, but the video still takes ages to complete.

Why not tell us how to get rid of those annoying Edge ads inside Skype app (running on w10, that already has Edge browser) ?? A lil bit more useful than this one.

You must be really really really ******* dumb if you need a tutorial on how to use WhatsApp. Or maybe if you are 90 years old.
Windows Central Newsletter
Thank you for signing up to Windows Central. You will receive a verification email shortly.
There was a problem. Please refresh the page and try again.