Windows 10 Mobile update for Lumia 950 and 950 XL returns, this time with fewer bugs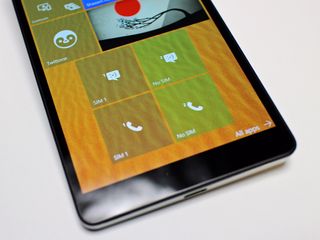 Owners of the new Lumia 950 and Lumia 950 XL smartphones can once again download the latest version of Windows 10 Mobile[(http://www.windowscentral.com/windows-10-mobile). The 10586.29 build update for the OS is available after being briefly pulled from Microsoft's servers earlier in the week.
Microsoft released the 10586.29 build for owners of its new Lumias last week, but many users complained it had a number of issues, including false indications of low storage amounts and the update itself freezing at zero percent. Microsoft announced on Monday [it had decided to unpublish the update in order to look into and fix the issues.
It looks like Microsoft has now addressed those problems. In a message to ZDNet earlier today, Microsoft said:
Microsoft has already stated that users who have already installed the 10586.29 update will still be able to receive cumulative updates in the future.
Source: ZDNet
This is why i love MS.. They react quickly..

You love them because, they leave OS in beta for their new devices or because they update the existing OS with some more bugs?

I am all for it. If MS had released your so called beta OS as WP7 a year or two before they did, history would have been different. We would not be lagging android so much. Vast majority does not care if the os is unfinished. It should be in their hands and work most part. Proof wanted? Look look at how buggy Android was when it was released initially.

Android and iOS both have to work on getting updates out due to bugs and issues after releasing a new version of the OS. Microsoft is just "fitting in" with how everyone else does it.

Slow the majority of times yet they react quickly a select few, now they're saints, yeah ok.

i love my lumia 930 and desktop 10 but no microsoft are not fast at reacting 12 months before we even saw skype intergration on insider. 14 months till we sqaw linked email in mobile 10, no windows gestures beta still, this is not a fast company. Personally i though windows desktop 10 was prety decent at release at least compared to some of my apple os issues and ofc linux so they aint bad there.

No Update here on Lumia 950 on 10586.0

If you're in the group of people who were never able to update, I'm not sure that this fixes it.

For me last time there was no update now I got the update and it Stucks on 0% and I waited about half hour it says my phone memory it's full even there is alot of space

I'm too waiting ..can't see yet!!

Still can't see it. Unlocked DS 950. 10586 -_-

950XL, same here...no update available...

I received it last night, downloaded and installed with no issues or hang ups. On the AT&T 950 not using insider.

@Ecurb87 was this using Windows Insider or not? Thanks!

Not. Insider app isn't even installed on my 950

Unable to see any update!! On my Lumia 950!! In India!!

Same here .. Waiting for it!!
By the way how is the battery life?? ..do you feel heat issues with few apps??

some apps overheat the phone, chargging overheat it too...

Yea same too!! Hope updates fix these issues.

Yes. Lot of heating issues.. Battery also drains very fast.. Unlike my old Lumia 640.. It was far better. Simply wasted 43699₹!!

Yesterday i drained out full battery ..now feel lesser warmth while charging n using. Have to do few more times like this to make the battery stable ..even i face warmth only while using few apps ..so it's a s/w issue don't worry alot. Can be fixed.

Now give the older Lumias a shot at win 10 mobile....

or not, they can keep their battery drain 10 until they fix it properly. Im not going to upgrade to 10 anymore due to this. Standby is fine and works wonders but as soon as you use an app or just browse around its like dropping hot pots on a floor. NO THANKS perfectly working 535 CV

Quit complaining or get off this website. Unreal people bi*** about nothing. Smh

If people don't complain, they won't be heard about problems they are having. If stuff don't hear pronlems, they won't know about them and won't fix them.
So if you don't like people complaining, you are free to go. And before you say this isn't MSFT site, yes, MSFT employees are present here and reading. Even Gabe himself.

If you want to complain, I would advise going to the http://answers.microsoft.com and the Windows Feedback app. I actually came across the .29 update issue along with many others before it was even reported on WindowsCentral.com. We can't expect Microsoft to read the comments and forums here first.

Alright...then complain in an appropriate manner, dont bi*** about it. They hear you either way.

And *I* hate when people complain, about people complaining. Truly unreal.


And I hate when people hate when people complain about people complaining... ok, no... seriously, if you have to complain about something, just join the insider program and help make the perfect OS we all want.

So if people stop complaining then people will stop complaining about the complaining. Therefore, if the original complaining stops, we'll all have fewer complaints.

But win10 for other Lumias ,where it is?

Exactly what I want to know, at this rate it'll be quicker to get my 930 on the Insider Preview instead.

Unlocked 950 XL, still no update.

@Milan Secerov - have you tried a Hard Reset? I've been waiting ever since the build was made available prior to it being pulled. Now that it's been released a 2nd time, I'm not getting updates either, but I'm in the process of my very first Hard Reset on my 950XL.

How did it go, did you get updated properly? How about your backup(if you used backup of course), could you get all your stuff back?

Nothing for me yet either. :/

When is windows 10 mobile coming out for other phones tho ?

Well, while the Microsoft employees are on their holiday vacation, and the buildings at Microsoft are locked up tight, Santa is going to go down the chimney, let in his elves through the front door, find Gabe's office, and push the button to send out the update to every phone running Windows 8.1 in the world. Once the Windows Phone 8.1 devices have been updated, they are going to push out an update for Windows 10 Mobile to be installed on all iOS and Android devices. Santa is magic, so he can bypass all carrier and manufacturer restrictions and get it done. Expect your phones (all of them, including your old Symbian flip phone) to be running Windows 10 Mobile by Christmas morning. ;) Ho Ho Ho!

Enjoyed reading your reply.

I am getting a server error while trying to update my 950xl through windows insider.

No ver10586.29 for my 950xl yet in South Africa either...

I donno when apples update kills their phone i don't hear their fans crying Soo much as w10m ppl do... Relax...a quick fix is imp...and we get that plus by being a insider we try beta software and give our office input...i wonder if any other company gives Soo much attention to it's users

People always forget the day zero problems with every iOS release since I think 6... Or the disaster that was Android 5.0 on launch.

Are 950 and xl users on insider program?I mean do they have windows 10 mobile preview or they have the OS completely built in and they normally update their phone?

I updated my 950 from AT&T last night not using the Insider. Matter of fact the insider app isn't even installed on my 950.

Waiting for a new build this week

I think it's not out yet...i don't see any updates available for my Lumia 950...i'll wait for it...

I feel like a pioneer on the wild frontier. But I'm still enjoying the ride and yes I'll look for an update on Christmas day

I need to update my Lumia 630 from Windows 8.1 to Windows 10 mobile..... Urrrh I'm tired of waiting!!

patience young one, rather let them fix all the kinks first. We all know 10 mobile is complete but its still got a few cracks in it.

Same here! Waiting for an update on my 630 desperately! W10 - Get here soon!

Hope they fix the echo problem in the 950. Seems you have to turn off "hey, Cortana" so you don't get the echo when receiving calls. I've tried it and it works that way but then you gotta toggle hey Cortana back on again.

When will old Lumias get Windows 10????? Grrrrr...

To be honest with you, don't be so eager to get your hands on it. It's not ready for prime time yet and quite far from it actually : camera is still sub par, live tiles are still not "live", all apps aren't compatible with W10, a few apps crash on a regular basis and randomly, mail app does not always update, notifications aren't reliable, menus are still inconsitent, store is still slow as ****, the phone did reboot on its own a few times, battery life is terrible... The only good thing is that W10M fixed an issue I used to have with 4G connection. I was actually thinking about going back to 8.1 but I'm fed up with losing time going back and forth. Enjoy 8.1 as long as you can and I hope your experience with W10M will be smoother than mine.

rather just go back to 8.1 . battery drain 10 is not ready yet. Let them fix all the kinks !!

If you are so miserable and sick of Microsoft, there is a simple fix. Why put yourself through it? I bet I know. You actually LOVE to be miserable. Somehow it is where you find your fit.

I've had an AT&T 950 since launch. It updated in the first round and I've had no issues with the OS other than a BT compatibility that the .29 update fixed.

Getting the memory full bug still :(

is this update rolling out to those who already updated? or do those who already updated just have to wait til the next cumulative update?

Same here still no update 950XL

Tried the update and got the Low Storage message.

Some people used to make fun of Android for these kind of issues. But I'm sure some fanboys will come out with an excellent reason to explain this bug. Sorry to hear about your problem though and hope it'll get fixed "soon".

what if you weren't one of the people that made fun of android for these kinds of issues? so if i didn't make fun of android for it and i don't make fun of windows for it, i'm magically a windows fanboy? your logic is astounding. a couple of people insulted android for a similar issue and now if *anybody* doesn't insult windows for it, you must be a fanboy.

I will never again buy windows phone...

.....and it's still stuck at 0%

For how long? Mine has been there for about 7 hours

That's great, now they have to fix the random reboots caused by connect to 5ghz wireless networks, long wait to shut down (or fake shut down), the issues involving installing apps on the micro sd slot (causing random reboots) and so on... I even get overheat on my 950XL...

if a hard reset doesn't fix that, i'd say you have a defective unit. i've never experienced any of those issues, so if a clean install doesn't make it go away, it may be a hardware issue.

I'll try it and make you know... but i'm thinking i grab a defective one... That's sad...

Hmmm, so to get the one with less bugs, I have to do a hard reset and start over? Nah.

it doesn't say that, it says that if you upgraded to 10586.29 before (when the bug came out), you shouldn't have problems to update to newer versions.

Still nothing on my 950 that was unable to receive this update.

Still having the same issue on my lumia 920. Low storage issue. Cant update because it says i have love storage when in fact i still have 15gb free. My store cant download and update apps. ****.

I still don't see any updates on my Lumia 950 XL

Any news for those who couldn't detect the update? http://www.windowscentral.com/microsoft-aware-some-lumia-950-not-getting...

Lumia 950... Still no update

Just got my 950 delivered today. I hope I can get the update before migrating this weekend.

Update just appeared and is now downloading on my 950. It's a non-Insider.

My lumia 950xl still doesn't see the update!!! #frustrating

Do I need insider to download this? I'm still not seeing it.

Updated showed up for me again this morning on my Lumia 950, soft reset and downloaded the update for an hour....and FAIL. Low storage message yet again, did MS just repost the same broken update package as last week?

Indeed, it seems they did.

Nothing for me either. I get that the update may take time to become available for everyone. It might help with some of the angst if the Microsoft person who announced the re-publishing of .29 would indicate that. They could have said, for instance, "The update should be available to all devices within X hours."

No update on my Lumia 950xl with an AT&T sim. Bummer

Still no update available for my lumia 950 in Belgium. Curious when it will be available... -_-

No update yet.. will try tommorow...I have a 950XL

I uninstalled the Windows Insider app, went to the store to reinstall it, and it says I still have the app installed. Any ideas on how to fix this?

The best answer to that error is reboot your cellphone. It happened to me a lot. then rebooting the phone fix that.

Including random restarts, I've rebooted it 20+ times since then. Still nothing.

I have been using this update on my lumia 1520 from the time it came out...and i can definitely say that it works perfectly for me with better battery life and hardly an issues....i have been using it as daily driver and i love windows 10...only thing i am waiting is for finished android converter project....so i can preload some apps ....

I am having the same issue as before, and if you read the MS thread on the issue, others are also. This is starting to **** me off, as my L950 won't let me update with the Windows Device Recovery Tool (stuck at Reading device info) either. When the download is stuck at 0% I am losing between 20% and 30% battery per hour, and the phone is getting extremely hot. Hard resetting the phone didn't do anything either, as soon as the update hits I am right back where I started. Ugh I'm pretty sure they are going to have to pull the update again, which will be even more bad PR for WP.

Here's what I just did: I hit "backup now" on my phone and waited for it to complete. Then I went to "About" and did a reset which completely wiped my phone. In the setup process, I chose to "start fresh." Then I canceled all the updating apps (like 50 of them) and checked for "phone updates." My phone saw and was able to install the update. After updating, I did a second hard reset, and this time, I restored from my new backup. It's only been about two hours since I started using my phone this AM, but my battery is at 90% and there's no hint of warmth to the phone. Maybe things are okay now. PS Did a whole thread on this get deleted?!?

Don't see the update for my 950XL. Currently on 10586.0.

Also, Popping by to say hello! Still going on this issue. No major updates for the day. I'll be out of the office next week for the holiday, but I'll still be tuned in for updates from the Engineering team. I'll post any updates that become available. - Jason

This is what Jason from MS has said over at the insider forum, don't know where zdnet got their info.

So... When will it be available for other Windows Phones? What was all these talk of a December release if it didn't happen Posted via the Windows Central App for Android

It did happen and it was out for a while and you should be able to get it if you're a windows insider(my fiance's 640 is running it right now). A percentage of 950/XL's were unable to receive the update so they pulled the update until they can find the problem and fix it so as not to cause confusion for the general public that aren't enthusiasts or insiders. For other phones not in the insider program I'd say a bit longer now that they're trying to fix this so it doesn't happen on the wider release.

Still no update for Lumia 950xl in Australia

yes no update in australia yet and no display dock cable either