Windows 10 Photos app adds inking and new filters for everyone on PC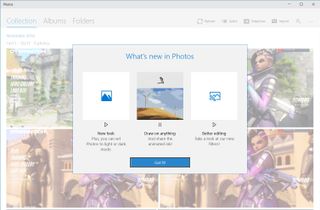 A fresh update is rolling out to the Windows 10 Photos app for PC users, bringing along inking support and more. While this update has been in the oven since October for Insiders, it's now rolling out to everyone with version number 16.1111.10000.0.
Alongside inking and pen support — which is a big deal in and of itself — this update includes new filters for some extra editing mojo. Here's a look at the changelog that shows after the update:
New Look: Plus, you can set Photos to light or dark mode.
Draw on Anything: And share the animated ink!
Better Editing: Check out our new filters!
Do note that, while the changelog mentions a new light mode, that actually appeared in a prior build. The inking features and new filters are indeed new, however.
If you're interested in checking out the new inking features, you'll now be able to choose from from a marker, pen, or pencil tool and write in a number of different colors. This lets you add a little extra pizazz to a photo, or simply jot down notes.
Have you had an opportunity to check out the new inking features and filters in the Photos app yet? Let us know what you think in the comments!
Thanks to Harshad and Vipiny for the tips!
Download Microsoft Photos from the Windows Store (opens in new tab)
Dan Thorp-Lancaster is the former Editor-in-Chief of Windows Central. He began working with Windows Central, Android Central, and iMore as a news writer in 2014 and is obsessed with tech of all sorts. You can follow Dan on Twitter @DthorpL and Instagram @heyitsdtl.
Amazing app this has become. Well done MS!

I second to this. App has come a loong way and it's now awesome. But how come these updates aren't coming to mobile?

For mobile this app is one of the worst. Slow, buggy and with none of the cool features we have on pc. I think msft has to prioritize photography.

Very true. The app sucks on Windows mobile.

It evolved a bit on mobile as well, just not as much as on PC. It can create Sways from albums, finally has opening and closing animations, etc... But I agree on the inking and editing stuff, it needs to come to mobile badly. And one thing that's also badly needed is a Sway app on Windows 10 Mobile :D

closing animation almost never works for me, an opening is very slow.

Are you on release preview? Because it's not on production yet :D

Dick-webos: I'm happy you like the new app. I assume you work for MS. I also assume you never edit photos. Scroll down this blog and read what photographers are saying about the new version. It's a disaster for decktop users who actually edit photos. This new version is strictly for the mobile market, and kids that like to draw smiley faces on photos. All the great functions of the previous photos editor app are gone. So so very upsetting.

Agreed! This is a huge downgrade from my perspective.

In all seriousness, when for Mobile?

For that to happen, we need a Windows phablet with a pen support.

No necessarily. Inking with a finger would be an improvement.

Great update indeed, but please change the pivot ui. I prefer the phone and alarms pivot rather than this.

all I got are crashes lol

Try resetting it on settings

This is awesome. It's like they're combing the photo app and Didlr. (which shutdown I believe). Great idea though and kids love it.

That's all well and good, but now bring at the very least the Light theme to Mobile so the app doesn't look out of place anymore on my phone. No excuse or reason for a first party app to miss a basic customization option like that.

Light theme is already there in mobile

Not for non-Insider builds... Photos 16.912.10072.0 and WM10 build 14393.448, no Light theme to be found.

Join the Release Preview ring ;) But seriously. It's as stable as production, but new things are available much sooner. For example, this is out on RP for a month now :D

Nah, I don't want my main phone in any Insider rings anymore.

You know what you do. But on release preview, the only things you get early are cumulative updates and stable app updates, that the public will get shortly as well. That means no buggy insider builds, and no apps that aren't able to work. Just the good stuff :D

Qnd I ask again: When will we be able to select which folder/sources to show on mobile? I dont want EVERY Picture on my phone/sd card to show up!!

Worst update ever for me, many of the functions missing, more filters what I cannot use. Does anyone know how to get back the older which I had used since yesterday?

MarciBallo - I agree completely. I about cried yesterday when I discovered the new update vertually eliminated all the things I loved about Microsoft's previous version. It was truly a horrible day. It still is, a day later. I produced some beautiful photos with the old app. And everything I used to create the vibrant images is gone. Clearly Microsoft doesn't care about real photo editing. They just wanted to make a cute app for phone users.

Yep. I was sick when I discovered all the proper editing features were gone.

I like where they are going, I just hope they bring back some of the other adjustments. I love color selection, and focus, and contrast, etc. We need those.

Agreed, same here! I hope they add those back since those were handy

Waiting for these features come to mobile as well.

I love this app, but there is still a long long way to go : ​geotagging face recognition change time of pictures/videos in batch merge/split albums ...

All of the above plus the ability to add/view/edit photo tags. For the Geotagging, they should bring back elements of Nokia Storyteller. That did a nice job of showing where your photos were taken and presenting them in a slideshow format w/music.

oh how i miss lumia storyteller ...

I would like to hide that "save" button !!!!! When I edit my pictures and then I clic on "save", sometimes I would like to go back to the original... but that is impossible :-((

Samuel 444 - I agree. I really liked the old version's "compare" button that allowed you to easily monitor the sutle changes being made vs the original image. It was incredibly useful. So sad that it gone.

Nice! Now bring it to mobile! But unfortunate that they seemed to have removed the fine refinements in the editing tool though on PC...hopefully they add some of those back

I agree, I really liked the many different ways of editing photos from the previous version. I do hope they bring them back even if the UI is now different.

Equirectangular support, please!

Utterly ruined. Dumbed down editor functionality and now I'm forced to use third party applications to edit photos.

My thoughts exactly. It used to be my go to editor, but no longer.

Absolute car crash of a photo app. Is lacks so many features and is so primitive, I never even want to open it... I guess I will wait a year and see then if anything has changed...

havin' trouble updating it to this version, just error after error

The removal of the hamburger menu and side panel in this instance is much more elegant and functional. Is this where things are heading?

This update is HORRIBLE. Where is shadow adjustment? Where is highlight adjustment? Where is spot color adjustment? Where is spot filter with blur? Where is saturation? Where is contrast? Oh yea, I get a bunch of filters like Neo, Rouge, Icarus, and Zeke... REALLY? Instead of a beautiful wedding photo with spot filter and softened edges and backgrounds, I can draw a purple mustache on the bride. Where in the world did they get their input from??? Add stupid filters for the throw-away generation and give us cute pens to color smiley faces on the photos if you want, but don't get rid of real photo editing software. I want my old App back.

I totally agree with you! The new app is made for 15 year or kids -> filter applied -> finished. Zooming is still horrible. For me it's a downgrade.

I totally agree that the new version is horrible. Desktop users who actually edit photos have been thrown under the bus in favor of mobile users. The old version was a great product. I loved the function. But they are all gone now. The new filters are in insult. What photographer would ever use them. I am so upset. Microsoft clearly wasn't interested in putting out a great product. They simply wanted simplicity, and convenience for mobile users. Shame on them.

Excellent post, R Erwin. How can we influence a correction to this terrible new version?

Hello R Erwin. I was successfully able to 'Restore' my computer's old settings, which returned the old app to me. Thank god.

I fully agree with the criticism of this new photo update.
​Its a major step backwards!!!
How do we get the old version back.
Almost all of the valuable editing features have been removed !!!!

If you want a nice editing program...corel paintshop pro x9.....great easy to use interface and very very cheap at the moment. I plan to get the photo and video editing package as soon as My new computer...(not a mac), get's here. Tried to like the OSX platform...could not. back to windows 10 for me.

I hate how certain apps (People app, looking at you) launch the Photos app as the file picker instead of File Explorer (e.g. when choosing a profile picture for a contact). People app only shows folders that are listed in the settings for the app and it is annoying to navigate between folders. In File Explorer, we have Quick Access for a reason...

I've replied on a number of posts here, but I want to comment and be counted - Desktop users who really edit photographs are not happy with this functionality downgrade. Dumbing down, as another commenter put it. And for me personally, "not happy" is a huge understatement.

Who is Microsoft's target audience for this photos' app...12 yrs olds? This app is still a hot mess, all flash with little to no substance. Smh!!! I am still waiting for an option to turn off those damned auto created photo albums!!!

is it there for windows mobile?

I can't believe they have done such stupid changes, it's like we're back in windows 7 again and it's exactly doing what windows photo viewer does in an important part of it! Scrolling over a picture must move it up and down NOT zooming out and in; i was happy to see that they fixed it on windows 10 release, and now, here we go again, unbelievable!

This BS update isn't availabe in the Canadian store atm...

How can you access the selective focus tool on this update?

I miss the quick shadow removal. Loved the dial approach.

WORST update ever. spot color adjustment?
spot filter with blur?
and many other futures are missing. At least give us the old version ffs...

The "always-on drawing toolbar" is a big mistake! If there is no way to change this behavior, and it remains the default, I will be forced to choose another app for displaying images. (Irfanview comes to mind.) Will you please, please, please turn off that annoying toolbar so I can use this app? Thank you for your consideration,
Leland...

What the hell??? Are you serious? This is such a bullsh*! IMPROVE?? This is terrible!!! Get back all the features old app had! This update is like driving mum's mini van after driving Ferrari! Give us back old features where we could edit everything!
Windows Central Newsletter
Thank you for signing up to Windows Central. You will receive a verification email shortly.
There was a problem. Please refresh the page and try again.